From Raf Simons' rework of Robert Mapplethorpe prints to Kanye West's collaboration with Vanessa Beecroft, fashion has long lifted up art, bringing it to the attention of a wider audience. It's exactly the M.O. of adidas' XCHANGE-Space, which opened its doors last night to showcase and support a selection of Berlin's pioneering female artists.
Situated in the heart in Berlin's creative Kreuzberg neighbourhood, the ex-warehouse space proves the perfect backdrop to such an eclectic array of artists. From the vibrant scenes brought to life in Johanna Dumet's pantings to Atusa Jafari's hazy nudes to the graphic illustrations of Kristina Suvorova, the XCHANGE space plays host to eight up-and-coming artists who each demonstrate a different approach to art. Over the course of the programme, they'll be given the opportunity—and space—to focus on their artistic expression, as they're mentored by some of the most esteemed women in Berlin's art scene: Karen Boros of the Boros Collection, Art Berlin Director Maike Cruse and and gallerist Marie Mayer, culminating in an exhibition at Berlin Gallery Weekend in May.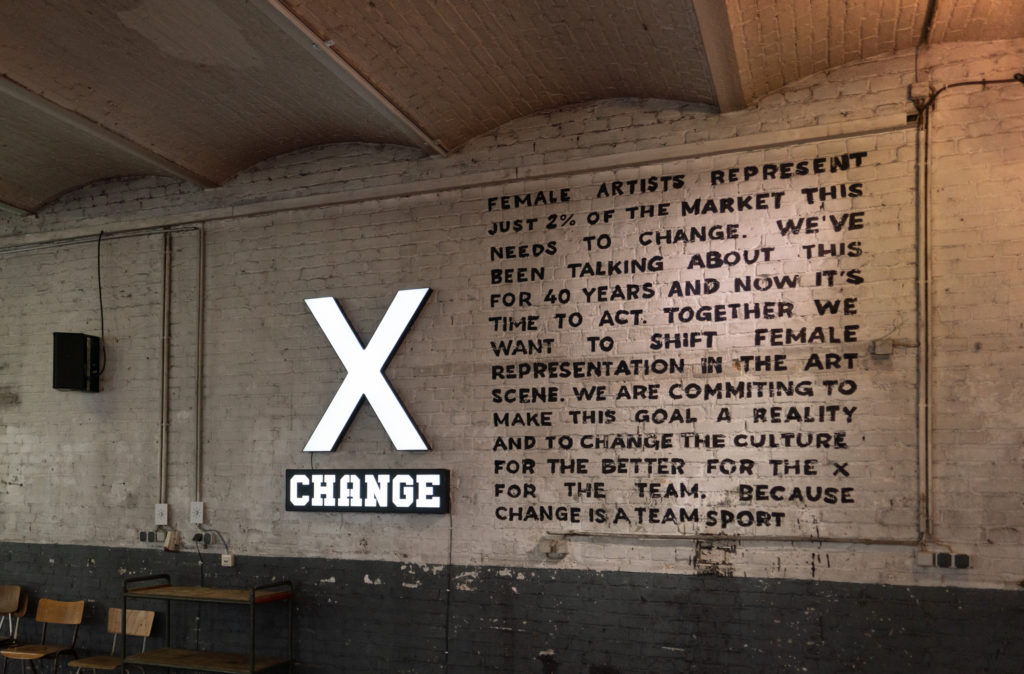 Conceived to coincide with the relaunch of adidas celebrated Superstar silhouette, the XCHANGE initiative borrows from the shoe's campaign ethos "Change is a Team Sport" to serve as a platform for progression. In response to the still vast disparity between male and female representation in the art world, XCHANGE's aim is to level the playing field, giving (literal) space to women who have so often been denied it. By showcasing the work of its selected talents, the adidas art space hopes to encourage collaboration and meaningful dialogue, not only with the artwork, but about the issues of underrepresentation and need for diversification in the industry. Workshops held by long-time adidas collaborators GIRLS ARE AWESOME, will also be open to anyone interested in art, over the course of the campaign, during which the adidas Originals store in Mitte will also be transformed into a creative hub.