From Thom Browne's enchantingly-crafted silhouettes to Noir Key Ninomiya jaw-dropping design novelty, discover the shows that got all INDIE editors talking; head below and be sure to stay in the know. You're welcome.
Thom Browne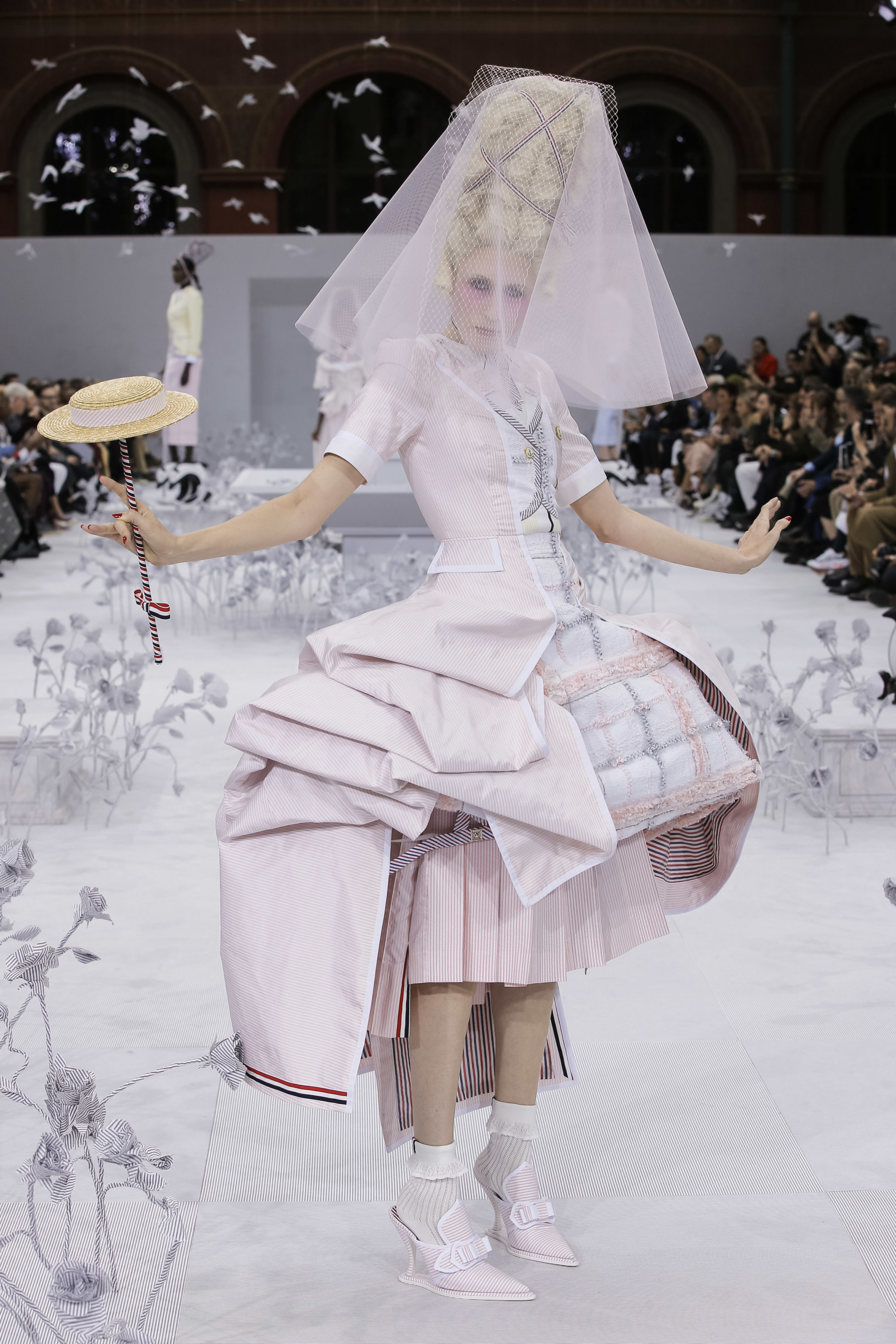 Images courtesy of THOM BROWNE
US native Thom Browne  invited crowds to linger and smell roses, through a show that seized its glitz from Versailles' gardens. Conjuring the subversive and the marvellous falls under Thom Browne's strong suit; hence the flowers came as whimsical take on real propositions, fashioned from classic seersucker cotton fabrics. A fountain cut from the same cloth stood centre-stage, with a peculiarly eye-catching water feature: a mischievous little putto statue which appeared to be peeing. 
The American pioneer has always offered a wellspring of inspiration for Browne's art, and as seasons drift by, the designer manages to encapsulate a spice of theatrically-pivoted codes of dressing, encompassing his own bewildering lexicon of historical and artistic connotations. Panniers, as perceptible in Matty Bovan's Spring/Summer 2020 collection too, seem to have surfaced this season, cropping up on Loewe and Balenciaga runways to name but two. Models wore ceiling-lanky wigs and were adorned by powder-puff pink faces, with a vision entirely in line with the 18th century. Despite the witty-gritty conveyance of beauty, there's always a layer of delicacy and charm to Browne's feminine collections. Case in point: petticoats, and ruffled-jibing details, sweetly harmonised by a subtle profusion of pastel-flavoured tones. Browne hardly plays from the conventional rules of gender: his signature stripes off the archetypes and buoys the weird. And that's been efficient thus far.  
Mugler
Casey Cadwallader's tenure at Mugler has sprouted a sartorial revival of the '80s and '90s. And the cliché was just as palatable as in previous collections, looming with a range of leggings and hoodies, and epitomising seductive-yet-proactive glamour. That Mugler's legacy was embraced and further-emboldened by Cadwallader's creative cognisance is hard to argue with. With a see-it-to-believe dosage of abiding seduction, Bella Hadid opened the show in a cropped jacket, net corset, and waist-defining stockings, in true provocative Mugler style.  And though Hadid embodies the supermodel archetype, the show wasn't lacking in diversity—as models of various colours, sizes, and gender sauntered in fierce stride. The classic Mugler silhouette also (naturally) made an appearance, applied to accentuate, and not diminish, the 'plus-size' physique. Elsewhere menswear looks were characterised by open chests and far-from-slouchy structures. The overall impression? It looked damn good. 
Ottolinger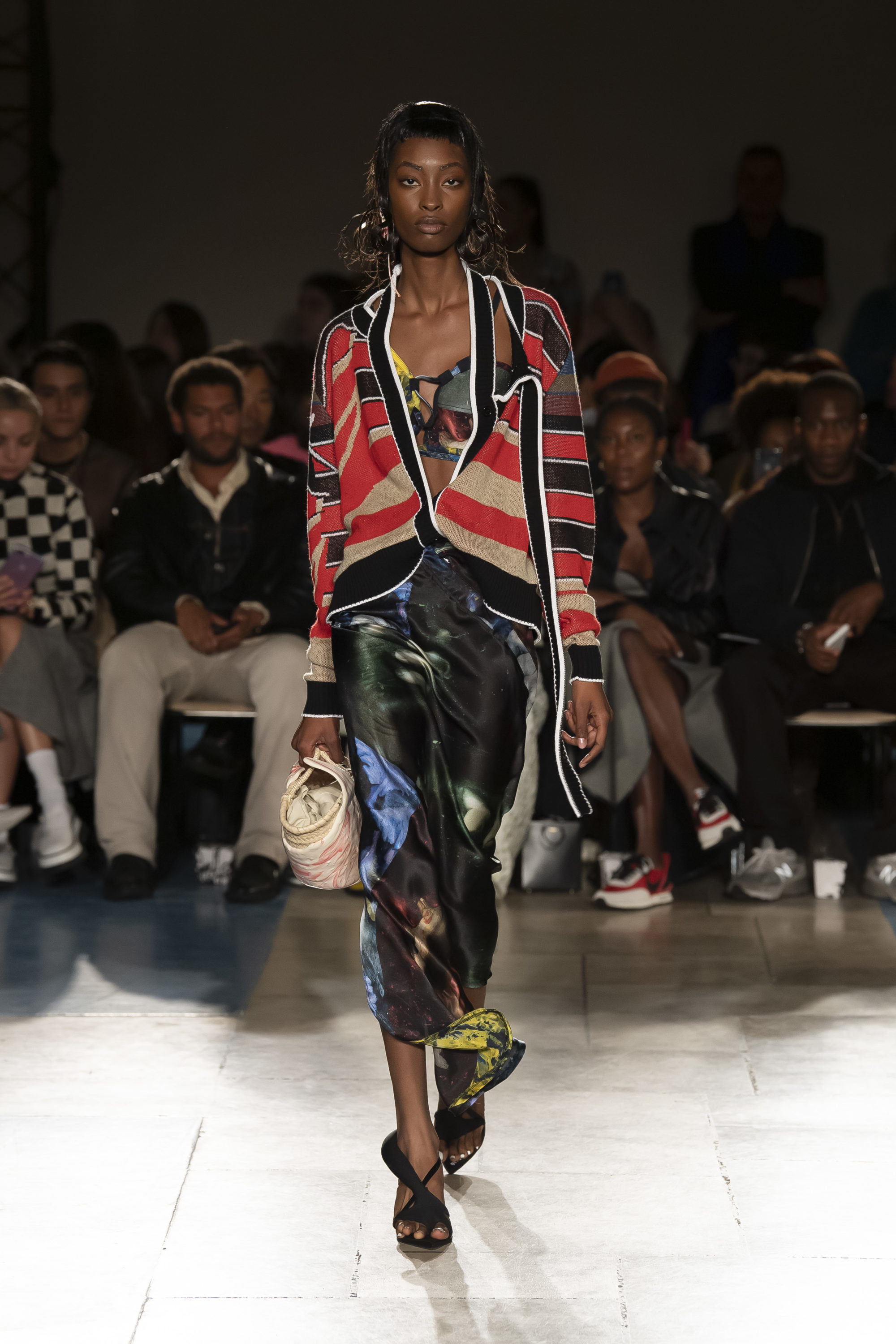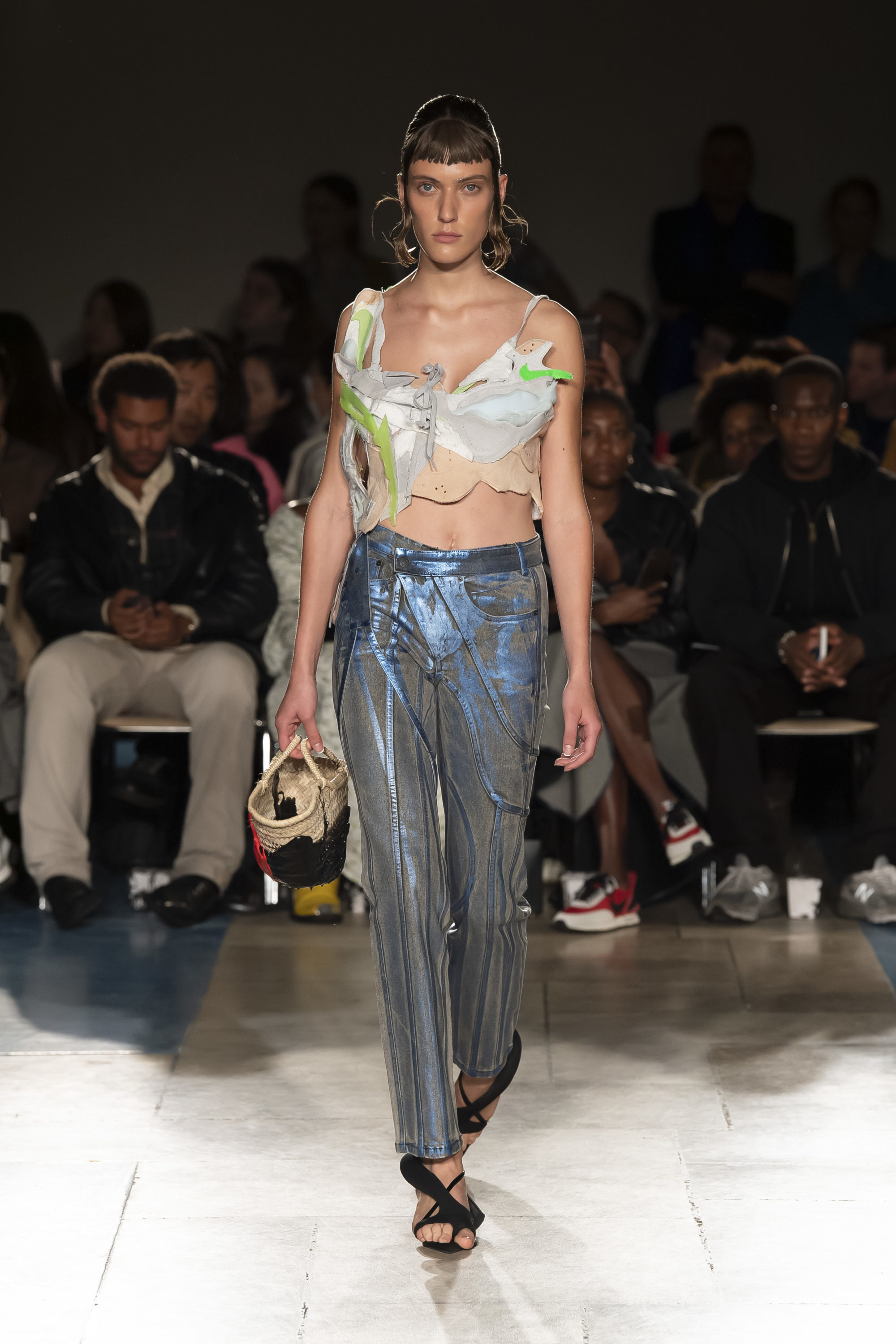 Ottolinger's Christa Bosch and Cosima Gadient staged a show to convey quotidian narratives, encouraging society's ever frantic rhythms to take a moment and relax. This idea was particularly brought to us in a few variants, commencing with the collaboration between the brand and CBD oil by KannaSwiss CBD. The coming together produced lipsticks and oils flung on necklaces and belt hoops. And then came the crafty: gingham-allying motifs painted by Georgia Gardner Gray and serene landscapes by Lucie Stahl, cut into the garments that gripped and were moulded onto the body in weird, sensual ways. The latter part of the collection saw Ottolinger's classics: denim streaked with paint and a Nike sneaker cut up into a bustier. And if the designers' paramount start-up looks are often quite easy-breezy, the brand's latest direction might plausibly indicate a new era-defining, yet clever, take on womens' dressing—taking fearless values to new heights.
Marine Serre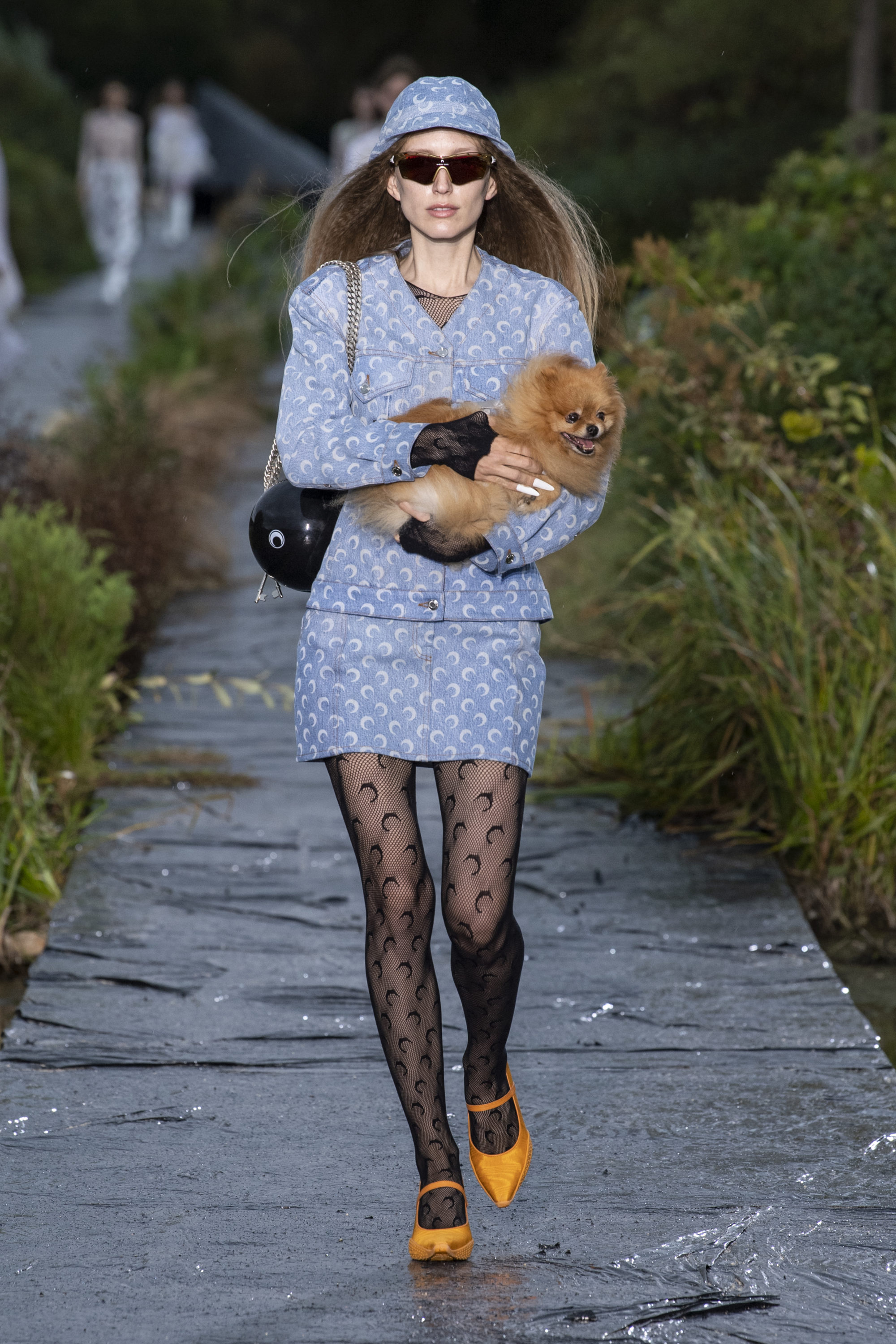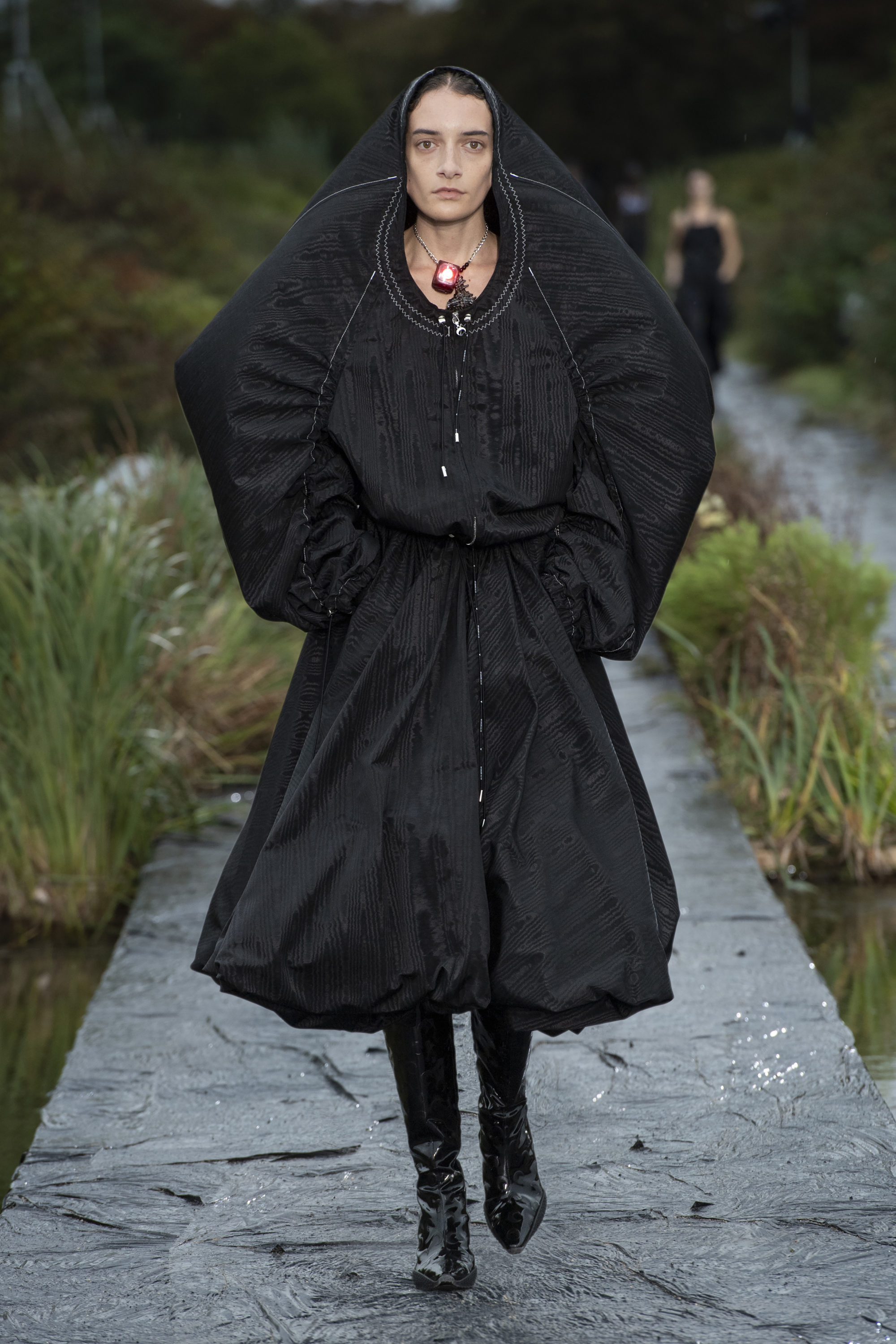 Photography ETIENNE TORDOIR
Marine Serre sent out umbrellas as invitations this season in what could perhaps become a trend, (or fad), to the folks of Paris. But for Serre, clashing weather patterns characterise much more than just the impending on-show forecast inconvenience: they're there to alarm attendees that yes, climate change is indeed real.
It's no secret that the fashion industry is beginning to arouse eco-sustainable practices to realise garments. Case in point: days after the U.N. Climate Action Summit kicked off in New York, Kering reportedly revealed the group would be opting for the usage of carbon neutral practices, and it's been nearly a month ever since the sustainable initiative has been unveiled, to which 150 brands have come to contract. Serre is one of the youngest designers to have taken sustainable measures to new horizons Entitled Maree Noire, or "Black Wave" in English, the show began with a series of black looks and hardware belts, further-decked by sea-allied objects and accessories. Serre remarked that her collection was served as the aftermath of an apocalypse where only a small number of people managed to survive, amplifying a radical extinction of mankind. The opening look, a stirred black floor-length bubble skirt was paired with a strong utilitarian-like zippered jacket. Serre's collection nods to a more sustainable spirit, made from upcycled materials and local fabrics directly crafted from French mills. Patterned from a sublime range of crochet, lace and more, propositions offered an alternative idea of avant-garde, an ode to ecological futurism. 
Balenciaga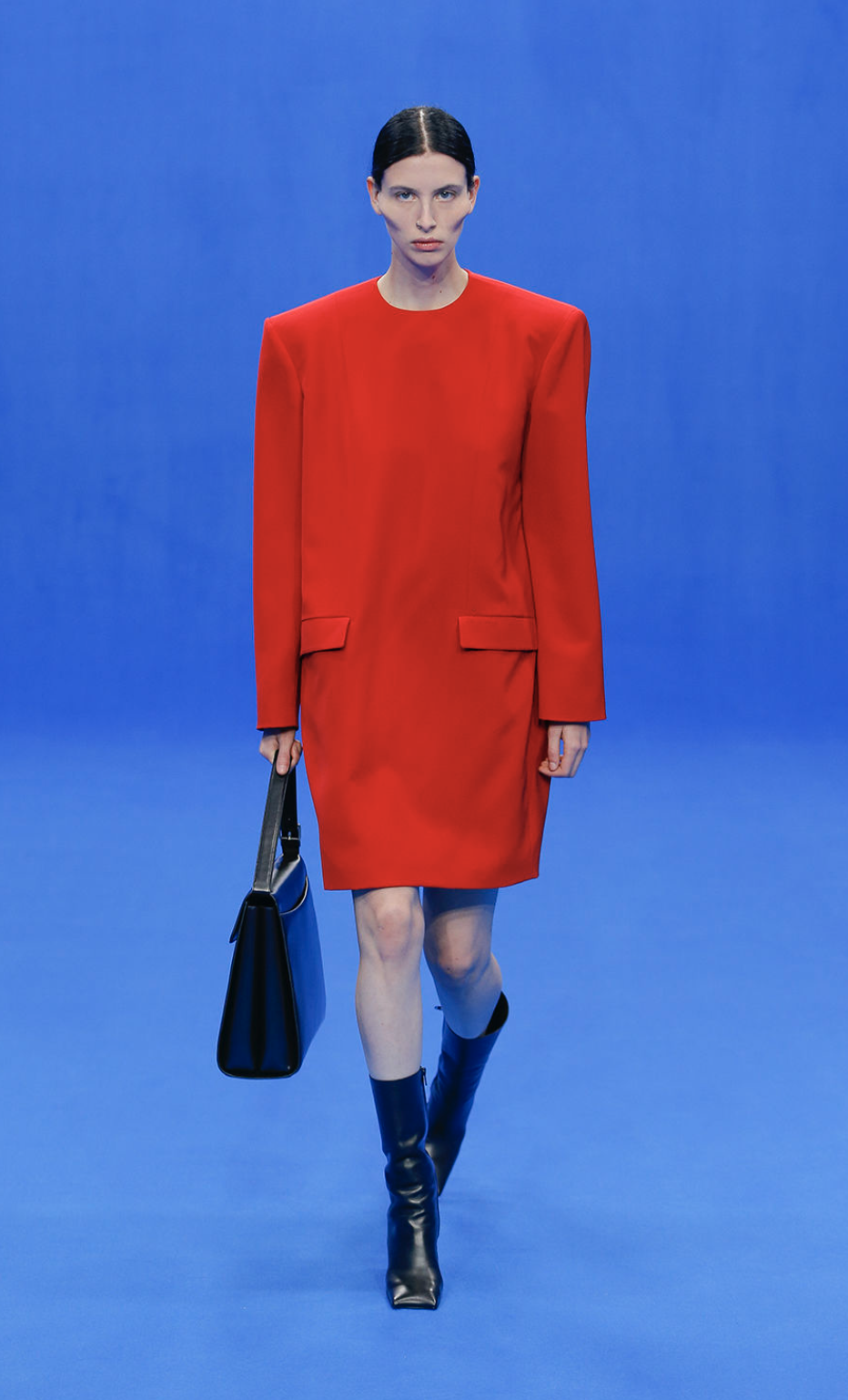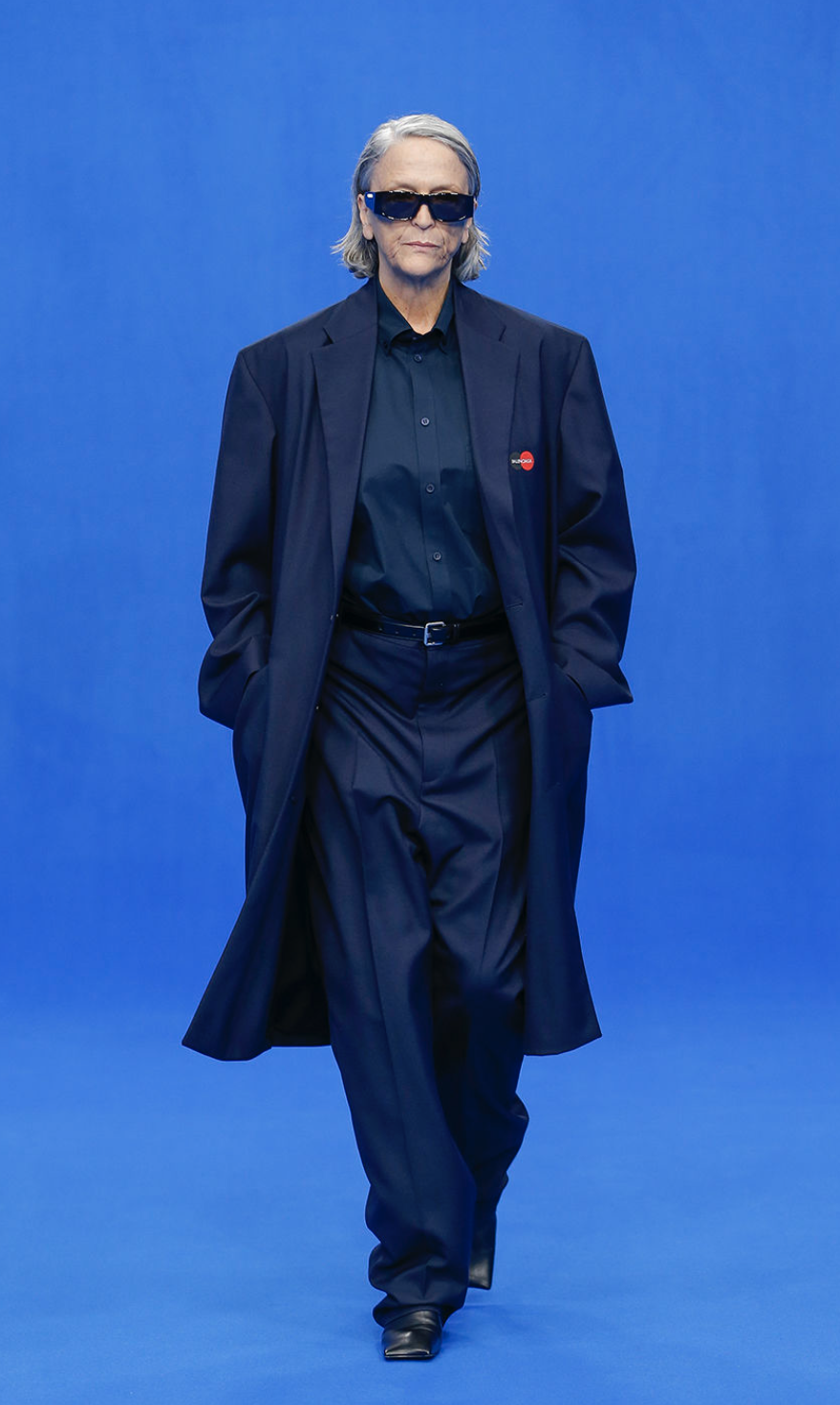 The forever-yearning global fashion community is constantly shepherded by a frantic sense of hype, puzzling all layers of interest when it comes to recognising what truly matters.
For critics of Demna Gvasalia and the luxury streetwear movement, Balenciaga's logo t-shirts (and their inevitably extortionate price tags) are among the most likely to cause irritation, but from another perspective, Gvasalia's strong twists and turns paid off—bringing us constructive tailoring with a socio-political edge.
Set in a political arena, "the Balenciaga convivium", Gvasalia summoned the conceptions of power-dressing and uniforms. The far-from-soothing walls met vibrancy and effervescence, where the blue of the EU flag designed an ambience of socio-cultural codes of instability.
Men and women of varying ages stormed the runway in severe and corporate dressing, opening the show rather eminently. Breast pockets saw badges embroidered, alongside discs intersecting Balenciaga's logo -a motif not dissimilar from the Mastercard design. Then came the cocoon-styled take on sculpted tailoring, with a plethora of structured-heavy staples. Later in the show, we saw a more sophisticated plot of action on billowingly-structured gowns, labelled "campaign dresses". Gvasalia's challenge to gratify the penchant of world crowds was set, and he managed it pretty acutely.
And while an upward spiral took its growth from the thumping soundtrack, the cast of characters was eclectic, electric, yet so culturally reflective. The closer you gazed, the better you could have realised the prosthetics burgeoning the daggling facial features, or exaggeratedly-filled lips —a silent comment on our face filter-obsessed virtual reality.
Above all, the collection roused a consideration of the shift currently transpiring between society and socialism, as an opportunity to ponder on the future of our world anarchy. Pragmatism and rationality stood strong, reflecting an era that rigorously oscillates between the perceptible and the elusive. 
Issey Miyake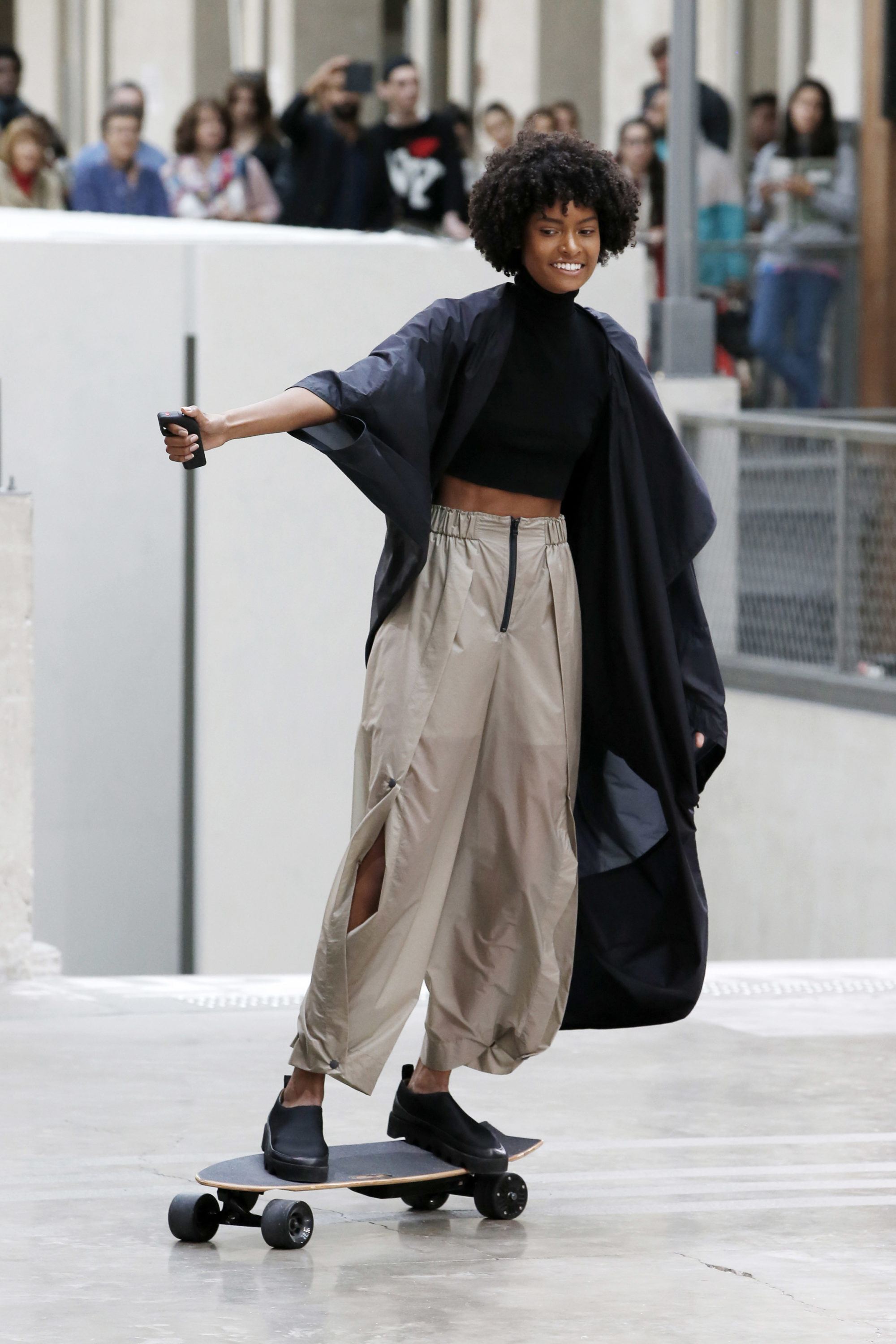 Photography FRÉDÉRIQUE DUMOULIN 
When three models decked in ochre-tinted lingerie took to the runway,, it was then that Miyake made its prime statement. The colossal ceilings in the venue provided the perfect backdrop to Miyake's see-through, hoop-stretched, perpendicularly-striped dresses and hats were slashed from above, fitting the wearer accompanied by jovial soundtracks. 
And that music made everyone want to be part of such mastery. As models were leaping, just like the dresses, the atmosphere sprung an utmost status of Miyake-esque elation. Joy, contentment and happiness: yes, we loved it.
Would anyone ever refuse the chance to get dressed in such manner? Just picture yourself getting ready prior to your work routine, by simply having your outfit sprightly tossed-on you. It'll perhaps be your one and only reason for you to fully embrace your morning schedule. Five opening looks embraced a subtle berry-toned jersey and, just a little later on, the fully-hemmed gowns that brought dynamism and unapologetic fizz to the whole collection, flourishing a breezy take on suave shaping.
Jump it, bounce it, live it: a mantra that embodies the fervour often lacked by society, anchored by a profound notion of levity.
In a world presently besieged by abstruse beliefs and constructiveness, it seems exceedingly irrational to neglect the rudimentary equation for great-living: don't worry, be happy.  
Maison Margiela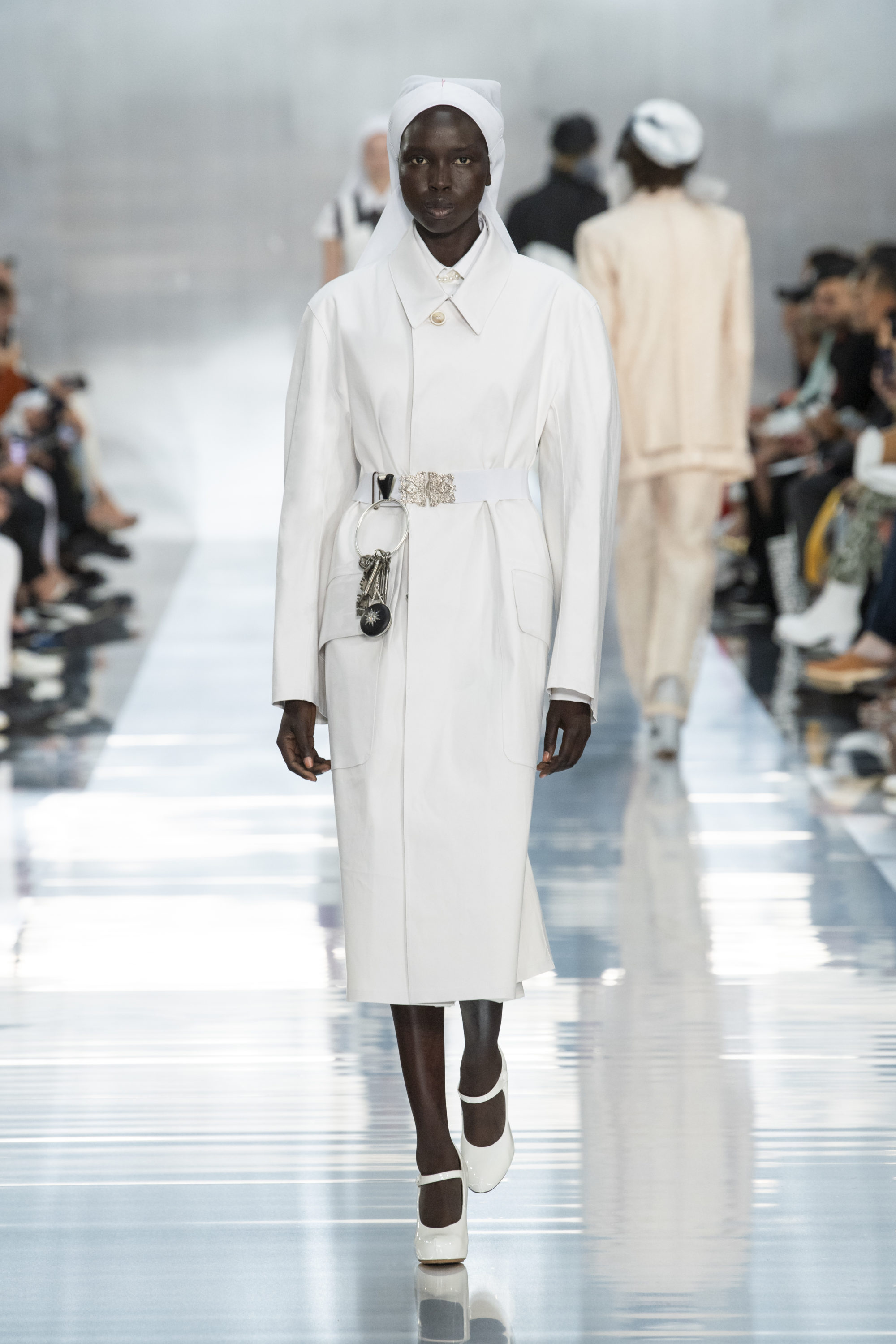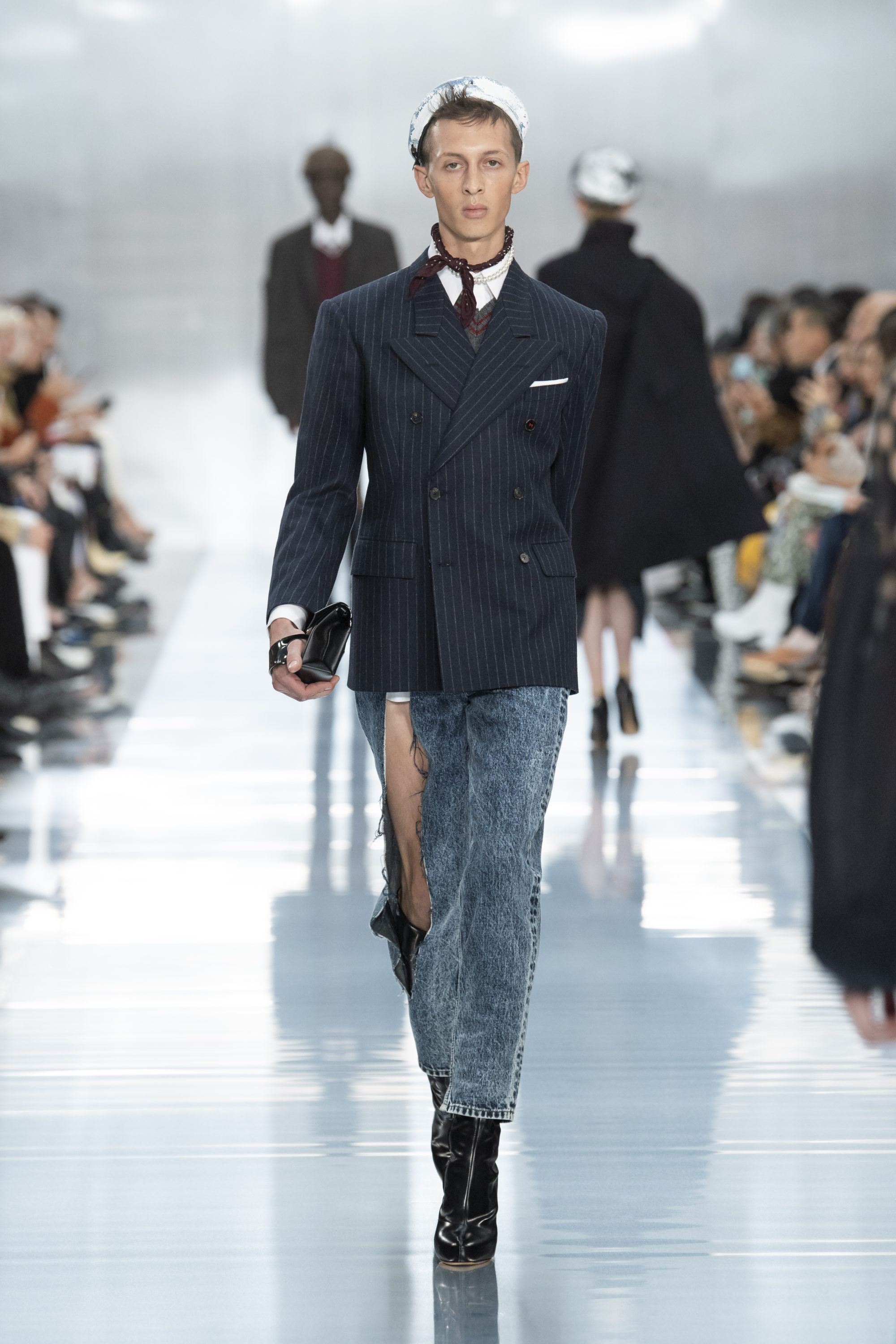 Photography GIOVANNI GIANNONI
John Galliano triggered a contemplation to the ordinary for spring, nudging traditional archetypes to codify and well exemplify the middle-class society's importance in the modern era.
This collection was resolutely considered to fight against the dreadful phases of Fascism of Europe. A Margelian army, which was all about highlighting today's societal landscape.
Firstly, a nurse in a navy serve cape, white hospital sleeves and a grey serge pencil skirt. Then came a girl in a black dress, veiled from the '30s or '40s; maybe, Margiela was keen on referencing archetypes of the slick WWI French women, who were used to carrying the most unpredictable in their handbags.
Jewellery featured aplenty, coming in the forms of decorations, medals, pins, and military striped motifs. Galliano, as per, approached a dynamic use of technical tailoring when he opted to revamp the uniform concept, crafting clothing which fully seamless meanings and values.
Unlike previous seasons, this wasn't a collection that typified theatrical narratives: it was more of a backlash to customary thinking, largely willing to reinstate broadening cultural philosophies ahead of forthcoming generations. Again, his tailoring had its glorious momentum -we must not forget the dynamic, vehement walk of Leon Dame, closing the show in fearless caricature.
Elsewhere, the sartorial fusion incorporated heritage and classic-cut propositions, ushered by a surfeit of thrill.
Noir Key Ninomiya 
It may well be that mesmerising doesn't fall under the right lexical category to epitomise the level of craftsmanship that rendered Noir Key Ninomiya's spring collection. It was all about breadth and natural sartorial splendour.
Atop their Church's Goodyear, models appear to walk in clouds of tulle, immense bundles of black foliage, or in huge chunks of salted crystals. Ninomiya was keen to wrap humans in opulence. Garments were embellished with dreamy, ethereal, and breathtaking detailing, venturing them onto new, surreal pinnacles of sartorialism.
The latter part of the collection was made of transparent snowflake pastels, with hats made of real ferns, palms and moss, complementing with Ninomiya's escape of dreams.
As the swift-shift of society tends to hasten the rate of the collective, Ninomiya's key message could only signify one thing only: drop-off our handsets, look up, and embrace the beauty of art in its real essence.