One of the perks of live streams is that there's no need to physically attend a concert or festival to experience it – at least to an extent. Case in point: Last weekend, Radio Primavera Sound streamed the entirety of Vans' House of Vans festival in Barcelona, including the set of headliner Kaytranada and local fixture Nasty Mondays. A manifestation of skate culture, the HOV aims to connect the sport with not only music but also art and fashion through its set locations in Chicago and London as well as regular pop up skate parks, which offer free concerts, workshops, and of course skate sessions.
Barcelona, with its tiny self-managed galleries, mass events, and well established skate scene was an ideal fit, Mark Dix from Radio Primavera Sound explains. And he should know: The Barcelona based collective has not only organised major festival Primavera Sound for over 15 years, but is just as knowledgeable when it comes to up-and-coming acts. "Right now young promoters are starting to make their mark on the city, especially collectives like El Bloque, La Cangri, Club Marabú who reflect a change and diversification in the tastes of a new generation of clubbers," he says. With this comes a growing influence of Spanish language and Latin rhythms, and a long overdue increase of inclusive and safe spaces for the LGBTQ+ community.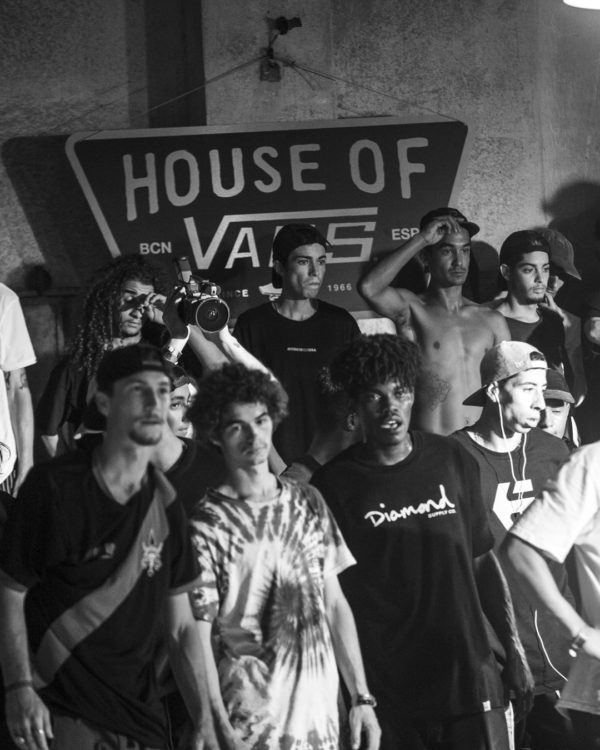 The only downside: the prizes. "Cover for clubs is generally around €15 and a beer that might cost €1 outside the club would set you back €5 once inside. It means that people go to the club late and there's not much atmosphere until 3 am." Luckily, Barcelona has plenty more to offer when it comes to underground events. So, in the pioneering spirit of the HOV and Vans itself, we asked Mark about the city's most cutting-edge cultural spots—livestream unfortunately not included this time.
ABX10
https://www.instagram.com/p/B1_QN7uoxLj/
"I have to show love to the club that Radio Primavera Sound shares a space with! It's a club and cocktail bar in the centre of the old part of town. The booker Alex Nikolov is one of the brightest young professionals in the city and the weekly programme is consistently great. Radio Primavera Sound has collaborated with ABX10 from the very beginning of its existence. We're like siblings. It's pretty unique in that most events are free and the music is very youth-oriented. The room sounds like a club but you don't have to wait until 3 am for it to get busy. You can get free passes for Nitsa at Apolo if you head there at the weekend. There's a secret room with a one way mirror to the cocktail bar, with sleazy decoration and vintage pvc seats, see if you can find it!"
Miscelanea
"This is a gallery and concert space deep in the Raval neighbourhood. Miscelanea has been active for over a decade, promoting fringe art and music. I've been a regular since the start. Spaces like Miscelanea are essential to the development of emerging creative voices in Barcelona. Something is always happening there, and there is somehow space for a well stocked shop and cosy bar in this backstreet gem. Richie Hawtin once made the miniature Miscelanea his base for his off Sónar Minus events in 2010."
Fabra i Coats
"A huge complex for creative industries on the outskirts of the city. I first went to Fabra i Coats for the Mira festival of progressive electronic music and visuals in 2012. Since then, more and more of the old buildings have been renovated for use. It is the home of several essential annual events in Barcelona. Along with Mira, the programme includes Cara B, the Fira d'Economia Solidària de Catalunya and part of the BAM festival. It has several workshops, gallery spaces and hosts Radio Fabra. The experience of the multidisciplinary artist Virgen Maria playing gabber in the gallery at Mira 2018 is not one that I will easily forget."
Freedonia
View this post on Instagram
"Another spot on my doorstep! This is a bohemian cultural association in the Raval. Outsider acts and selectors can be found here most nights of the week, which have a leaning towards psych disco but can also include Balcan jams, tropical DJs and funk gatherings. Possibly the weirdest gig I've seen in Barcelona was psycho jazz trio Wolf Eyes playing to a bewildered audience of musos and meme lovers."
DNit
View this post on Instagram
"A regular cycle of events that take place at the Caixa Forum museum at the foot of Montjuïc. Clients of La Caixa bank are invited to attend all activities for a very reasonable price, often around €3. There are not many nights each year but concerts from artists like Tim Hecker, Dean Blunt and Dorian Concept regularly sell out to the town's fans of experimental electronic acts. But: it can be incredibly loud! Somewhere to go to really submerge yourself in the depths of sub bass. I remember Shackleton being especially brutal, perhaps I should have packed ear protection."