If the name of Japanese haute couture legend Yumi Katsura isn't ringing bells, you're missing out. Her's may not be a household name in the western world, but it's hard to imagine many designers who've reached as many fashion milestones or pioneered as many cross-cultural fashion firsts as the 87-year-old courtier. Cutting her teeth in Paris at the epicentre of '50s haute couture, Katsura went on to spearhead Parisian haute couture in Japan, and became the first outfitter of western bridal-wear in the country. Her position as a trailblazer has been cemented ever since. Whether via crafting the most ornate and historically expensive gowns ever made—one silk diamond encrusted affair hit the $8.5 million mark—or by designing gold vestments for Pope John Paul II himself. And if Katsura's illustrious design track record isn't enough to make your jaw drop, the designer's recent runway rebirth of the traditional kimono certainly will.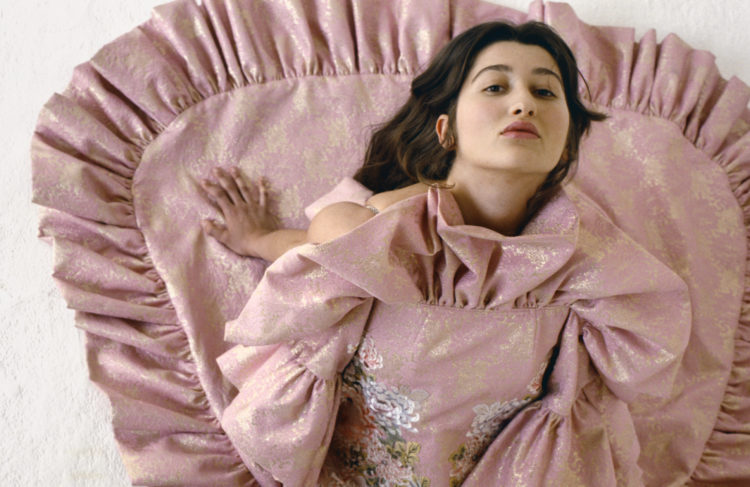 As you might expect, five decades of such diverse design work have polished Katsura's craft beyond measure—today, her work boasts a sheen of technical finesse that has kept a queue of wives-in-waiting at her doorstep season after season. But Katsura is committed to more than just impeccable execution. Each Paris fashion week sees the designer apply her amassed haute couture wisdom to fresh, bold concepts. It's this approach that's gifted the world with consistently elevated pieces, such as her standout Hokusai emblazoned gown. Katsura's penchant for experimentation is also what makes a recent playful collaboration between Katsura, photographer Marie Deteneuille and stylist Samia Giobellina a match made in editorial heaven – or certainly one that looks plucked from amongst the clouds. Imposing yet decidedly dreamy, the shoot offers a deconstructed glimpse into the delicate and extravagant components that usually compose an entire couture bridal ensemble. Giobellina's and Deteneuille's editorial ode to Katsura strips back all the excess. These photographs instead reveal nude underskirts, exposed ruffs, and Yumi Katsura's timeless design dexterity.
In light of this recent enchanting offering, we caught up with the bridal gown extraordinaire to talk style icons, iconic firsts, and kimonos.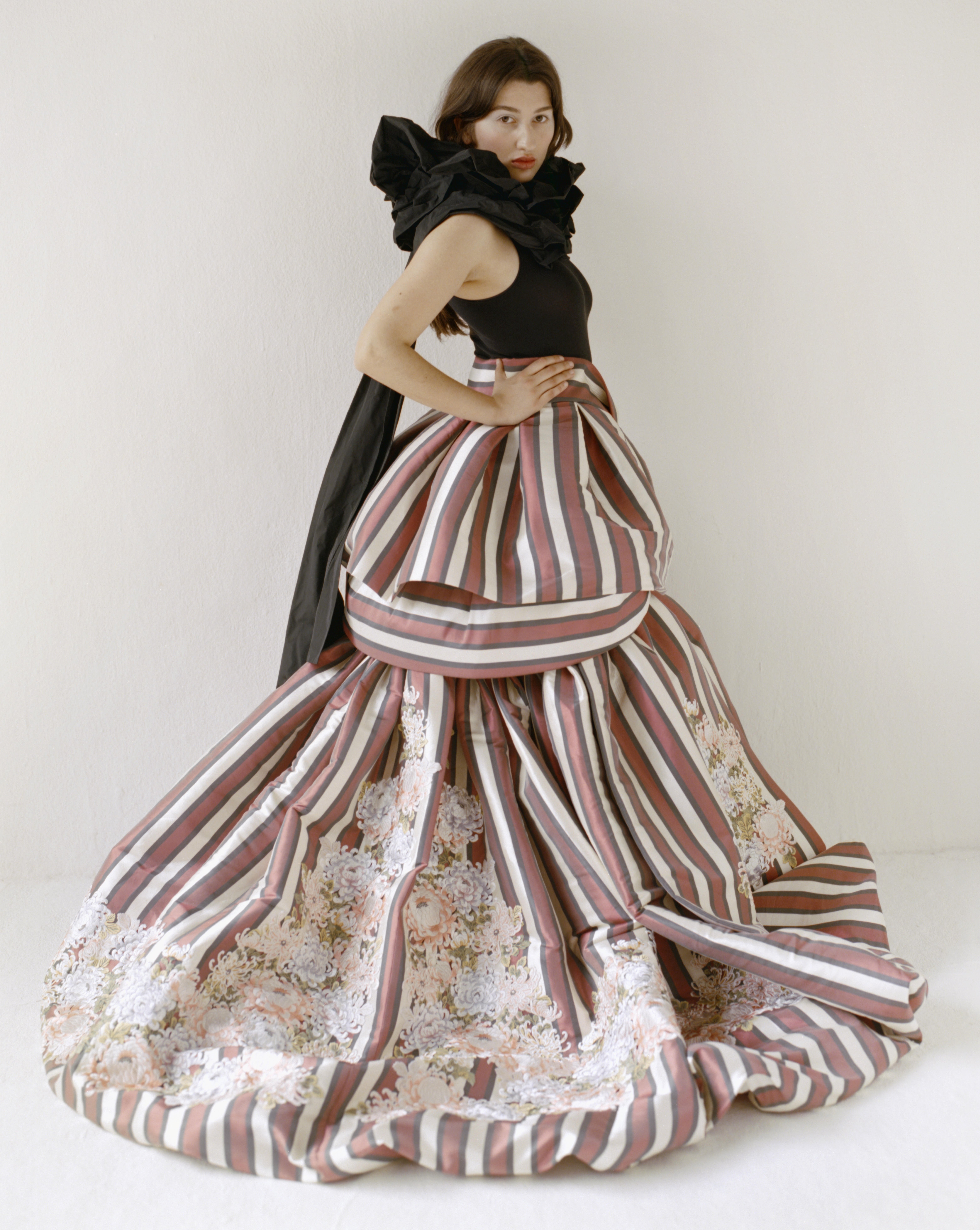 How did you first get into fashion? 
It was 1947, just after the end of the war, when Christian Dior unveiled his revolutionary The New Look. For the first time in my life, I saw 'romantic' clothes. Having grown up during the war, we mostly wore slacks, blouses or long skirts. When Dior eventually came to Japan—I think, in the early '50s—everyone began admiring The New Look. I could see what an enormous impact the industry had on women. I will never forget about a young woman I read about in the newspaper who wanted to wear Dior's famous long skirt but on her monthly salary, she couldn't afford it. She committed suicide out of despair. It was so shocking. It made me realise what a huge impact fashion has on people's lives.
Other than Dior, who were the designers or style icons that inspired you back then?
It's very difficult to say one person, but maybe I can say Mr. Pierre Balmain. It was 1975 when he came to the Tokyo boutiques, and he visited us by chance. He stopped by and he was very, very impressed. He said, he was jealous of me, because I worked in wedding-wear, which signified a person's happiest moment.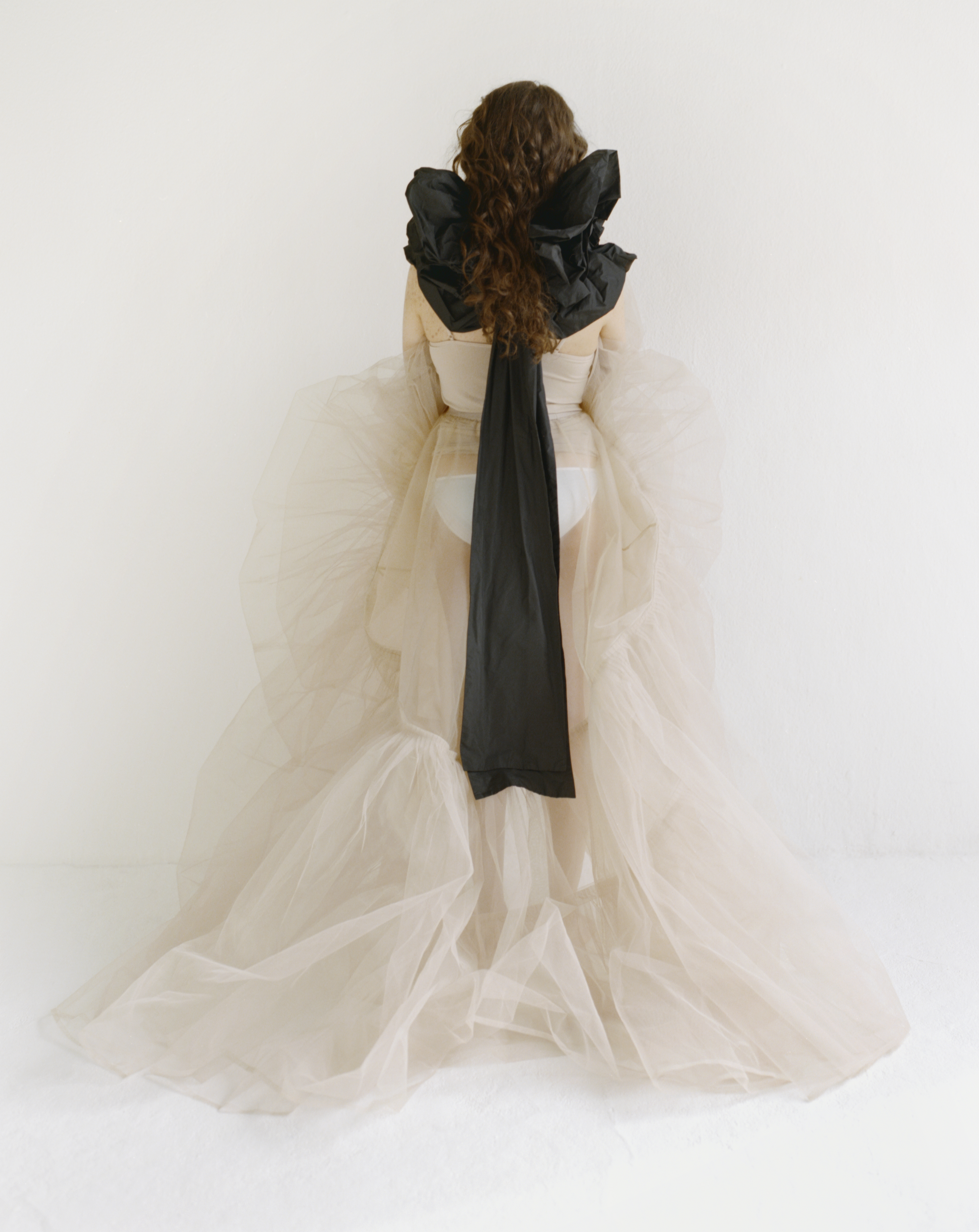 You're now 87, and you were the first designer to launch a Couture brand in Japan and to dress the Pope—does it get better than that? Do you have any other goals you're still striving to achieve?
I design clothes and accessories to make people beautiful as a means to make people happy. My mission is to make women happy all over the world. That's what I am looking for in all my work. The first reason I worked on bridal fashion was that brides in Japan were unable to find the beautiful wedding dresses. On January 1st, 1964, I used the word 'bridal' for the first time when I opened my first bridal salon—only the word 'wedding' has been used up until that point in Japan—and presented the first bridal collection show ever held in Japan.
What was considered 'wedding' attire back then?
At that time, it was still very much limited to the kimono. It got me curious and after checking, I came to discover that only about three percent of couples who had wedding ceremonies wore Western-style wedding dresses at the time. Given that 97 percent of the people were not going for Western weddings, there was no room for business of this kind. But I kept thinking about that three percent—how were they managing? I felt that someone had to open a business and help this small minority.
And have you seen a change in bridal styles in Japan since?
Today, all the brides are wearing western wedding dress. In fact, the custom of wearing kimonos became obsolete about 20 years ago. I was very sad that this beautiful culture was dying out, and so I decided to create clothes which utilised the world-class Japanese traditional kimono technology—Yuzen, Nishijin, Tie-dyeing and hand embroidery for example. While the skill required in Yuzen methods is getting spoiled, I thought it was worth telling people around the world how appealing it is! To attempt to stop the Japanese traditional art of Yuzen from dying out, I opened Yumi Katsura Paris Shop and start showcasing Haute Couture Collections in Paris every year. My goal is to spread this Yuzen collection all over the world.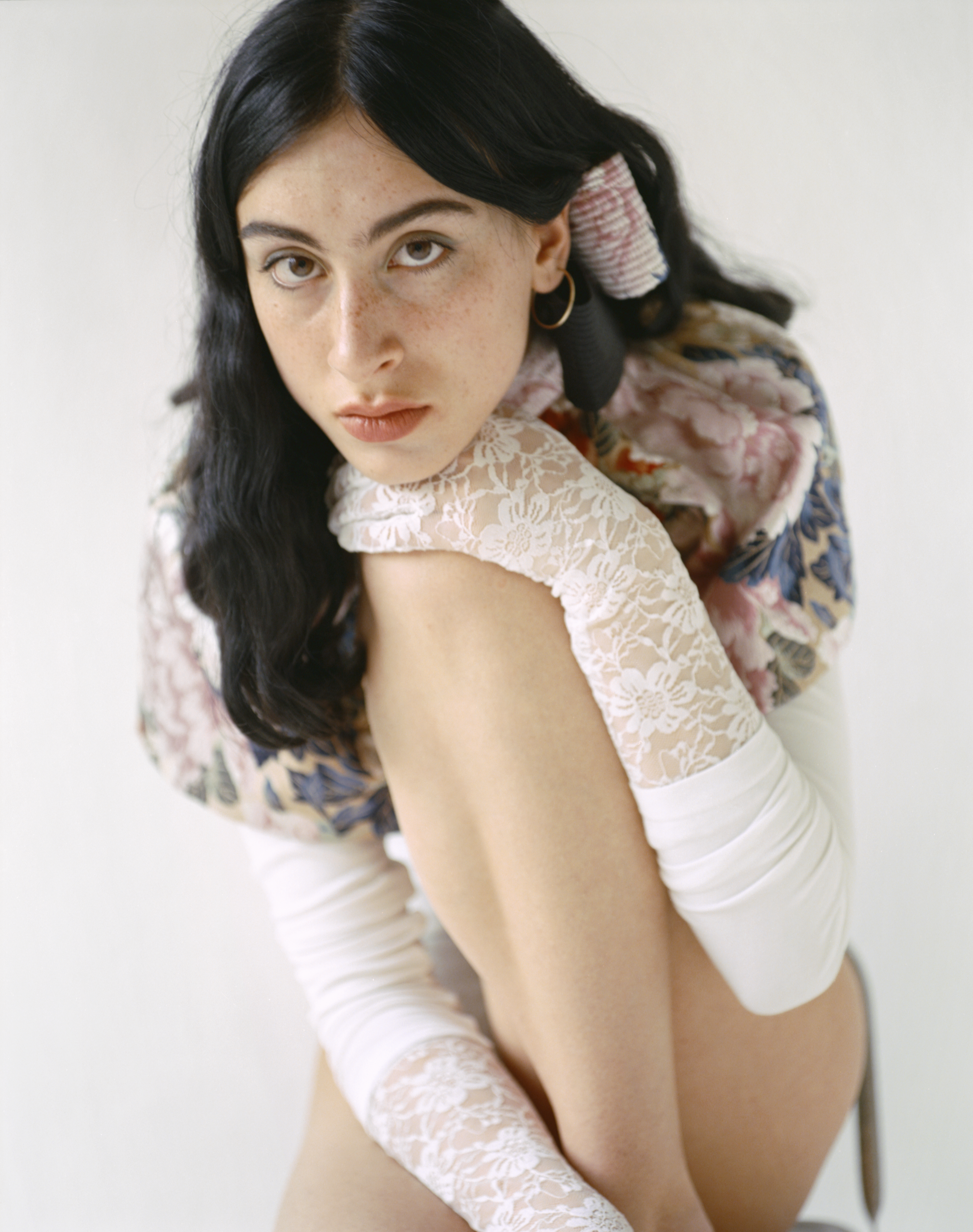 Do you find that working with pieces such as the kimono gives you an opportunity to put your unique stamp on to tradition?
I highly appreciate the artistry of the kimono, but it will eventually decline unless we make new reforms to the tradition. For Japan, I do this by improving the kimono to make it functional for modern life. For the rest of the world, I combine Japanese traditional techniques with modern western fashion.
How has Japanese haute couture fashion changed since you began in this field?
I think that I have raised the level of bridal wear in Japan to the same level as Britain, the US, France, and Italy. There is now more of a focus on applying traditional technology to modern fashion, which Japan is proud of in the world. In the past Japanese people have only longed for Western culture, but today people have begun to feel the importance of the fusion of western and Japanese culture.
Photography MARIE DETENEUILLE
Styling SAMIA GIOBELLINA