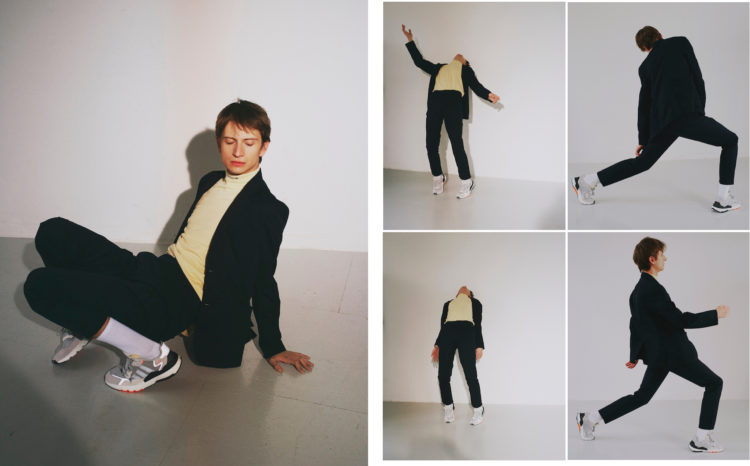 Top ADIDAS, Blazer ARKET, Trousers ARKET, Socks Stylist's own, Shoes ADIDAS ORIGINALS NITE JOGGER
Performance artist Thilo Garus is one of a new generation of artists and creatives who call Berlin their home. Born in Munich 1994 and based in the German capital for the last five years, Garus epitomises the coveted and flourishing diversity within Berlin's ever-expanding creative scene. Since then, he's been honing and expanding his multifaceted talent that traverses the realms of modelling, dancing, acting and performing.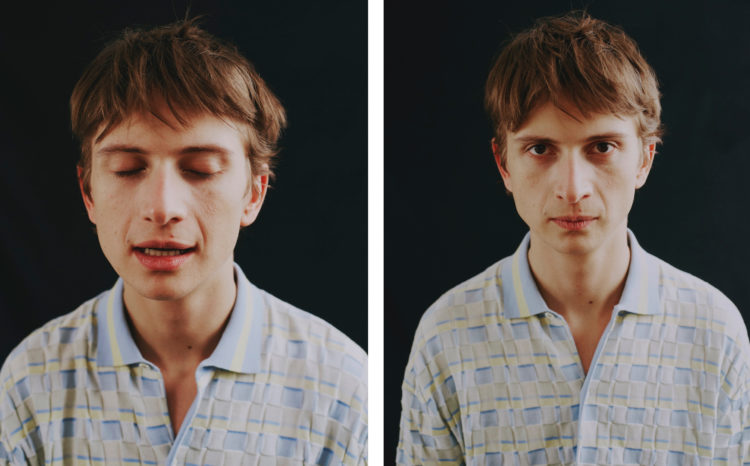 Top PRINGLE OF SCOTLAND, Trousers ADIDAS
For artists like Garus, versatility is the name of the game, and flexibility—both in literal and symbolic terms—plays a central role in his work. Rehearsals and performances can take place at any time, day or night, and after-dark creativity is where Garus' raw talent shines through. It's apt, then, that when we meet the young artist, it's on occasion of the Nite Jogger re-release by adidas Originals. A purveyor of innovation and creativity itself, adidas conceives the shoe's reflective silhouette as an essential stake for any night time creator. Kitted out and agile in the Nite Jogger, we talk to Garus about art, performance and the magic of movement.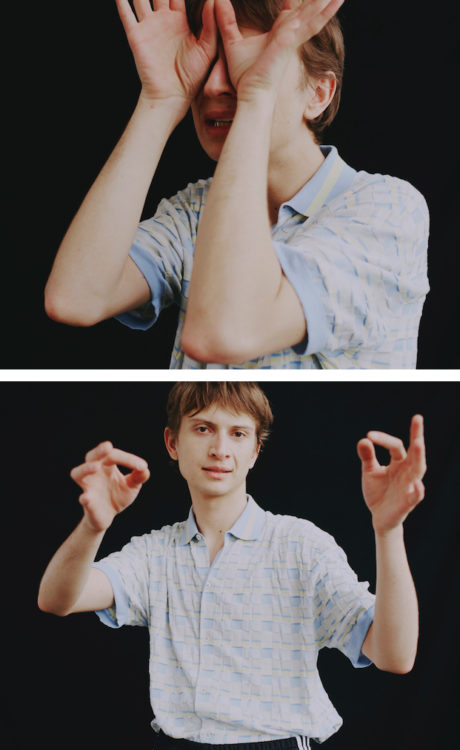 Though art has been a part of Garus' life since childhood, he had never considered performing arts as a viable career option. "I started working as a performer in my spare time during my architecture studies," Garus remembers. "I learned mostly from others." It wasn't until pioneering performance artist, Nationalgalerie Prize for Young Art-winner and Venice Biennale showstopper Anne Imhof approached Garus that life began to change. "It was my first ever gig," Garus admits. "I guess she just found me." The piece, Angst 2, presented at the Hamburger Bahnhof back in 2016, played out in the form of a mock-opera, in which audience members were able to disrupt the soundtrack with their mobile phones.
And Garus' collaboration with Imhof was far from just a one time thing, as the inimitable contemporary artist enlisted Garus' dynamic performativity a year later for Faust, the five-hour-long spectacle that shook the the 2017 Venice Biennale and went down as one of the most tentatively tense and emotive pieces of performance in recent art history. "I performed for seven months straight as one of the core performers," Garus tells INDIE, "which was quite intense but overall an incredible experience."
But it's not just the art world Garus has mastered. The 24-year-old has recently dipped his toe into fashion waters, modelling for the likes of Balenciaga, and proving the diversity of his abilities. "It was such a great experience," he beams, talking of his time with Balenciaga. "I also made some friends that were involved in the creative aspect of the label so that was refreshing."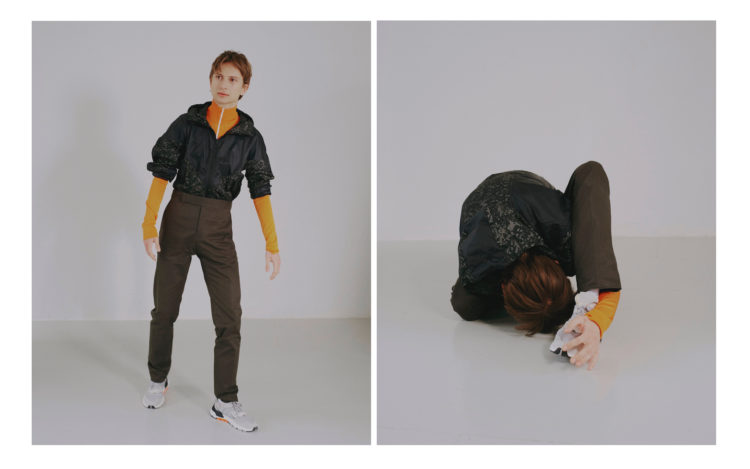 Top PRINGLE OF SCOTLAND, Jacket ADIDAS, Trousers BERLUTI via MATCHES FASHION, Shoes ADIDAS ORIGINALS NITE JOGGER
While the nature of Garus' work is hard to define or pigeonhole, the notion of movement is one that ties all the disparate aspects of his practice together. "For every job I have to adapt," he explains. "I start stretching more for performance production or read more books when I need to learn text. I think my skill of moving my body around a space is grounded in my architecture studies. The term 'dancer' for me is incorrect, I prefer the term 'body in space mover'." It's a phrase Garus uses in jest, but one that rightfully encapsulates the physicality of his work. There's no denying the intensity and demanding nature of performance, both on the mind and the body, and for this reason, Garus' has placed a great deal of importance on perfecting the art of self-care. "Since my work is more physical now, I try to stay in shape as much as I can," Garus explains. "My mental state is always a reflection of my physical state and vice versa."

Top ARYS, Tie Stylist's own, Coat Stylist's own, Trousers ADIDAS, Shoes ADIDAS ORIGINALS NITE JOGGER
Besides the value of looking after yourself, Garus has absorbed a wealth of life and career advice, owing to his diverse background. "The most valuable lesson I've learned is that it's so important to have an open eye for interesting stuff that is happening around you and appreciate other people's work," he tells INDIE. "I'm such a fanboy of so many people and their work, weirdly enough sometimes more than my own, so I'm always humbled when people appreciate mine." Collaborating with artists who inspire him, including Sam Desouza, Josh Johnson and Boychild, Garus keeps his work progressing and interesting, acknowledging and embracing the rich potential of learning from others.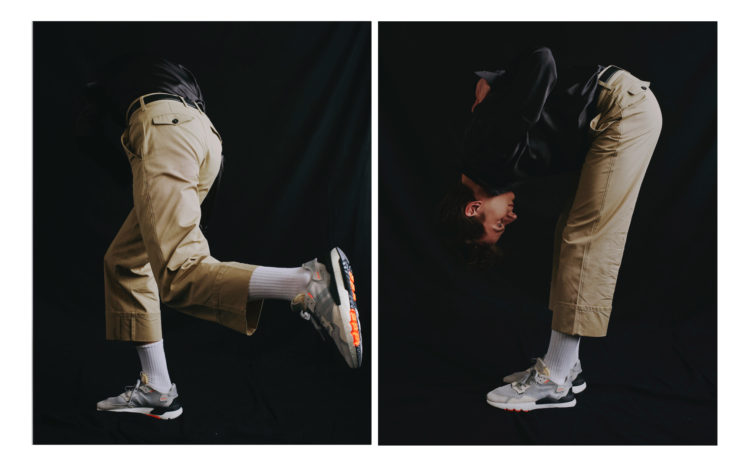 Top SSS WORLDCORP, Trousers PRADA via Matches Fashion, Belt Stylist's own, Socks Stylist's own, Shoes ADIDAS ORIGINALS NITE JOGGER
The adidas Originals Nite Jogger is available in stores globally on April 11 and online here.
Photographer CLARA NEBELING
Stylist ALENA WIEGMANN
Hair & Make Up SABINA PINSONE
Talent THILO GARUS
Production PIA AHLERT