Every Sunday, up and down the streets, back corners and industrial roads of Southwark, London, 20,000 people gather together to attend Sunday service. These particular congregants are part of a community of Aladura Spiritualist African churches or 'white garment' churches that have endured and enriched London's changing landscape for decades.
As the most concentrated collection of Aladura churches outside of the continent, Southwark's religious landscape is a product of London's diasporic communities. Literally translating to "praying people" in Yoruba, Aladura was born over 100 years ago in Nigeria, and has since spread the world over, having a tangible impact on Southwark's industrial sprawl in particular. Bingo halls, old office spaces, cinemas and forgotten warehouses have been repurposed as places of worship, owing to their ability to hold both a large congregation echo the exuberance typical in a service. A sea of white robes and such roaring life might be easy to spot amongst the Sunday morning grog in Southwark, but a new project by photographer Sophie Green aims to acquaint us beyond first impressions. Congregation offers a glimpse into intriguing sites where a bingo hall might hide divine décor and generations of religious practice and cultural community. Mostly, the photographs in Congregation capture the adaptive, enduring nature of the churches in the face of modern development.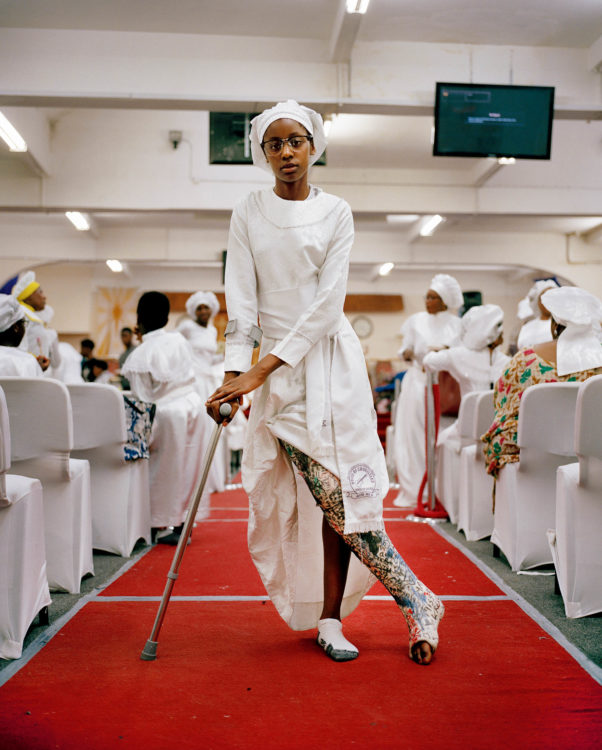 Although membership for the Aladura churches is burgeoning, the individuals that make up this fabric face the problems inherent for a minority group amid rapid gentrification. Prior to Congregation, Green spent her career capturing subcultures who face similar threats of erasure. From working with Traveller groups to Afro hair salons in Peckham, her works are an artistic curation of different kinds of overlooked British heritage and history. This experience has translated into a honed photographic process and a compelling commitment to her subjects. In Congregation, Green "engages directly with individuals through collaborative, posed portrait sessions and photographic workshops", explains Loose Joints, who published the book. The result? Highly evocative and visually stylised portraits, that never once feel voyeuristic or fetishising. Green recognises that naturalistic, observational images may be revealing, but collaboratively constructed posed-ness is too, and the latter is more empowering.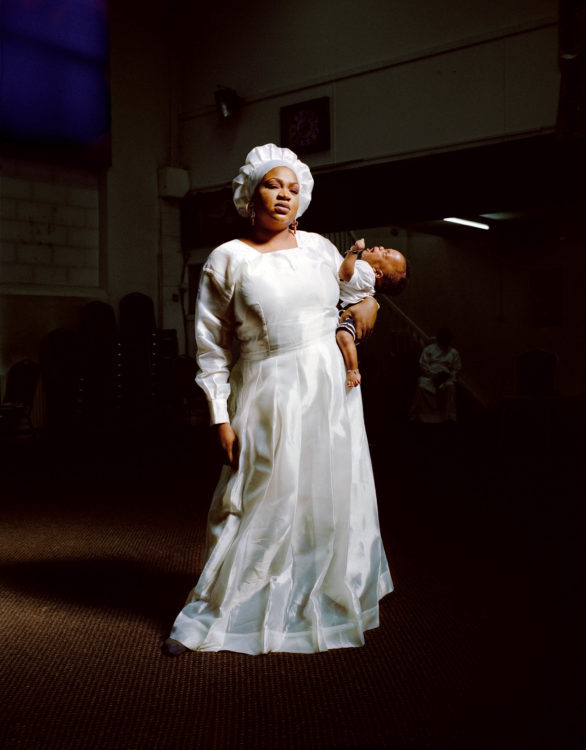 While Congregation is not voyeuristic, it holds authentic wonderment towards the ethereal satin canopies and transporting textures of the world of white garment churches. One can sense Green's fascination in the face of vivid beauty and dramatic religious iconography—but she is quick to merge these scenes with quotidian events and details. In one group portrait some white earbuds pop out from the collar of a robe, in another, bare feet can be seen poking from the bottom of a ribbon adorned chair. Traces of individuality, gadgets and humdrum life punctuate many of the images, but so too does London itself. Sometimes the city and the churches collide humorously, like in a photo of robed congregants queuing to buy ice cream, other instances are more forebodingly—the presence of cranes, high rises, and imposing architecture pose questions for the future of this community.
Although steeped in such a larger political landscape and vital cultural issues, Green doesn't lose a single tree to the forest. When we come away from Congregation we are left with faces, faces of individuals sharing their culture with a guest, and we can't help but feel thankful to have been invited in.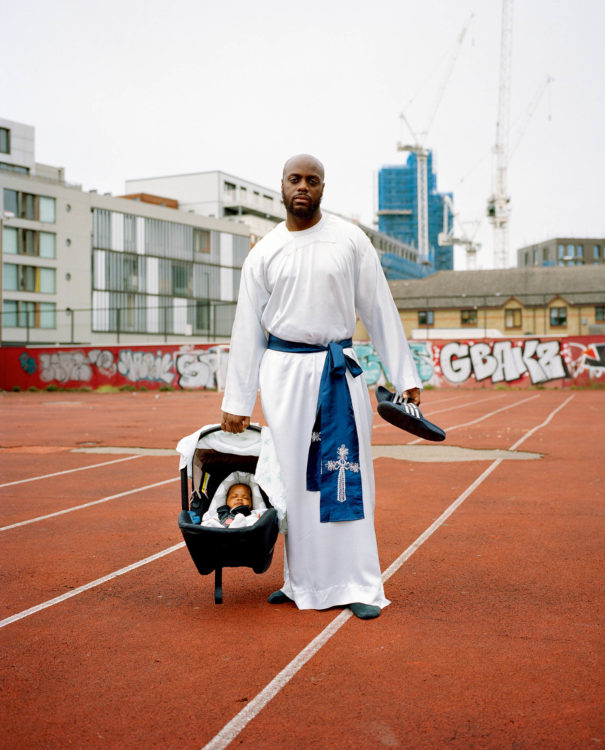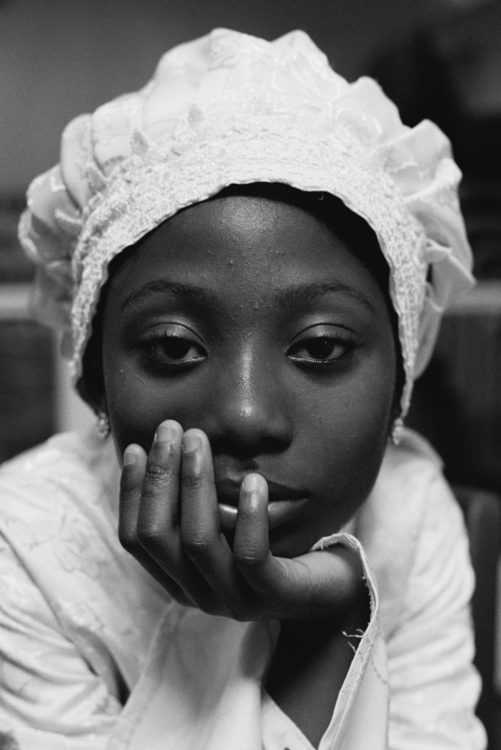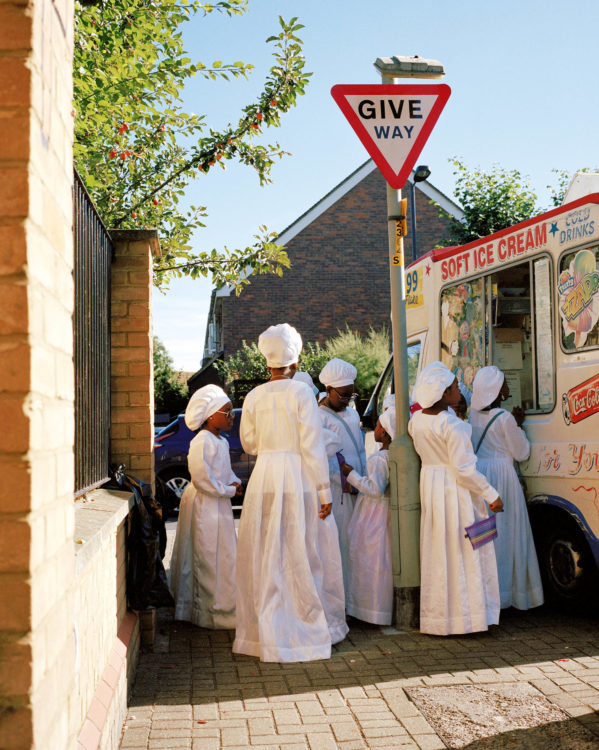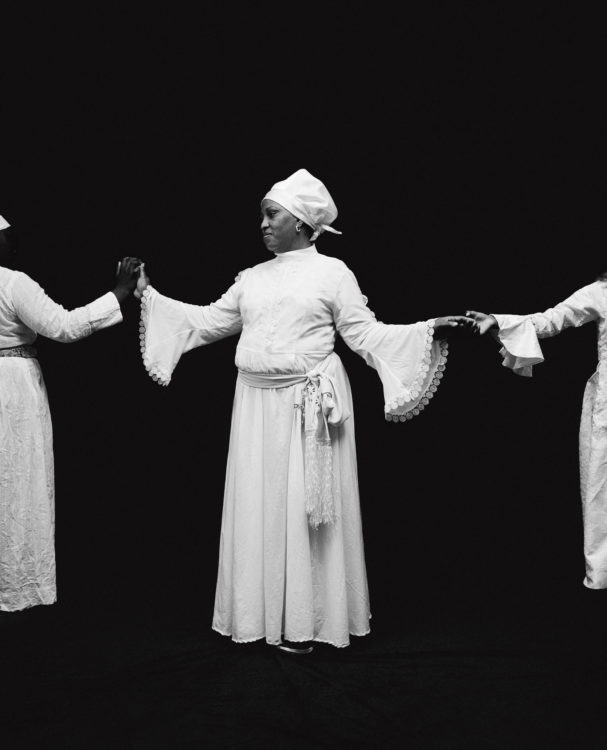 Congregation by Sophie Green is available to order via Loose Joints