INDIE's connection to nightlife is instinctive. Nightlife nurtures our city's creative community, offering unrivalled escapism that unites all the disparate niches within Berlin's cultural scene—and this inclusive ethos strongly resonates with the INDIE frame of mind. We are ardent allies of the LGBTQ+, female-led and non-binary club scene that this city cultivates. And nightlife is about unity—it's about coming together, celebrating each other and being as one. Above all, nightlife is the ultimate way we forge a connection with our community, because if Berliners know one thing, it's how to party. That's why we're honoured to be a part of ABSOLUT's #NothingButAbsolut series, an initiative which invites purveyors of nightlife to curate their ideal after-dark landscape—for one night only.
To celebrate the release of our new issue, we at INDIE have joined forces with ABSOLUT to curate a party as a gift to our community—a thanks for the ongoing support and a celebration of our first bi-annual print issue. Unfolding under the theme Your Hopes and Dreams Will Kill You, INDIE 62 deals with all the hopes and dreams we burden ourselves with in modern life. We talk to creatives who have managed to handle the pressure that comes with living up to their goals and dreams under the public eye, and we tell stories of failure and the power it can hold. It's about making peace with the fact that there's no one-size-fits-all notion of success—and that everyone moves at their own pace. It's a notion mirrored in Berlin's young, creative identity and celebrated in the vibrancy and diversity of its club culture. That's why, united under a shared brand ethos of freedom and self expression, INDIE and ABSOLUT have teamed up to bring Berlin a night of unadulterated spaß, soundtracked by some of the city's most celebrated DJs and punctuated by boundary-pushing performances.  
Boasting DJ sets from Alyha Love, the trans-activist behind Berlin's political party series Room4Resistance, the UK's FKA, Ellen Allien label signee Aerea Negrot, Berghain/Pano-regular Alinka and Honey Dijon collaborator Tom Peters, the night pulls together a fierce and queer-dominated line-up that embodies everything we love about Berlin nightlife. The hotly-anticipated event will also play host to Florian Máthé from the performance collective Kepler452b, and an array of Berlin's most beloved drag queens—including Chloe Waldorf & Tina TurnUp and none other than INDIE's very own Miss Schawarma (if you know, you know.)
To be in with a chance of winning tickets to the INDIE 62 launch party in collaboration with ABSOLUT, keep your eyes on our social media channels.
See you on the floor.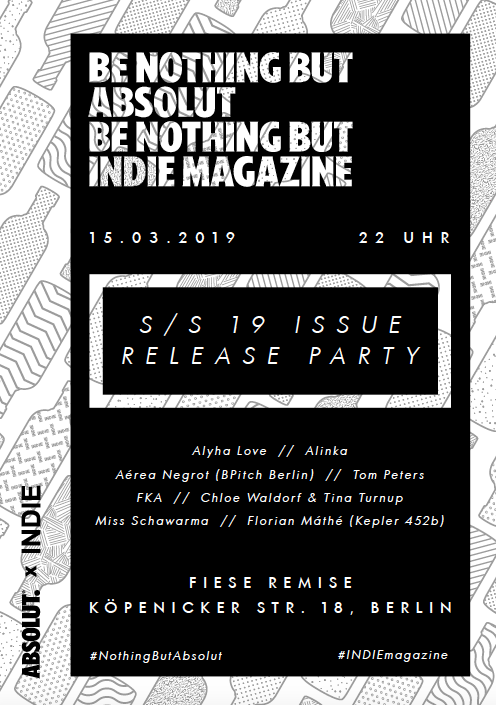 In collaboration with