Streatham born David Orobosa Omoregie, better known as rap and grime breakthrough artist Dave, just dropped his latest album, Psychodrama—the monumental 11-track anthology that secured number one album in the UK charts, and has been dubbed the "best British rap album in a generation". Tracing every aspect of contemporary society, from mental health and domestic violence to cultural appropriation, racism and familial dysfunction, Psychodrama is not only a frank and open personal outpouring, but an exposé revealing the harsh reality of the British system.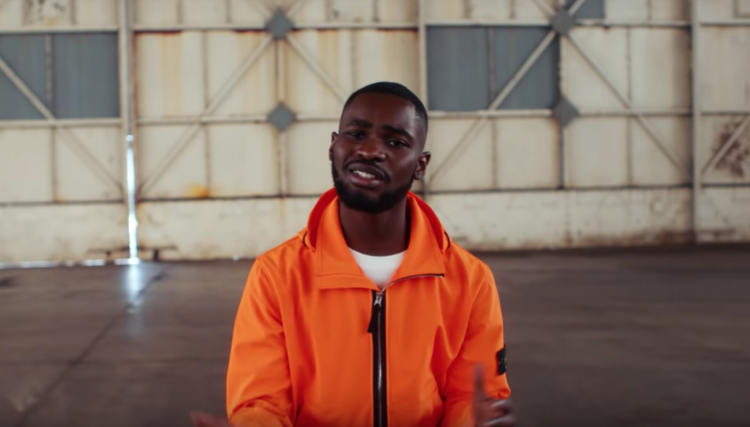 Still from 'Black'
At the ripe age of 20, Dave already possesses a fearless lyrical ingenuity unlike any other rapper of his time. His blatant bars and unflinching confidence restore our faith in not just present-day rap and grime, but music as a whole. Psychodrama has received a mixed bag of reviews so far, with BBC Radio 1 listeners lashing out and hurling negative comments and feedback towards his hit single 'Black'—although it is important to highlight that a majority of these naysayers are white. Following the serious ruffling of feathers caused by his second EP Game Over, home to the controversially political track 'Question Time', it's no shock that Dave has managed to cause uproar with this album. The seven-minute track covered everything from Grenfell and Theresa May, to corrupt warfare and NHS dilemmas—Dave daringly held a mirror up to the unscrupulous members of the UK government, ushering them to look at themselves in the eyes and confront and confess what they'd done and where they're going.
Psychodrama aims to be different—it's its own concept and genre of contemporary grime. Brimming with spoken word, piano solos, recordings of Dave's therapy appointments and melodic instrumentals, Psychodrama comes across as a plea for help fused with a burning desire and anger for Dave to speak his truth. A sombre and hard-hitting memoir of his early life and upbringing, the songs translate as a story and reportage on the painful and true events that took place for him—like pieces of a puzzle, they make him who he is. You almost feel like you're standing in the corner of his bedroom watching his whole life unfold.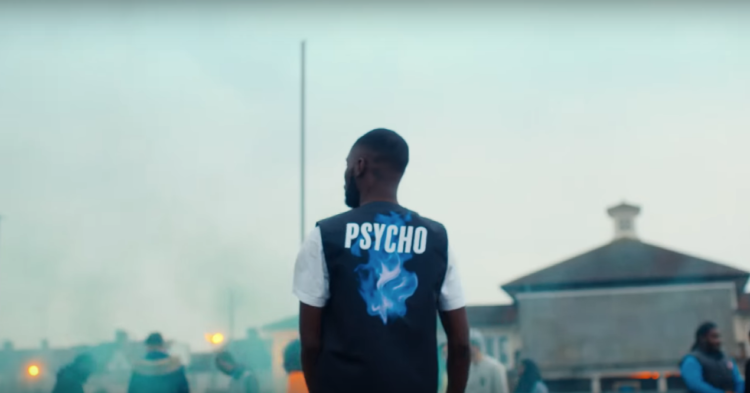 Still from 'Black'
A monolithic commentary on what it entails to be a young black man in our current climate, Psychodrama propels itself far ahead of any other grime albums to date. Dave's vulnerability on his experiences is not only laudable, but also a strong jab at the disparities that exist within the British class system. Tracks like 'Black' ("black is workin' twice as hard as the people you know you're better than 'cause you need to do double what they do so you can level them"), 'Streatham' ("I grew up in Streatham and teachers was givin' man tests same time mandem were givin' out testers"), and Voices ("Me and suffering got the same dad. Me and pain go way back") all reflect his struggle when tackling the systematic injustice in Britain, and in particular, how this system continues to fail marginalised communities in the UK.
Dave discusses what it feels like to be a black man in a time period when racial prejudice and stigmatisation are starting to slowly creep their way back into our judgement and society. Spitting harsh truths like, "Black is bein' guilty until proven that you're innocent", Dave openly slams 'the system' that prevails in the UK, the US and elsewhere, for its institutionalised racism and outright oppression and violence against black people. The obvious disadvantage that the black community are at in all sectors and senses of the word is evident when it comes to police brutality, blame and unjust discrimination. A UK government study from the Guardian in 2017 elucidated that black men are more likely to be found guilty at crown court, with 112 sentenced to custody for every 100 white men. Dave's fellow grime brother, J Hus, who also features on the album, is currently serving eight months in jail whilst Dave's real brother was sentenced to life imprisonment—a raw and sensitive topic which he addresses on the album. "I just lost the only fucking person that I idolised" he laments in 'Drama', while the rest of the album features interstitials of tender phone recordings of his brother calling him from prison.
Through his own vulnerability—his raw and intensely personal narrative—Dave exposes the daily injustices faced by PoC at the hands of the UK's system.  'Streatham' highlights the staggering educational disparity in the UK that's inextricably linked to class and race—a disparity that's seen black Caribbean pupils permanently excluded from school at three times the rate of white British pupils. Dave's own experience—struggling to stay in school, dealing drugs and a lack of academic stability—is emblematic of so many young people residing all over the UK.  'Black' also points out the irreparable repercussions and inexcusable actions of white colonialism and slavery in countries such as Benin and Ghana with Dave spitting "Black is people namin' your countries on what they trade most Coast of Ivory, Gold Coast, and the Grain Coast, but most importantly to show how deep all this pain goes West Africa, Benin, they called it slave coast".
"Black is so much deeper than just African-American, our heritage been severed, you never got to experiment with family trees, 'cause they teach you 'bout famine and greed and show you pictures of our fam on their knees. Tell us we used to be barbaric, but we had actual queens"—'Black'
If Psychodrama clearly demonstrates one thing, it's how young individuals and pioneers like Dave are taking matters into their own hands—and it may be the first rap album from someone so young that voices the opinions, struggles and strifes of the UK youth with such clarity. When it comes to healthcare and wellbeing, tracks like 'Psycho', 'Voices' and 'Drama' speak frankly of the lack of help and hospital care accessible for marginalised and less represented communities, a truth backed up by a shocking recent study at the Royal College of Psychiatrists. These tracks lyrically explore the plagues of mental health—"how do you stop all the pain?" Dave asks us in rhetoric desperation, "if I'm a psycho then I don't wanna be sane"—but also include first-hand snippets of real conversation, recorded from his own therapy sessions. Yet there is a glimmer of hope and positivity as Dave brings the topic of mental health amongst male youths to the table. He aims to fight the stigma that discourages men from being facetious with their feelings and accepting that they need help, whilst simultaneously pointing out the lack of support that exists for young black men in the UK.
Probably the most harrowing of tracks on the album is 11-minute long 'Lesley'. A brutally honest soliloquy raising awareness on domestic violence and abusive relationships, the track is slow and anguished, with the lyrics making you wince in pain at the harsh reality of some women's circumstances, and no doubt, fragments of Dave's own encounters—"mans possessive and aggressive and she can't even see it, but for them it's clear as day", "turtleneck jumpers makeup round her eyes spots", "I'm touched 'cause I've seen women that I love though like cry little red tears through a bloodshot eye. This shit's awful, no matter what culture it ain't normal, men try and twist it, make it seem like it's your fault". Dave's succinct bars carry such weight, triggering an uncontrollable fixation on his voice, as he relays the grittiest realities of life. The melodic instrumentals and tone of Dave's voice transport this song far away from stereotypical grime; instead unearthing a mountain of deep pain and advice on self-worth from the young rapper—"message to a woman with a toxic man, I'm begging you to get support if you're lost or trapped".
As an album, Psychodrama towers over the deepest and darkest corners of contemporary life, rising from the shadows with sincerity and hope. It introduces and reiterates the importance of conversations on topics that really shouldn't be brushed under the rug. A cathartic and unquestionably necessary commentary on race, identity, marginalisation and white favouritism in the UK, Psychodrama turns grime as we know it on its head, serving us heavy home truths through tender vocals and melodies. If this is what Dave is able to produce at just 20-years-old, the future promises to be big. Inarguably eloquent and truly visionary, the final words on the album, spoken by Dave's elder brother from prison, say it all: "Rise and anoint him—he's the one."