The fashion industry is a mess. Guided by a more-is-more ethos and a "want want want" mentality that makes even Veruca Salt look patient, contemporary fashion is as fast as it gets. But, there's hope still, as certain young and upcoming brands are taking a commendable 180-degree sartorial turn in the name of detail, quality and sustainability. Not only do these budding and developing designers turn a new leaf for the global industry, they're also working extremely hard to shun anything and everything related to the unethical demon that is fast fashion—which in our dire current climate couldn't be more appropriate and necessary. Fast fashion from retail giants contributes immensely to pollution around the world and is a waste of finite resources, but these young insightful creators offer an antidote to bring that party to an end. Here we chart 7 brands paving the way for a new vision and direction in high fashion, pushing towards greener innovation, a socially conscious means of production and welfare, and a sharp focus on reliability and guaranteed quality. 
PINQPONQ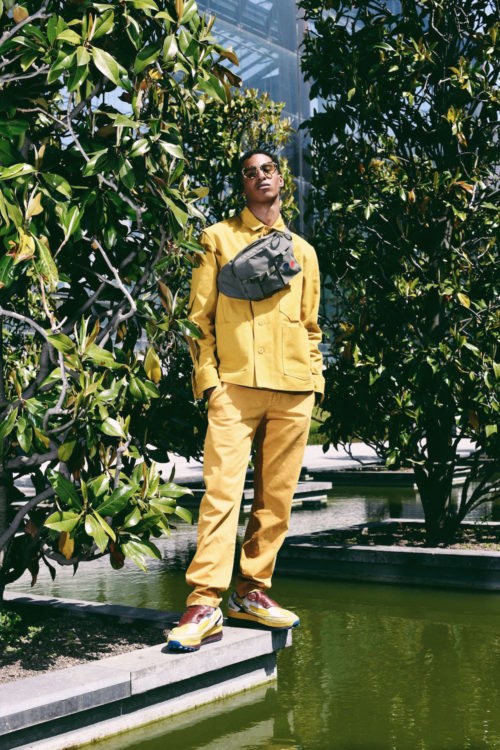 Flexible, futuristic and functional—three words that bag crafters pinqponq (@pinqponq) has stayed true to since its birth in 2014. Known for their premium quality and clear design, pinqponq has climbed the sustainable staircase, reaching the summit and proving that they are one of the leading bag designers working wholly with viable resources and still managing to generate ergonomic and stylish products. Whether you're cycling in torrential downpour, parkour-ing around the city streets or busy doing an outdoor photoshoot, pinqponq has you covered. As society becomes increasingly aware of global environmental issues and changing their attitudes towards life by adopting an 'own less share more' mentality, and pinqponq is a brand taking note. With ethics in mind, the brand has developed the accessories and tools which modern day urbanites feel inclined to get their hands on. Owning less means that when consumers approach a product, they focus a lot more on its utilitarian offerings, whether it's aesthetically pleasing, and its durability over time—and pinqponq effortlessly ticks all these boxes.
RAVE REVIEW
View this post on Instagram
Young Stockholm-born brand Rave Review, created by Josephine Bergqvist and Livia Schück in 2017, has taken the terms reduce, reuse and recycle to new fashion heights. In Scandinavian culture, green thinking reigns supreme, so it's no surprise that the pair use their brand to shed light on the ethical implications of fast fashion. The duo source their nostalgic textiles from a vast array of places: second hand shops, local vintage markets, home interiors and old ladies selling bits and bobs online. Rave Review deconstructs the antique and repurposes it, creating a one of a kind piece of clothing that emanates familiarity, innovation and a cacophony of vibrant colours. Most of the time they don't even have enough material to replicate specific garments as resources like patterned cloth and natural fibres are so limited. Yet this isn't all negative, if anything, it proves that the demand for what they're accomplishing completely exceeds the supply.
AFTERHOMEWORK (PARIS)
View this post on Instagram
At the age of 15, young Parisian Pierre Kaczmarek, founded his label AFTERHOMEWORK (PARIS). As you can guess, the eponymous brand started as a side project for him; however fast forward a few years and Pierre and his girlfriend, who is also his business partner, have turned AFTERHOMEWORK (PARIS) into a recognisable and highly commended fashion label. He was the youngest designer to ever be nominated for the prestigious 2018 ANDAM Prize, and showcased a jaw-dropping collection earlier this year at Paris Fashion Week. Atypical activewear combined with genderless garments and workwear attire all derive from Kaczmarek's experiences as a student and his daily life in Paris. Kaczmarek proves that high fashion can be beautiful yet also entirely aware of its implications and resourcing. From discovering blue Renault canvas underneath a bridge in Paris, to Berlin's vintage stalls and agricultural geotextiles, he's known for using discarded components and sneaky finds from markets; this highlights his desire to ethically source his materials and remain grounded whilst still veering away from repetitive trends and focusing on quality rather than quantity.
CECILIE BAHNSEN
Rather than churning out endless copies of the same garment, Copenhagen based designer, Cecilie Bahnsen never ceases to wow her audience with delicate, highly detailed pieces. Bahnsen, a finalist for the 2017 LVMH Prize, draws inspiration from her own understandings as a woman in society, aiming to capture this experience through her own untold histories. That she's entirely focused on quality and tailoring is obvious by looking at her pieces: Bahnsen doesn't desperately follow trends, she makes them.  The intricate details and colours within her work evoke an ethereal femininity, somewhat reminiscent of the magic surrounding childhood. The elegance and attention within just one of Bahnsen's DIY patchwork pieces is enough to make anyone question whether other brands really care about the energy and ethos they drive into their clothes.
KWAIDAN EDITIONS
Founded by Léa Dickely and Hung La, Kwaidan Editions takes its name from the 1964 Japanese fantasy film Kwaidan, which translates to 'ghost story'—and this couldn't be more apt when it comes to their enigmatic design approach. The London based duo, both of whom boast ridiculously successful pasts in the fashion world, are known for fusing crisp cut designs with extraordinary tailoring and monochrome palettes. Their interest in '60s and '70s film interiors penetrates their collections, evoking an almost eerie sci-fi atmosphere. And one thing that Kwaidan Editions never succumbs to is the urge to keep up with the fast-pace of the global fashion industry. Kwaidan Editions is a masters in taking its time and expressing things on its own terms. This confidence, attention to quality and respect of the creative process ensures that its garments succeed and shine amongst their competitors.
AHLUWALIA STUDIO
View this post on Instagram
Ahluwalia Studio is the brainchild of London born creative Priya Ahluwalia, University of Westminster and winner of the prestigious H&M Design Award 2019. Ahluwalia combats overconsumption and excess through her eclectic and environmentally responsible garments, through graphic, bold and sport-inspired designs that play with pattern, colour and patchwork and transform abandoned 'deadstock' into fresh, crisp pieces of high end fashion. Her keen focus on quality—in both material and content—stems from a personal exploration into herself and her roots. Old family photos, memorabilia and jewellery passed on to her through generations is a constant source of inspiration for the young designer. Rather than adopting a 'seen-before' style, Ahluwalia generates magic out of her own comfort zone and her dual Indian-Nigerian heritage. Playful in its visual aesthetic and undoubtedly beautiful, her work conveys a much more serious message, nodding towards the fashion industry's diabolical role in waste and unsustainable resourcing.
CAV EMPT
Cav Empt, an abbreviation for the Latin term caveat emptor meaning 'buyer beware', is a Japanese based streetwear brand founded by duo Sk8thing and Toby Feltwell. The name of the brand itself speaks volumes to its position in the contemporary fashion industry. Strongly inspired by the London look, but with a high focus on combatting consumerist culture and commenting on socio-technological problems in our current climate, Cav Empt truly approaches fashion in a unique way—and even their pieces hold true to this. Non-conformist and almost industrial styled garments are plastered with binary computer coding and SIM cards and offset by bold illustration—a nod to the both the designers' artistic and creative backgrounds. The brand's alternative website is also out of this world—transporting us away from the tragic reality of fast fashion and into the realm of high quality digitally influenced clothing.
In collaboration with pinqponq