British make-up artist and beauty entrepreneur Isamaya Ffrench communes with cult Canadian director, Brandon Cronenberg. Together, they revel in a carnival of corporeal delights, and gorge on the abundant feast of human beauty.
Beauty is in the eye of the beholder—an idea that has been repeated so much throughout the creative industry it borders on mantra. In practice, however, the subjective nature of beauty is rarely pushed into truly uncomfortable territory. Major beauty brands might claim to break boundaries, however, pushing limits is easier said than done. Beauty in the current moment is defined by the revolting realisation that we all pursue a monolithic ideal, one built algorithmically and almost subconsciously perpetuated. Behind every perfectly symmetrical face and razor-sharp cheekbone is ritualistic ceremony in which medical intervention and body modification elevate mere mortals into hyperrealistic demi-gods. Having the freedom and independence to explore the grey areas between the beautiful and the beastly is a rare and daunting journey, though a rewarding one nonetheless. It is, for British make-up artist Isamaya Ffrench as well as cult Canadian director Brandon Cronenberg, a road well-travelled. Both ever tow the line between allure and aberration, embracing the spirit of discovery in their respective milieus.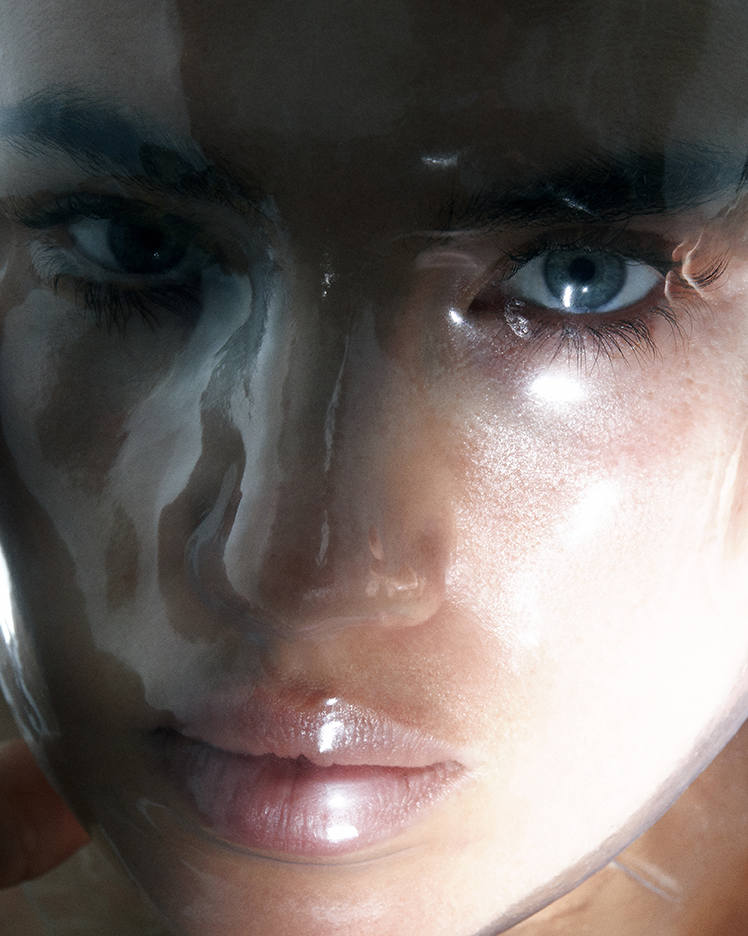 Though their work may, at first glance, seem to inhabit wholly divergent realms, the pair gravitate toward a common medium: the human body as lens through which their own interpretations of beauty can be interrogated. Their visual works are grounded in practical effects and make-up, which preserve a tangible and authentic aesthetic that resonates with a sense of craftsmanship and organic realism.
Ffrench, a world-renowned make-up artist, has made a name for herself by embracing the macabre in an industry that might otherwise claim to be anything but. She paints lips which appear plumped enough to burst with a "POP!" and fastens long spindly ears onto elf-like models who might very well have been plucked from the frenzied throws of a Witches' Sabbath.
Cronenberg is a filmmaker known for making works that lean as much into beauty and elegance as they do bloodshed and fleshy pulp. Utilising the satisfying physics of practical effects, Cronenberg builds stories of unexpected intimacy, if not anxious claustrophobia. Films like Possessor and Infinity Pool thrust conceptions of self-identity and personal agency into a dizzying tail-spin—gulp, vomit, stagger, fall.
To mark 20 years of INDIE, we brought the pair together to learn just how they have so successfully harnessed the power of the visceral and disgusting in their respective creative practices. Once together, the pair shared their thoughts on the use of electricity to overcome the human will, the liberating power of violence and the overflowing cornucopia borne from modern-day fertility goddess Kris Jenner.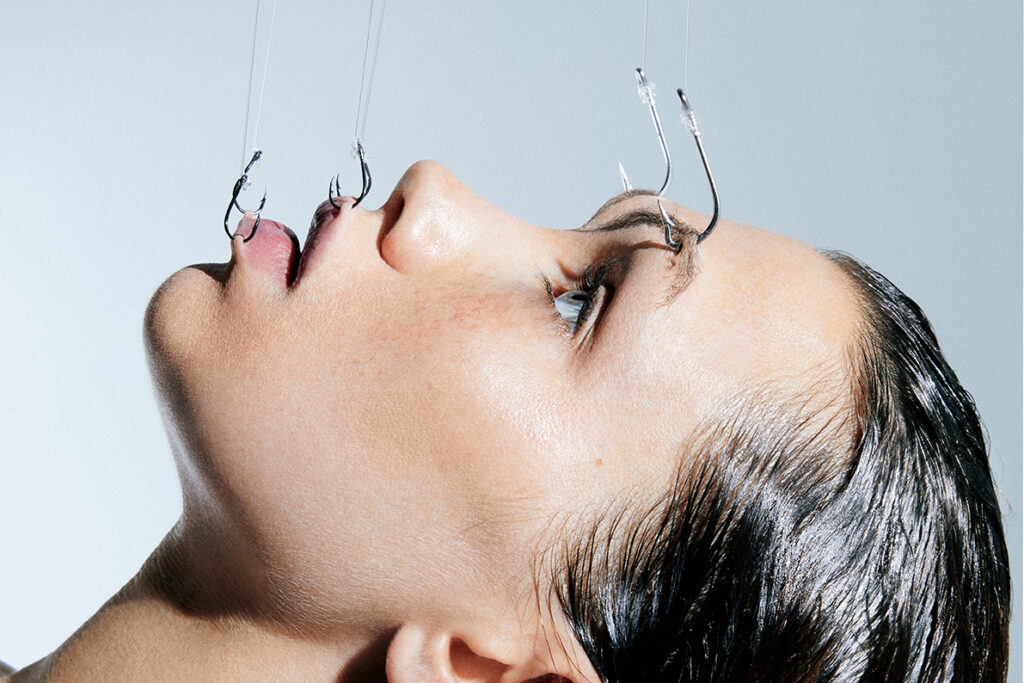 ISAMAYA FFRENCH:
I often get asked about my fascination with gore. I'm actually not really a gore diva. I've never really understood why my work looks the way it does. Your films seem to be getting gorier and gorier, so I wonder what your relationship is with things that most people might find visually disturbing?
BRANDON CRONENBERG:
For me, the most interesting movies are the ones that put me off balance and bring me somewhere uncomfortable. Film doesn't have to do that, but in my mind, art is most transformative when it pushes you to absorb unusual experiences that require acclimatising. What horror does well is it allows people to explore the spectrum of human emotion and human psychology that they might not explore in their day to day lives.
IF:
A psychoanalyst named Chris Oakley wrote a book called Football Delirium, and theorises that moments of self-elected madness keep you sane. I wonder if it's similarly applied to our daily lives, and if moments of losing yourself keep you balanced. It's always emotionally pent-up people that do crazy shit.
BC:
It definitely has to do with catharsis. It's been done in narrative performative art since ancient Greek tragedy—a room full of people going through this incredibly intense and dark experience and coming out the other side. It's cleansing and purging in a way we love.
IF:
Your characters don't really come out the other side though, do they?!
BC:
The characters don't, but the audience does. In the same way, with a Greek tragedy, everybody's dead except the audience, and then the audience walks off.
IF:
I thought about the red thread that connects your worlds. They touch on that human drive to push things to the edge. It's very edgelord vibes. You see it in BDSM or fetish cultures with sexual tension. It's about the compulsion to see how far you can go and retain control to experience a thrill. But in your films, it all goes tits up and the control is lost. Why are you drawn to this theme?
BC:
When I pick a film, it's like getting a song stuck in your head. It gets in your brain and picks away at you. It's not really a conscious decision. I am interested in the ways people impose ownership over their decisions after they've already made them. We do things because we're influenced by our environments, upbringing, and experiences, then, we try to own them. In the context of extreme experiences, they're much more transformative because they're out of the ordinary. In Infinity Pool, for someone to have these extreme experiences and then find something in them, be transformed by them, impose ownership on them and eventually come to identify with them—it's an exaggeration of something we do every day.
IF:
It's 'act now, think later,' but in a really gratuitous way?
BC:
Yes. Which, as I understand it, is actually just a function of the brain: the idea that we own our actions, that something came from within ourselves, is actually a sensation that's imposed after the fact, and our brains decide based on the evidence. When I was researching brain control for Possessor, I read this fascinating book by a neuroscientist named Dr José Delgado, who did experiments on animals and eventually psychiatric patients in the '50s and '60s. One of the most interesting experiments was that he would put wires in people's brains and could physically control them. If you stimulated certain parts of the motor cortex, you could open and close someone's hands or open and close their iris. They knew he was doing it too, and the patient said, 'Doctor, I can't open my hand, I'm afraid your electricity is stronger than my will.'
IF:
The Master and His Emissary shows 20 years of research into the differences between [the] left and right hemispheres of the brain, and the way they not only work to- gether, but influence your perceptions. The left brain is all about science, logic, language, categorisation, whereas the right is about self-identities, relationships; it thinks abstractly and is the visual centre. They've turned off areas of the brain that might affect the left side of the body, and the patient becomes so disengaged with it. They see their hand and they think it's someone else's, and they come up with all these wild reasons for this hand being in the bed with them, like 'Oh, it belongs to that guy'. But otherwise they speak with clarity and seem quite normal. So, when people have done terrible things, are they to blame? Did they have agency? It could get quite complicated if that's the truth.
BC:
Agency, responsibility, punishment, and justice exist on a human, social level, not on a fundamental one. I don't think we have free will. But in an experiential day-to-day way, we do. We hold people responsible, because not doing so has its own set of consequences and implications.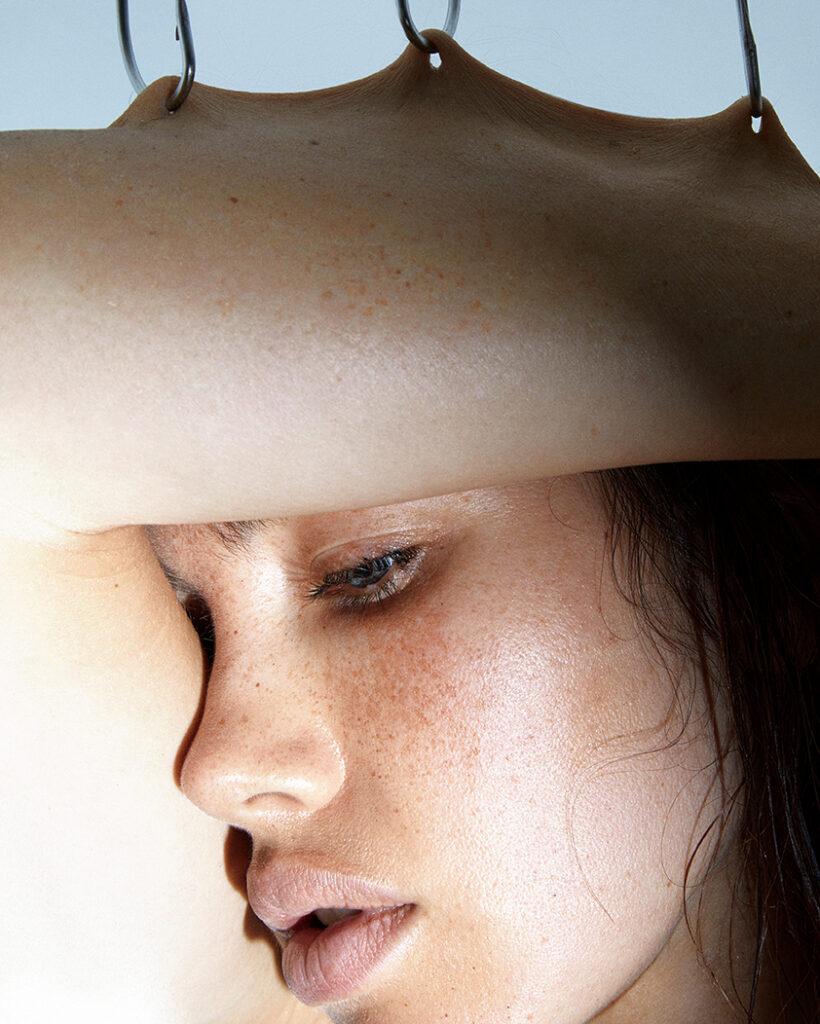 IF:
I find beauty hard to define. Can you define it?
BC:
It's impossible to define coherently. I was taught how to draw as a kid by my cousin, filmmaker Aaron Woodley, and I kept it up throughout my life. I'm not very good necessarily, but I enjoy it. After doing it for many years, if I look at a page, I have this visceral sense that if I draw a line, it'll be beautiful. But if I move that line an inch to the left, it won't work. It seems completely clear at the moment, but describing beauty that way seems like madness.
IF:
One of the reasons I love your films is they are so unique visually and aesthetically. Possessor is one of my favourites. It's brilliantly stylised and transcends what I normally understand as cinema. There's something particularly succinct about it—maybe it's the colour palette of bold primary colours. Where did you develop that sense of aestheticism?
BC:
There are two answers: One is, I have no idea. However my brain developed over time, certain things are delicious to me, and I can't help but attach myself to them. The other answer is more technical. First, my cinematographer Karim Hussain and I spend a long time making a theoretical shot list where we discuss scene-by-scene what each shot could be, well before there's even actors. In Possessor, half of the film takes place when Vos is out of the machine in her own life, and half of it takes place when she's in possession of somebody else in the machine. We made subtly different aesthetic ideas behind both. Everything when she's outside of the machine in her own life is shot handheld, and the depth of field is deeper. It has an anxious feeling to it because she's uncomfortable in her own life and is only at home in other people's bodies. But when she's inside someone it's a completely shallow depth of field. The iris is wide open, there's no handheld, it's all Steadicam, tripod, and dolly.
IF:
Horror and gore films rarely absorb you with their beauty. Yours are so beautiful that it fucks with you. In a way, it desensitises or even glamorises violence. Have you ever considered that?
BC:
It's a question that comes up often when you're making horror films in general. To me, a PG-13 film where the hero guns down a hundred faceless bad guys and none of them bleed is more disturbing. That glamorises violence in a more extreme way than anything I do.
I hate real world violence. I'm a complete pacifist. But in film, it's getting at something else. In my films, the violence is explicit and personal. It's never heroic. Although it has an aesthetic to it and is stylised, the audience is still uncomfortable with it. I would be surprised if anyone came out of my films feeling that violence was something glamorous.
IF:
Can you elaborate?
BC:
My stories have an internal progression following the psychology of the characters; what different shapes they take through these experiences, and how they respond to them. By explicitly showing this level of violence, even in a stylised sense, it calibrates the audience for the next scene, because they know viscerally what the character has gone through. Film is a visual medium. Its value is that it's immersive. If you tell someone what happened, they might understand technically, but they don't feel it.
IF:
When I did the shoot [for INDIE's 20th anniversary issue], it was about suspension. I found something that resonates with those ideas that I felt about your work. In suspension, just one kilo off and that hook is gonna rip through your skin. It's very emotional. Do you see the work that you do as emotional?
BC:
I like to think so, but not everyone agrees.
IF:
It's moving, isn't it? You can't get away from the fact that you feel very emotional when you're watching these psychological narratives develop and people losing control.
BC:
I don't know how you feel about your own work, but at a certain point, I lose all perspective—I hope the audience will have an emotional response, of course, but at a certain point, it becomes subjective, and I have distance from it. Do you feel that with your work? I'm doing horror movies, so it's expected. But you're working within the world of beauty, often in a grotesque way, embracing horrid stylisations.
IF:
My work gets called 'anti-beauty,' or 'ugly beautiful,' but that's totally meaningless. I don't think there's anything ugly, it's all personal preference. Maybe people seek 'beauty' because it gives our brain a dopamine hit. But beneath that surface there's so much more to explore, and that's where you make richer work.
BC:
Is this considered a movement in the beauty world? Do you connect to other artists as part of a wave of people exploring that?
IF:
Totally! I'm making a documentary about beauty throughout history and shifts in aesthetic idealism. At one point, wealth and fertility dominated what dictated beauty. All art reacts to its predecessors. We've just come out of the Kardashian-era of enhanced symmetry and very hyper-sexualized female forms. Not to mention, how many grandchildren does Kris Jenner have? If that doesn't say wealth and fertility, what does? The reaction is people wanting to reclaim their own identity. Ironically, everybody's trying to do the same thing.
I'm often asked, 'where next?' How will technology and AI affect the way we perceive ourselves and what we find beautiful? Today, face-tune apps and algorithms are leading to global beauty homogenisation, and we're all going 'Yeah, that's really hot!' When everyone around you is saying the same thing, you might start believing it too. Do you feel like you pursue the truth?
BC:
We're currently embedded in this information warfare. While some is coming from states, quite a bit is also coming from corporations trying to either influence people's opinions for monetary gain, or drive social media algorithms designed to seek out engagements at all costs, regardless of the consequences, to hook people in. In doing so, they aren't just learning you, they're shaping you too. It's not just a question of giving you what you want. It's a question of training you to want particular things. We are essentially these machines that are easily influenced by the stream of information that we're receiving at all times, so we're hackable in this sense. The ability to learn people and manipulate them once you have a nuanced sense of the behaviour and consequence could become destructive. I'm not anti-technology, I love it. But I thought about this often while writing Possessor.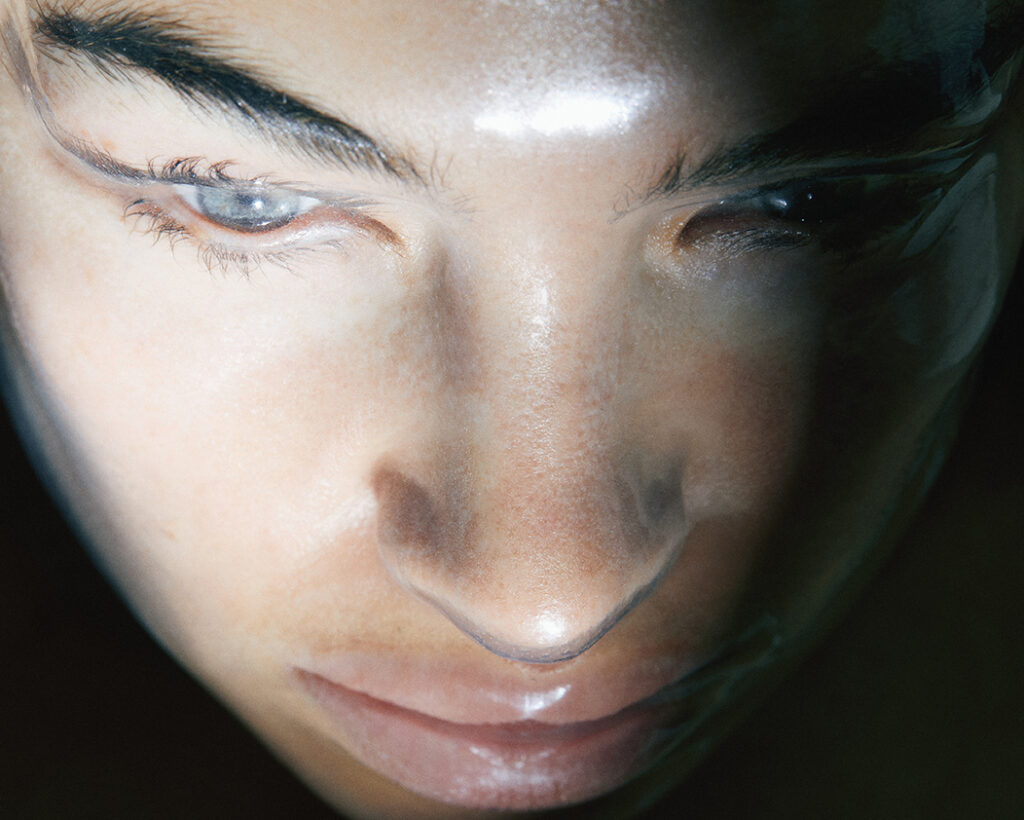 IF:
What's your stance on digital self-awareness?
BC:
I don't know. I don't think that ChatGPT is conscious. The current kind of AI we're seeing is going to change absolutely everything in some ways that are great, and in some ways that are hugely destructive. My friend has gone very deep into exploring ChatGPT as a writing tool. In the film industry, there's this huge question right now about to what degree human writers can be replaced. He had this experience where he wrote rough notes while critiquing a movie, and then fed them into ChatGPT and asked it to clean it up. It started changing his ideas a bit as it cleaned, but then it changed his opinions. And as he was reading back what it wrote, he started to change his own opinions and said, 'That's not quite what I meant, but maybe that actually is the correct criticism of the film.'

In terms of influence over creative production, it's inevitable that AI will soon craft scripts indistinguishable from humans. Many scripts already resemble AI work. But the real question is this: human art emerges from personal experiences, whereas AI lacks first-hand experience. AI can indirectly weave human experiences into writing by drawing from past human creations. However, human art is a direct response to our lives and contexts, and AI can't replicate that. Imagine AI generating infinite movies—you just type a prompt and get countless outcomes. Fun, yes, but does it fulfil art's core in us? Art is tied to human creators, their intentions, and the human connection. Can algorithmic creations satisfy us similarly? Perhaps, but future generations might not care about human art.
IF:
You can never put things into clear enough words to explain deep emotions or sensations. Language serves as an injustice of experience. If an AI is only working off language, and emotion is far superior to language, then you'll be limited with what can be created.
BC:
The worst-case version of this is humans becoming AI curators, and using AI to generate endless new movies on a whim. Say you're Guillermo Del Toro and you command an AI to make a movie. That product then becomes 'Guillermo Del Toro presents' and suddenly gives it value. As artists, we would all just work to build our brands as quickly as possible, so that by the time AI takes over, people will care about our curation abilities.
Text-to-video will develop further. Currently, it's lots of strange videos of US presidents eating spaghetti. That's great, but it's not quite where text-to-image is. AI can successfully create an image of someone in interesting makeup, without any physical application ever happening. What you're doing is also an art form, involving the creation of images not meant for human imitation. However, you're also part of the beauty industry, dealing with real individuals and physical forms. How do you feel about AI image generation versus what you're doing practically?
IF:
I've always explored new territories in my work and things I haven't seen elsewhere. The more overloaded I am with certain imagery, the less interested I am with it. I might just go, 'I fucking hate makeup—I've seen too much and can't find my niche, now I'll go save whales.' As a makeup artist, the challenge is almost trying not to look. If I look too much, I lose interest.
How could you apply this nuance toward creation to an AI? Maybe there's enough existing literature that describes human emotion and thought processes, and that's enough for a computer to work with. But like you said, the key is that human experience generates art.
BC:
Do you think the process will continue to entice people? At one point, we used to ask 'is photography going to be the death of painting?'
IF:
Many artists use Midjourney and DALL-E to create works they then paint or abstract into collage. Humans always have that impetus to create. It's our nature. That's the big confusion over art: why do we do it? What's the point? What's this other journey that we're on, besides the reproduction and proliferation of our species? I certainly couldn't stop doing makeup, but if I couldn't do makeup, I'd be doing something else.
BC:
I'm the same. It's completely compulsive. Art is one of those things that has been disappointingly impossible to define for thousands of years, just like beauty. It's something that we all sort of understand as important, moving and transformative. We have no idea what it is and have totally failed to define it in a coherent way. Art is whatever is convincing as art. It's just a particular way of looking at something and being affected by it. It's the context that gets us there.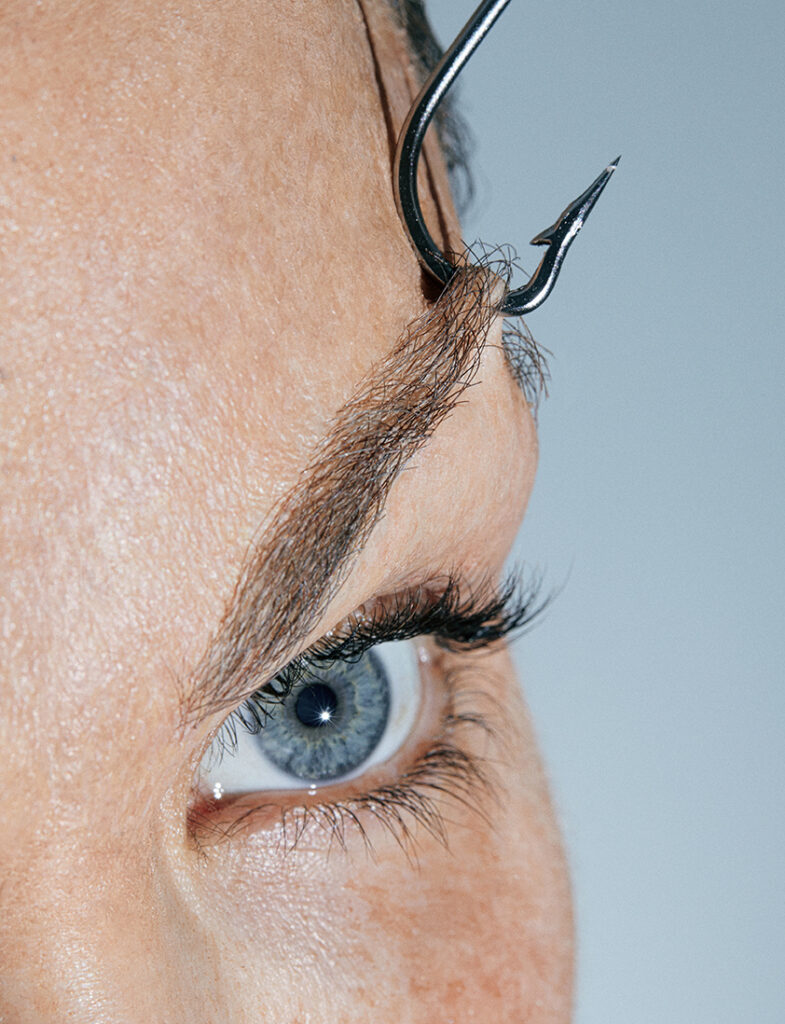 Creative Direction Isamaya Ffrench
Photography Anthony Arquier
Hair Jay Doan
Make-up Sophie Moore
SFX Art Francesco Fabiani
Production Anna Saltmarsh @ Streeters
Creative Assistant François Bresmal
Photography Assistant Kevin Drelon