A weird and wonderful back-to-back set at Draaimolen Festival saw producers Skrillex and Blawan converge, signalling an unlikely union between the mainstream and the underground. In conversation with Draaimolen's founder, Milo van Buijtene, and ahead of Skrillex's Berghain debut later this month, INDIE sifts through a decade of dance music history to find out what it means for techno purists and EDM addicts alike.
When Dutch festival Draaimolen announced its 2023 line-up back in May, there was one item on the roster that stood out. On the outskirts of a niche city in the Netherlands, EDM megastar Skrillex would play a back-to-back set with Blawan, a low-key deity of the electronic underground. The pairing seemed impossible—how would Skrillex's wonky basslines and head-banging drops mesh with Blawan's uniquely moody, low-frequency soundscapes? Draaimolen—a non-profit, community-based organisation—had spent ten years quietly building a reputation for themselves based on surprising programming and attention to detail. Would this be their major slip?
The internet made its predictions, and they were mixed. One X user "thought it was a shitpost"; another warned that "Blawan b2b Skrillex is not a good idea. The clueless new followers of Skrillex getting into the scene of artists from Draaimolen festival will ruin [it] slowly." In the r/Berghain_Community subreddit—where better to find techno purism?—some thought it "a bad joke", others a "good vibe". Lukewarm, then, at best.
But fast forward a few months, and Draaimolen founder Milo van Buijtene is revelling in post-festival ecstasy. Both Blawan and Skrillex, he declares proudly, ranked the set among their favourite performances of all time—an energy that was mirrored by the crowd. And van Buijtene gleefully recognises the apparent randomness of it all. "The Pit is probably the dirtiest stage they have ever played", he laughs. "When I was in the booth, I couldn't quite believe that Skrillex and Blawan were playing together in a hole we dug out in the forest."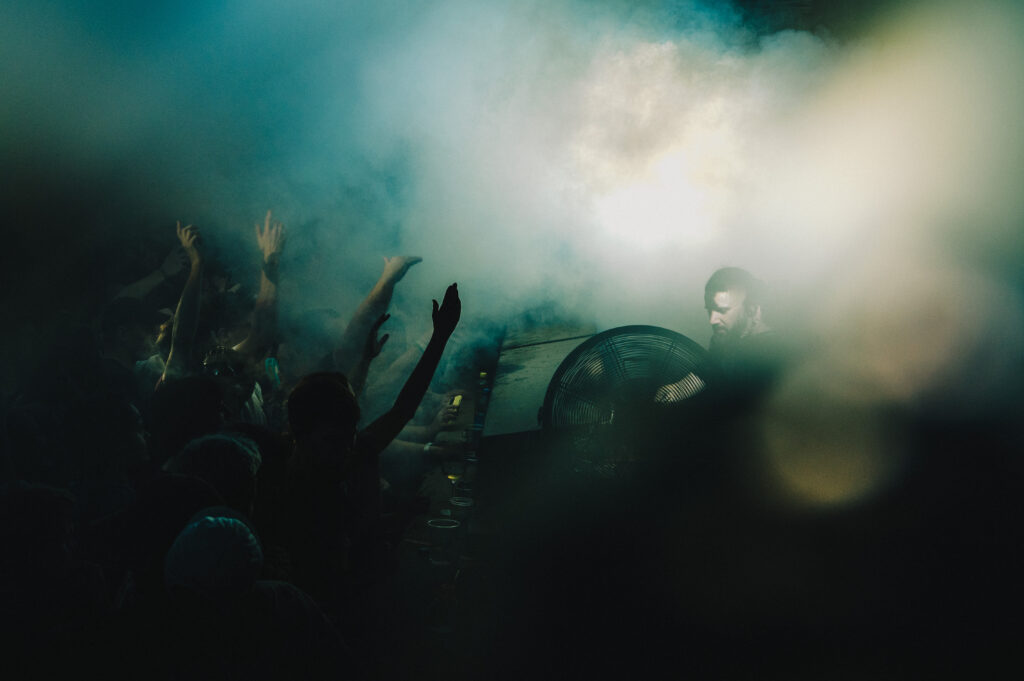 Unsterile as it was, for that 90 minutes Draaimolen's 'pit' stage was a test tube for some baffling cultural mixology, as predominantly UK-based Blawan stans co-mingled with a more emo-inspired Skrillex squad. Here gorpy-green Carhartts rubbed up against their skinnier denim counterparts; there tasteful single hoop earrings offset enormous stretchers. It was Blawan brigade v. brostep battalion, Richard D. James centre- v. Sonny Moore side-part, Hackney v. Rest of World—with party crowds from Berlin and Amsterdam caught somewhere in the middle. Thankfully, the bizarre crossover episode ended peacefully: following a mind-bending performance from the two artists, people from all walks of musical life were forming mosh-pits in an only semi-terrifying manner and exchanging cordial fist bumps. A happy scene.
Of course, there were still naysayers. When Skrillex started playing his more characteristically Skrillex tracks, a few clambered out of The Pit with shaking heads. But van Buijtene speaks with levity of such dissidents. "If you want to come in and join us, go for it. If you don't like it, go somewhere else." He adds: "The most important thing about this set was that [Skrillex and Blawan] didn't give a shit about what anyone thought. They just wanted to do it together and have fun. Everyone who was up for it, who wanted to go with the flow, had the time of their lives."
For the Blawan-minded, perhaps that was a relief. With Skrillex in the booth alongside a revered, 'serious' producer and DJ, maybe it was finally acceptable to embrace the sonic pioneer whom The Guardian once called "the most hated man in dubstep". It's fascinating (and fun) to see the vigour with which Skrillex was rejected from the underground matched by its enthusiasm to welcome him back in. Resident Advisor—who in 2010 were "concerned" by the rise of Skrillex, and reviewed his now-iconic EP, Scary Monsters and Nice Sprites, as "overbearingly plain", "ugly", and "all a little silly", now recognise his "expansive sonic palette and gift for collaboration" (although they still fall short of sparkling praise). If that's not enough, it was recently announced that Skrillex will play Berghain in October at a party run by prestigious electronic label PAN—an unthinkable prospect until recently. What does this all amount to? Perhaps, as one X user declares, this is "future [we] always wanted"—"the absolute end of anti-EDM elitism".
During the set, one moment stood out for the Skrillex-Blawan partnership. Early on, Blawan dropped his famed club track, 'Why They Hide Their Bodies Under my Garage'. Resultant crowd frenzy aside, the understated tune bears a complex history in terms of the pair's relationship. Back in the day, when Blawan had yet to relocate to Berlin and Skrillex was still riding high from his Bangarang EP, the latter remixed Blawan's track without permission. Overwhelmed by a sudden propulsion into the mainstream, frustrated by the aggressive edit and less than thrilled at being associated with Skrillex, it caused Blawan to retreat, marking a difficult moment in his career. He voiced his upset on Twitter, and later called Skrillex's bootleg version a "really horrible EDM edit" in an interview.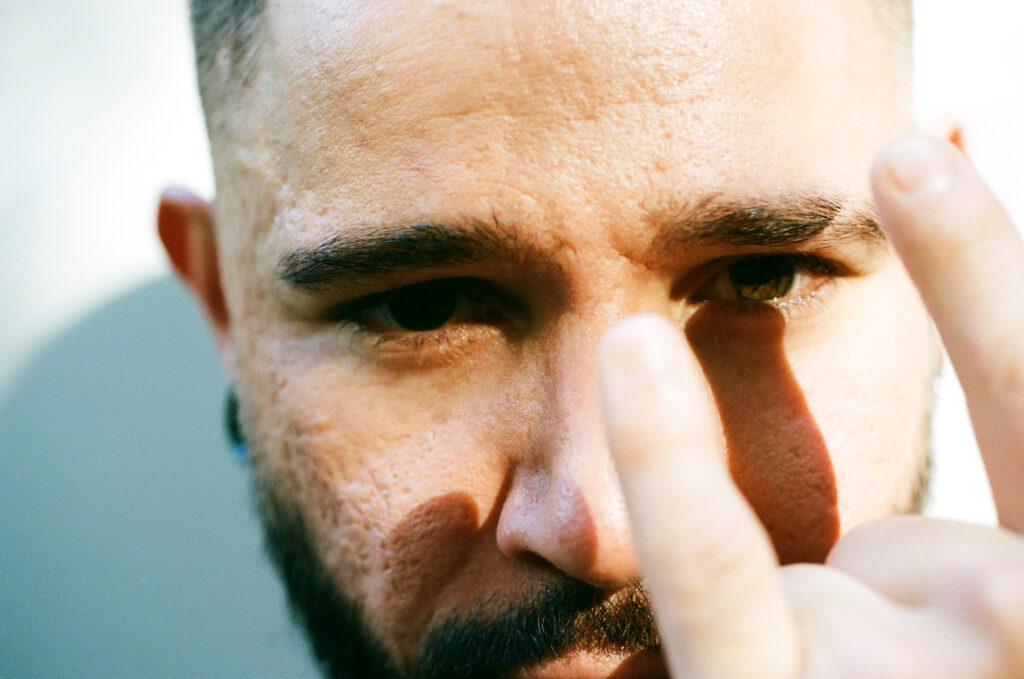 Ten years on, and their playing the track behind decks together showcases both artists' confounding trajectories. Ever since the release of his first solo EP, 'Gypsyhook', on MySpace in 2008 (which sounds like a jaunty, indie rock-fuelled hyperpop predecessor), Skrillex has been defying generic boundaries. While opting for the maximalist insanity of his dubstep production as his forward-facing persona, he quietly built a reputation for himself as a formidable writer and producer, working with the likes of Nicki Minaj, M.I.A., Beyoncé, FKA Twigs, Kelsey Lu, Lady Gaga, and Yung Lean, to name but a few. (Try this Spotify playlist for a list of tracks that you didn't know involved Skrillex.) And earlier this year, he went some way towards merging those seemingly disparate identities with the release of two full-length albums less than a day apart, featuring a bewilderingly diverse range of collaborators (Justin Bieber, Missy Elliott, PinkPantheress, Bladee…). Blawan, meanwhile, who's refused categorisation as a purely dub or techno act since day one, re-emerged in May with an EP that, according to Pitchfork, evokes a "maelstrom of distributed violence"—a concise and disturbed statement of his unique sonic engineering. Since 2022, he's been exploring musical aggression away from the purely electronic, revisiting hardcore- and metal-adjacent sounds with the formation of punk-inspired band Persher with friend and collaborator Pariah—a side-project which brings to mind Skrillex's origins in post-hardcore, screamo band From First to Last, which he left in 2007. Generically speaking, the two have been with each other from a distance for nearly 15 years.
The eventual collision of the two artists, van Buijtene says, came about organically, and from a desire to show "all sides of Blawan's career." In doing so, it would be impossible to ignore dubstep, and from there, Skrillex. That deeply analytical approach to programming represents Draaimolen's attitude as a festival generally: they prioritise musical experimentation and interrogation, as well as foregrounding stage, light and sound design, exhibiting art installations, and centring the natural environment. Each year a secret b2b is known to only three core members of the team—a fun USP, if unnecessary. And for the Skrillex-Blawan set, a star-like orb designed by Children of the Light gave a sense of other-worldly guidance to an already outlandish spectacle.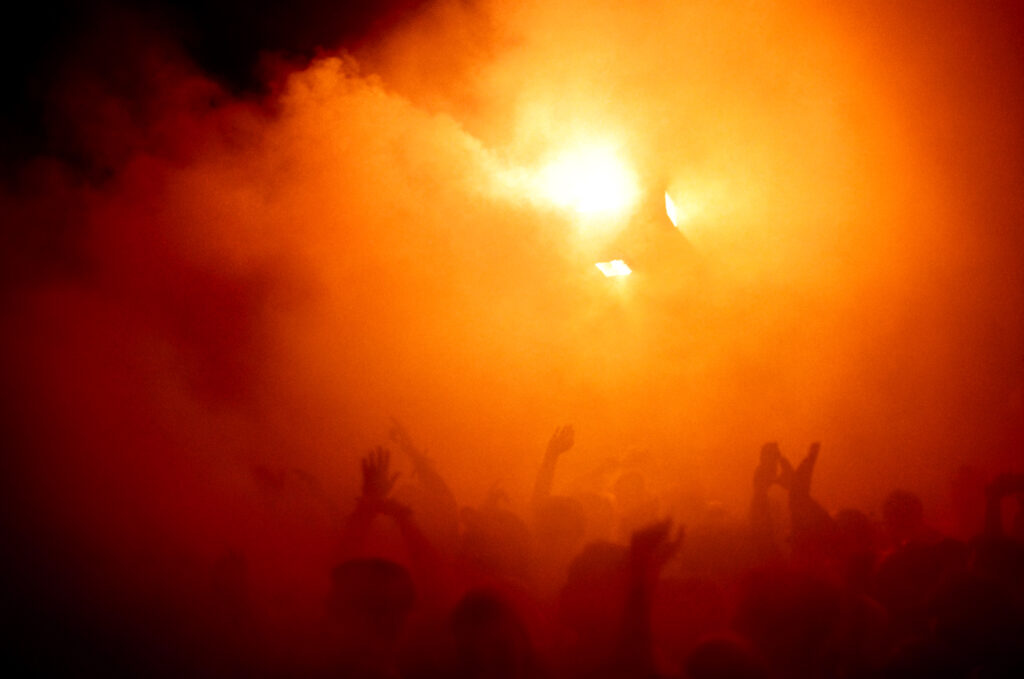 For van Buijtene, this tenth instalment of the festival felt like its zenith. "Finally all the pieces really fell into place. You saw the connection between the stage design, the nature, the artists, the crowd." And this unexpected b2b was the moment within the moment, a delicate push and pull of genre that paid off. "Sometimes Jamie [Blawan] wanted to push back a little bit more to the underground stuff; sometimes Skrillex went more towards his in-your-face edits—but they gave each other enough freedom and they both loved it." The set ended with Skrillex's unmistakably LA accent ringing out over the crowd, accompanying a wobbly EDM remix of The Postal Service's 2003 hit, 'Such Great Heights'. Both felt equally out of place at Draaimolen, but somehow it became a defining, euphoric moment. An indie banger to close the Friday night of a European techno festival acted as a clear challenge to the preconceptions of those operating in underground music spaces—and it certainly won't be the last we see of Skrillex in those spaces this year. Like it or not, he's here to stay.