During Berlin Art Week, curators Claire Koron Elat and Shelly Reich discuss the concept behind their latest exhibition, their representation of emerging talent, and the breakdown of boundaries between art and fashion.
For artists of the information age, labels are ubiquitous. They are 'emerging', 'established', or 'internationally recognised'; they work in 'fashion', 'visual art', 'music' or 'design'. Many are 'multi-disciplinary'—a term banded about with transgressive enthusiasm, and whose very existence betrays a collective attitude towards artistic practices which enforces, unless explicitly stated otherwise, a drive towards a cohesive and digestible creative brand.
angels.sc3—the given name of a curatorial collaboration between Shelly Reich and Claire Koron Elat—is an interrogation of those boundaries. In a café in Berlin's Schöneberg, the KDIMON co-founder and 032c editor talk about the reluctance of contemporary mainstream galleries to exhibit together the work of artists ascribed different labels—the most pronounced divides being between the realms of art and fashion, and between emerging and recognised artists. angels.sc3's latest project, entitled No Angels, is conceived almost as a counter-measure. Presented at Wilhem Hallen during Berlin Art Week, it's a spatial and visual exploration of these dynamics, featuring work by Anna Uddenberg, Meriem Bennani, Moreno Schweikle, and many more besides.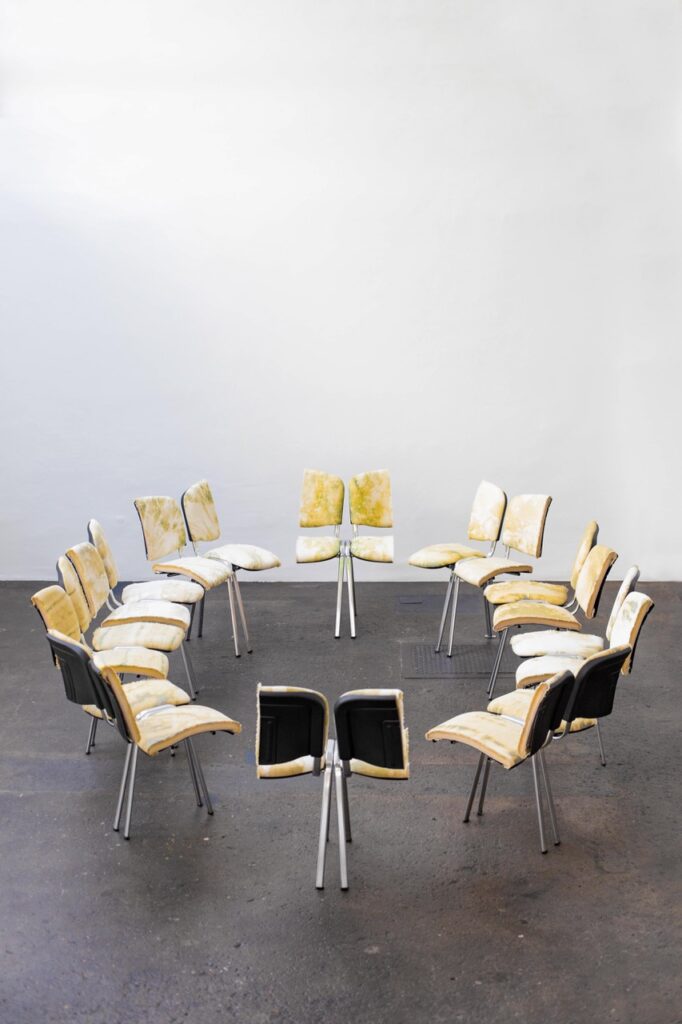 Among the works exhibited is a dual-canvas painting by Martin Margiela, shown here for the first time. As one of the world's most influential designer-cum-artists, Margiela's philosophy is a fitting foil for angels.sc3's own. His cynicism about the fashion industry, paired with the fact that he felt "limited" by designing for the human form alone, led him to retreat from designing clothes. Yet angels.sc3 are quick to add caveats: "Art may be more open, because it's not bound to the human body," says Koron Elat, "and experimental fashion designs might be less sellable. But in the art world too, certain mediums are more marketable: painting, for example. That also limits if you want your art to sell fast. Art is almost as commercial [as fashion]. Galleries are also companies; they want to make sales."
Even in its title, No Angels is an ironic take on commercialism. Named after a girl group that was entirely manufactured in 2000 by the German reality TV show Popstars—and that subsequently took Germany by storm with Euro-inflected, Spice Girl-esque hits like 'Daylight in Your Eyes'—the tag 'No Angels' carries with it the weight of an artificial, highly palatable, and capital-minded identity. On that topic, Reich draws an apt comparison between the calculated construction of the 'pop celebrity' and that of the 'artist'. "There's a system behind every it-girl," she says. "When someone comes onscreen or onstage, there's a team of people behind them, navigating every move. Same for the K-Pop world: there are whole training schools devoted to raising stars. And in our industry, there are also very similar steps."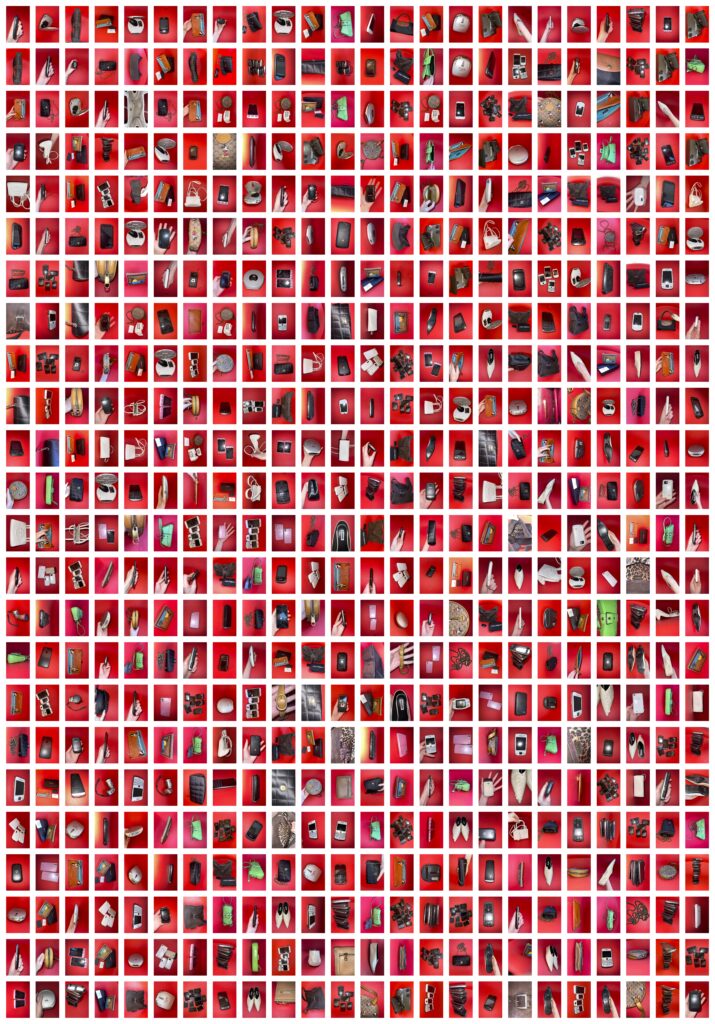 No Angels shows objects, and specifically products, as integral parts of that identity construction. For Ana Viktoria Dzinic, in her grid-like installation entitled 'image, affect, syntax: red' (commissioned specially for the exhibition), it manifests as a collection of items accumulated and photographed over the course of a gender-affirming transition. For Anna Uddenberg, whose famous work 'SUB-D' is displayed, it might be the circular ways in which the end-user of a product, especially a digital one, simultaneously shapes and is shaped by it, a relationship which forms an infinite and dystopian feedback loop. Shuang Li's pieces focus on the expansive power of garments and costume, while a filmed performance by Miles Greenberg documents the violence of a consumerist culture.
When Koron Elat posits that "all artworks are also products", it might at first come across cynical. But angels.sc3 sees such a fact as a point of creative exploration. The viewer of No Angels is rendered an 'end user' or 'consumer', yes, but that needn't detract from the experience. No Angels takes as given that, as Koron Elat says, "anything curated is filtered", and opens dialogue from there. Their goal is not to claim to provoke tangible, international change, to consider themselves rebellious, or to construct and pander to the personal brands of recognised artists. Instead, they encourage collaboration and dialogue between visual art and fashion, and celebrate the art of the consumer.