As phone screens feed us displays of affection and proposal planners put on the perfect show, Cassidy George considers how inflated expectations of intimacy put pressure—and a price tag—on modern day acts of romance.
In the midst of a deserted baseball stadium, a woman stands beneath a beam of flood lights. Suddenly, the colossal square structure that looms before her dramatically unfurls. As its fuchsia walls collapse to the ground, a deluge of pink and white balloons cascades out like a thunderous avalanche to reveal a shiny Audi swathed in a glittering, oversized bow. A sharp-suited man emerges from the car and strides purposefully towards the woman, as she erupts into ecstatic screams. Then, he drops to one knee to ask the most important question of his life. At that precise moment, an orchestra of fireworks explodes into the sky, illuminating the backdrop like a thousand stars.
The spectacle plays out with such meticulous, high-polished precision, it could be mistaken for a scene from a Hollywood romcom, but in fact, the clip in question is a 20-second social media post uploaded by an everyday user—and it's far from the only one of its kind.
"Will you marry me?" is a question as radical as it is commonplace, and the fantasy that accompanies it has long been dominated by the image of a heteronormative, white-picket-fence lifestyle upheld by the pages of the Vogue Weddings section, libraries of literature, and entire verticals of film and television. But social media has given its users the power to broadcast their own love stories to an audience of unlimited scope. On TikTok, videos tagged #proposal and #couplegoals have accrued in excess of 260 billion views combined, a seemingly infinite stream of footage depicting every type of couple imaginable. But, with billions of views, likes, and comments, its content has had a measurable, mainstream impact on the modern manifestations of romance. A constant stream of highly produced images of intimacy can heighten the "compare and despair" effect that social media has on the psyche. As trends take hold, the look, feel, tradition, and arguably definition of romance is evolving in real-time and at hyper-speed, and transmuting into pressure. When romantic gestures are manufactured to fulfil the demands of social media's attention economy, are they even romantic gestures at all? And who is behind these cinematic and stunt-like proposals—the sorts that are logistically impossible for a single person to pull off? Husband and wife duo Marvin and Michele Velazquez proudly promote themselves as the "world's best proposal planners." Their company, The Heart Bandits, was founded in Southern California to offer extravagant and unforgettable gestures of romance, including pre-packaged proposals tailored for each respective city. In Los Angeles, for example, options include but are not limited to: limousine ride, private rooftop, gondola tour, musical performance, flash mob, Hollywood sign by horseback, aquarium—during which a scuba diver swims into view with a sign reading "Two less fish in the sea, *insert name here* will you marry me?"—and an encounter with a trained sea lion who delivers a similar message to the intended fiancé.
Their real expertise, however, is tailor-making outrageous and ostentatious proposals primed for social media. "We see a lot of people trying to outdo the proposals that they've seen online," Marvin explains. "Our clients use social media in place of Google for ideas, and often try to recreate those done by celebrities or influencers." One Google reviewer raves about his painstakingly produced proposal involving a magical exploding photo booth, a professional flash mob, a rose-dropping quadcopter, a professional production crew assistance, an appearance from the Millionaire Matchmaker presenter, and a helicopter drop-off in downtown LA to pop The Big Question.
In the 13 years since founding The Heart Bandits, The Velasquez couple has observed a major shift in proposal priorities and demands, as clients increasingly seek spectacles that translate well online. "People want more elaborate set-ups," they explain, "marquee lights, neon signs and stand-up roses." Giant signs aglow with the words "will you marry me?" have seen a huge spike in popularity. Pre-embedding a clear caption into every post, the algorithm-optimised props announce the content of a video before it even begins. With a sign that's legible from a long distance for all of both the real and virtual worlds to see, the person proposing need not even pop the question—the wattage does the legwork.
Heather Vaughn, founder of proposal planning company The Yes Girls, affirms that the demand for catching proposals on camera has been one of the most notable shifts within her professional arena in the last decade. "When I started, it was like pulling teeth to try to convince clients to hire a photographer," she explains. "Now, it's a no-brainer. Like, if you don't have a photographer, did you even do a proposal?" Vaughn has dreamt of working in the wedding industry since middle school and opened her company in Orange County in 2008. "What can I say?" she laughs. "I'm a sucker for grand gestures." When asked how she designs an intimate, meaningful marriage proposal for a pair of complete strangers to share on the internet, she answers pragmatically: "With the help of an extensive relationship questionnaire!" Vaughn's survey includes questions such as: "How did you meet?" "What are your love languages?" "What's her favourite colour?" and "Does she like surprises?"
A few years ago, Bri Springs was filling out an extensive questionnaire about her love life. It wasn't for a proposal planner, but rather for the producers of cult reality dating show The Bachelor, a staple in American television since its premiere in 2002. The show's premise is simple: a single man begins dating a pool of 30 women simultaneously in search of his future wife—but its execution is glamorous, expensive, and complex. Each week, the cast relocates to a new mansion or luxury hotel in different locations around the world, embarking on lavish dates, all in the lead-up to an over-the-top proposal in the final episode. In any given season, The Bachelor's romantic escapades include activities like skydiving, hot air ballooning, private yachting, and personal concerts from major artists. The Bachelor and his suitors are shown having candlelit dinners at historic tourist sights, enjoying private sleepovers in famous museums, and making out beneath tropical waterfalls or on top of glaciers. Springs, who made it to the top three of season 25 in 2021, shared her first date with Matt James—the show's first Black bachelor in its long history—in a hot tub in the woods. "There were literal fireworks going off during my first kiss with this man," she remembers. At its peak, 25.90 million people watched The Bachelor, making it one of the most influential shows of the 21st century. With two different spin-off shows and over a decade on air, it's become a pop-culture phenomenon and institution of television romance. But as someone who didn't grow up watching the show, Springs was unprepared for the spectacle. "I didn't realise the production would be that grandiose," she admits. "You have to imagine; they're pouring millions of dollars into this man and the show. He looks the best he's ever looked, he's groomed to a tee and dressed to the nines—and he's been coached on exactly what to say to you and the 30 other women, to win your heart." But despite the smoke and mirrors, Spring says the connection she felt was not strained or synthetic. "It makes you fall so much harder, so much faster."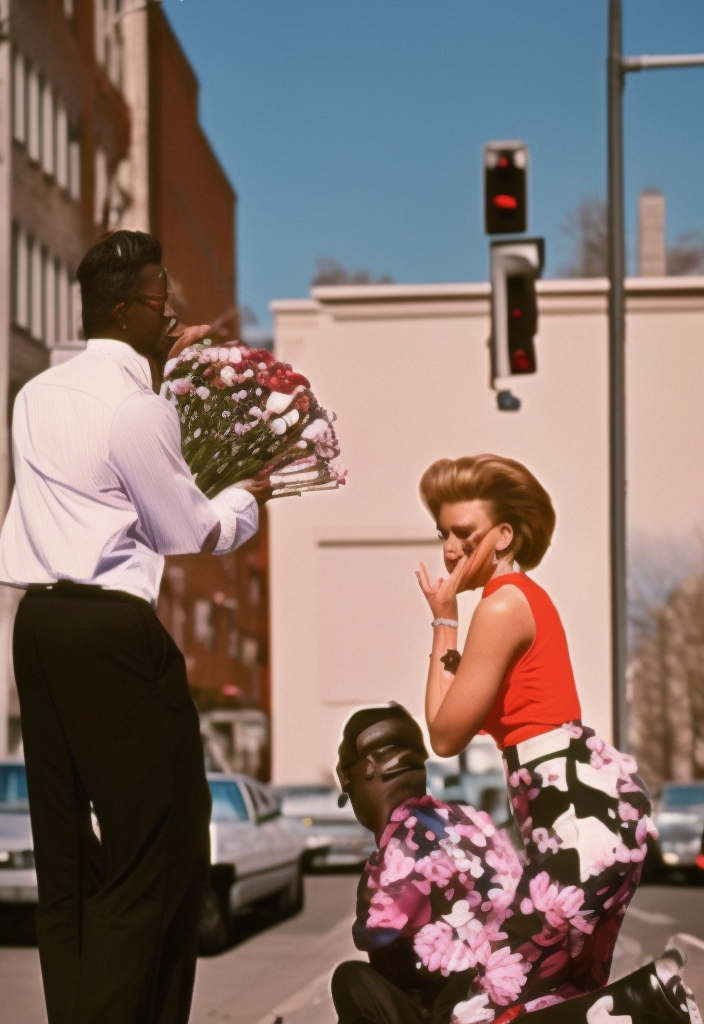 Even those who have never seen an episode of The Bachelor or any show like it are influenced by its impact. The picture of romance they project has undoubtedly shaped the way we depict and sensationalise our personal relationships. Anyone within a media landscape that equates high-budget fantasy with true love will inevitably attempt to simulate it to some degree, dooming us to feel underwhelmed and unsatisfied when we experience human connection and the quotidian realities of romance. "People watch reality TV very mindlessly because it provides a form of escapism," says Springs, "but the way people consume it makes it easy for them to forget they're watching a highly produced version of love. Viewer discretion is advised!"
Putting emphasis on how things look to an audience—as opposed to how they feel—could potentially have massive implications for our cultural definitions of romance, courtship, and love. "You have to be really careful with your ingestion of this stuff," says Liz Higgins, founder of Millennial Life Counseling in Dallas. "It can lead you down a path of becoming attached to false notions of what a relationship is." Higgins has spent much of her career as a therapist helping couples navigate the new challenges that social media poses in their relationships. "The millennial generation has been fed a lot of specific notions, narratives and scripts about gender, partnership and love from a very young age," she explains. "We need to grieve those scripts because it is impossible to hold on to them while also facing a universal reality—relationships take work." Although young lovers today are less expected to conform to a one-size-fits-all image of romance, thanks in part to social media, they must grapple with new expectations of online behaviour.
Some may find the compulsion to expose their most intimate moments invasive, but for others, it's a baseline demand. "I think it's part of the human experience to want to feel seen," says Higgins. "We all have different ways of esteeming ourselves and finding 'enough-ness,' which is often done externally and through the eyes of others. But we can easily get off track with performance-based esteeming, and social media has catapulted that tenfold. We receive so much dopamine by being liked and followed—and now have to navigate what to do with constant access to a powerful kind of attention that previous generations didn't receive."
As digital statistics become a valuable form of social capital, for some, the prospect of going viral appears as desirable an outcome in a marriage proposal as someone saying "yes." And if our contemporary definition of a grand gesture is an act that requires outsourcing production to strangers and trained professionals, what does it say about the state of intimacy at large?
"So what if it's performative?" asks Alexis Hyde, curator and former director of the Museum of Broken Relationships in LA. The seven years she spent reviewing submissions—objects that signify bonds and partnerships that no longer exist, exhibited alongside stories of their dissolution—turned her into something of a love guru. Despite being submerged in tales of heartbreak for such a long time, her outlook on partnership in the digital age is one of optimism and open-mindedness. "Content creation is a new kind of love language," she attests. "Some people go to pottery classes; other people make videos together. I don't think one is better than the other. For example, I love that my husband sends me Bitmojis. It might cringe some people, but when he sends me a cartoon version of himself dressed as a panda and holding a heart-shaped sign that says, 'I love you,' I find it so romantic. Decades ago, he probably would have written me letters."
Hyde not only sees sharing intimate stories with broader audiences as cathartic, but in some cases, as a fundamental aspect of emotional growth. "We have been declaring our love for one another publicly forever," she affirms. "This is not unique to social media. What is a wedding for? What is an anniversary party for? Couples have been cramming themselves into restaurants filled with balloons and flowers on Valentine's Day long before they could tag themselves at that location." Hyde admits that while it's easy to project our own desires and dreams onto other couples online, if you have concerns about the authenticity of the romantic content in your social media bubble, perhaps you should remove it from your feed. For Hyde, it's not the consumption or creation of content that warps perspectives and causes unhealthy expectations—it's our propensity to internalise what we see and compare with our own experiences. "At the end of the day, we're all just mushy meat puppets searching for human connection."
As proposal traditions and our definitions of romance shift, some practices from the past will inevitably be left behind. Torrey Ward is one of the last aerial skywriters in America. "There are only three of us left in the country," he explains, "and only one or two of us take custom requests." Though the concept of scrawling sweet nothings in the sky is one of the most famous examples of a grand romantic gesture in existence, it is on the brink of extinction. "We're doing our best to keep it alive." The practice has been on the decline since the 1960s, due to decreased interest from customers and pilots, and price increases. Today, it costs $3,500 to write a message or name in the LA area. "Anytime something is written in the sky, it becomes a phenomenon," says Ward of the power and impermanence of this public display of affection. "It brings joy to everyone, not only the person the message is intended for."
Though it surely doesn't involve pilots writing mile-long letters in the sky, the same logic could be used to justify posting extravagant proposal content into the infinite, digital void. Love may no longer be in the air, but those looking down and not up can rest assured there is plenty in the algorithm.