In the midst of his transition journey, model Steph Barreto de Araújo speaks to his best friend, writer and performance artist Sophie Yukiko, about visibility, vibrancy and the importance of being vocal.
Stepping into a space with Steph Barreto de Araújo means to meet new people, no matter how many you think you might know already. In Berlin's creative scene of culture-makers, fashion designers, artists and photographers, Steph is embraced with excitement wherever he shows up. I know this, because many times, as a best friend, I stand right next to him—smiling, watching, waiting to be introduced. It comes as no surprise. Steph has always had a heart for the underdog, an eye for diamond-in-the-rough personalities—seeing potential before everyone else catches on to what he can recognise at first glance. Steph has a way of seeing people before they can see themselves sometimes, and as humans, we hardly forget those who really look at us.
Steph lights up a room with a calm and understanding voice, a smile and laughter. I am certain that it is his judgement-free demeanour that draws people to him like a magnet. It makes sense—as those who have been judged all their life, know best how to heal that wound in others.
SOPHIE YUKIKO
You really use style as a form of self-expression and with that you have inspired many. How did you develop this?
STEPH BARRETO DE ARAÚJO
I think it started when I was around 10, or 11 years old. Not in a way that I went shopping—I'd see something on my brother and get inspired, and then I'd try to combine my ideas with my own stuff and just work with what I had. When we came to Germany in 2004, I had to change the way I dress, because going to school, I also had to fit in. I was scared to become this kid that people are going to mob at school, so I tried to be more feminine again. I felt really bad about that, because it wasn't me. But after my years in school, I found my own way and I really started buying whatever I would feel comfortable in and no longer care about what people say. I also wouldn't describe it as finding my own style. Because the way I dress – yes, it is a style, but at the same time it was more than that for me. It also was a way of finding myself and being myself.
SOPHIE
You mean developing a way to dress and to present yourself directly helped you to find your identity also in terms of gender?
STEPH
Yes, exactly.
SOPHIE
Would you say your style allows you to let out your true character?
STEPH
Yes and no. Style is something that is for outside, mostly. When I go out and I style myself in the clothes I want to, I of course feel more comfortable because it impacts how people read me. But I still have things to deal with when I am at home in my transition journey. I mostly felt like that when I still had my chest. Now that I did my surgery, things are better. Before, I always had to find the perfect t-shirt, the perfect tanktop to feel comfortable in. So, yes, in a way, it allows me to express myself and feel comfortable, but at the same time, it's also still a journey.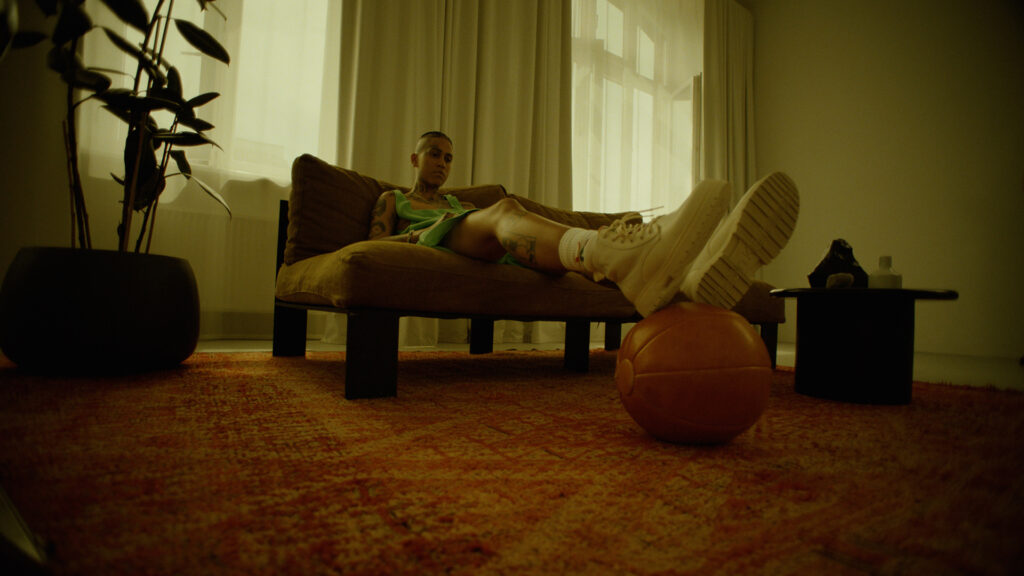 SOPHIE
I remember at some point, you made a conscious decision to share more of those kinds of thoughts about your journey through your social media…
STEPH
Growing up in the body that I have, in the society that we live in, was not easy. It's definitely not very open for trans people. I didn't have someone to go to at home, I didn't have friends that I was able to get answers from about the way I felt. And it's still missing in this society. For trans people, and especially the kids, this is still missing. Sometimes we just need someone who says 'I feel you—I am like that too.' And for me, it's important to be someone like that to somebody. For me, it's important to give a feeling of power and a feeling of understanding to kids—or people in general. And I still don't see a big representation or visibility for trans people. I want this door to open, and that's why I really want to be loud—in my way, of course.
SOPHIE
Is that what inspires you? Enabling the younger generation to feel proud of themselves?
STEPH
Yes. I want them to be proud but also at the same time guide them somehow, even if it is from far away. Taking the step to start my transition wasn't easy. So yes, to be proud but also to make the way for them easier than it has been for me.
SOPHIE
What are you proud of?
STEPH
I'm really proud of starting my transition. It took me 29 years. I had been talking about it for so long, and it has been a big step in my life into the most beautiful journey. But I'm also very proud of my community, not only me, because many of us said, it's enough. We have to be louder. We want visibility, we want to be seen, we want our voices to be heard. And even if there are a lot of stones in our way, we still are making sure to show that we exist.
SOPHIE
That's really the essence of what Pride month is about and the history of what Pride is. How do you celebrate Pride?
STEPH
I celebrate Pride every day. Of course, we have a specific time in the year to show our demonstration and to protest and remember our own history. At the same time, we celebrate and feel joy together. But for me, it is an everyday thing, because what I go through, I go through every day, you know what I'm saying? Living in Europe we have so many more opportunities than people elsewhere, but even here, we're not there yet and we still don't have the rights we should have.
And yet, there are still so many countries where it's not allowed to be who you are and where people get killed or have to go to jail because of their gender, their sexuality. So that's also how I look at Pride—not only a celebration, but also a fight.
SOPHIE
I feel like one part of revolution and rebellion against the oppression that queer people face is also to allow ourselves to feel joy. What would you say are the moments in which you feel the most joy and freedom?
STEPH
Oh, wow, that's a good question. I experience joy and freedom in many different kinds of ways. I have to live with my anxiety because of who I am, because my transition is not fully done. But when I'm with my chosen family, the Ballroom community, I feel welcome and understood. We celebrate each other because we see each other. When I walk into a Ball, I feel that joy. And not only for me, I can see it on others as well. It'so beautiful.
SOPHIE
Would you say you are good at celebrating being in the moment?
STEPH
Definitely. I would say when people don't know me, and they see me at parties or moments in life, they will always see me smile. They will always see me being very positive. Because I know how it is to not have these moments.

Talent Steph Barreto de Araújo
Director Sven Gutjahr
Production SERINYEL+ser.vcs
Producer Filiz Serinyel
DP Anton Beliaev
Make up Larissa Pauli
Styling Vero Save
AC Dima Kuryliuk
Gaffer Alan Waddingham
Props Master Greta Marie Mayer
2nd Editor Krala Plainer
Agency MAP Berlin
Colorist Dmitry Litvinov
Sound mix Florian von Keyserlingk