Miya Folick has a considered relationship with language. "Sometimes I'm really talkative", the singer-songwriter tells the audience at Berlin's Kantine am Berghain. "But today I don't really know what I want to say." She asks the crowd if they have questions about the songs, but, either disarmed by her honesty or held in a stupor by the rawness of her performance, they're briefly lost for words too. What follows is a moment of quiet before the queries trickle in—a moment in which Folick seems to revel.
In person, the LA-based indie rocker is as deep-feeling and contemplative as onstage. She speaks with purpose, poise, and a cadence which betrays she's "always been drawn to rhythm." Folick's musical education began as a child when she played the Taiko drums for her Buddhist church ("never seriously", she hastens to add), and while a student in the US, she started her first band using Tinder. Her sophomore album, ROACH, is an emotionally unmediated, melodically direct journey through guilt, struggle, and epiphany. She'll be touring it alongside Father John Misty this autumn.
Soon after professing she has little to say, Folick finds herself deep in a tangent, half-performing an onstage analysis of a lyric from Joni Mitchell's 'River'. "I wish I had a river I could skate away on; I made my baby cry": the line captures the essence of beauty and shame, and speaks volumes about Folick's concerns as an artist. INDIE sat down with her to discuss her lyrical inspirations, her new record, and the shame of over-consuming trash TV.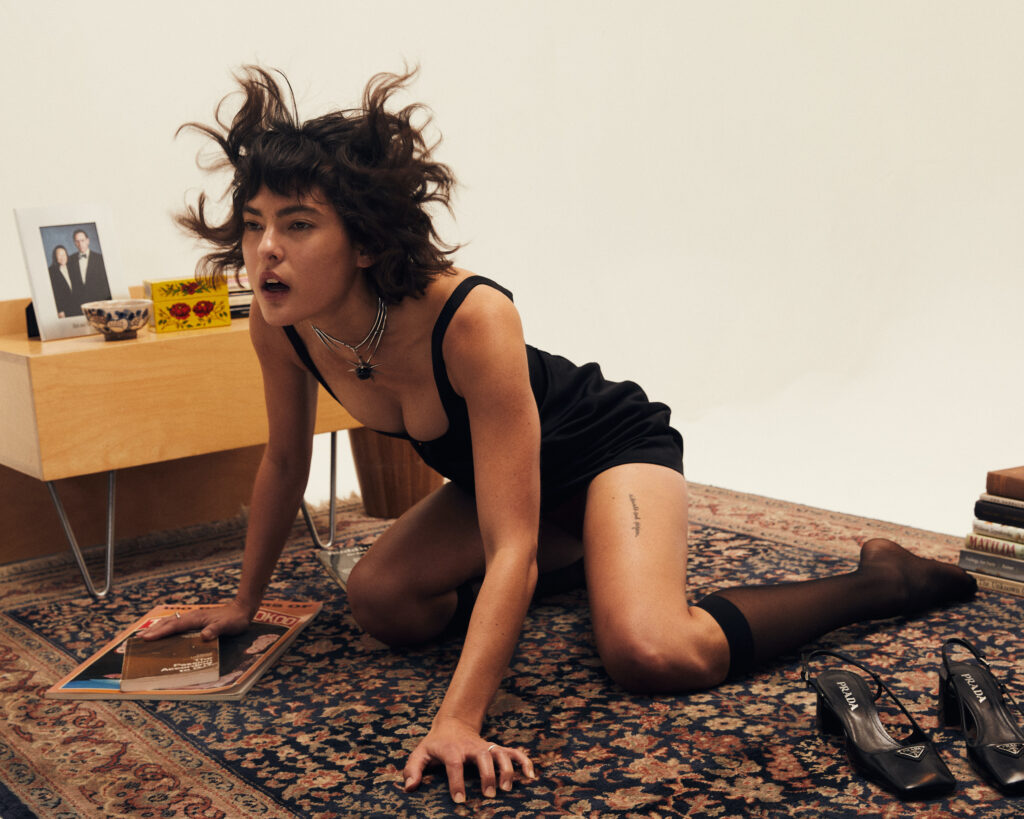 Justin Kendall: Your new album ROACH feels more conversational and direct than its predecessor. How did you go about that?
Miya Folick: The first thing and the main thing is that I had to decide to be seen as I am, and to be honest with myself. I think I was reacting to a feeling I had when I was playing the songs off the previous album, Premonitions, and just wanting the lyrics to feel more honest. Once I'd made that decision, I wrote a lot. I wrote so many songs that didn't make it on the record. Maybe a hundred.
JK: Joni Mitchell is obviously a key inspiration for you. How do the lyrics of others inspire your work?
MF: I learn a lot from other lyricists, but I think the main work of songwriting involves figuring out how to make your songs sound like you. So I also do a lot of self-reflection. That might not even be the right term. It's more like paying attention—paying attention to the way I speak, writing down thoughts, journaling…
JK: Do you keep a journal every day?
MF: The way I keep a journal is not really a diary. It's more a collection of things that have interested me throughout the day. If I'm reading a book, I'll jot down little phrases or words that I like, and I'll notate where in the book it was. If I'm reading something that feels like it has a vernacular, a way of approaching language that really resonates with me, I'll write down a lot. Whole quotes. It's very serious. But it's also a journal where I write down lyrics and chords of songs that I'm working on.
JK: What's the book that's made you write the most in your journal?
MF: The Passion According to G. H., by Clarice Lispector. It's this mystical novel about a person who finds a cockroach in their wardrobe. I wanted to write down every sentence. The character in the novel is filled with so much passion and life, but also fear. I really relate to that. And the way she approaches language is really interesting to me.
JK: On 'Oh God', you're feeling guilty about watching too much trash TV. What shows do you watch?
MF: First off: these opinions I have in my songs, they're not judgements. Sometimes I feel shame about something, but that has nothing to do with my opinion of it, or my opinion of anyone else engaging in it. And I think trash TV is just fine. I was listening to this podcast called Poog, with LA comedians Kate Berlant and Jacqueline Novak, and they made a great point about trash TV: it doesn't really matter what I'm engaging with, it's the way I'm engaging with it. It's quite possible for me watch reality TV in a very emotionally deep or intellectual way. And even if I'm not—who cares?
But, to answer your question—I just started watching Queer Ultimatum, which is amazing. To see a show that's just about lesbians is so cool. It's something we don't see a lot. And the show itself is absolutely insane.
JK: How does queerness come into your music?
MF: I think the next record will be a lot queerer. A lot of the songs I've been writing are more sensual, more sapphic. They're less about the struggle of queerness, and more about actually being queer. Now, I think I'm more interested in writing about love that's working, whereas most of my music has been about difficulties in love. It's exciting to me.
JK: Will that make it a more upbeat record?
MF: Maybe, maybe not! To me, in love that is working, there's still tension and there's still struggle. It's just coming from a less fearful place. But we'll have to see.
JK: Of current indie rockers making waves in the scene, who would you tip?
Hand Habits. They're Meg Duffy's band and they're big in LA. They also play guitar for Perfume Genius. They're amazing.
JK: What do you listen to in your spare time?
I actually listen mostly to electronic music. I'm obsessed with Nia Archives right now. Then I also like some more mainstream artists like Fred Again and Four Tet. I'm also loving this track 'Ghost' by Two Shell—that whole EP is so good.
JK: Who's your number one indie icon?
MF: Fiona Apple. Obviously!