"Am I a boomer?" asks HAAi jokingly, sitting backstage before her set in Poznań, Poland. The Australian-born DJ has given me a list of tracks that represent the best of youth culture to her, and—with characteristic modesty—she's worried about hitting the right note. Open from the off, she also tells me she consulted a WhatsApp group of her nearest and queerest for advice on what to select. (That chat is fittingly called 'Padam', after Kylie Minogue's recent hit—which, naturally, made the list.)
Whether or not she'll say it, HAAi is a DJ with her finger on the pulse of youth culture. A relative unknown when she landed a residency at London's Phonox in 2016, she's quickly become one of the UK's most well known DJs. Her debut LP, Baby, We're Ascending, was released last year, and she's since been pumping her euphoric style of techno into audiences worldwide. Now about to play at Telekom Electronic Beats' 'Summer of Joy'—a series of free events around Europe that aims to connect young people with live electronic music—she spills the tricks, and the tracks, that keep her youth appeal.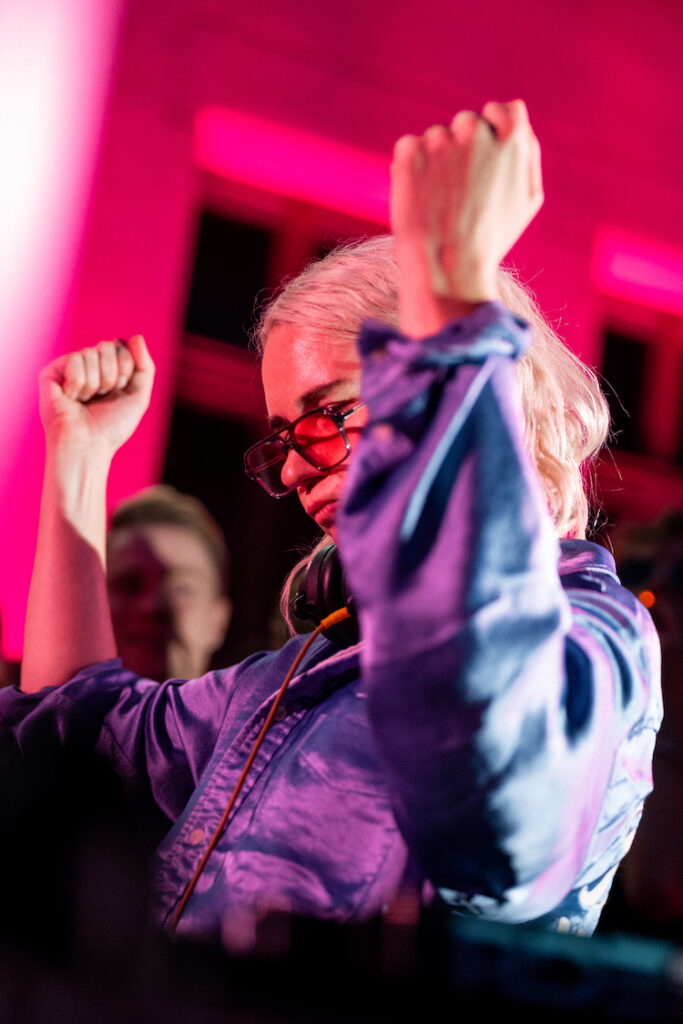 "Selflessness isn't the right word at all," HAAi muses, "but it's about being more in tune with the audience than what you want." HAAi has an unpretentious approach to her art that places fast-paced, highly processed TikTok hits like Southstar's 'Miss You' among her suggested tracks, and that sees her chatting optimistically about social media's impact on production. When a track gets big, she says, producers jump on it like never before, making increasingly sped-up and hardcore versions. "And I'm along for the ride with that stuff," she affirms. "Like with the Southstar track I suggested, it's just fun. I've played that track at massive festivals to 15,000 people and it went off."
"People show their age" when they belittle new music, continues HAAi, mentioning HorsegiirL's and MCR-T's 'My Barn, My Rules' as another of her favourite tongue-in-cheek tunes. "We were all part of a sonic movement once. Think about electro clash, or when techno got slower, or when it got faster. There were always people screwing their nose up at it. But no one looks back and goes, 'Oh, that was dreadful'."
HAAi is a self-proclaimed musical shapeshifter, respecting and delivering what audiences want, simply because they want it. Reflecting on her own youth and career beginnings, she thinks that's why she's got so far, so fast. A few years ago, her style was totally different. Before that, she was a member of a psychedelic rock band. But playing guitar never came as naturally as being behind decks. "What I cared about, and what I still care about", HAAi says, "is finding a record that makes people—everyone—unify."
In pursuit of dancefloor unity, HAAi is never shy of a fan favourite. Also on her list of top tracks are Jai Paul's 'BTSTU', Frank Ocean's 'Thinkin Bout You', and Fred Again's 'We've Lost Dancing' (a lockdown-defining track for club-starved young people, she says). Whether it's the communities formed of a cult fanbase, connections made across enforced distance, or the simple pleasure of a mainstream hit, HAAi's selections always centre the bonds between those listening. Such is the case with Kylie's 'Padam Padam', a campy choice which HAAi feels will be "a really important song for queer youth, for a long time."
As the sun sets over Poznań, HAAi is behind the decks. She drops at least four of the tracks we discussed, and with each one the energy of the crowd intensifies, while the average age of those at the front drops. As usual, HAAi is smiling. Her onstage energy recalls her dry response as to why she's always so joyful in the booth. "I've definitely had worse jobs" is a good summary of the HAAi attitude, and a good reason to keep the hits rolling through summer.