Laura and Deanna Fanning, the twin sisters behind Kiko Kostadinov's womenswear line, were first exposed to fashion design through their great aunt, a bridal dressmaker in their native Melbourne, Australia. As children, they would follow their grandmother down the street to her house, and watch as she sketched looks for the bride, the mother-of, and the rest of the bridal party. As Laura and Deanna describe these memories—generations of women assembling to prepare for a ceremony representing the pinnacle of love—the images they conjure are deeply romantic: moments of everyday intimacy centred around a ritual of arduous devotion, the past and the potential of the future coexisting all at once. For the twins, these experiences cemented one of the deepest threads in their approach to design: how women dress through time. "If you have strong female figures in your life, you're always thinking of them," Laura tells me over the phone. "What our grandmother would have worn, what our mother wore, what I'm wearing, what my children will wear. It's an interesting thing to think about, the memory of clothes."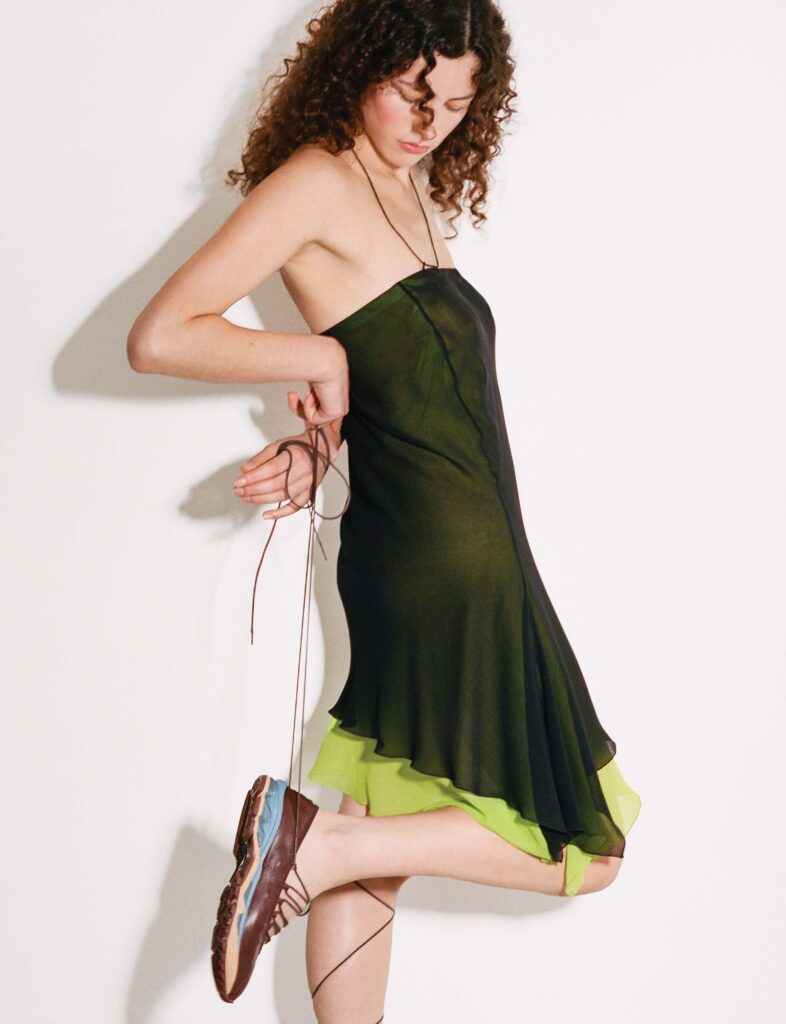 The theme of this story is romance, and in interviewing Laura and Deanna, I am trying to grapple with what the concept means today, and how it looks in design. I think about pearls and lace, roses, and candlelight, and then I Google a basic definition. Understanding romance as a genre, the word's origins are literary: the term 'romance' originates with the mediaeval ideal of chivalry, which in turn comes from the literature of chivalric romance—tales of marvel-filled adventures, grand love stories, otherworldly events, fairies and knights. I reflect on folklore and fairy tales. Is this where all of our ideas about romance derive? Romance is surely classical, traditional, canonical, and ultimately narrative. Romance is historical, a heroic journey through time, devotional and idealised. Absorbing the definition put forward by the Wikipedia page "Romance (love)," I understand the word as capable of going beyond amorous love to imply deep admiration, aesthetic compatibility, attraction, and even friendship.
As Laura and Deanna answer my questions, they take long looks at each other, as if workshopping their answers telepathically, communicating with their eyes in the way only twin sisters can. They have matching, thick, dark wavy hair, rosy lips, fair skin—complexions straight out of a John Williams Waterhouse painting. They both wear muted shades of grey, brown, green, and navy. I can envision them etched in marble or sitting for a portrait painted by an old master. To me, they feel almost mythological. The fantastical designs they have come to be known for possess this same quality, at times quite literally. "The collection included motifs that came from mythology," Deanna says of their SS23 collection. "We had a blue jacquard look that had little minotaurs and flora and fauna and mermaids etched into the fabric. We were looking at references from traditional fantasy tropes."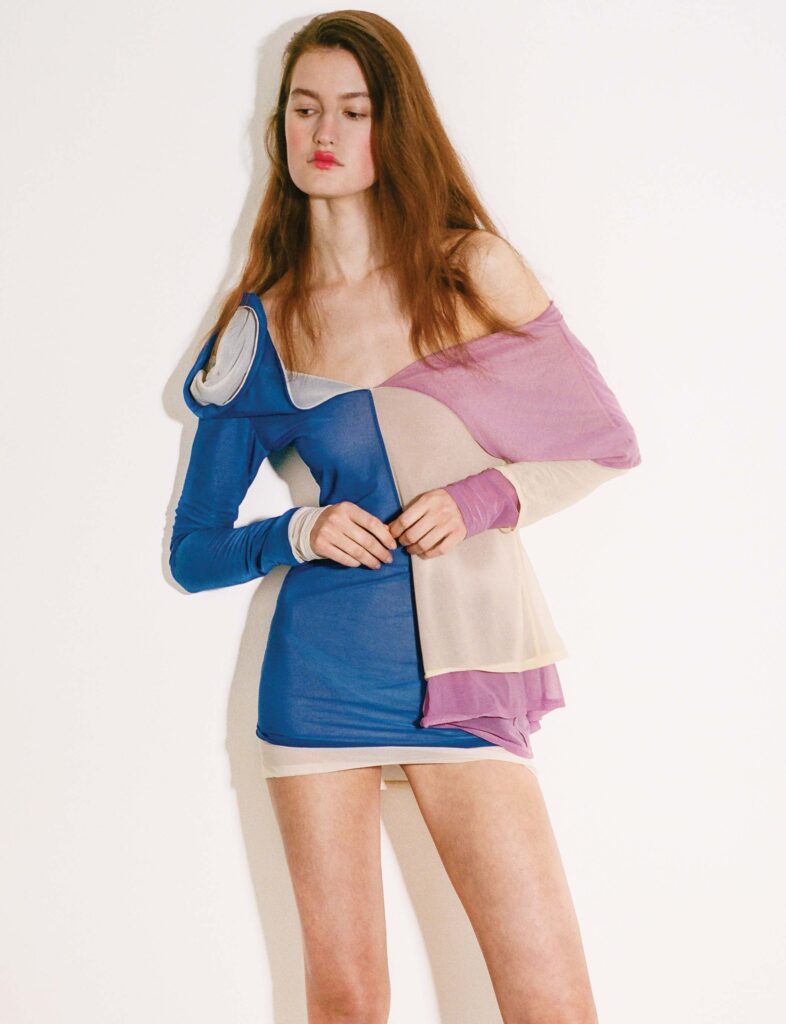 I'm thinking of how fashion relates to fantasy and romance, and of the way women are dressing now. TikTok trends tout the necessity of romanticising life, of giving off "main character energy" and understanding yourself as the protagonist of your own storyline. Even if it's only the modern necessity of branding your identity online or creating a temporary spectacle for views, fashion seems to be bending toward the extremes of costume. Corsets, corsages, white lace, ribbons, bows, pointed-toe shoes, full skirts, balaclavas, hoods, goggle-like glasses, heavy leathers, and loincloth adjacent drapery. Is fashion having its fantasy moment? Are we dressing for the fairy-tale life we dream of rather than the dystopian one we have? Or maybe fashion is writing a new genre of fantasy by trying to find beauty among science fiction, and lightness in doomsday—with Laura and Deanna leading the charge with their work.
Fashion itself necessitates the suspension of reality. Fashion is the marketing of a fantasy to sell itself, and as such, designers are continuously engaging in the idea of romance regardless of how conscious they are of that fact. Watching the seasonal shows is increasingly like participating in a "Choose your fighter"-type exercise. What kind of fantasy do you want to find yourself in? There are the lingerie-inspired pieces of Dilara Fındıkoğlu or Nensi Dojaka—noirish, vampy, and sexy. There is the over-the-top exuberance and funhouse play of Francesco Risso's Marni. The folky bohemian of Anna Sui, and the young and restless ruffled pinks of Blumarine. Comme des Garçons' vampiric Victorian could certainly be a contender for the Most Romantic—no one takes the ceremony of courtship more seriously than a vampire.
Today, I choose the Kiko Kostadinov woman as my fighter. Laura and Deanna are highly self-aware, and almost authorial in their approach to design. They create characters and place them within the distinct world their label has built. Immediately recognisable and utterly unique, their offerings exist within their own self-determined plot. At once technical, functional, playful, and dreamy, they read as both historical and futuristic, implacable in an era if unearthed without context. A sense of time travel is evoked in their narrative, the garments encapsulating both nostalgia and future potential. "I feel like with clothes, you're meant to be proposing a future, but your work is also so laden with what's been done in the past. That tension is interesting. What's antique? What's ancient?" Deanna asks, asserting that what I am reading into is not incidental, but intentional, part of the woman they are meticulously drafting into the world.
This past-future tension is what lends the Kiko womenswear its fantasy-romance quality. The feral femininity of the twins' collections conjures a "woman at the end of the world" tone—mixing the highly ornate with practical functionality by way of their recurring sportswear references. I picture the Kiko woman as a sort of galactic warrior, fending off great beasts in a futuristic landscape made forgone again by the fall of civilization. This fantastical challenge to chronology is a mode the twins enter fiercely and frequently, playing with the concept of time like wizards. "When you're by yourself and in your own environment, time can speed up or slow down," Laura told Vogue on the debut of their SS21 collection, themed around celestial bodies. The focus of that collection, then as now, was on time and timeliness, the designers continually engaging past and future in a form of design chronomancy.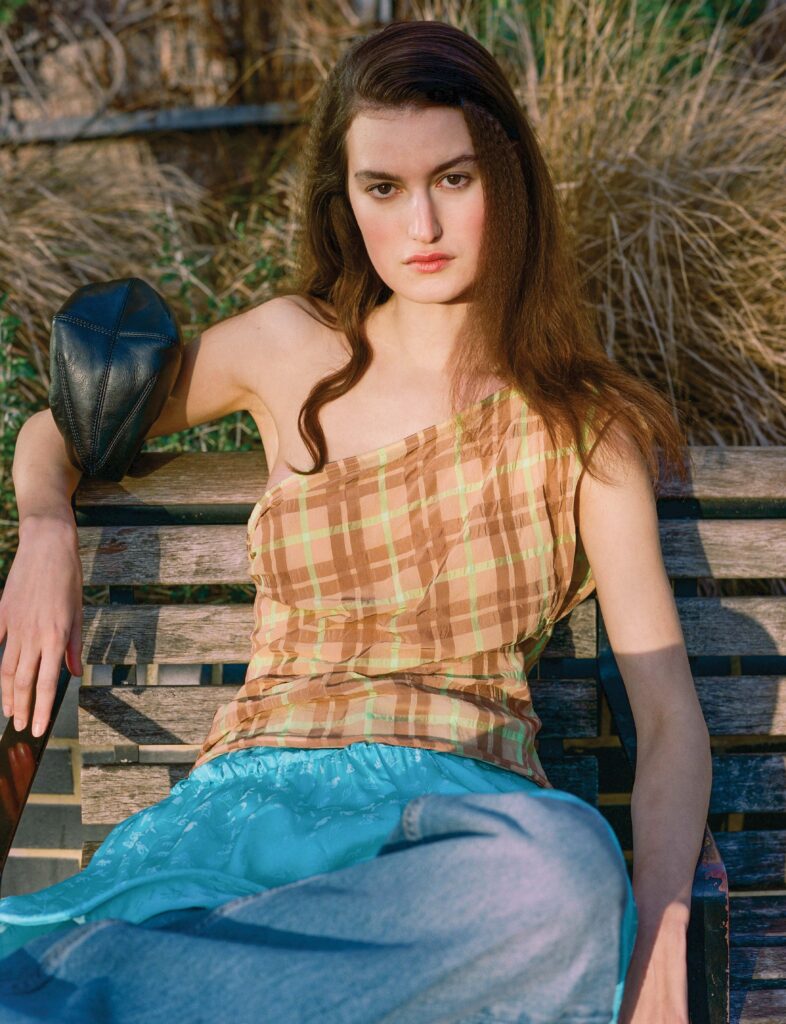 The twins' SS23 ready-to-wear show opened with a twisted-up black and white look: a knotted white lace top, a satiny white skirt with cinching ribbons, and a black skirt that seemed to have been transmuted from a tuxedo jacket. It reads as the bride and groom rolled up into one, calling back to the twins' great aunt and their design roots, but updating it for the modern woman. This opening look might be read as emblematic of the twins' work as a whole—their designs feel deeply aware of tradition, but spit it out utterly upside-down, positing a path forward we can't yet see. "We like thinking about dichotomies, dual ideas existing at the same time, coexisting to create something new," Laura explains. Throughout the collection, the designers paired heavy materials with light lace and knit fabrics. Cowboy boots were rendered in star-spangled mesh, and colour stories were told by juxtaposing polar opposite shades. In fusing sartorial concepts that are typically considered dichotomous, the designers are opening up new possibilities for what fashion can be.
Kiko Kostadinov appointed fellow Central Saint Martins alums Laura and Deanna to launch his womenswear collection in the spring of 2019, just seven months after the sisters had graduated. What they would go on to create was an entirely new approach to colour, cut, texture, and womenswear as a whole. Since then, they now generated a cult-like fanbase of devoted followers and have drawn the attention of the biggest "it-girls" (or at least their stylists) of the moment—including Dua Lipa, Bella Hadid, Kiko Mizuhara and Iris Law. Through brand collaborations with like-spirited labels such as Hysteric Glamour and Heaven by Marc Jacobs, they have offered up a new form of subversive, playful femininity. A Kiko clan has been born and, thanks to Laura and Deanna's distinctive garments, so has a way of identifying others with a shared sensibility for speculative fashion. Think of that moment when you see a woman whose style you admire or who is wearing a piece that you've coveted. Maybe she's across the street, or on the other side of the room. As she walks by, you sneak glances at how she's put herself together, taking notes. Maybe you even stop to compliment her, signalling you are a member of this quiet club, too. Maybe she remembers that compliment forever. These are the kinds of intimate, cherished encounters the twins make possible.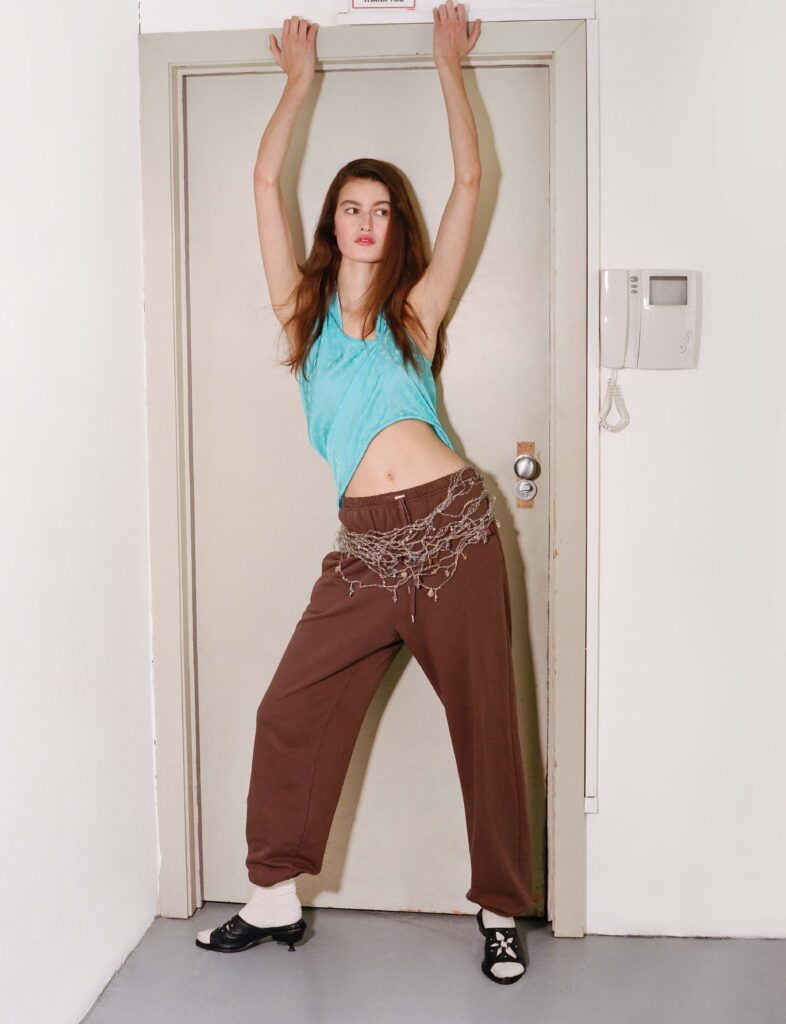 I ask Laura and Deanna what they think the most romantic colour is. Naturally, they don't say anything you might expect—like pink or red or white—but surprise me with a very terrestrial suggestion. "For me, it's hues that are close to black, but not black. Shades of charcoal, plum, slate grey. Those colours are very nuanced," says Laura. "I was going to go a little earthier," responds Deanna. "Shades of brown or maroon… All those colours that people don't necessarily wear with conviction." Of course, their romantic palette is primordial, mineral, raw and ancient-feeling. When I ask the sisters about their personal definition of romance, it is not surprising that they agree it's a metered commitment. "Romance to me is very time-based. Having someone's time is one of the most romantic things. It's giving something that you really can't get back," says Deanna. For the twins, in life as in design, romance always comes back to chronology.