Embracing the city's distinctive design ethos, 080 Barcelona Fashion Week made a triumphant return to the Catalonian capital last week, providing a stage for both up-and-coming and established designers to display their AW23 creations. Over the course of three days, the event spotlighted 25 eclectic brands, each unveiling a unique fusion of artistic expression that spanned from refined boldness to avant-garde allure.

To capture the essence of the action, INDIE invited Madrid-based DJ and sartorial devotee DREA to Barcelona to scout out this season's boldest trends. From the hair that had one model quite literally in a chokehold to the brazen bow-mania sweeping the runways, we run down five favourite trends for finessing AW23.
LITTLE BOW PEEP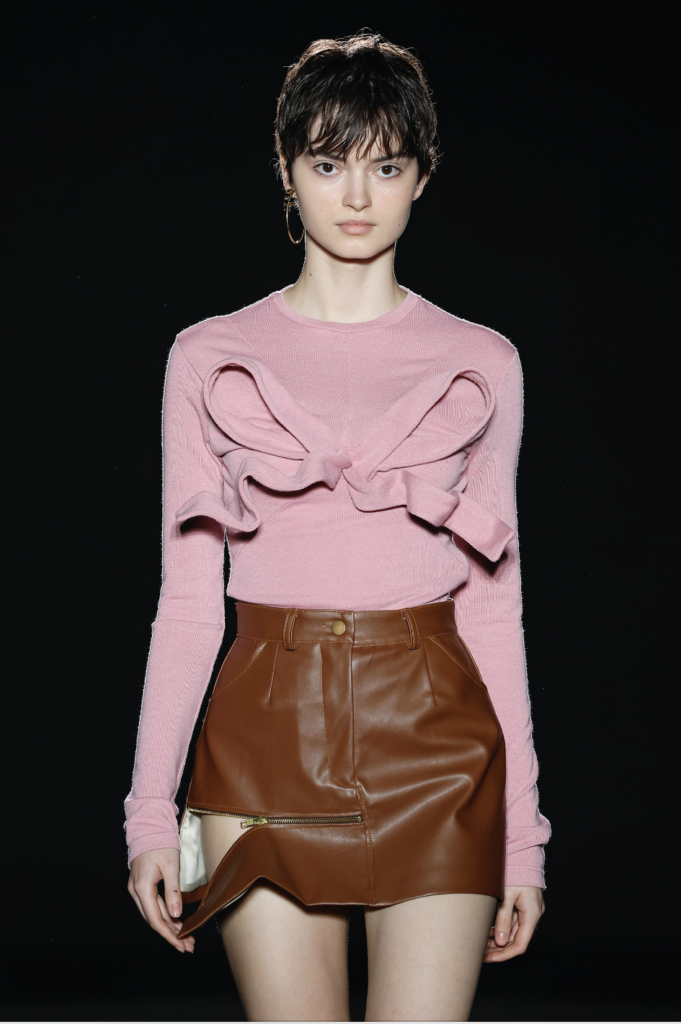 Look 1: Habey Club
Look 2: Anel Yaos
Looks 3-6: Compte Spain
Ever since the Gossip Girl reboot kicked Upper East Side prep back into favour, fashion has been increasingly embracing hair ribbons and laced-up looks. But this season, the slow bow resurgence has speedily accelerated—from Acne Studio's bow bags, to Balenciaga's bow-buckled belts, to Balmain tying up almost every look in its latest collection with an oversized bow, delicate and daring iterations of the ultra-feminine adornment are ruling the runway. 080 was no different: Habey Club's 'Perspectives' collection, drew on adolescence, with bow-accented blouses harking back to the tying of shoelaces, Anel Yaos presented a padded pillow-esque bow-skirt and lacey nipple covers, while 404 Studio's show featured laced-up knitted hot-pants. But Compte Spain took the cake, bearing bowed looks in abundance: from delicate, dangling silk strap and tie detailing, to a Swarovski-encrusted dress in the shape of a giant bow.
EVERYTHING'S COMING UP ROSES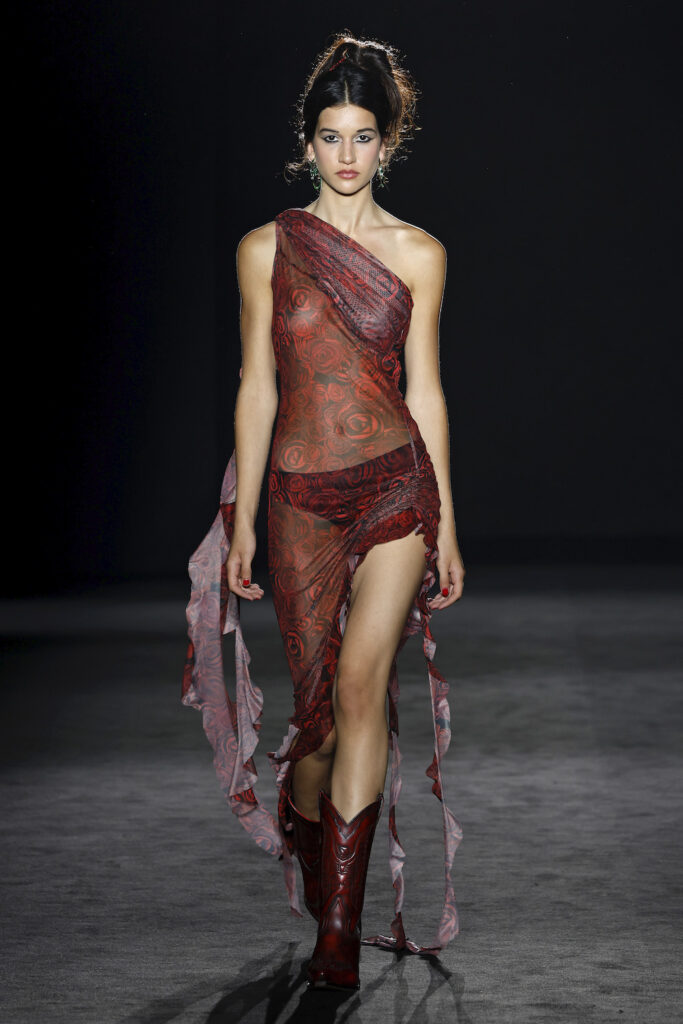 All looks: 404 Studio
Florals for spring might not be groundbreaking, but for Autumn/Winter 2023, 404 Studio served up crocheted red roses for its collection inspired by Spanish quinqui cinema. Embracing the adolescent delinquency and rebellious spirit of the countercultural youth films of the '70s and '80s, 404 Studio channelled the sultry sex appeal of renowned Mexican actress Isela Vega (the first Latina to pose for Playboy), rendering mohair lingerie looks woven punctuated by bold roses: a timeless symbol of punk and romance.
THE RECKLESS NECKLESS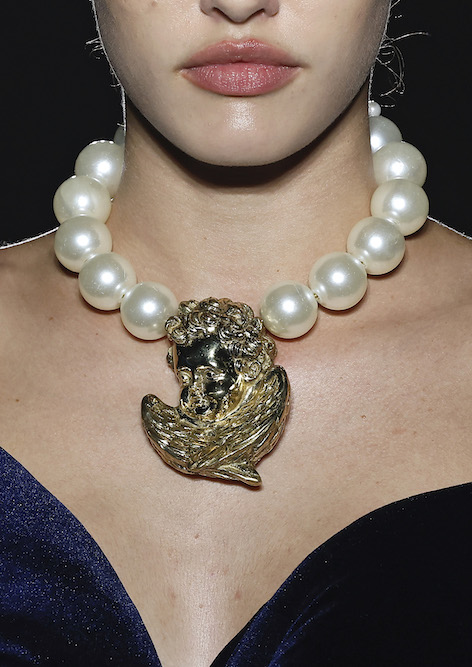 Looks 1-2: Compte Spain
Look 3: Reveligion
This season's biggest accessory statements had 080 Barcelona in a chokehold. Necklaces were the weapon of choice, the bigger and bolder the better. Compte Spain put diamond rings on many things , but the most striking was perhaps a chunky braid of hair fashioned into a choker. Elsewhere, 404 Studios manifested a metallic necklet of rose and thorns, while Reveligion's symbol-rich collection rendered yin-yangs, butterflies and a tattoo-flash winged heart in necklace form.
FLUFF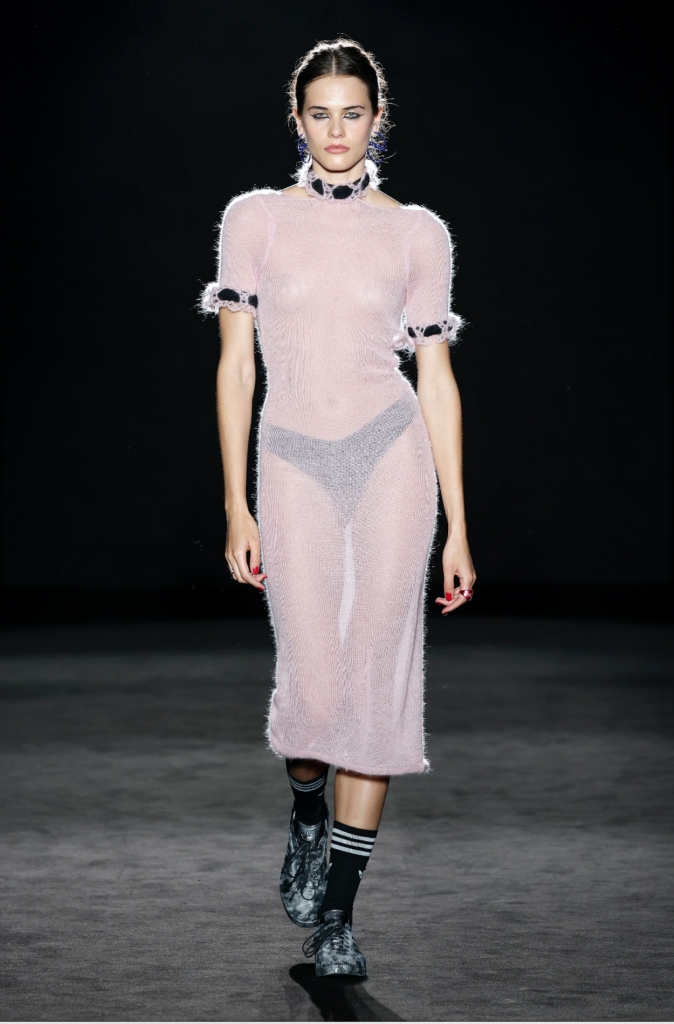 Look 1: 404 Studio
Look 2: Dominnico
Look 3: Habey Club
Knitwear is natural for any autumnal offering, but textures across the board were fantastically fuzzy this 080. 404 Studio experimented with new fibres, fashioning traditional lingerie cuts out of mohair. Habey Club gave subtler nods to the textured trend in the form of shaggy fringed footwear, fuzzy gloves and a fraying, thread bare jacket and skirt. And in Dominnico's art-inspired collection, which took cues from Dadaism through to Anna Uddenberg, the brand's maximalist and provocative aesthetic gave birth to pastel coloured fluff in Tibetan fur.
MESH EN MASSE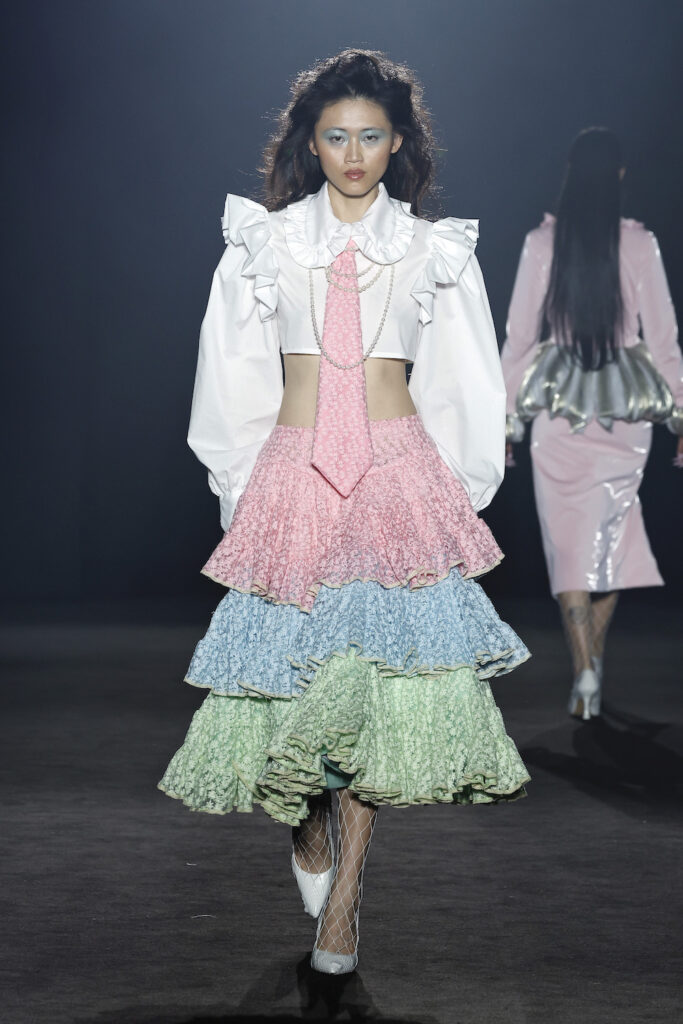 Look 1: Anel Yaos
Looks 2-3: Reveligion
Reveligion delivered tulle for days, with standout statement pieces including a sheer black babydoll dress with ruched tulle sleeves and skirt detail, and a maximalist black skirt with extreme train, its decadence defaced by white graffiti. At Anel Yaos's acquatic-themed show, 'Deep', mermaids went from mythical to material, and mesh made its way into a revealing wide fishnet (and fishtail) skirt, and three-tiered midi rara.