[Content Warning: fatphobia, ableism, discussions of extreme dieting]
A month on from AW23 fashion month, and suspicions have been confirmed: size diversity tanked this season. Vogue Business reported that only 0.6% of looks across fashion weeks in New York, London, Milan and Paris were 'plus-size'. According to Tagwalk, casting of curve models was down by 24% compared to last season. Google Trends data shows that searches for "buccal fat removal", TikTok's favourite cosmetic surgery, have seen multiple extreme peaks this year, while the appetite-suppressing side-effects of diabetic drug Ozempic mean that searches for it continue to surge—hitting 100 at the end of March, the maximum according to Google's scale. At the same time as celeb-endorsed brands like Lizzo's Yitty breathe vitality into a mature Dove 'Real Beauty' discourse and H&M announces the expanse of its size range, highly visible leaps in one realm are seemingly 10 steps back elsewhere.
When designer Sinéad O'Dwyer presented her AW23 collection at London Fashion Week, her decision to feature 90.5% mid- or plus-size models was rightly met by mainstream applause. Elle reported that she had made her "strides ahead" approach towards inclusivity "look simple", and Vogue Runway asked, "Why isn't everyone doing this?" But online, the praise didn't trickle down well. In Twitter threads discussing O'Dwyer's show, users branded the presentation "a circus" and suggested that the models had been grabbed "off the street 10 minutes before the show". Some commenters made feeble attempts to mask their prejudice; others took aim not at the plus-size models, but at the inclusion of a wheelchair user. Switch to TikTok and it's much the same story: basic, unequivocal fatphobia and ableism—bigotry in its rawest form.
Trolls are, of course, ubiquitous in the internet age. But scoping out the authors of such comments doesn't lead to the pages of alt-right militants, nor Tory pensioners who've stumbled onto FashionTok. These are online youngsters and millennials—people who keep up with industry developments and feel qualified to comment on them. And they're not a minority. On British Vogue's TikTok post of O'Dwyer's show—which itself bore the complimentary text overlay, "This Is How You Do Inclusivity In Fashion"—all the top comments are negative. "Doesn't hit the same we need 90s models back fr" clocks in with 27.4k likes; "It's so painfully forced" follows closely behind with 22.4k. A little softer in sentiment, "I love the idea but there isn't any like.. energy?" has 33.1k approvals. Apparently British Vogue's message fell on deaf ears.
When it comes to issues like these, it seems there's a glaring disparity between media powerhouses' content and real individuals' opinions. As body positivity is brought further into mainstream focus, so the noise fighting against it becomes louder and more aggressive. So, when Elle reports that the backslide in size diversity on this year's runway is despite an "ever-growing body inclusivity movement on social media", questions (or at least caveats) should be raised. Is there really such a clear-cut divide between runway fashion on the one hand, and popular culture on the other? Similarly, when British Vogue's April 2023 issue put Jill Cortleve, Precious Lee and Paloma Elsesser on the cover, Instagram fashion account Diet Prada was quick to jump to the headline: "Plus-size models are having a moment (except on the runway)". As fabulous as that may read, it implicitly reinforces the idea that fatphobia is an isolated problem, specific only to runway fashion and its nostalgia for waif-like '90s supermodels and y2k microskirts. Elsewhere, we think, things are progressing just fine.
Clearly that's wishful thinking. Our societal obsession with skinniness doesn't show any sign of slimming. We're now firmly into 2023 and Ozempic, the diabetes-treatment-cum-weight-loss drug that shot into online discourse at the end of last year, is here to stay. Ever since it was rumoured that Kim Kardashian used the drug to lose enough weight to fit into Marilyn Monroe's dress at the 2022 Met Gala, Hollywood and the internet have been Ozempic-crazy. The pharmaceutical company that produces it, Novo Nordisk, reported that sales of the drug hiked by 77% in 2022—to $8.56 billion. So unprecedented was the hype generated on social media that the US is still reeling from a dangerous supply shortage which left type-2 diabetes patients, who medically require the drug to help regulate blood sugar levels, unable to access it. That storm is finally clearing after six months, but delivery of the highest 2 milligram dose of Ozempic is still delayed across the country.
It's a similar story with the buccal fat removal craze, the cosmetic surgery of choice for 2023's celebs. The premise here is simple: by having a grape-sized fleshy globule sucked from the inside of their cheeks, patients can achieve protruding cheekbones, a severe jaw and an all-round sleeker, sexier, supermodel look. While Chrissy Teigen is one of the only high-profile figures to have spoken openly about having undergone the surgery back in 2021, speculation is rife with others as A-lister after A-lister kicked off this year sporting sharper, more sunken faces. Among the biggest names tossed about are Bella Hadid, Anya Taylor-Joy, Zoe Kravitz, Lea Michele, and, in probably the most viral moment, Liam Payne. Naturally, Twitter users have a new favourite (and dystopian) guessing game to play with each new celebrity appearance: buccal fat removal or 'Ozempic face'?
A few have spoken out about these procedures. With a Lily Allen-adjacent warning that "everyone is on [it]", Chelsea Handler told the Call Her Daddy podcast how she once took Ozempic without knowing what it was. Meanwhile at the 2023 Oscars, Jameela Jamil called out the toxic culture surrounding the drug ("Don't shame yourself because you don't look like these women did last night.") For the most part, though, responses on social media are positive. Users post their "Ozempic journeys" on TikTok to applause in the comments; plastic surgeons take to the platform to bust myths. As is to be expected, the long-term effects of both procedures are still the subject of fierce debate. Some have experienced rapid weight regain after coming off Ozempic, and many believe that natural ageing will leave those with extracted buccal fat looking unnaturally aged and hollow. But for supporters on social media, responses to such warnings range from nonchalance ("we'll cross that bridge when we come to it," says one user) to counter-arguments calling out our obsession with anti-aging ("why does it matter if you look older anyways?"). Either way, the trend doesn't seem to be slowing—the internet still shuns fat.
The rise in these phenomena signals our dogged pursuit not just of thinness, but of thinness that foregrounds a gaunt, emaciated look. The desire to scrape away excess volume from the body is so extreme that the world is finding, fixating on and collectively removing a tiny area of niche fat in the cheek. Many note how this represents a total U-turn from previous years where 'adding' was in vogue—think BBLs, lip fillers, breast implants—and a return to more conservative styles of feminine presentation. It's the latest development in an exhausting, fast-moving, problematic cycle—and, in this particular episode, less is more.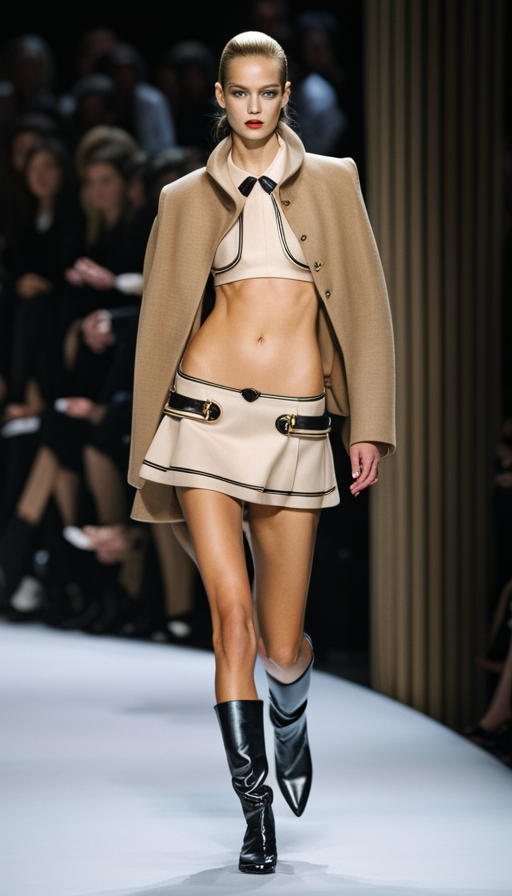 Concerningly, it appears young people today are leaning into the regression. 52% of Gen-Z now think that campaigns for gender equality have gone so far that we're discriminating against men. Under half describe themselves as feminists. Younger generations are also the most likely to victim-blame in cases of sexual assault, and most likely to agree with the statement, "a man who stays at home to look after children is less of a man." On TikTok today, tradwives and stay-at-home girlfriends embrace traditional domesticity, opting to enjoy a life of housework in floral-print dresses while relying entirely on their partners for financial support. This is, we're told semi-ironically, the ultimate hack through a modern capitalist system, eclipsing the ball-busting 'girlboss' and its problematic, 'grindset' brand of feminism. It's a full-circle moment which, in its rejection of the gender equality movement, aligns the most chronically online young people with alt-right activists.
But despite growing opposition, it's designers like Sinéad O'Dwyer who persevere with making clothes for real bodies, and positive coverage which platforms the beauty of those bodies. When a smaller designer with limited resources is able to pull off such a feat, it's a reminder that, while a more regressive and altogether easier 'opt-out' might be attractive, there is an alternative route. Campaigns like these fly in the face of online commentators and trends that call for less and less, giving more instead—more representation, more noise, more joy.