If you've been online lately, chances are you've seen your favourite cultural icons Balenciaga-fied by AI—think emaciated Harry Potter wrapped in a parodically shoulder-heavy leather trench, Mario and Luigi pouting on a runway, or a peroxide-blond Jesse Pinkman staring incredulously at a jacked-up, tank-topped Walter White. The Balenciaga image is so ubiquitous that it can be instantly recognised in modified versions of anyone, or anything. Testament to that was a Demna-fied day trip to Hamburg this week. Spending some time with the mysterious, skulking fashion house, INDIE got the low-down on their new store, and bore witness to the finest, tiniest, and often tastiest, luxuries.
Introducing the Balenciaga macaron (and friends), coloured not 50 shades of grey, but one tone: the brand's signature 'Pantone Cool Grey 6c'. Liquorice sweets disguised as nondescript pebbles were not billed as the day's main event, but for Balenciaga, the devil is in the details. Curated greyscale canapés followed a private tour of Hamburg's intricately-designed Elbphilharmonie concert hall (infamous throughout Germany for exceeding its construction budget by eleven times). Its rippling, honeycomb-like walls are 3D printed for total acoustic control, and no two panels are the same: a tour de force of stylish and scientific modern architecture.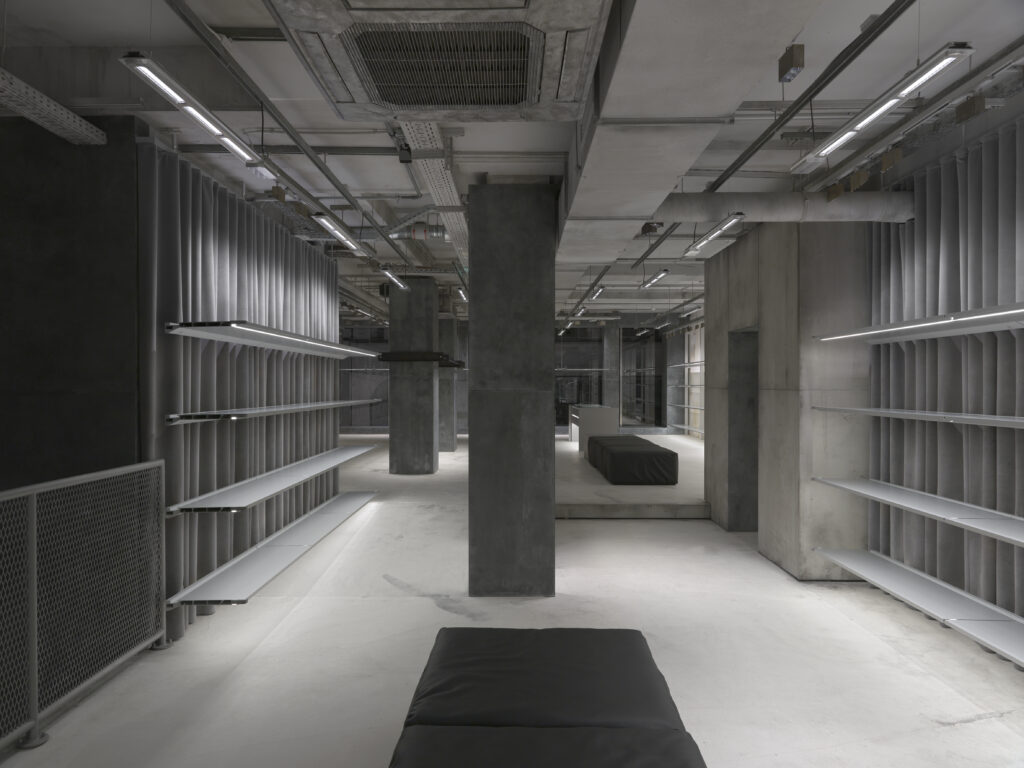 Those design principles, and that forensic attention to detail, translated seamlessly into the new Balenciaga store. The engineered sonic perfection was echoed by the unnerving exactness with which the whole space was aligned. The brand's concept of 'Raw Architecture' looks like a tower-block abandoned midway through construction, and then re-written for high-end luxury. Intense symmetry is carved by the razor-like edges of LED screens, floor-to-ceiling mirrors, concrete blocks and industrial shelving.
The space at Neue Wall is stripped back, exposed, and enormous. Yet in this haunting zone it was once again the small, expressive flourishes that stood out. A makeshift-looking bench by Tejo Remy, crafted from roughly-bound piles of vintage and deadstock Balenciaga fabric, took centre stage, while the VIP fitting room was equipped with its own bag display (a welcome pop of pink, red and rhinestone). These were the touches that rounded off our deliciously detail-oriented day with Balenciaga. Recall the macaron: harsh and colourless on the exterior, with a little hand-crafted sweetness inside.