Tinashe likes to live in the moment, but when we speak over FaceTime in mid-March, she's quarantined like the rest of Los Angeles. It's early in America's spread of the new coronavirus and, luckily, she's got her home studio. "It's my career. It doesn't stop," she says of what she frequently refers to as "making art" as opposed to "making music." Her spring tour may be postponed, and will have to be rescheduled, but that doesn't mean she's chilling.
"I'm typically the type of person who hates being told what to do," Tinashe says from her house in the Hollywood Hills. She's fresh-faced, hair barely mussed, in a teal hoodie that matches the gel on her nails—quarantine chic. "Anytime someone mandates me to do anything, I don't want to do it." She lives alone with her cat but frequently has collaborators, family, and friends over to eat her cooking on Taco Tuesdays, and work in her backhouse studio.
That's where Tinashe now brings her computer outside and into her studio to show INDIE what she does on her own time, at her own request. It's a separate space, which helps keep work and home from blurring—and from just anyone she invites over to the studio being given all access.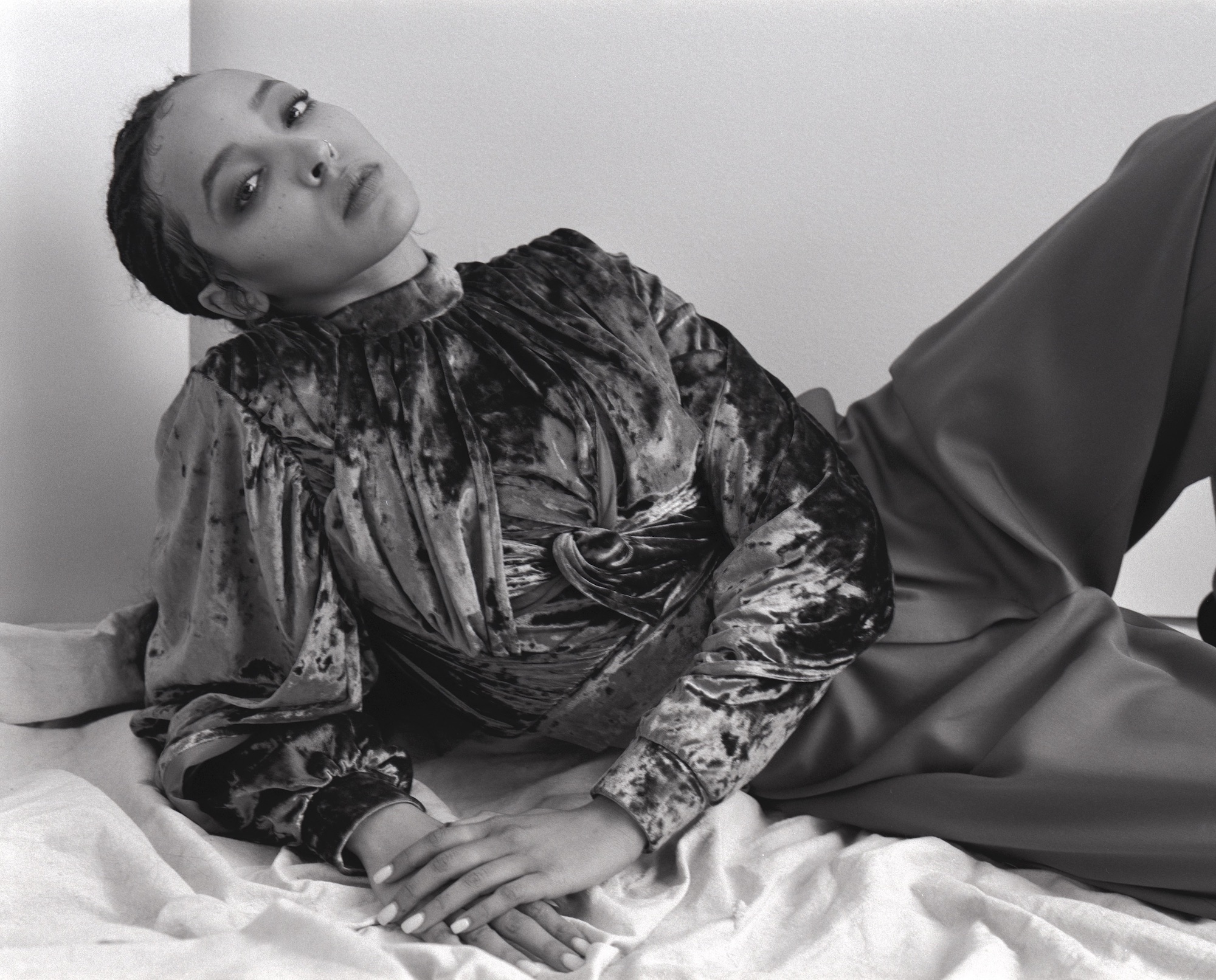 Tinashe whirls the screen around the room, giving a virtual tour. There are colourful half-painted canvases, abstract works she calls "unfinished" that she'll eventually hang on her walls next to fan art or the platinum plaque for her debut album, Aquarius.
"I want to sell them at some point in life," she says, "but I want to have a gallery."
There's a loft—a bed filled with plush pillows where she writes, an uncharacteristically clear, smog-less view of Los Angeles from outside her floor-to-ceiling windows, which she points out most studios rarely have. "They're always cold and dark and sterile and weird, and there's strangers," Tinashe says. "[My studio] is conducive to the creative process. It's my home, so I'm really comfortable." She points out the bowls she usually fills with candy, a toy dinosaur, a stocked bar: "It's an adult playground."
Her home studio is where the 27-year-old recorded her most recent release Songs for You, her fourth full-length record in five years—but this one is particularly poignant. After a well-documented tumultuous relationship with RCA Records for her previous three albums, it's Tinashe's first self-released collection of songs that she not only wrote but produced. "I have so many ideas," she says. "I always have a point of view."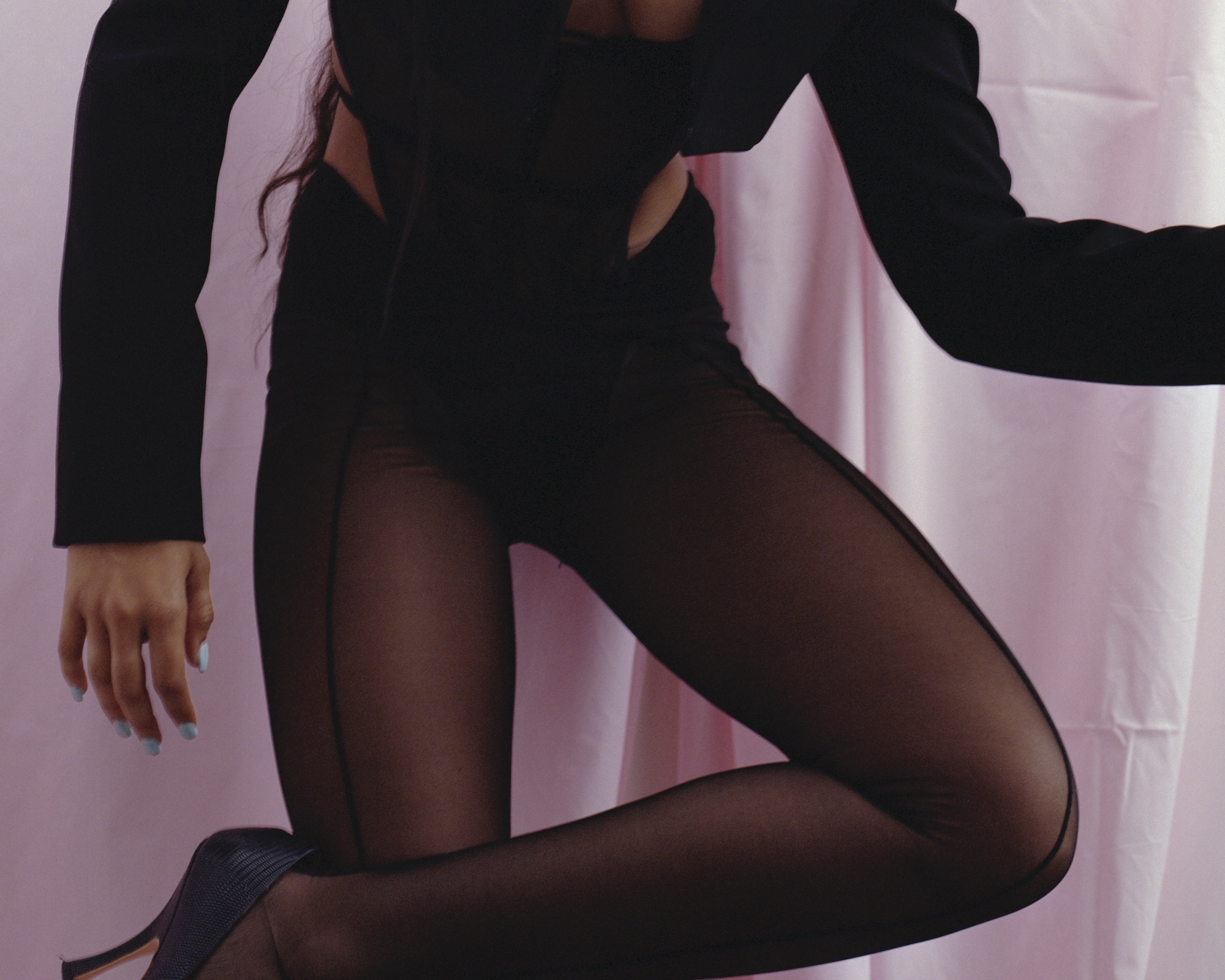 A new outlook
Like the view outside her window, that point of view has never been clearer. Tinashe has been working in "the business" since she was a child-actor-turned-pop-singer in a short-lived girl group with a fellow teenage Hayley Kiyoko—The Stunners released one self-titled album with Universal Republic, including songs 'Bubblegum' and 'Spin the Bottle'.
When the band split in 2011, Tinashe went to RCA for her solo effort, seeing success for her debut Aquarius in 2014 with early singles '2 On' (with DJ Mustard) and 'All Hands on Deck,' and collaborating with some of the biggest new names in hip-hop, from ScHoolboy Q to Future to A$AP Rocky. Britney Spears requested her for a sultry pop song, 'Slumber Party', complete with a lingerie-clad, sapphic-tinged video.
"Every decision is my decision now"
Yet when it came to a follow-up, Tinashe was on hold. RCA deferred her sophomore album, Joyride, wanting to keep the singer in an ill-fitting pop box rather than the genre-expanding R&B she preferred with co-writers like Dev Hynes of Blood Orange. RCA cancelled her tour, sold out songs from under her to the likes of Rihanna (who didn't end up using it anyway), and eventually agreed to let her out of their long-term deal.
"There's obvious difficulties and hurdles and things that aren't as easy to accomplish as before when you have a machine working on your behalf," Tinashe says. "They're important things, but they're less tangible for me as a creative person. The things that I've gained from this experience are freedom and confidence and inspiration and creative energy, and those things are really invaluable to someone like me. You lose out on budgets and marketing teams, and so, that can be difficult to navigate. But for me, what I gained through it all makes up for that difference."
"Every decision is my decision now," she continues, happily. "It's the best."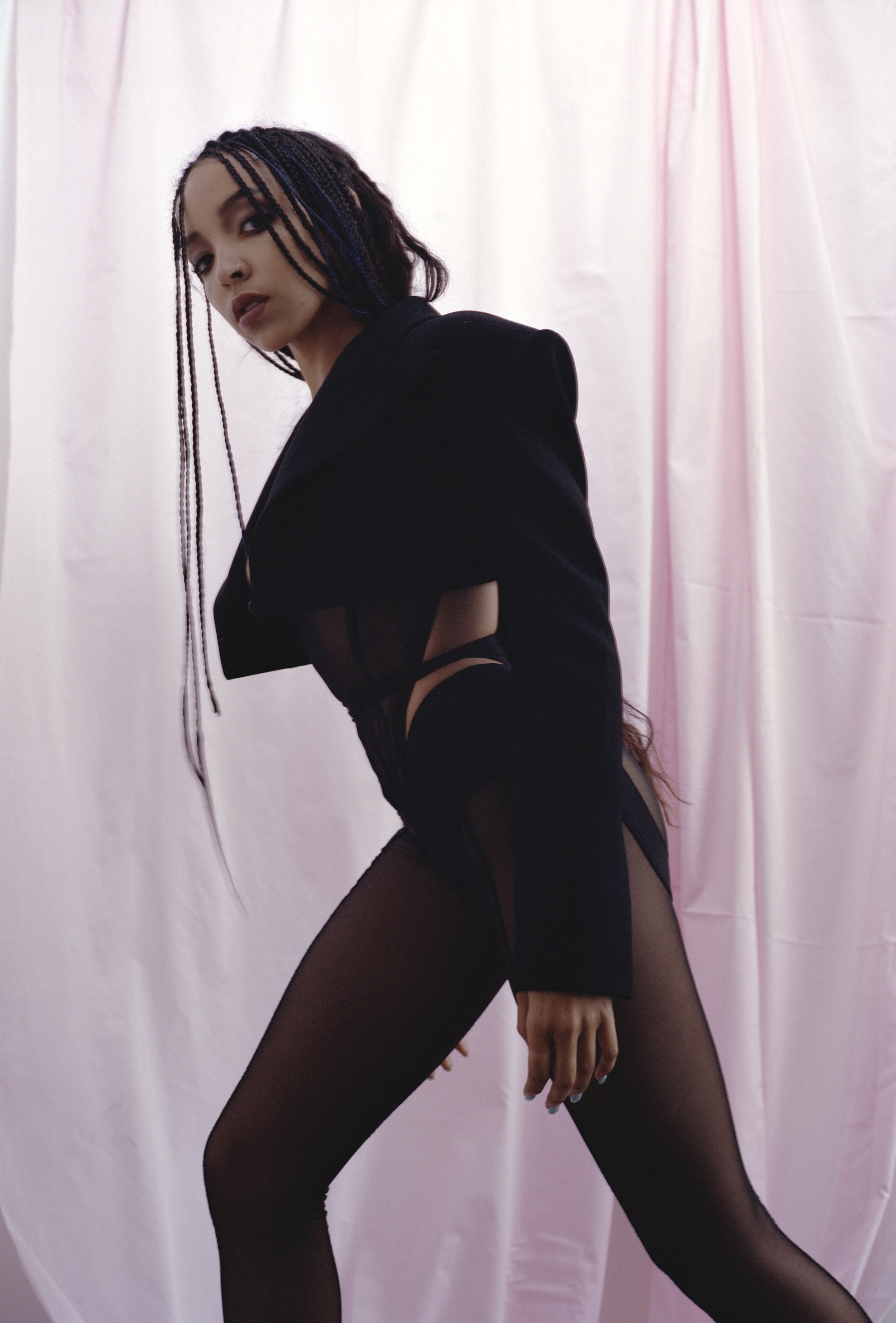 Honesty and vulnerability
A Tinashe song starts with a vibe, an unearthed emotion. She works out how she feels in songwriting: "That's the best part." There's no premeditation. To keep things one hundred percent her, she doesn't ask anyone outside of trusted friends or family for their opinions.
"I think that's where you kind of get lost and confused," she says. "And, at least for me, when I've listened to too many people in the past, that's kind of been negative towards my creative process."
Songs for You is 15 tracks of true Tinashe, which is to say at moments stripped down and leaning into vulnerability ('Remember When', 'Save Room for Us'), and at others providing boss bitch commentary, for example on the too-damn-catchy hit-the-club 'Link Up'. Some songs could be seen as vengeance on a jilted lover (the album's first track, 'Feelings', or 'Hopscotch'), but what comes across, more than ever, is Tinashe's ability to write total bops that benefit not only her but the people she's got on the song ('Die a Little Bit' with British rapper Ms. Banks and 'So Much Better' featuring G-Eazy).
"I have way more confidence in myself as a songwriter," Tinashe says. "As the head of creative, I really kind of steer the ship, as opposed to maybe when I was younger, when I would work with people who are more successful than me, kind of allowing them to dictate where the session went or the song went. Now I don't want to waste any time doing that. I look at it differently. Like, let's just get to what I want to create."
Reviews of Songs for You have been positive, most praising Tinashe's ability to slide from genre to genre, a celebration of her range, which was so much of the reason for RCA's hold-ups and hold-outs. No one seems to miss the label's meddling.
"I've been very thrilled," she says. "It feels like there's a good synergy around all the music that I've been making and all the different career steps that I've made. I've been feeling really good about everything, honestly, and very optimistic. Re-energised and inspired."
She adds she doesn't read reviews, but she can tell, based on social sentiment, that the press and fans alike are connecting with Songs for You in its honesty and vulnerability.
"I think that putting those two things into the music makes it feel really authentic, and people have wanted to hear my authentic point of view for a while. Especially after how I felt with my previous record label, that there was creative derailing going on toward the end. I think that was one thing that really spoke to my audience as well, just knowing that creative control was totally there, and then seeing the emotion behind the records themselves."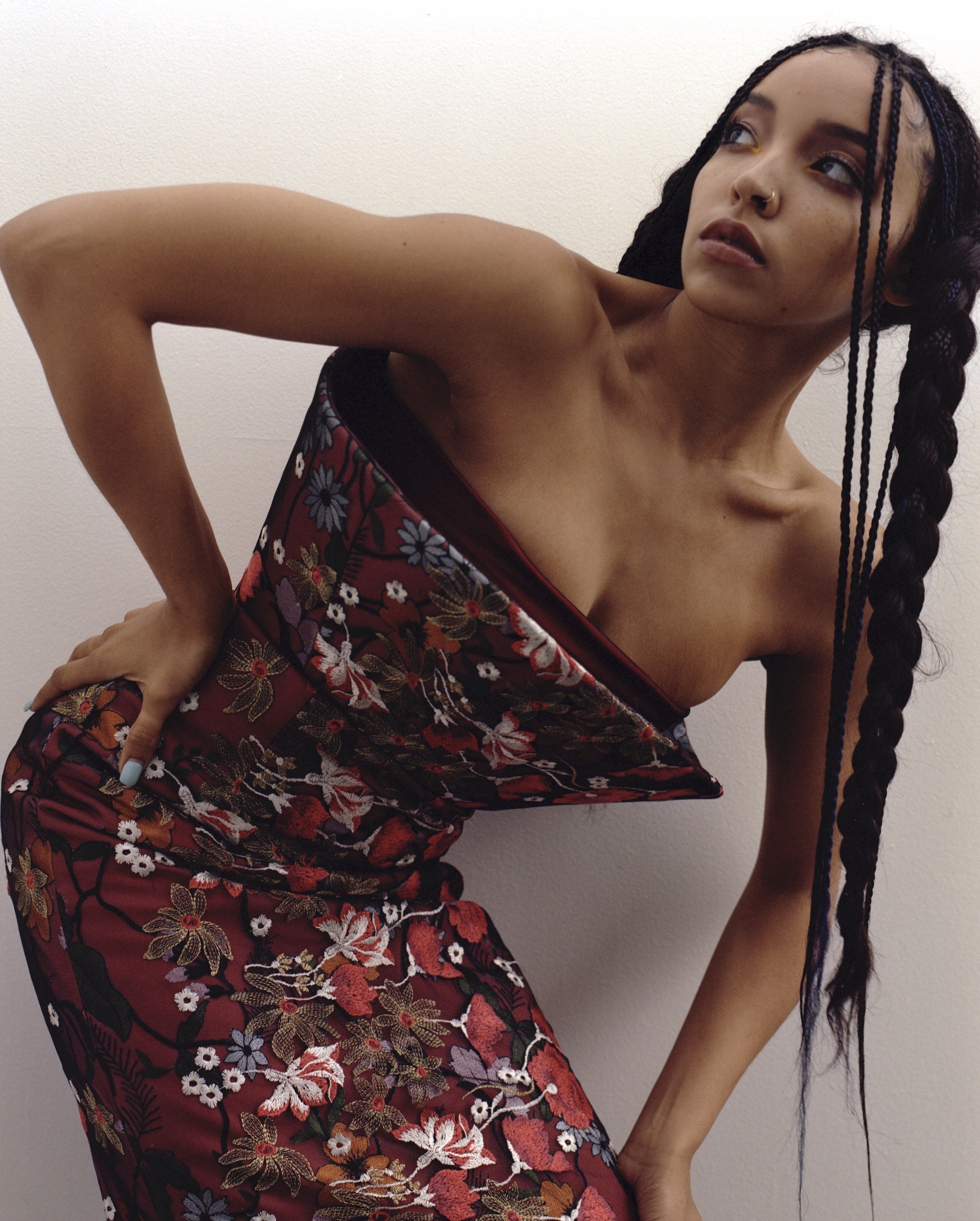 "I could do more"
It quickly becomes evident that Tinashe is relishing being her own creative director now and having the upper hand in shaping everything about her career and output.
But it's also still a process. Though she has 20 different producers on Songs for You, she is the only woman producing on her own album. (Outside of the Ms. Banks track, she's the only woman, period.) "I've still probably only met a handful of female producers and engineers—I can only name a few," she says. This is the only time she seems at any level of discomfort during the interview, thinking through it as she talks, serious and unsmiling. "It's definitely something that's still a very, very, very, very, very, very heavily male-dominant area to work in, so I'm just doing my part as much as I can to encourage more young people to get into that side of music. Not just as an artist but also as a producer and engineer." She'd like to work with more women, she says: "I could do more."
It's all about feeling comfortable enough to experiment—to make something for the sake of making and finding the gems that deserve the polish. The week of release in November 2019, Songs for You peaked at #147 on the Billboard 200, but Tinashe is less concerned with churning out chartable pop hits than her label ever was. She's unbothered by the kind of validation that the greater industry uses as benchmarks.
"My biggest goal has been to try to push people out of their comfort zones creatively when they come in the studio," she says. "What would you do if you weren't worried about making money and you could just do what you want, like we're 15 again? Let's be on that. I encourage that. I think that leads to better art because when you take into account the opinions of other people, your art inherently suffers because you lose that sense of exploration and risk; you're trying to calculate too many things. By eliminating that as a factor, I think that music gets better."
Tinashe unleashed
While Tinashe has been fighting for control over her own art, it's not necessarily her music that some people talk, or tweet, about. The consistent misogyny-based comparisons to other women artists—women of colour artists, in particular—do her a disservice, minimising her many talents to a sentiment that she'll never be Beyoncé. But Tinashe doesn't want to be Beyoncé; she wants to be herself and to talk about her work, not her Instagram selfies or sex life—frequent topics of conversation throughout her career.
"There was some really gross stuff really early on for sure, mostly with radio people just being really inappropriate," Tinashe says. And she's right; in too many interviews, her music is shelved for something more sexist and salacious. When there's video, you can see how uncomfortable she is when the men push her on why she'd post photos in certain outfits or poses, or inquire about her former relationship with NBA star Ben Simmons.
"I was just pretty much a good sport about it. I don't know if that was right or wrong, but that was how I kind of got through it." Tinashe shrugs off concerns about her personal life and the misconceptions some people have about her. "I think I've paid more attention to that or allowed it to affect me more in the past," she says, "but now I don't really allow that to kind of get in, and I just continue to do me. I'm pretty solid in that."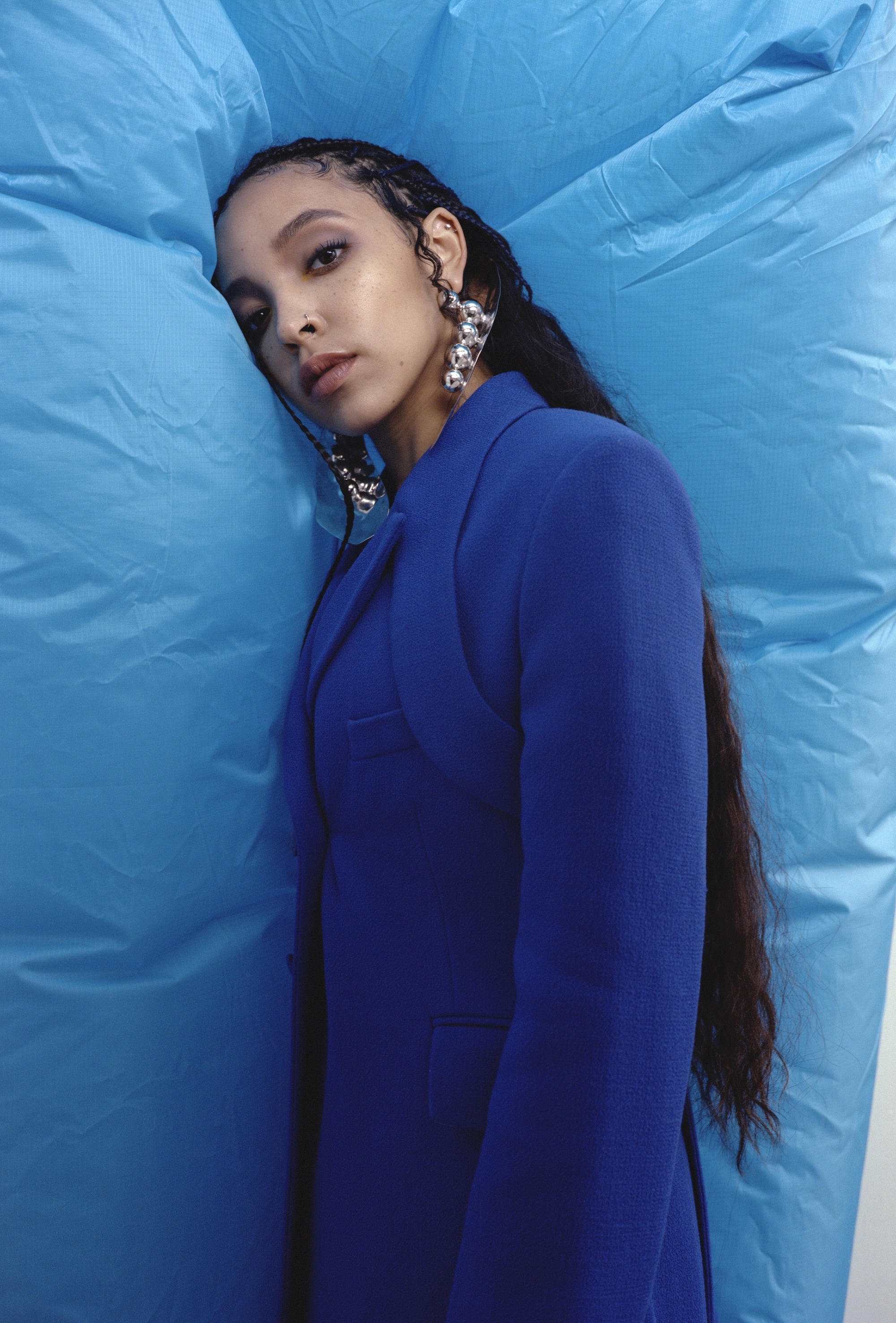 Things are different now that Tinashe is in charge of Tinashe. She says she's gained respect, both as a performer and an artist, a distinction she makes on her own: "I think people have started to treat me differently in those environments."
When the quarantine is over, and Tinashe is able to reschedule her spring tour dates, she knows exactly what her fans expect: They want the high-energy, drama, and storyline but with depth—they want to see Tinashe unleashed.
"It's got to be what I want at the end of the day," she says, her smile reappearing. "It's got to be what we want most, and then what the people want to see. And I feel like that's how I create music now, too. It's like what I want to make most, and then the fans will all like it because I like it. You can't make it for them. The tour is called Tour for You, but it's really a tour for me—which, then, is you."
Tinashe is a free woman; she's just stuck inside her home for the time being.
Photography PARKER WOODS
Styling JESSICA WILLIS
Hair NINA J
Make-up ALEXX MAYO
Production RYAN BECK at OUI PRODUCTIONS
Photography Assistant DANIEL PRIMERO, JULIAN SAGE