You've heard the rumours, you've seen the host of headlines, and the heavyweight collaborations, it's official – Crocs are back, and the Colorado-born brand is fast-becoming a fashion powerhouse. Ever since Balenciaga took hold of the iconic foam clogs in 2017 the holey hybrid shoe has transformed into luxury must-have. And why not? Crocs' chunky, strangely dynamic silhouette might just be the missing link between the '90s clunky sneaker revival and the 00's rebirth – as Balenciaga's coveted platform Crocs irrefutably proved. Now for 2019 the shoemaker's are launching the third year of 'Come as You Are', a campaign championing individuality and unparalleled comfort with the likes of Natalie Dormer and Zooey Deschanel. Naysayers be warned, the formidable footwear brand is just warming up.
The footwear market first cottoned on to Crocs for their breathable wearability and springy texture, but the brand has been on a transformative journey since. Although originally launched in 2002 as maritime apparel, those colourful rubber soles and slingback straps quickly became the definitive footwear for a generation of '00s individuals, outdoor adventurers, and free spirits. Throughout the years, Crocs' timeless silhouette has protected and served the masses. They've ruffled a few feathers on the way, but isn't that the sign of a true pioneer? Crocs embraced their divisive nature on their singular mission to prove you can be comfortable, and courageously eye-catching all at once.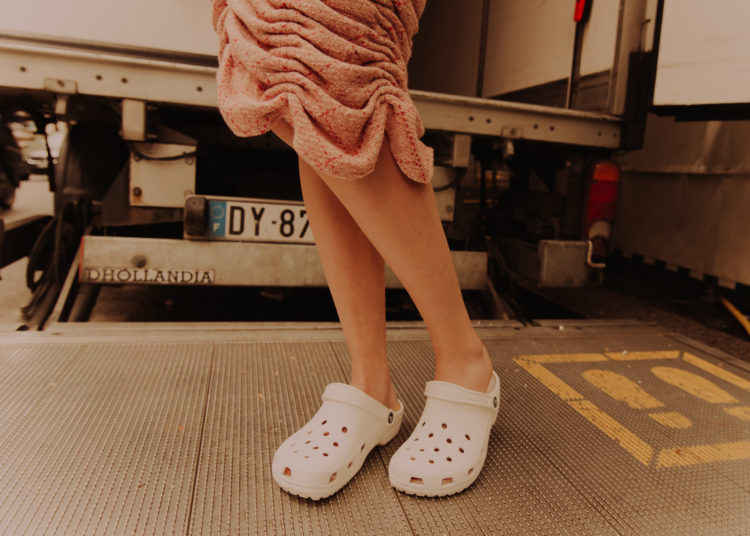 17 years on and Crocs have done more than catch the eye of the fashion industry, now elite brands and designers are following the shoemakers down the rabbit hole. Christopher Kane, Vivienne Tam, Beams, Lefthand LA, Pizzaslime, Alife and Post Malone have all coupled with Crocs over the past few seasons to create striking, innovative statement pieces. While the viral collaboration with Pizzaslime gifted the world with the croc bum-bag, the Post Malone remake even added Madonna to the ever-growing list of croc devotees. If these collaborations confirm one thing, it's that Crocs are built to adapt as well as endure; their mission statement might not have changed, but the shoe has evolved into this generation's cool kid staple.
Amidst all these recreations, let INDIE take you back to the original game-changing silhouette that started it all. Whatever your take may be on Crocs' eccentric foam form, these attitude-drenched photographs reveal the limitless pairing potential of the classic Croc in white. Cast your eyes upon the shoe's true nature – versatile, iconic, and custom built to turn heads.
Photographer LUCAS LEHMAN
Stylist SERENA POMPEI
Model MADISON MOEHLIN
Hair YANN TURCHI
Make-up OCÉANE SITBON
Creative Direction TOBECONFIRMED. STUDIO
Casting Director TIMOTEJ LETONJA @ARTFACTORY
Producer ATOMIK
Photographer Assistant VICTOR MAÍTRE
Stylist Assistant MARIA BONFÁ
Paid partnership with CROCS.