In light of their new collaboration with French lingerie brand Aubade, we catch up with the Dutch designers to talk about fashion's future.
It's no understatement to say that Dutch design duo Viktor & Rolf are seasoned veterans of the fashion industry. In 2018, the haute couture heavyweights celebrated 25 years of their lauded eponymous label with a retrospective exhibition that began in Melbourne travelled on to Rotterdam and is set to hit Shanghai later this year. Viewing their work in this gallery context shines a light on the artistry that's always been part and parcel to Viktor & Rolf's conceptual approach to fashion—from their structural, sculpture-like silhouettes to the bold millennial meme propaganda emblazoned on their latest haute couture collection. 
Exhibitions are also a way to subvert the elitism propagated by the rigidity of the 'invite-only' fashion cycle—something Viktor & Rolf are only too familiar with after quarter of a century in the game. "I think we really have a love-hate relationship with fashion," they admit. "We often feel disillusioned. What we do is to use our creativity when we feel down or negative. We try to visualise those negative thoughts as a way to clean ourselves." It's a fruitful approach that's birthed many a playful, yet critical offering from the Dutch duo—an entire collection based around the word 'no', for example, or their famed 'black hole' collection, absent of any colour of light. "By visualising these negative thoughts, we can go forward."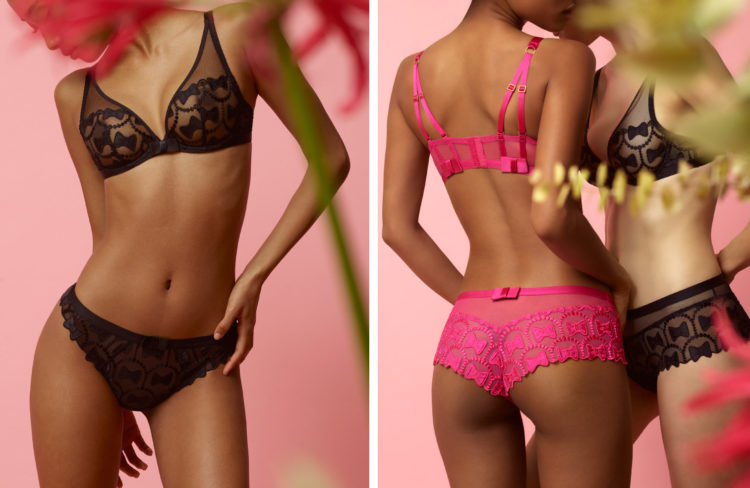 Viktor & Rolf x Aubade
And forward they continue to go. Producing new collaborations what seems to be every other minute, Viktor & Rolf are more prolific than ever, lending their hand to everything from jewellery to baby buggies, and after 26 years, they're not ashamed to admit that they're still learning. "We like to collaborate on projects where we work with a partner that can provide the know-how that we don't have ourselves," they explain. "There are so many very specific, very precise crafts out there." Lingerie is one of them—and it's the latest product to get the Viktor & Rolf treatment. Teaming up with Parisian provocateurs and masters in lingerie and lace Aubade, the duo's collection an ode to their enduring iconography, taking the bold bow motif and fusing it with Aubade's signature sophistication. Each of the exquisite mesh garments is embellished with bows and delicate dots, offsetting their fragility with a dose of Dutch fun. It's a playful take that echoes Viktor & Rolf's enduring ethos—"in fashion, it's important to keep that lightness."
Though it's lightness that defines much of Viktor & Rolf's output, the duo have serious concerns for the future of fashion. It's a system which seems to develop far slower than other sectors within our cultural landscape, tied to binary gender traditions, tired conceptions of beauty and wealth. "It is changing," the pair stress, "but it's slow. The most pressing issue is the environment—the harm fashion can inflict on the environment. We need to change our attitude towards buying stuff in general, and producing." It's something the designers are already pushing to the fore as much as possible—they've stopped producing ready-to-wear, focussing solely on haute-couture, and are conceiving innovative ways to re-use and source sustainable materials. The collaboration with Aubade, then, only feels natural. 60 years dedicated to making timeless lingerie with the finest French corsetry, Aubade is a brand that transcends fast fashion and makes pieces that last, and Viktor & Rolf leapt at the chance to collaborate. "Sustainability is a paradox within the context of fashion" they admit, "but things need to change." And with this coveted capsule, Viktor & Rolf reaffirm the importance of what lies beneath our clothes. 
The Viktor & Rolf x Aubade collection is available online from June 2019. 
Header image copyright FRITS SHOEDER