"There's nothing especially spectacular about my days," Jared Leto tells us from a studio in L.A. This self-effacing, low-pressure response comes without surprise, in fact it is an attitude fans worldwide now associate with Leto. Ironically, his career to date is anything but quotidien. Recognised for protagonist roles in cult films such as Fight Club, American Psycho, Requiem for a Dream, and perhaps most notably for his Oscar-winning turn in Dallas Buyers Club, where Leto highlights the resilience shown and felt by the trans community through his role as a HIV-positive, trans woman.
However, the 45-year-old's career cannot be confined to one medium, rather multiple. He is also the frontman of rock band Thirty Seconds to Mars, and is currently working on the band's fifth album, alongside fellow bandmate Tomo Miličević and brother Shannon Leto – a project that found continuation immediately after Leto finished shooting his latest films Blade Runner 2049 and The Outsider. When we asked him about how he oscillates from music to film, Leto's response is clear-cut: "When I'm making music, I focus completely on music. I am absolutely committed to what I am doing. Likewise, when I am filming I totally focus on the role I am playing. For me, it is absolutely necessary to keep some things separate."
Ahead of Thirty Seconds to Mars' imminent album release, we asked Leto about his escapes to nature, the force of music and the best advice that was ever given to him.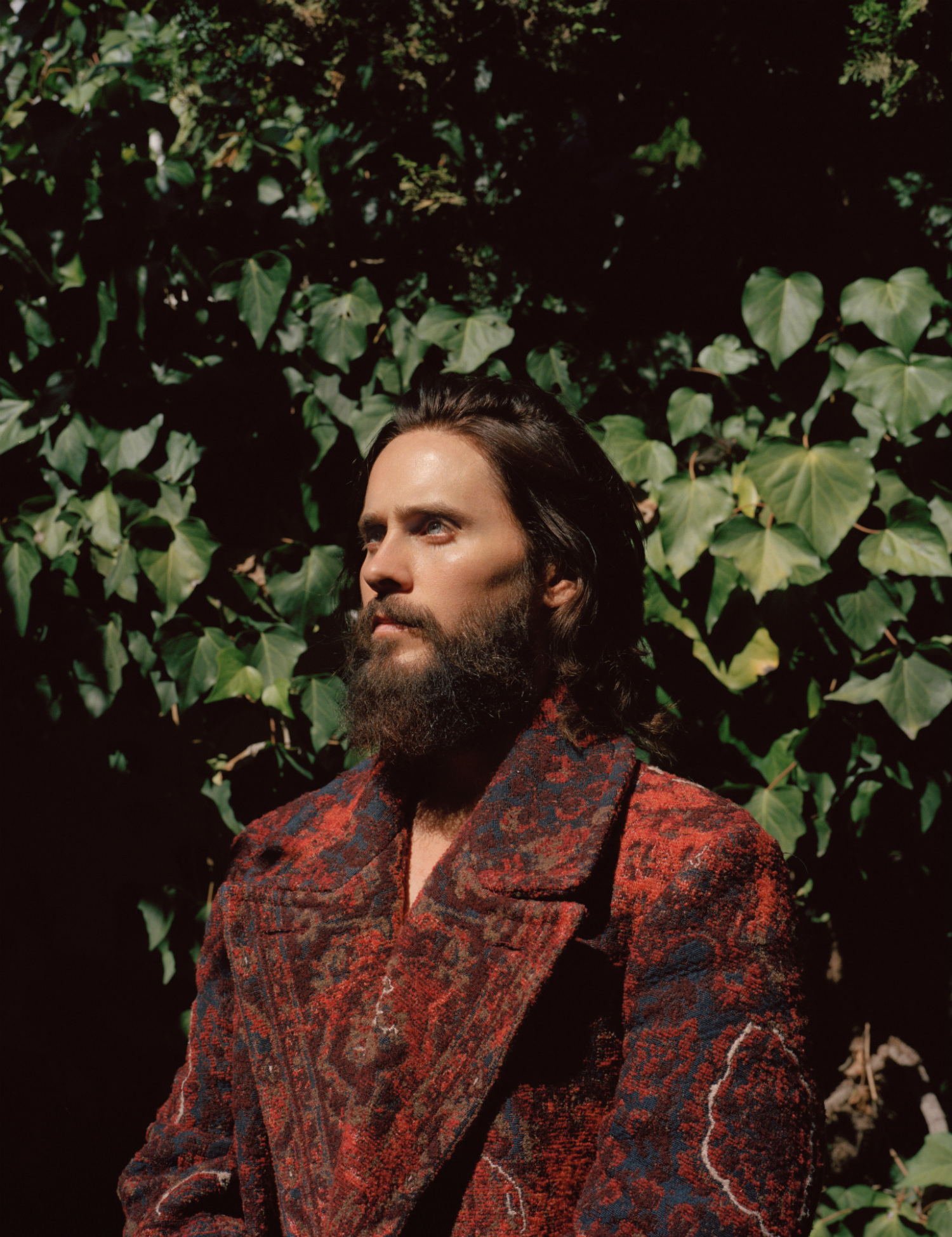 Coat ALEXANDER MCQUEEN
Could you describe an average day in your life?
My life is not all that exciting for the most part. I get up and go straight to work. That's it. I like to work very hard. We did the MTV Music Video Awards yesterday in L.A., that was a lot of fun. We used a new technology which captured thermal signals. Basically we played in total darkness for most of the show and broadcasted our heat signals to the world. We used military cameras so we had to get a special permission from the army. We were really excited about how it turned out in the end. I love technology. That is a big part of my life.
I also read you love nature. Is this your escapism from the modern, technologically advanced side of life?
I do like to go out in the desert to meditate sometimes. That's actually one of my favourite things to do. I like remote places like the desert or mountains. Being in nature is always something that is incredibly inspiring and a very powerful experience. I love going to Death Valley, that's a gorgeous place. In general I love all of the great National Parks in America. Being out there is a fantastic opportunity to get away for a bit and recharge your batteries.
Would you be able to survive in the desert on your own?
Absolutely! I love to find solitude, and just spend some time roaming the desert and exploring. It's a great thing to enjoy the beauty and power of nature. I enjoy rock climbing and recently spent some time out in the wilderness. But, the goal of course is not to get lost. It's about learning about yourself and finding your way.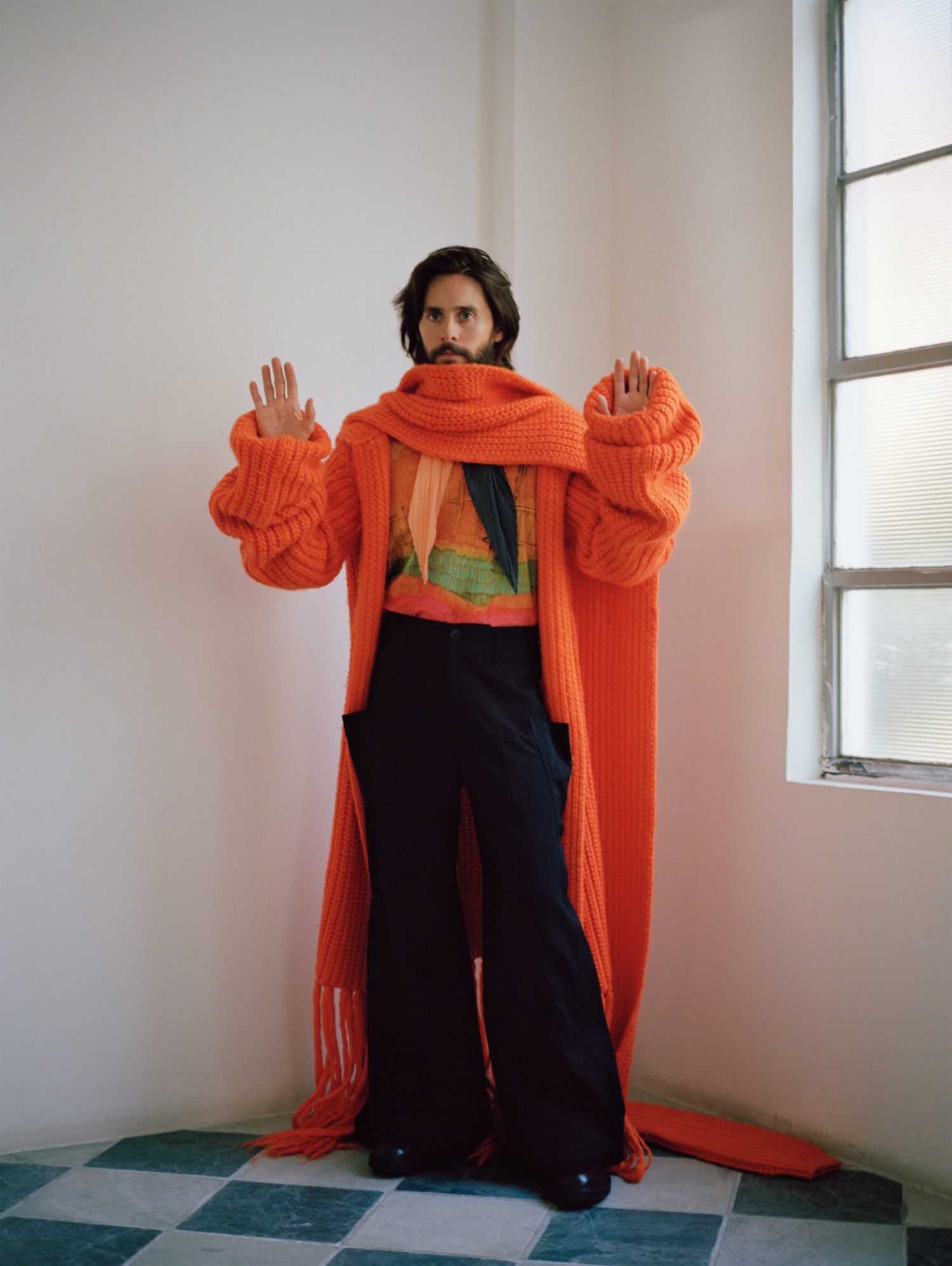 Full look J.W.ANDERSON
Does being out there also inspire your lyrics?
I think so! There's a song on the forthcoming album that is inspired by the power of nature I can say I have experienced. It's quite overwhelming out there at times. When I'm out in nature, I feel very much grounded to the earth. Funnily enough, I'm not as connected with the heavens, although it's amazing to watch the star's surface at night. I'm totally focused on the terrain and the beauty of the surroundings. I fall into nature's womb if you will.
Native American Indians believe in the "star people" from outer space. What is your belief system?
I believe in our collective imaginations and in making our dreams reality. I'm not keen on visiting Area 51, or looking for UFOs in the night sky. People tend to think that I am fascinated with space and the universe and the planets, but I'm really not to be honest. I'm not a big believer in aliens and things like that, even if my band is called Thirty Seconds to Mars. The name was brought about by my brother and I about twenty years ago. It was less about space, more about the future and immediacy.
Do you dream often, if yes, does it ever correlate with reality?
I do! I often dream about songs, and I then try to put these ideas into reality when I am awake. A couple of years ago we made a music video for the song "Hurricane", that was all about dreams – not just my dreams but also Shannon's and Tomo's dreams too. They were collectively brought to life through the video.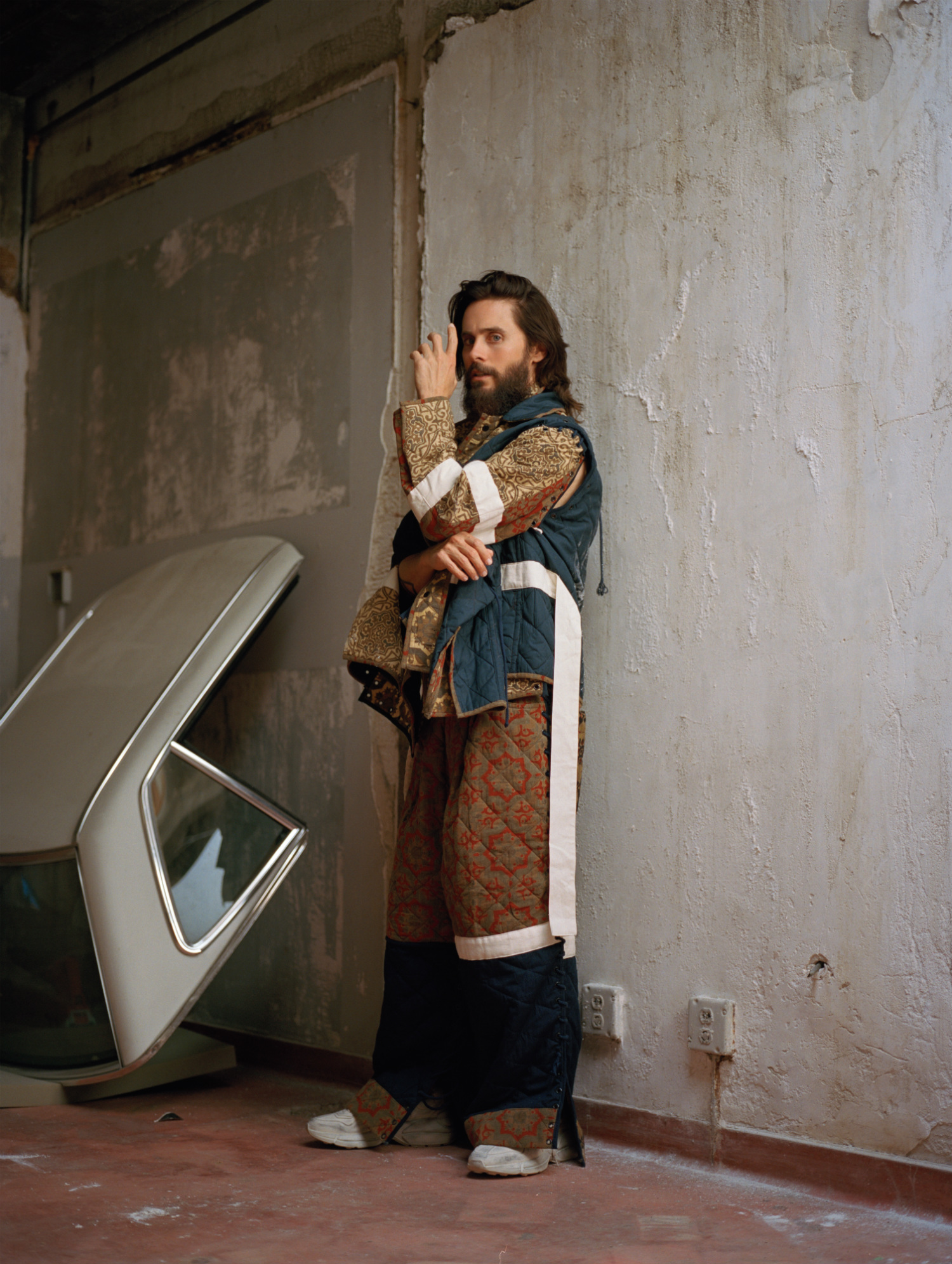 Jacket, vest and trousers CRAIG GREEN, Sneakers GUCCI
What has been your greatest sacrifice for your art to date?
I think we all sacrifice in our lives. We need to make sacrifices to pursue our goals. Mine are not any greater than anybody else's. To highlight my own would be insubstantial when compared to the sacrifices that so many other people have made. Be it someone who has come across the border from another country so that they can get a job to send money to their family. Or, someone who's helping refugees at the coast of Greece. I think that it's important to recognise that we all share the burden and the promise that is out there. We are all a part in that. My struggles are my struggles, it doesn't mean that they are more important, or more real, or a bigger challenge than everybody else's.
Do you believe music can enforce true change?
There are always a lot of people that say you can't do anything. And of course, one thing is not going to be the solution to all our problems. However, music can inspire, music can heal, music can be comforting and music can just be fun. You can sit down listening to a song and just apply it to your own battles or struggles. "Walk On Water" is highly interpretive, but I think the same could be said about John Lennon's "Imagine" or songs by Bob Dylan, there's a long tradition of artists speaking to the times that they live in. I'm not comparing myself to those great artists – they are way more talented than I am, but that is what I am trying to do, to tell a story. When I was a kid I was inspired by bands like Pink Floyd or Led Zeppelin. They taught me a lot and made me question things.
Can you remember the most important advice you were given by someone?
There's a great piece of advice I have about following your instincts. There's no price too high to pay for the privilege of being yourself. I find this to be true. I've always been a big believer in hard work. I think hard work is the bridge between dreams and reality.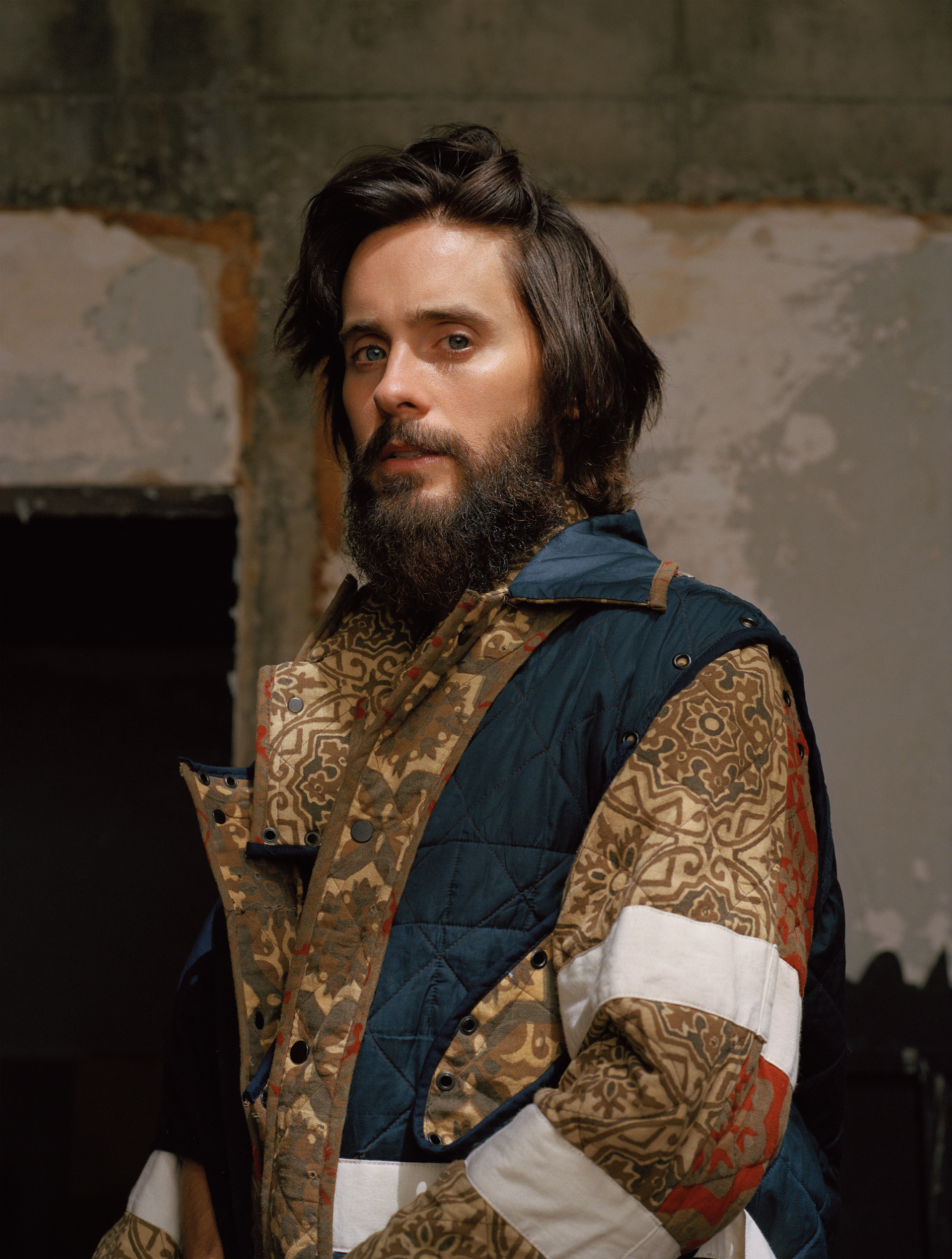 Jacket, vest and trousers CRAIG GREEN, Sneakers GUCCI
Find the full editorial and interview in the current INDIE ISSUE NO 57
Photography DARIA KOBAYASHI RITCH
Styling SEAN KNIGHT
Interview THOMAS CLAUSEN