Dirty Dancing—the first film to sell over a million copies on VHS, the film that gave us rumbunctious raunch, waltzing and watermelons, the film that put Baby in a corner and had sweat-dripping stud Patrick Swayze pull her out of it—turns 32 today. It's arguably the most epic dance movie ever made, complete with sultry soundtrack, momentous montage scenes and an even more momentous aesthetic, so it's no wonder, then, that the film's costume designer, despite her extensive contribution to costume in cinema and On Broadway, is still introduced (by members of her family no less) as "the one who did Dirty Dancing."  
When Hilary Rosenfeld landed the job on Dirty Dancing back in 1986, she was no stranger to the narrative director Emile Ardolino set out to portray. "My parents met at Grossingers, the hotel where the movie is set," she tells INDIE. And though the merengue was something she had to learn in the film's research stage, Rosenfeld was already well-acquainted with the 'dirtier' style of dancing the film portrays. "That was something I already knew," she laughs over the phone. I can almost hear her wink.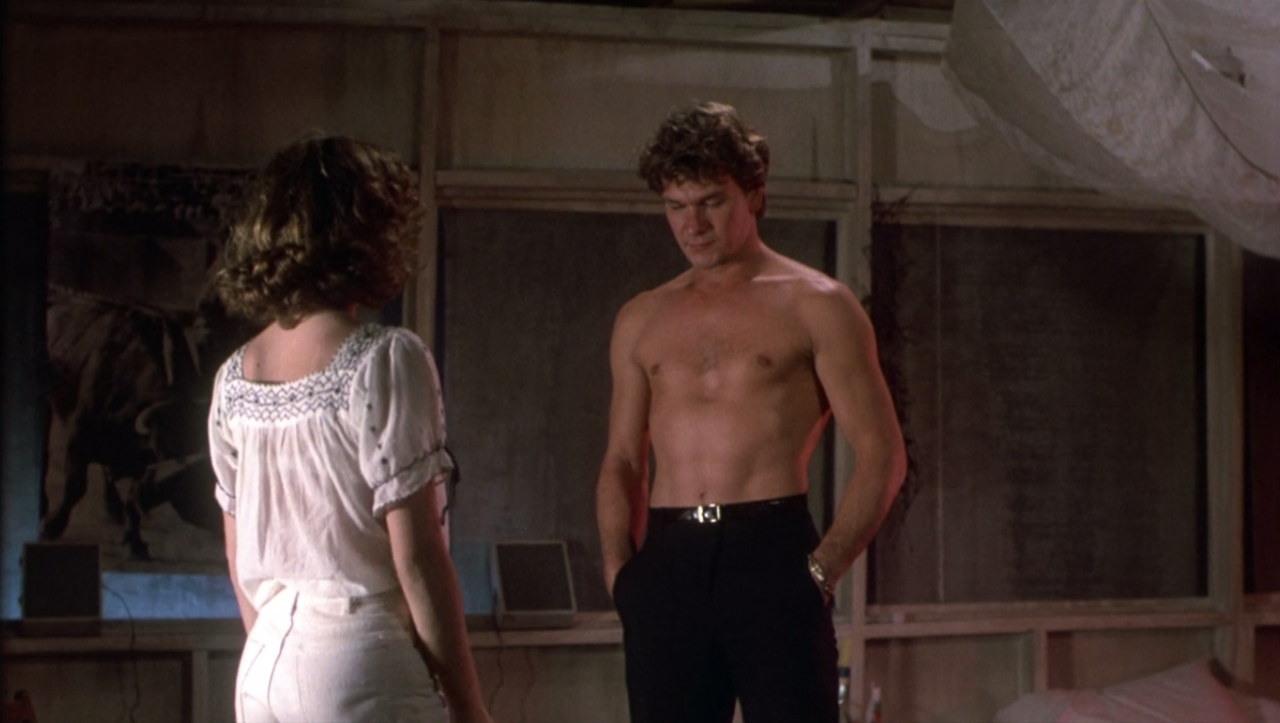 Though she describes her style as "invisible", geared more towards realistic, character-driven costume ("which is not good for your career," she adds), Rosenfeld's wardrobe for Dirty Dancing is nothing short of excellence, however understated. Set in the '60s but filmed in the '80s, in the "middle of nowhere, North Carolina" or Lake Lure, to be more precise, the designer's main challenge was to source vintage pieces—enough for the protagonists plus an ever expanding cast of extras—on a shoestring budget. "I had to bring all that stuff, enough for the hotel crew, the guests, their day and night clothes, in bags and suitcases an hour over the mountain and just hope that it was enough." It wasn't exactly what you'd call 'packing light'—Rosenfeld estimates she amassed hundreds of pairs of shoes, purses, and sweaters and was dressing up to 200 extras a day. But the challenge paid off, the film was (to the disbelief of the cast) a sky-rocketing success, and its wardrobe is one that continues to resonate with reserved youth and rebellious spirits to this day.
To commemorate Dirty Dancing's 32nd anniversary, we asked Rosenfeld to relive her thought process for conceiving the wardrobe for the film's favourite characters.
'BABY' HOUSEMAN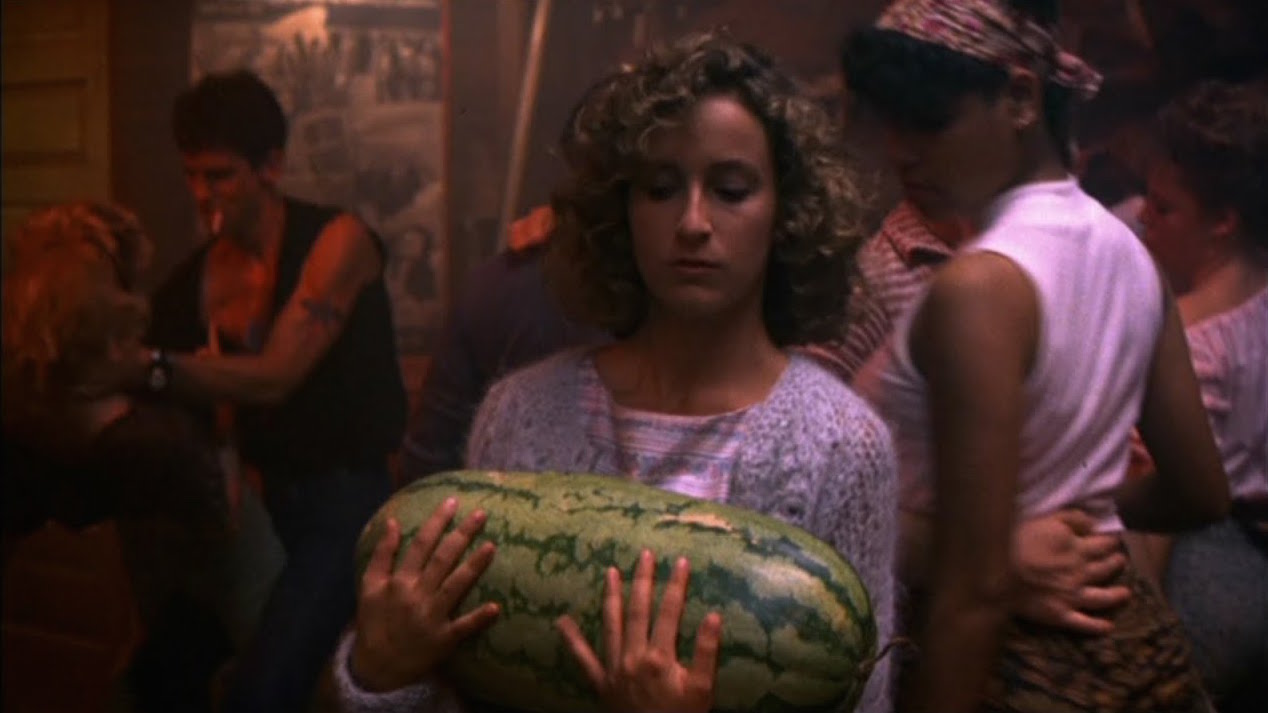 "Baby's character was supposed to be a girl who was bookish, but awakened by the lure of the real world," Rosenfeld explains. "The producers always wanted her to look sexy—'hot' is what they kept saying, but you don't go from being nerdy to being hot if you only have so many things packed. Imagine you go on a vacation, you pack your suitcase and you have what you have and suddenly you have an awakening. This is a woman who didn't have dancing clothes in a backpack. Jennifer and I always thought she was a young woman who didn't want to show her body and suddenly that's what the whole dancing thing awoke in her—the desire to have people look at her. That might be the key to the movie, the awakening as a young woman is what every girl goes through."
Dressed in mis-matched ensembles, denim cut-offs, bohemian shirts, faded swimsuits and makeshift crop-tops, Baby's character is one that goes from reading books to serving looks in a matter of (two) weeks, climaxing in the epic pink dress-wearing 'Time of My Life' dance finale. "If I had that dress I could be a millionaire," Rosenfeld laughs. "Well actually I couldn't because I could only sell it once, but I have the sketch that it's made from, and I will sell that one day. That dress has become iconic. That dress is perfect for the character, that dress is perfect for the time, and for the awakening of her character—it's something that looks sexy but not over the top. And that's why every girl in America and some in Australia actually, continue to write me emails about where they can get that dress."
JOHNNY CASTLE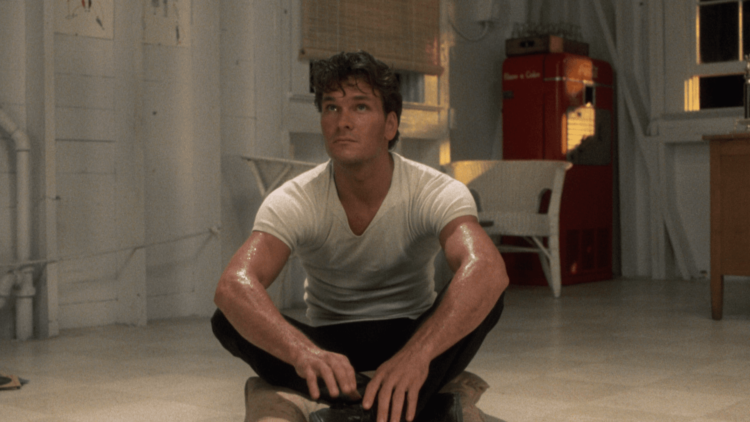 No one in cinematic history has made ballroom dancing look as rugged as Patrick Swayze did playing Johnny Castle. With his skin-tight wife-beaters, blacked out ray-bans, dishevelled hair and near-constant state of sweat, to say Johnny oozes sex appeal isn't much of an overstatement. He's the mysterious rebel who ignites a sense of desire in the naive Baby. "We always had the idea of showing Patrick's body," Rosenfeld remembers. "I had a vision and then I came to Patrick and we worked it out together. I tried to convince him to get his hair cut, but that was not going to happen. The whole motorcycle jacket thing was spur of the moment—in fact I had a local production assistant—Adam—working for me who had this leather jacket and asked if I could borrow it. It was sort of worn-in and I thought maybe we could add it—Patrick loved it, and he wore the jacket throughout the whole movie. We also used Adam's car, which was a badly restored police car." 
"We took Johnny in a way I've been criticised for, in terms of the period accuracy, but it seemed to work for Patrick," she explains. "We had uncustomarily expensive dance shoes made because he upfront said 'I need these shoes'—I said 'absolutely.' The dance shoes cost more than his whole wardrobe, but if a dancer has the wrong shoes on, they can't work." And this level of actor-satisfaction is something Rosenfeld knows (only too well) is vital for the making of a good movie. "You can't deliver an unhappy actor to the set," she affirms, "you have to have a happy actor who feels good in their clothes. You can make them feel included in the process, which they are, but as long as you maintain control over it, it's selective. You want to show them what you think is right and work from there. Patrick knew that he needed to have his hips exposed so working in a conventional dinner jacket—which would have been the reality for the time—is not something that would be good for him. I devised these jackets which were shorter and he was happy and he did good work and that's what you want." 
LISA HOUSEMAN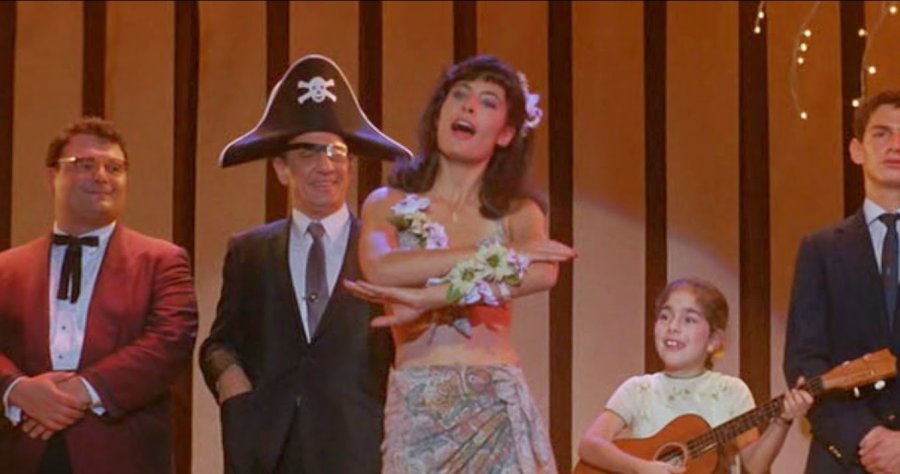 Not technically a 'main event', but still an indispensable part of the film's plot, Lisa Houseman is Baby's older sister and antithesis. The ultimate girlie-girl for whom looks are (almost) everything, Lisa is the ditzy daughter who thrives on attention and is in desperately want of a man. "Baby was on her way to a really good college and Lisa was on her way to find a husband," Rosenfeld surmises. "That's what young women did. Find a husband, marry well." Hair always perfectly groomed and wearing ensembles impeccably put-together, Lisa serves as a stark contrast to the nerd-like naïveté of her younger sister. 
"I thought Lisa would be the type of person who would wear little outfits," Rosenfeld explains. "Baby's clothes didn't always match. Lisa's clothes always did. Lisa was always in an 'outfit', you know." The most memorable of such outfits was the Hawaiian sarong/ bikini-top combo conceived for Lisa's (absolutely dire) rendition of 'Hula Hana' at the end of season talent show, and accessorised with a trifecta of floral corsages. "The wrist corsage is a funny story," Rosenfeld laughs. "Jane [Brucker] was fooling around on set and burnt her hand on the vent pipe of a motorcycle. She came to me and said 'Hilary, I hurt my hand,' and I said 'oh shit.' But those things happen, and you have to find out how to deal with them with some integrity."
Hilary Rosenfeld now teaches undergrad in the drama department of NYU Tisch School of the Arts.
Stills: Dirty Dancing (1987) dir. by Emile Ardolino – Vestron Pictures