New findings suggest that 20-29 year-olds could be the biggest carriers of  COVID-19, and our negligence could have fatal consequences.

On Friday, Berlin's mayor Michael Müller announced the city's plan to close all bars, schools, clubs and large venues in an effort to curb the spread of coronavirus. The closures—in effect from today until 20th April—are forcing Berliners to practice what's been dubbed in recent weeks 'social distancing'—the act of reducing interpersonal contact as much as possible. It's a good thing. Too late, we might argue, when the severity of the virus spreading has already been evidenced in China, Iran and most recently Italy, but absolutely necessary in order to dramatically cull the rate of infection in the German capital.
On Saturday, however, the sun came out, and Berlin was blessed with the first spell of warm weather it had seen in some time. This, combined with the imminent threat to freedom posed by the (seemingly sudden, to some) closures, drove many Berliners to reflexive frivolity. I, too, got caught up in the spirit of summer; leaving my house for isolation groceries and a solitary safe-distance bike ride, I quickly found myself face-timing a friend and finding a spot for an ice-cold Corona (the cravings had been with me for weeks). When the sun went in, I went home; I did my daily round of news reading, and felt instantly ashamed. Moments before I'd been drinking in the sunshine, and though incessantly sanitising my hands (and everyone else's), I was joking with friends about the situation we'd all ended up in. But scrolling through my news notifications and Insta stories from the comfort of my bed, I was reminded of what I already knew: now is the time to social distance.
A few days before the official announcement, I had already begun the slow retreat from my normal life. We'd decided the INDIE team should work from home (if only to stop us chatting all day about coffee and corona) and I'd long given up any hope of going to BECYCLE or getting on the (already-dreaded) U1. Talking to friends in Chengdu and Milan, I'd understood that this situation wasn't a case of "if", but "when", and I was confused as to why ordinary social structures had remained in place for so long. I'd read about the medical crisis in Italy, where due to lack of ventilators doctors were being forced to choose who lived and who died. I'd heard about the positive impact of isolation in China, that's meant Shanghai has been able to reopen its public parks and even clubs because cases have dropped so dramatically. Back in London, my prime minister, Boris Johnson, was talking about the inevitability of death, yet still my sister was expected to commute via train and tube to work, before going home to have dinner with my parents and almost 90-year-old grandma.
This past weekend, many of my Berlin friends decided to make the most of their last moments of freedom. I did not. I regretfully cancelled on a friend's 30th birthday celebrations (I'm sorry again, Michael), in favour of staying home and cooking risotto, for fear not only of catching coronavirus, but of spreading it. As more research is done, it's becoming increasingly clear that COVID-19 has a long incubation period, which means that those infected can remain symptomless for 4-5 days, sometimes for as long as two weeks. During this time, they are still highly contagious, and can easily pass on the virus to those for whom it can be deadly. Naturally that at-risk demographic includes the elderly, but it also includes HIV positive people, people with asthma and underlying health conditions. The blasé attitude exemplified by many young people undeniably stems from the mild symptoms and low death rates reported in coronavirus sufferers under 50, but it's a selfish one that needs to be knocked for six.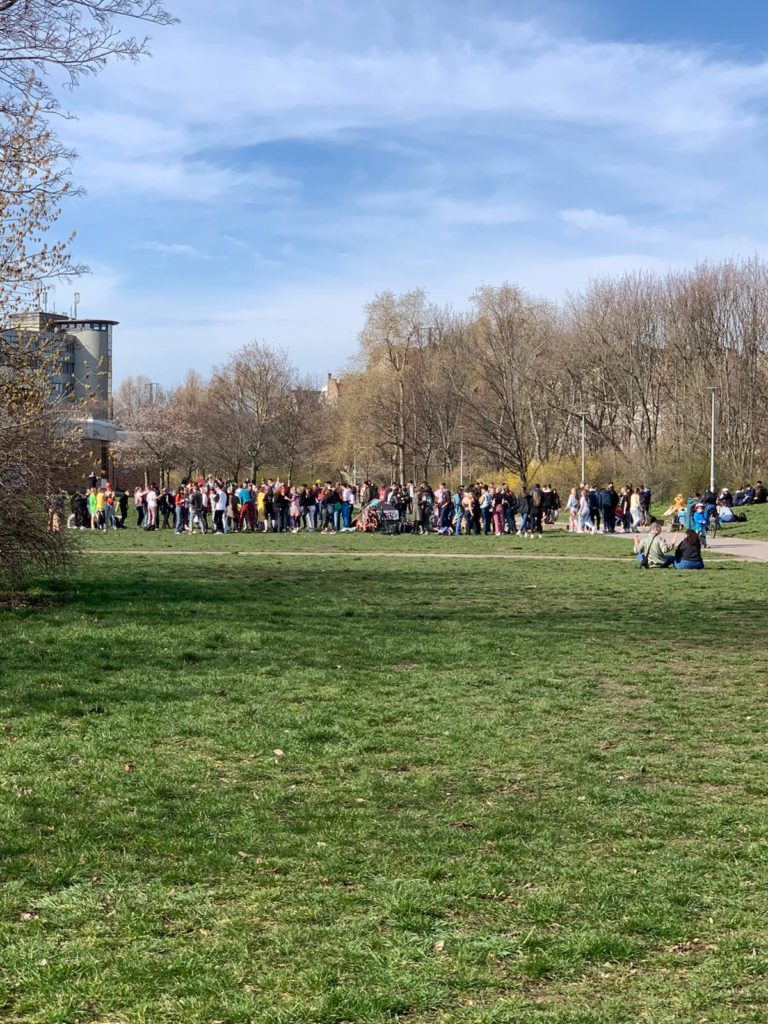 About ten minutes ago, while writing this article, I got a notification on our INDIE WhatsApp group from Max, our Music Editor, with a picture he'd taken of a group of people partying in a Prenzlauer Berg park. "wtf Berlin," he wrote. At the moment, social distancing—in most places—is optional. Despite buying the West time, many of the world's governments have chosen not to heed China's warning and enact plans that will effectively diminish the rate at which the coronavirus is being contracted. Such negligence is irresponsible. Though articles claim that there are mere hundreds of confirmed cases in London or Berlin, what the stats don't account for are all of the people who are suffering mild symptoms and are being told to self-isolate, without ever getting tested. Recent research claims that although confirmed cases of COVID-19 in the UK currently stand at 1,543, the real number could be ten times as high. Herein lies the problem.
Concerning statistics from South Korea, a country in which testing is more widely available than, say, Germany (where tests cost upwards of 200 euros if not deemed "essential") show that the number of coronavirus cases in 20-29 year-olds is higher than in any other age group. As Mark Byrne affirms, the takeaway from this "is not that young people are more likely to be carriers; it's also not sufficient to say South Korea's distribution is an outlier because of its initial outbreak, and leave it that…It's that while every other country is showing primarily older populations infected because those are who develop more severe symptoms and self-select for tests, we can't ignore that young people contract that virus too." If nothing else, these statistics reveal that a large volume of young people are contracting the virus, but suffering only mild symptoms, or in certain cases, no symptoms at all, and it's why social-distancing now is more necessary now than ever.
Yesterday, over 200 police officers were employed to patrol the streets of Berlin, assessing the newly-implemented safety measures of cafés who remain open. Many of them were ordered to close, for failing to ensure a safe distance of 1.5 metres between customers, or comply with suitable hygiene levels. Today, angry small business owners entered one still-open Berlin bakery to accuse the owners of causing "hysteria" in the community due to the measures they were taking to protect their employees and customers (only allowing take-away, restricting the number of people in the shop at one time, going cashless and asking staff to wear gloves). But this is not hysteria.
There's a reason bars and clubs are closing around us—if not in our city or country, then others—and the reason is not hysteria. When a potentially life-threatening illness is being spread rapidly by people who appear relatively healthy, we have a responsibility to act. When hospitals are being pushed to capacity, with as few as 6.6 ICU beds per 100,000 people in the UK, we have a responsibility to act.
For many, self-isolation isn't yet possible. People are going to work not because they're "stupid" or "selfish", but because they have faith in authority—they trust that their employers will put their safety first and that their government will put measures into effect as soon as they're essential. At this time, until income subsidiaries are put in place, many people cannot afford not to work, and when they're being handed infographics that don't paint the full picture, it's hard to see the cause for concern.
But for many, self-isolation is being made possible by government regimes, employment benefits and increasing closures. And to see these people revelling in parks, snorting drugs on IG stories, complaining about their favourite bars closing and saying "fuck self-isolation" is to see an unabashed display of selfishness.
We, the decidedly "no-fucks-given" generation, must now decide to give a fuck—because although coronavirus may not kill us, it may kill because of us. If you have the privilege of being able to work from home: work from home. If your place of work has closed down: stay home. If you have no choice but to go to work: social distance as much as possible. No one is saying you can't go for a long walk or bike ride, or socialise with your roommate, but be mindful. Stay away from others. There may be endless memes about it, but this isn't a joke, and if you see it as one, you're part of the problem.