Roma Uvarov never set out to be a designer. The 22-year-old Moscow native tried his hand at photography, collage art, acting and PR before making his first collection of embroidered t-shirts at age 18 and finally finding his calling. Since then, he's been called "the weirdest designer in Russia", and if by "weird" you mean eclectic, kooky and downright kitsch, that'd be an apt description. Conceiving theatrical collections at the intersection of Soviet tradition and magical fanaticism, Uvarov's designs are as put together as they are playful—daring without being try-hard, whimsical without being gimmicky. 
Debuting his SS20 collection at Moscow Manege earlier this month as part of Mercedes-Benz Fashion Week Russia, Uvarov marked himself as a unanimous one to watch. Sending floral prints, bellowing balloon sleeved shirts and exaggeratedly structured suits down the runway in a collection inspired by "bad taste" and "gypsy wedding chic",  the designer encapsulated exactly the right side of so-garish-it's-good. Balancing the DIY nature of patchwork with well thought-out fabrics and distinguished asymmetrical silhouettes, Uvarov's latest offerings are designed to allow the wearer "to break into a run or a dance at any moment"—and this frivolity translates into a collection that's just begging to be worn.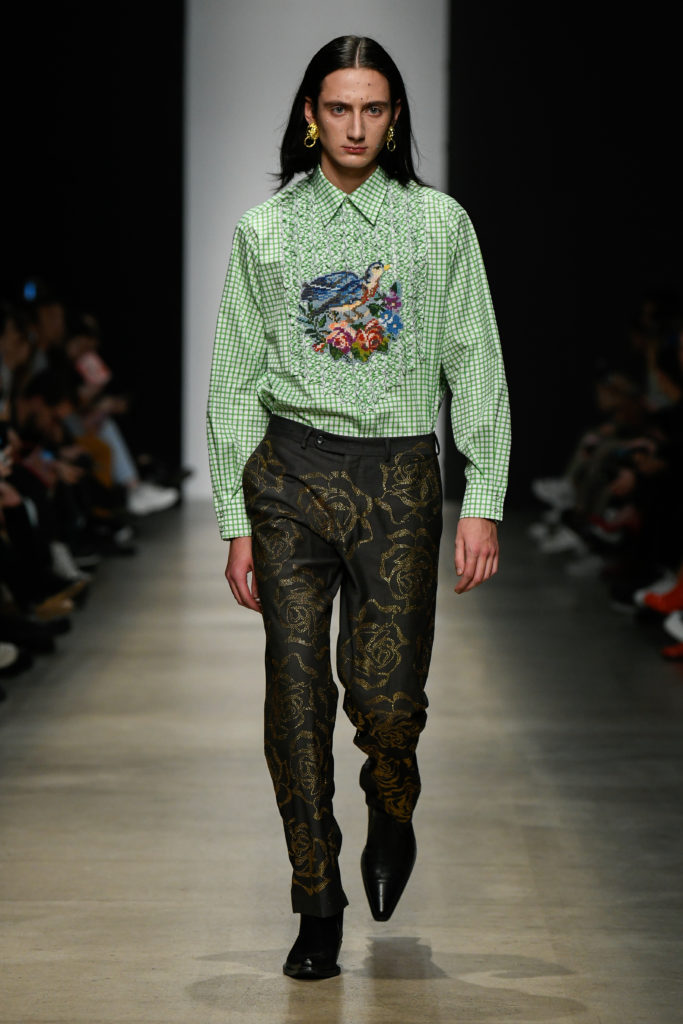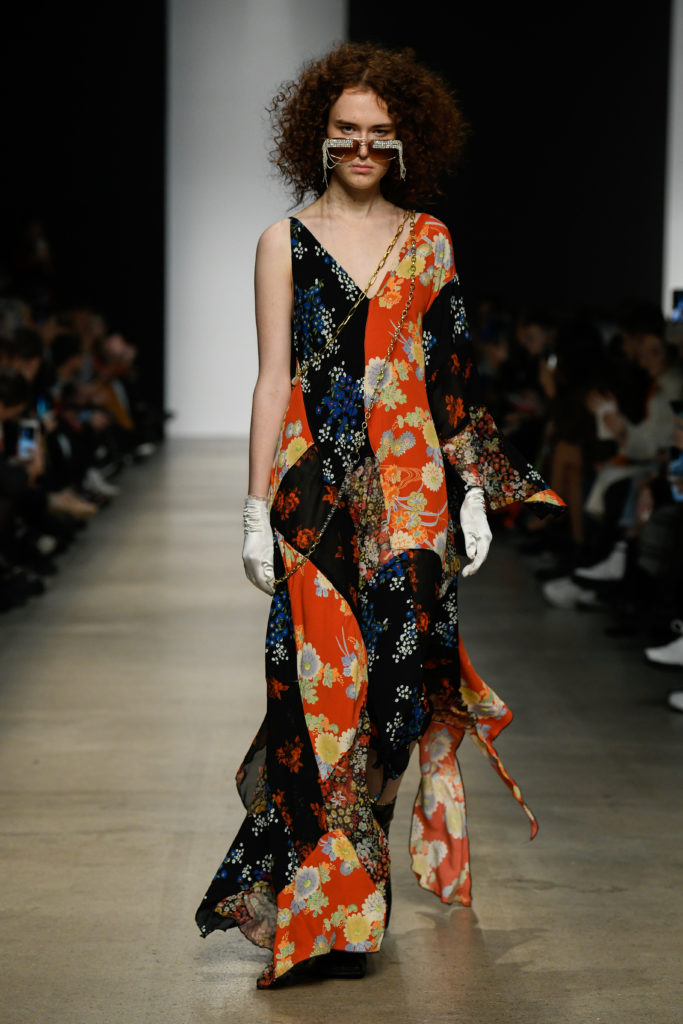 What's your first ever memory of engaging with fashion?
I remember admiring early Chanel fashion shows under Karl Lagerfeld. I was so inspired by the Paris-Bombay collection: the music, decorations, and the perfectly thoughtful luxury details—that's how I began to love Chanel for their professionalism and for the fact that they stick to their DNA. I also loved Dior under Raf Simons—at that time Dior was a big breath of fresh air and excitement for me. 
How old were you when you learnt to sew? Who taught you?
Nobody ever taught me. At some point, I had an old sewing machine and started learning to collect small pieces of cloth into a patchwork. I'm not very good at sewing even now, I would say I'm not very good at sewing at all, but my love for detailed handicraft is still there.
You've been called "Russia's weirdest designer"—how do you feel about that?
I don't care what they say about me. I've never cared about opinions—they don't stop me, they don't hurt me. I only trust a narrow circle of people and colleagues in my workshop—those are the people whose opinions I listen to.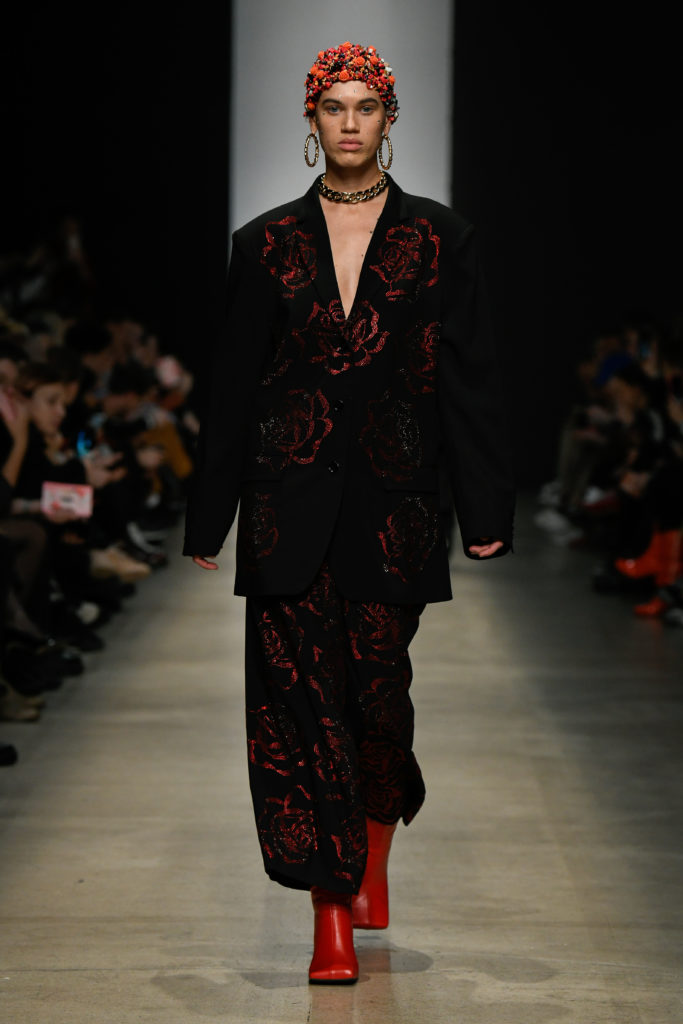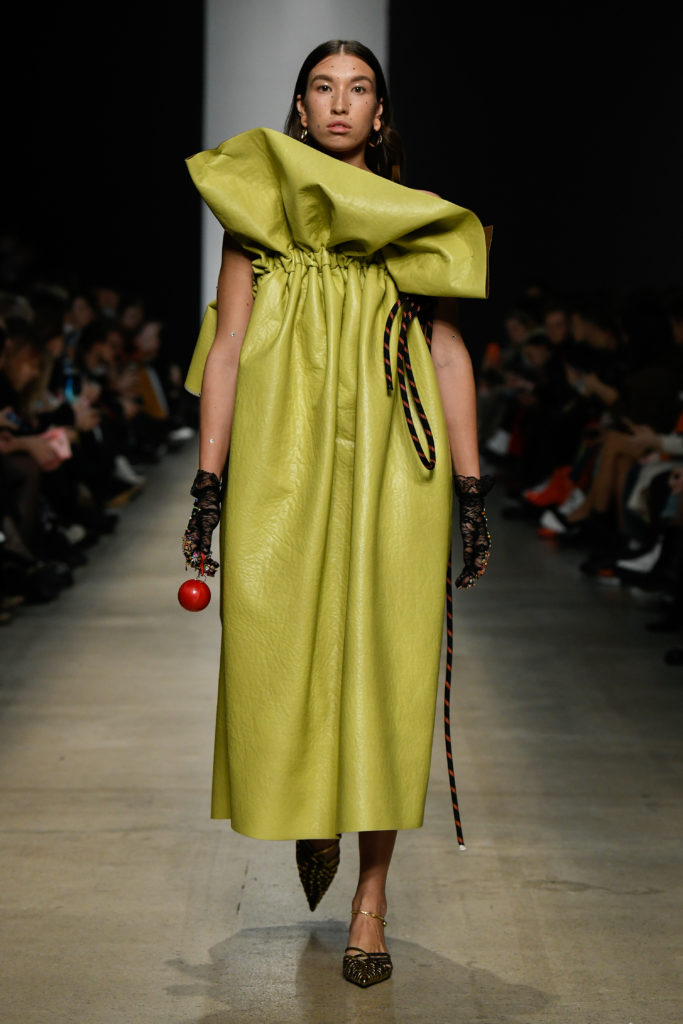 The same article also describes your aesthetic as "Amish Loony Tunes". If you had to use 3 words to sum up your aesthetic what would you say? 
Conceptuality, magic, eclecticism.
What did you want to achieve with this collection that you hadn't been able to do before?
I always get everything I dream of. It's not enough for me to just present my clothes on the runway, on the models. It is important for me that people feel the emotion, message and atmosphere of these clothes. So that when buying and putting on something from our collection, the client could feel the atmosphere and carry this message on himself.
Your show was performative, fun and unconventional—when did you first start playing with the dynamic aspect of the show?
For us, this is a very important aspect in the presentation of the collection. Emotions are something sincere: an energy and a message, a holiday, something that people need now. Everybody wants to be happy—when putting clothes on, they want to feel comfortable and positive. Such a presentation gives our clothes a certain energy and image—these positive characteristics.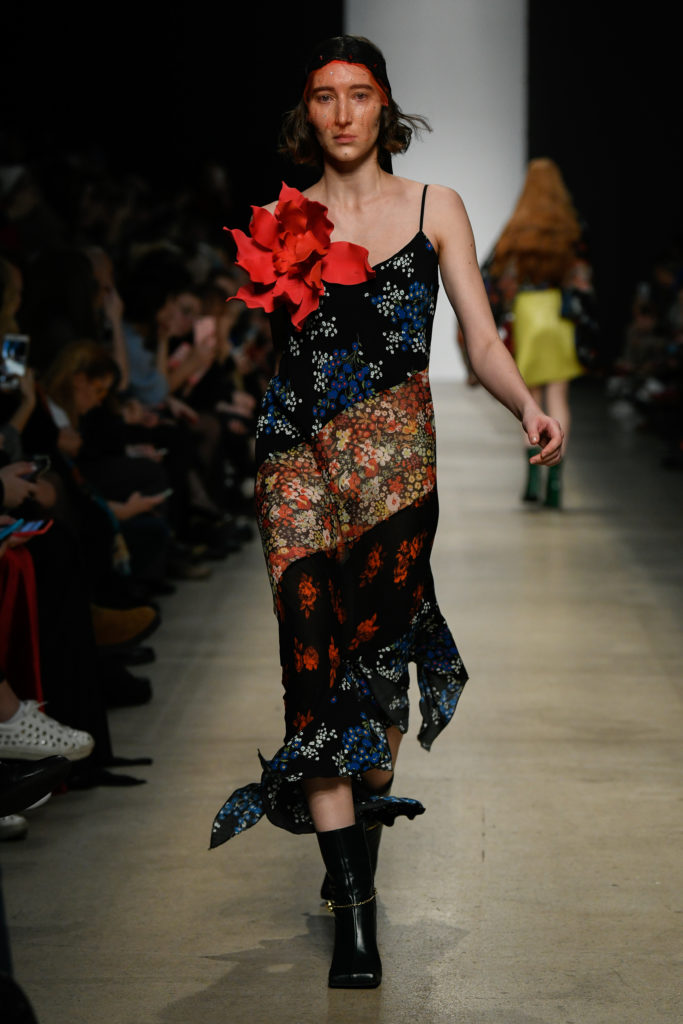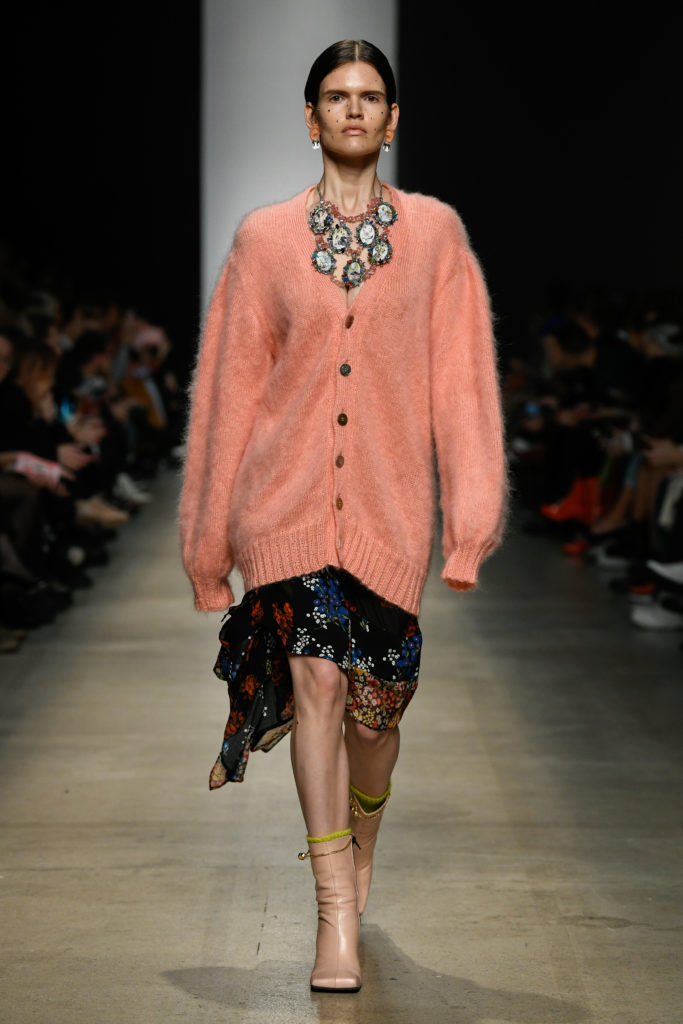 What inspires you?
I'm inspired by everything that's wrong to talk about, think about and tell. I love mysterious and unusual clothes, I love mysticism, I love aesthetics and atmosphere, the feeling of something magical, like when an energy bewitches, presses, and puts you into a trance. I love behind-the-scenes and secret things that I want to talk about through my collections…
What infuriates you?
I am very irritated by human stupidity and unprofessionalism, pathos and lack of taste, banality and indifferent attitude to work, as well as mass consumption and lack of freedom.
What's been the biggest development for you as a designer since you started?
Every new project, every new collection develops me, teaches me. Because I started my own business from scratch, I couldn't do anything and didn't imagine working in the fashion industry. Now I have a good understanding of my business and a great sense of the industry and the fashion market as a whole. I have learned the main skills that a designer should have, and as I had previously studied to be a PR specialist, I have consolidated my existing knowledge a thousand times, learning a lot of pitfalls, details, chips and techniques.
In what way do you think Moscow helps and hinders your creativity?
Moscow is a big city with a large money turnover, with a lot of connections and opportunities—this is a plus. But I don't like big cities where there are no plants or smiling people, I like calm and beauty, I'm not inspired by the huge carriageways, eternal cars and stone buildings, the subway. I love to go to an unknown village where people live very simply, enjoying nature, simple architecture, silence and humanity. I need a lot of natural light and air. In Moscow I like everything that is not dressed with pathos sauce!