You may not know Daniel Josefsohn by name, but if you lived in Germany — or came anywhere close to Berlin — in the '90s, you'll no doubt feel a pang of nostalgia when you see his work. Black and white photographs depicting Deutschland's cool kids were plastered around the city, vast in size and stamped with exactly the kind of offensive slurs your mother would make you wash your mouth out for. Josefsohn's sexy down-and-outers, branded EGOIST (selfish), MISTSTÜCK (bitch) and FAULER SACK (lazy bastard), became the poster children of a generation, pictured beside the slogan willkommen zuhause — 'welcome home'. The provocative campaign, shot for MTV's Music Television, ignited Josefsohn's photographic career, but more than that, it became an unrelenting part of German collective memory, immortalising the essence of West Germany's urban youth.
After the wall fell — ideologically in 1989, and physically by 1992 — Berlin was born again, re-igniting its lost spirit with a new vibrancy and vitality. It's why the '90s is so often viewed through retrospectively rose-tinted glasses, upheld in cultural memory as the hedonistic heyday of the German capital. The Berlin kids of the '90s celebrated the dawn of a new era with no-holds-barred, and in doing so cemented the free-spirited reputation that's stuck with Berlin ever since. They forged a unique connection with the city that can never be replicated by the soul-searchers that flock to the city today. The youth of the day grew up with Berlin, not just in it. Daniel Josefsohn was one of these twenty-somethings who came of age during Germany's tumultuous rebirth. A former skater and aspiring photographer, Josefsohn fulfilled the adage of shooting what you know; he didn't just capture Berlin's urban youth, he was part of it. "He was a guy who never tried to conform," explains Lutz Pehnert, director of DJ Punk, the 2018 documentary about the late German photographer. "These kind of guys never fail to impress because they act without fear and correctness."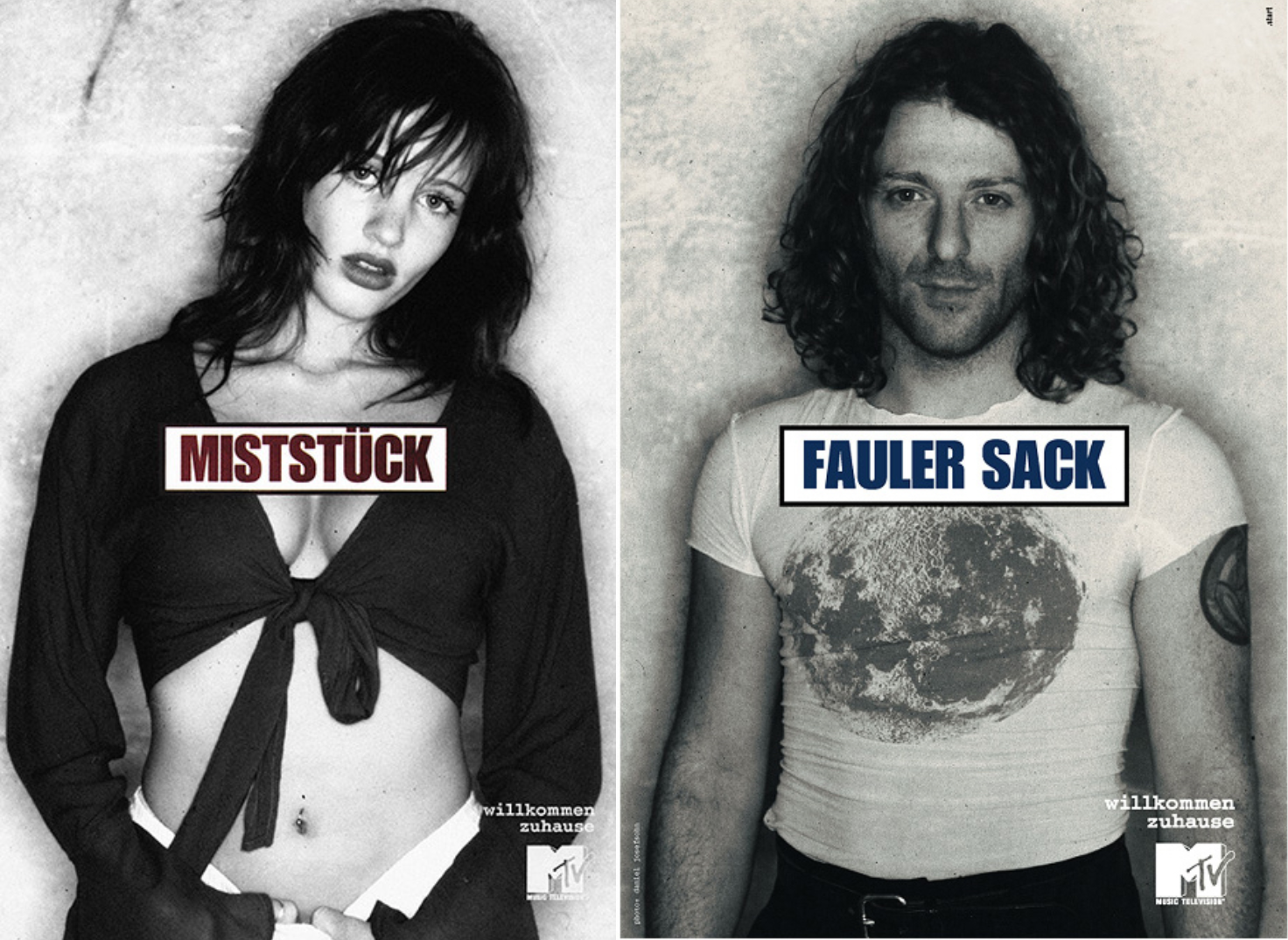 MTV Campaign, Daniel Josefsohn, VG Bild Kunst 2018.
It's been 15 years since ex-mayor Klaus Wowereit branded Berlin "arm, aber sexy" — and not much has changed. Berlin's 'poor but sexy' reputation is pervasive, and continues to define an image of the city internationally. It's a characteristic built by the club kids and creative youth here in the '90s, and an overarching theme in Josefsohn's photographs from that decade. His portraits encapsulate what Sebastian Hammelehle terms the "slacker" state of mind, something that characterised West German youth, spoilt with cheap rent, cheap drugs, infinite party opportunities and no real need to work hard. Broke but beautiful, the subjects of Josefsohn's early work epitomise the quintessence of this generation. And Josefsohn, too, could resonate with this lifestyle. Suffering a torn ligament at aged 23 — the result of a failed halfpipe stunt — he was catapulted towards a life of waiting tables and selling drugs. Josefsohn described himself as an "extreme type. Extreme skateboard. Extreme drugs." His turn to photography was, in a way, his salvation. And the camera played a monumental role not only in Josefsohn's own life, forging him a new path, but also for the face of photography in Germany. "Up until this point, the German youth culture of the '90s — its completely new self-image and leisure behaviour after the fall of the wall — had hardly been looked at," Pehnert explains. "Daniel Josefsohn created a unique group-portrait of this generation – namely remembered as commercial campaign, it probably hasn't won the appropriate recognition as photographic work yet."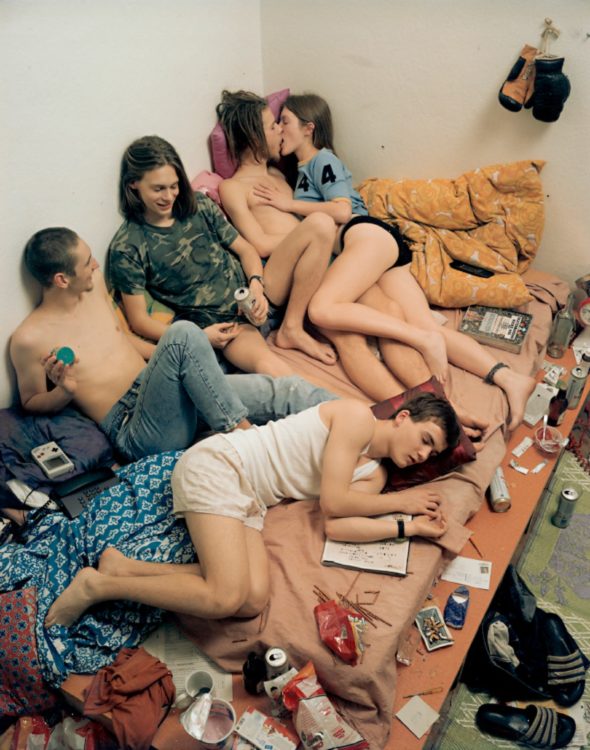 MTV Campaign, Daniel Josefsohn, VG Bild Kunst 2018.
It's true — for the most part, Josefsohn's MTV ads are remembered as exactly that. And though his work occupies a very real part of German culture and collective consciousness — and he's widely credited with having changed the face of photography in Germany — very little has been written about Josefsohn in English. Despite this, calling him one of the best photographers of his generation is perhaps no overstatement — in fact, it's a sentiment shared by many, and an accolade frequently attributed to Josefsohn in the media. He's shot for practically every national publication from Jetzt to SPIEGEL, and was the director of Berlin cultural institution, the Volksbühne theatre, for two years. Even Josefsohn's personal life infiltrated the homes of the German public, as he documented his struggle with an unforeseen stroke and subsequent hemiplegia in ZEITMagazin, one of the country's biggest news outlets. Even partial paralysis wasn't enough to stop Josefsohn pursuing his art — and the product of the ZEIT columns was the Distanz Verlag-published book, FUCK YES, a defiant "fuck you" to anything that tried to debilitate him.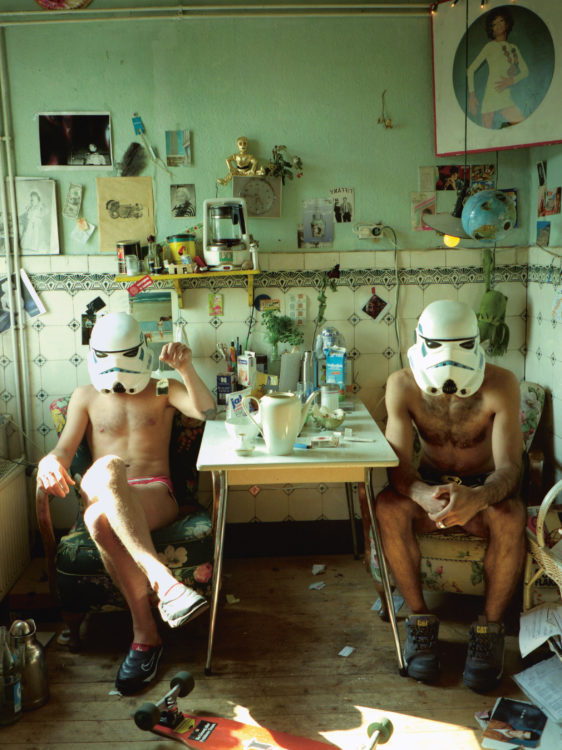 © Daniel Josefsohn, Courtesy DISTANZ Verlag, Berlin
In Germany, Daniel Josefsohn will be remembered for his audacious attitude — as the punk, rebel and total non-conformist who changed the face of photography in a newly unified country. Frank, humorous and absurdly able to take the piss, Josefsohn, encapsulated the same anarchic spirit as the subjects who lit up his photographs, but above all he was a photographer of and for the people. Further afield, Josefsohn is a hidden gem waiting to be discovered. But reflecting on his 1994 self-portrait, plastered with the self-proclamation Lazy Bastard, Josefsohn speaks to the now-generation now as much as he did back then, conjuring a nostalgic longing for what Berlin once was, and what all its lost (and found) souls and still need it to be.  
Lutz Pehnert's documentary DJ Punk: Der Fotograf Daniel Josefsohn is out now. Keep a look out for screenings.
To learn more about Daniel Josefsohn and his provocative imagery, see FUCK YES by Distanz and OK DJ by Hatje Cantz.