By this point in 2018, we should all be well aware of the power of the billboard; Frances McDormand's fiery alter ego Mildred Hayes taught us that when she rented three of them outside Ebbing, Missouri. And last week, Berlin political art group Modus proved it once again, hijacking the city's Christmas advertising spots to get its point across. Occupying the space which the seasonal Coca-Cola ad traditionally dominates, its message is clear:  "For a peaceful time: Say no to AfD".

The steady rise of the far right is a terrifying, but unescapable reality in Germany. For some time, the unabashedly right wing Alternative for Germany (AfD) party have been flirting with the frustration boiling amongst the German population — a crisis of trust, crystallised by Merkel's compassionate handling of the refugee crisis. The migration issue is one that continues to flood newspaper headlines, fuelling the AfD's relevance in a society which feels politically duped and disappointed. Last year, six million Germans voted in favour of the AfD, with 1.2 million of these votes coming from voters who had abstained in previous years. It came as a shock to many that 12.6% of the total vote was placed in favour of a far right political party riddled with xenophobic tendencies, whose senior member later posed for photographs on sites associated with Adolf Hitler. The September 2017 elections witnessed the AfD become the first far right party to gain seats in the German federal parliament in over fifty years, a terrifying nod to the nationalist sentiment that blackened Germany's past and threatens the virtues of democracy. The AfD have enabled casual racism, recently releasing campaign posters in Bavaria promoting 'Islam free schools', picturing elated-looking white children jumping through school corridors. Leading figure of the party Alexander Gauland even endeavoured to trivialise the Holocaust, describing the genocide as "a speck of bird shit in 1,000 years of glorious German history".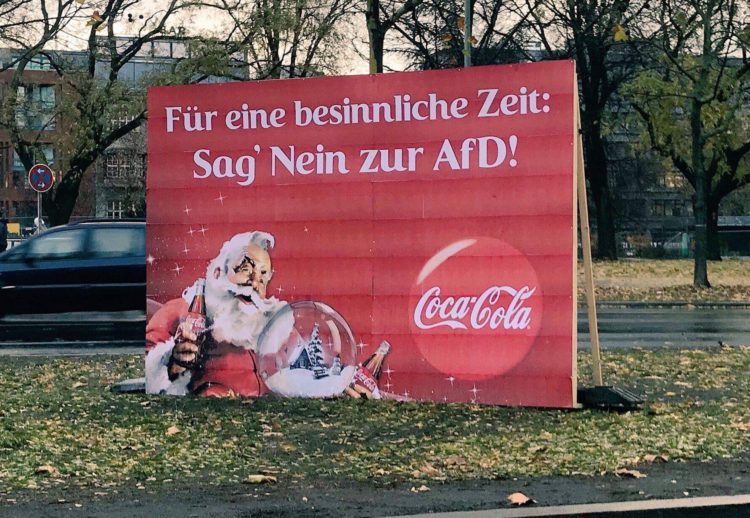 Naturally, the resurgence of far right extremist ideology has been met by intellectual resistance — activists have formed groups to taunt populists and suppress the revival of fascism, and  coupled with a sustained pressure from spontaneous organisations led by leftist sentiment. And now, anti-AfD group Modus have used popular corporations built on capitalist values to denounce the far right, occupying the Coca-Cola billboards that loom over Berlin roads. Of course, the irony of utilising capitalist ideology to denounce a vehemently far right movement does not go amiss. The large, chortling, swollen-faced man we associate with the cheerful period leading up to the 25th December has its very origins in the Western culture that breeds capitalism. And Coca-Cola has played a pivotal role in crafting the consumer-driven festive narrative, having adopted Santa as an advertising tool in 1931 to stimulate sales during the Great Depression. And Modus' cunning tactics have now forced Coca-Cola to adopt a political stance and voice their opinion on the AfD. In relation to the fake Coke billboard, director of public affairs and communications at Coca-Cola, Patrick Kammerer, tweeted "Not every fake must be false".
Modus have also reinterpreted the advent calendar as a protest tool — rather than opening each door to a gift, behind each window is a call for contemplation, urging their audience to join their political cause. On the 3rd of December, Modus encouraged German citizens to contact their local politician, asking them to strengthen their stance against the AfD and offering an email template for inspiration. On 13th December, the group championed the importance of education in raising awareness of cultural diversity and dissolving the environment that empowers hate-mongering. And it's not just Coca-Cola Modus has impersonated either. Other brands appearing to take a firmly anti-AfD stance include Nutella and Colgate.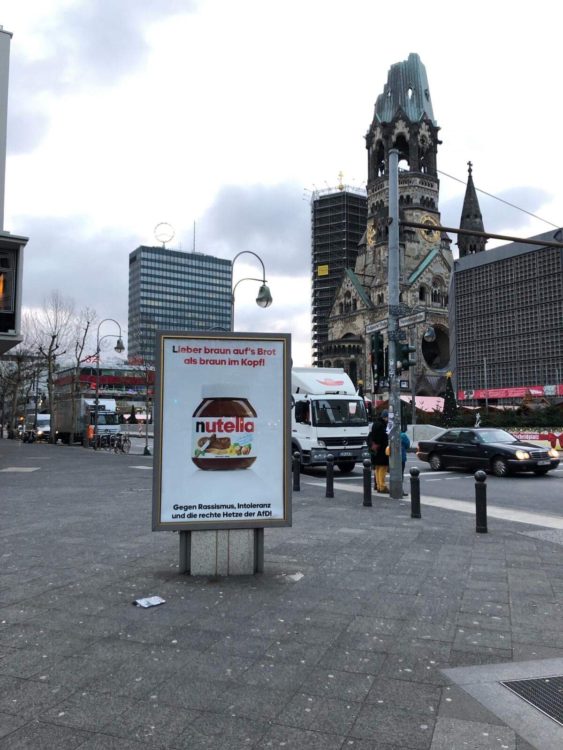 The most recent anti-AfD activism that employs leading corporations in the cause against the far right is artful in its irony and effective in its practise. This series of reinterpreted corporate ads force people to challenge familiarity, encouraging them to look twice and question the ideological brainwashing that is polluting human nature and exploiting the current climate of uncertainty. Now that's what we call  Christmas spirit. 
Images courtesy of Modus.
Header image – Amazon.