What to do you when you feel like everything already exists? It's a dilemma artists face on a daily basis — fuelled by the constant expectation to create something original and innovative. And while some struggle to navigate their way through the ever-expanding list of potential competitors, industry hardships and financial boundaries — eventually falling victim to failure along the winding path — others manage to crack the surface and create a niche to fit their very own style. Lorely Rodriguez, better known as Empress Of, is one such artist. The LA-native journeyed from DIY-laptop DJ to internationally praised producer/singer/songwriter and her latest feat is the critically-acclaimed sophomore LP, Us.
Primed by her teenage admiration for avant-garde-ian angel of music, Björk, the Hunduran-American wunderkind has become notorious for her undefinable, genre-bending and -breaking sound, crafted by her own hands, start to finish. An eclectic composition of experimental, yet highly addictive synths and powerfully frank lyrics, her debut Me impressed not only listeners with a soft-spot for underground YouTube prodigies, but prestigious music publications around the globe, spawning "How Do You Do It" and "Water Water", both of which have been streamed by millions. Having evolved from dreamy but driven electronica to arguably more radio-friendly tunes, Rodriguez shared with us her industry insight, thoughts on professional and personal growth, and whether or not it's even necessary to creatively strive for the never-before-seen, all by detailing a shift from lonerism to re-embedding herself in collectiveness.
Your new album is fresh off the press—to get started, maybe tell us a bit about the whirlwind of emotions you must be feeling at the moment.

It's crazy! I woke up like two hours ago, it's also my birthday today [laughs]. I'm so thrilled, so happy. I put everything into this album and just psyched to finally have it out. I'm happy to have made something I'm just genuinely proud of.
Who is Empress Of?

I started doing Empress Of a couple of years ago. The name came through a Tarot Card reading with a friend. The first card he pulled out was titled "The Empress". And that just stuck with me. First, I just wanted to go by Empress, but it felt so full-of-myself, kind of arrogant [laughs]. So, I liked the idea of being an Empress Of something. I like taking ownership over what I do, and underlining this, Empress Of helps me do so.
Where is this idea mirrored within your two full-lengths? And what do we find on Us that was left off of Me?

My debut album was a very personal, even a selfish statement as a debut. I produced, wrote and recorded the album by myself, all alone. The songs are very specific and anecdotal. It was me taking ownership and full control over something. With Us I really returned back to a feeling of community. I moved from New York back to my home in LA. I wanted to be close to my family and friends again. Living close to my mom and other people and places and unique styles that've influenced me from the get go, my childhood onward, hearing and speaking Spanish, listening to more salsa music have served a tremendous creative purpose. Being back in the midst of my culture was a very communal thing. That's why I chose to name it Us. Also, because this time around I collaborated with a bunch of other artists, which was a huge thing for me, as it totally stood in contrast to my debut. I felt like I had so much to prove on my previous record, I was very isolated in a sense, it was a real statement, I feel.
The world is chaotic at the moment, and I just wanted reconnect to my community, to fellow artists. Right now, it just doesn't feel like the time to be alone, you know? I needed to be surrounded by people I respect, and love and feel inspired by—friends, family, musicians. So, yeah, with Us I took ownership of my surroundings, my social environment, as opposed to before where it was all about my very own, very subjective gaze.
In the three years between the albums, one can assume a lot has happened—as you've said , travelling from a record titled Me to Us suggests a journey, from loneliness to companionship, for instance. You spoke a lot about the communities that've helped you shape Us. But does Us also entail intimacy aside from platonic encounters? Is there a particular person addressed in some of the more ballad-esque tracks?
There are a lot of love lives in this record. On Me, I was directing a lot of my emotions towards a distinctive person. Here, I feel like I've incorporated and pulled from so much more of my catalogue, more of my life's stories and scenarios. It's not just one relationship, it's a whole collection of relationships and experiences. I wanted a whole spectrum of emotions. I wanted to talk about fear, I wanted to talk about jealousy, I wanted to talk about depression, I wanted to talk about friendships—On Us, when I talk about love it's not just love as in being in love with a person and sending everything that person's way, you know? It's about contemplating the experiences above and beyond an individual.
So, is there an experience in particular that protruded as the most fascinating? One that sort of sets the tone, one that triggered you?
The way I write is and always has been very autobiographical. I have been in that car, fighting with someone, like I sing on "Trust Me Baby". I have been laying next to someone in bed and yet still felt very distanced from that person, like I sing on "When I'm With Him". What I write about are things that've actually happened, more so than imaginations of or paraphrasing. It's my own life. That's what makes music believable to an audience, I think. I have to think of myself first, and I can't play a song 300 times if I myself am not convinced of its authenticity.
Absolutely. It's evident that singer-songwriters tend to be a lot more perfectionist when it comes to what they do and eventually put out there in comparison to other musicians who rely on a team of engineers. Probably what you've released so far is only a fraction of what you're repertoire has to offer, no?
Oh my gosh [laughs]! Are you kidding? I wrote so many songs and the songs I've chosen have lined up to become the story that I ended up wanting to tell. It gives me flashbacks to think about what I have in the vault [laughs].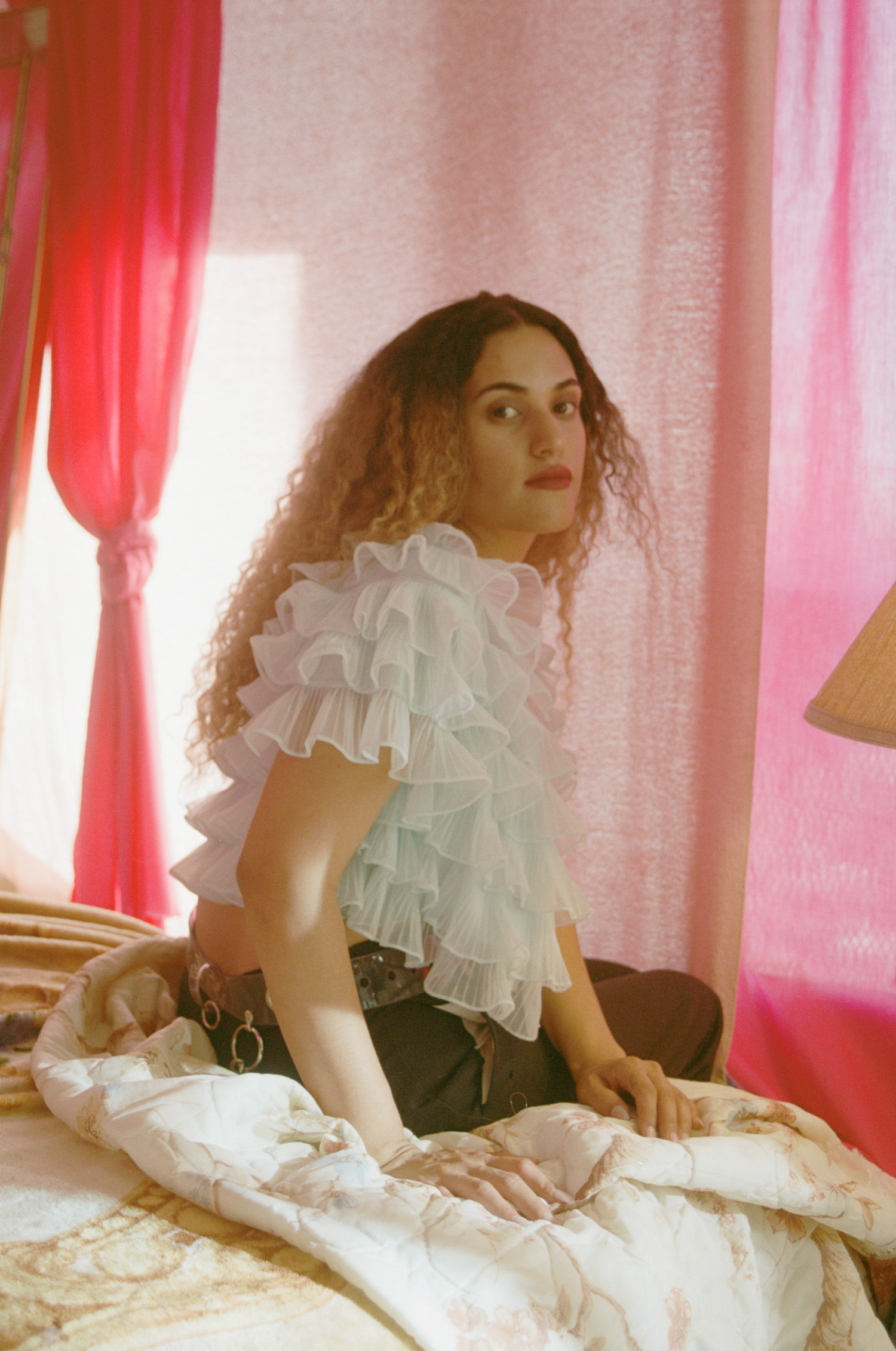 Rumour has it you had troubles naming your debut and figuring out the cover art. In the end you opted for rather minimalistic, reserved options for both the visuals and the title. The new record has an equally enigmatic, yet simple title, but the cover art—albeit in a similarly modest design—shows you in different posture, in colour and suggests a different mood. How does this coincide with the album's content?
For Me, everything was very serious, the cover was black and white, referencing Patti Smith's stoic Easter-cover. For this record I've done things I've never done before, I directed videos. I hired all of the photographers, the stylists, make-up artists—I wanted to represent myself in the truest form possible, because I feel like in the past I only let certain parts shimmer through. This time I wanted to take even more control over my product, my visuals. I wanted the cover to be more confident, because I feel really confident. This record definitely is a brighter record, because I tried to keep a balance between positives and negatives, a full circle.
But how did you crack that code for yourself?  I imagine the process of learning and self-teaching all areas of what it means to be a musician in this day and age to be long, dreary, exhausting even.
I can't speak for everyone, obviously. But in my case, I'm obsessed with music. I've worked on music non-stop since I got my first computer. I started making music with the most basic tools accessible to me, which later led to actually being able to produce music. But I work on beats all the time. It never ends. It's not something you necessarily have a formula for or something that gets easier over time. Even in New York, when I couldn't afford to invest much time into making music, I worked three jobs and would come home to work on music into the early morning hours every night. And it wasn't even so much of a goal, as in "Oh my god, I have to get rid of these day jobs". But I'm obsessive. And when I make something that I'm really proud of, I listen to it all day—I love that feeling. My advice is basically that you have to be willing to devote time to your craft. It doesn't happen over night. It's tough. Even now, where I'm at another level, stepping into new territories, I spend so much time writing and researching and try to know everything I want to know. It took me a long time to figure out how I wanted things to sound, and having now moved forward to shooting videos, it takes a long time for me to find out how I want things to look. Hours and hours.
What would you be doing if it wasn't for music?

I don't know. Just recently a lot of people have been asking me this question. All I know is that I like making things that I've not been made familiar with prior. I've found fashion to be a very interesting way to channel that passion. My mom used to be a seamstress, I have her sewing machine at home. So, maybe I'd be a designer? Maybe I'd make a dress, maybe I'd even bake a cake that I felt had not existed in that way until then.
Do you find it difficult to make new things? Your music always feels new and like something one hasn't necessarily heard anywhere else. But does it ever bother you to think there is an end to newness? Do you think about that when making music?
It all boils down to convincing myself of something. I think if I was actively working with the objective of having to force myself to make something that has never been done on this planet before, I would fail. But I have to be convinced that something is real and it's honest. I think what makes my music as unique as it can be is the variety of music it's influenced by. I can listen to Ariana Grande and Kamasi Washington and Brockhampton all in one playlist. I think my music is hard to place within a genre because I listen to music from every genre, and that reflects in my work as a producer. I don't go down one lane. That's probably the only possibility you have. Otherwise, you'll end up on the beaten path.
That's great, because there are many people out there that will purposefully go with what's popular and ignore any attempt at innovation, you know? They'll work their way through trends that don't necessarily depict their genuine sound.
Yeah, I know. But I think it's fair to do that. I don't know that I've ever done or been aware of doing that. But I like listening to music that fills a void in my life. And I like to make music that fills a void, too. And sometimes it's just as simple as that. A happy, cheeky pop song can be just as fulfilling as an empowering, lyrically upscale heartache anthem. It's less about being groundbreaking, and more about catering to basic, yet complex emotions that all of us have.
One last question: Adele once said she believed in trilogies, and that following 19, 21 and 25, she would discontinue naming records according to her age. Will Me and Us be followed by You or Them?
I'm not sure. I try not to plan ahead of anything, you know? My albums came together rather organically and it just so turned out that Me and Us emerged as fitting titles and it's now come to be viewed as some sort of concept. I like when the creation process just sort of takes care of itself, so I can't really give any information on what will follow. I let things take shape. It's possible, yes, but I doubt I can answer your question [laughs].
Photography FABIAN GUERRERO