It's pretty rare for a brand to simultaneously be an all-time icon and a fresh face – still, this is exactly what UGG has mastered to do for the last 40 years. As the American shoe brand celebrates an impressive anniversary this year, it becomes all the more evident how versatile and cherished the UGG boot has long been, a distinct fixture in our ever-changing fashion landscape – its longevity a rare, and desired, asset for any kind of brand today. Having been founded in 1978 in California by Australian surfers Brian Smith, UGG today still is reminiscent of precisely the features Smith was looking for in a shoe back then: style, comfort, warmth, and endless possibilities.
Left: Top and jewelry MODEL'S OWN
Right: Pullover ARIES via MATCHESFASHION, Sweatshirt Y-3, Socks STYLIST'S OWN, Shoes UGG
This continuous appeal of the UGG range to both fashion insiders and customers alike has been especially fuelled by one key style: The UGG Classic Boot – a mixture of timeless design and intriguing relevance, whose sober appearance makes it a steady wardrobe staple and allows the shoe to fit with almost every outfit. Known for its sheepskin surface and visible seams, the UGG Classic Boot has carved out a distinct space for itself in our visual history, one of those rare examples of a trend that has quickly transcended any kind of stylistic twists and turns within fashion – turning into a timeless icon.
Left: Top JOSEPH, Kilt STYLIST'S OWN, Jeans MODEL'S OWN
Right: Top STYLIST'S OWN, Trousers WEEKDAY, Shoes UGG, Jewelry MODEL'S OWN
A development that is embraced by creatives every bit as iconic as the shoe itself – like Adwoa Aboah and Heron Preston, who are the first two faces revealed to be featured in UGG's just released new Autumn campaign. The celebrated British model and boundary-pushing American artist perfectly embody UGG's unique approach to collaboration and culture, prime examples of a mind set that is here to stay – and to be evolved. Fittingly, UGG will reveal even more exciting faces of its Autmun campaign over the next weeks, which certainly are going to be just as influential as Adwoa and Heron.
With the UGG Classic Boot's impressive and long-lasting appeal, we couldn't help but equally want to celebrate the shoe's 40th birthday and its distinct place in recent fashion history with a shooting dedicated to the numerous styling possibilities it entails. In a series of captivating shots, photographer Laurent Amiel and stylist Rachael Rodgers had their own go at the integral piece, shining light on the many ways the UGG Classic Boot can be worn and loved.
Left: Top JOSEPH, Jewelry MODEL'S OWN, Top STYLIST'S OWN
Right: Dress LEE MATHEWS via MATCHESFASHION, Trousers RAEY via MATCHESFASHION, Shoes UGG
Top STYLIST'S OWN, Trousers WEEKDAY, Jewelry MODEL'S OWN, Shoes UGG
Left: Jacket WEEKDAY, Shoes UGG
Right: Blazer and trousers JOSEPH, Vest WEEKDAY, Shoes UGG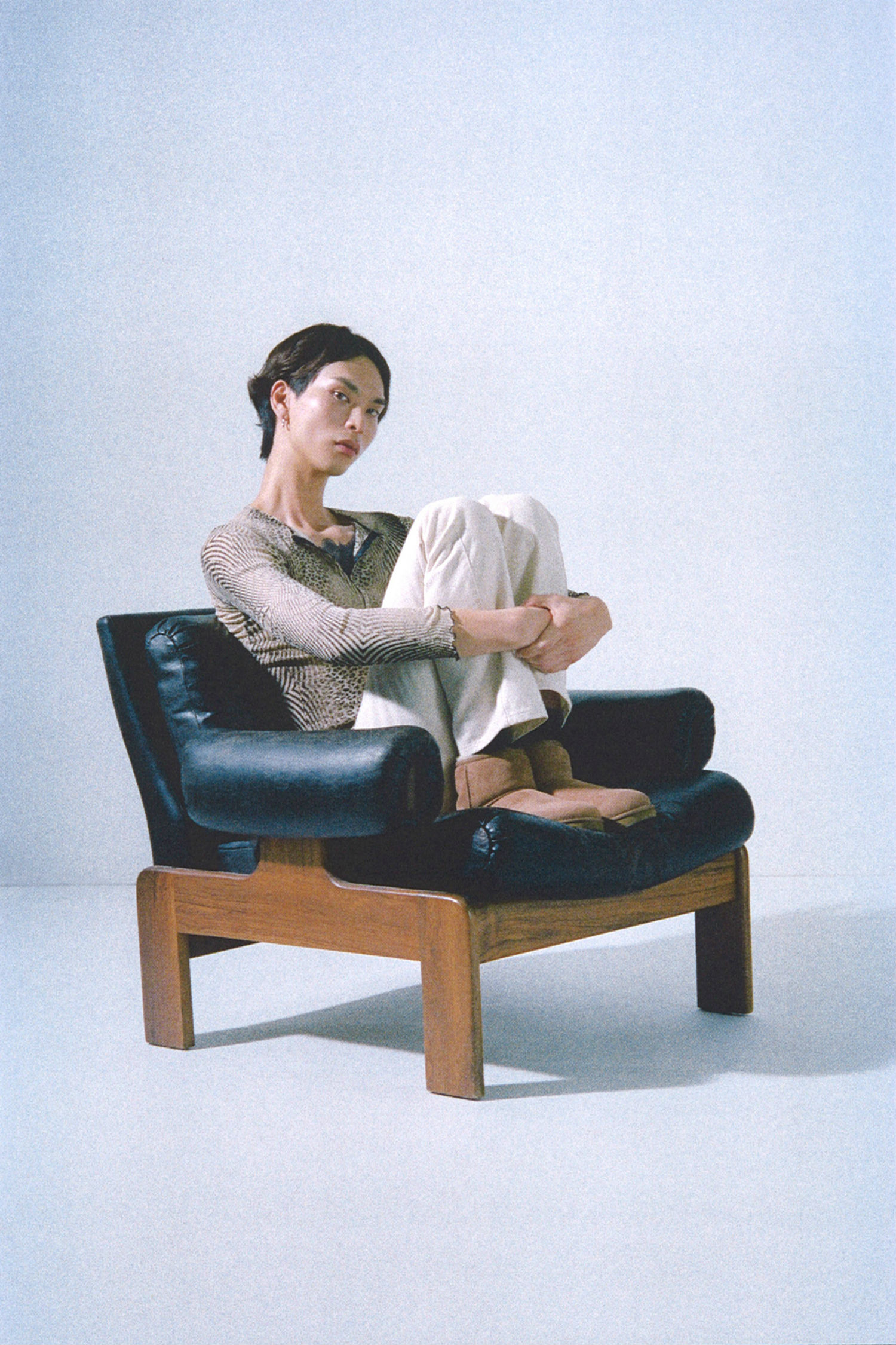 Top STYLIST'S OWN, Trousers WEEKDAY, Jewelry MODEL'S OWN, Shoes UGG
Jacket WEEKDAY, Shoes UGG
Stylist RACHAEL RODGERS
Models FIWOO at VIVA, AMRA at LET IT GO, CAROLINE at LET IT GO
Hair & Make-up KRISTINA GRIFFATO
Production JULIUS SALVENMOSER
Styling Assistant ALENA WIEGMANN