Over recent years, Lisbon's underground art scene has sprung to the surface. Its creative landscape is diverse and vibrant. Each neighbourhood offers something different – from the San Francisco-esque Chiado with its graffiti-clad streets, to the elegant Avenida da Liberdade's stream of high-end boutiques. There's plenty about the Portuguese capital to inspire young artists: the close proximity to the sea, the ten months of sun each year, the fighting spirit of its residents. Still, the city's sudden appearance on everyone's radar is, in a way, surprising. While the Algarve's sandy beaches have attracted tourists since the 1960s, the urban centre remained comparatively undiscovered for a long time. But it's the kind of place that once you visit it, you wonder why it hasn't been more talked about. It can be difficult to pinpoint exactly what makes a city. Often, its youth have an instrumental role in defining it. This is definitely true of Lisbon.
The capital boasts a rich display of both gritty and refined street art. A combination of collective determination and relatively flexible legislation have facilitated this use of city walls as a canvas for the Portuguese youth. At the heart of this collective is AKACORLEONE, real name Pedro Campiche, a multidisciplinary artist and Lisbon native. He reaffirms that "the street art scene is really strong – a lot of murals, exhibitions, commercial work, it's an exciting moment to be an artist." It must be particularly exciting for someone who has witnessed first-hand its steady progression. Campiche started out in the midst of Portugal's economic crisis. He had to work hard and wait patiently to get the recognition he deserved. "I was lucky to be in the right place at the right time, so I became part of an important artistic movement: the muralism boom that happened a few years ago with Vhils' exposure and consequent creation of Underdogs Gallery. I have a few murals spread all over the city and I plan to leave my mark in different mediums in the future."
Street art is just one part of a larger, and increasingly prominent, side of Lisbon's personality. Its creative core is bursting out, manifested through numerous co-working spaces and artist studios, independent concept stores and a lively music scene. Asked about the connection between local art and Portuguese culture, photographer and musician Kid Richards stresses that "culture is one of the most valuable things a country can have. That's your identity. And I think we have a lot of things in our culture, and the art we make, that describe us perfectly." But he also makes it clear that working in his field is difficult at times. "Portugal isn't the perfect place to be an artist. I think we are still realising the value of [it]." This is evidenced in the cost of being an artist and consuming art (buying materials, artworks, going to exhibitions), versus the money typically made from creating it.
23-year-old musician Surma echoes this sentiment. "In Portugal, we don't have a lot of support. The state doesn't help the artistic community. We have platforms and really unique groups of people that try to create spaces and little underground events that help us a lot to spread the word and our work to the community. We have a really unique way to get things done." There's a sense that while the government is trailing behind, the people of Portugal are firing ahead with their ideas. Surma emphasises that "we're very curious people… that's why we have grown more and more. You'll always have unequalled support from the people in every corner of the country." Such people are the innovators behind the abundance of small-scale organisations whose goal it is to promote the city's artists: Underdogs, Hangar, PADA – to name a few.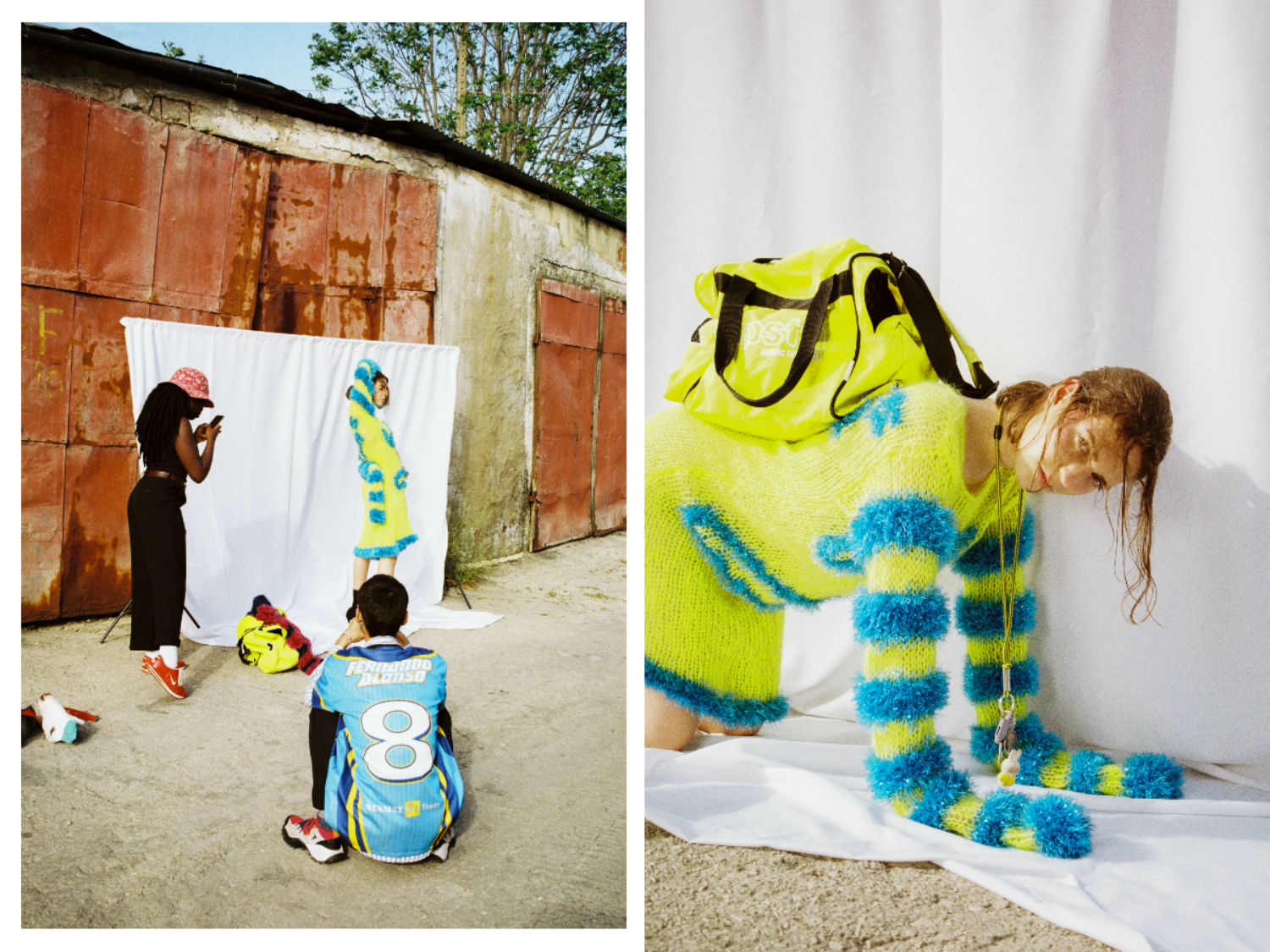 Styling MARTIM ALVAREZ Photography MATILDE CUNHA
Lisbon's fashion scene is not to be overlooked either. ModaLisboa hosts an annual fashion week, exhibiting the work of established and emerging designers. Stylist and design student Martim Alvarez describes the current happenings as "the beginning, the start of a new vision." Despite this new beginning, his work will continue to be informed by a traditional, long-standing Portuguese identity. "The streets in Lisbon don't stop and are full of ordinary moments and normal people that could be big influences in my projects. The sense of traditionalism could also be included in my work, as I am inspired by Portuguese culture." Like Surma, Alvarez maintains that art in Lisbon is often a group effort, dependent on the support of people who value their creativity. "This collective energy makes me so confident about what I do."
This energy has always been present. AKACORLEONE insists that in the past, "the will to show our work despite a major crisis happening made us inventive and creative." While the city is on an upward trajectory economically speaking, he hopes this won't completely negate the "DIY hustler attitude" that sets their artistic community apart from others. Lisbon is now being celebrated on a more universal scale, but the talent of its locals was there all along. Campiche explains, "there´s always this feeling that you have to have international validation until you can make it here." For these locals, it's understandably frustrating to have to gain this global admiration in order to be considered successful. But Campiche acknowledges the benefit of Lisbon's recent exposure. The industry is getting increasingly interesting – there is more experimentation, more variety and, crucially, more people entering the scene.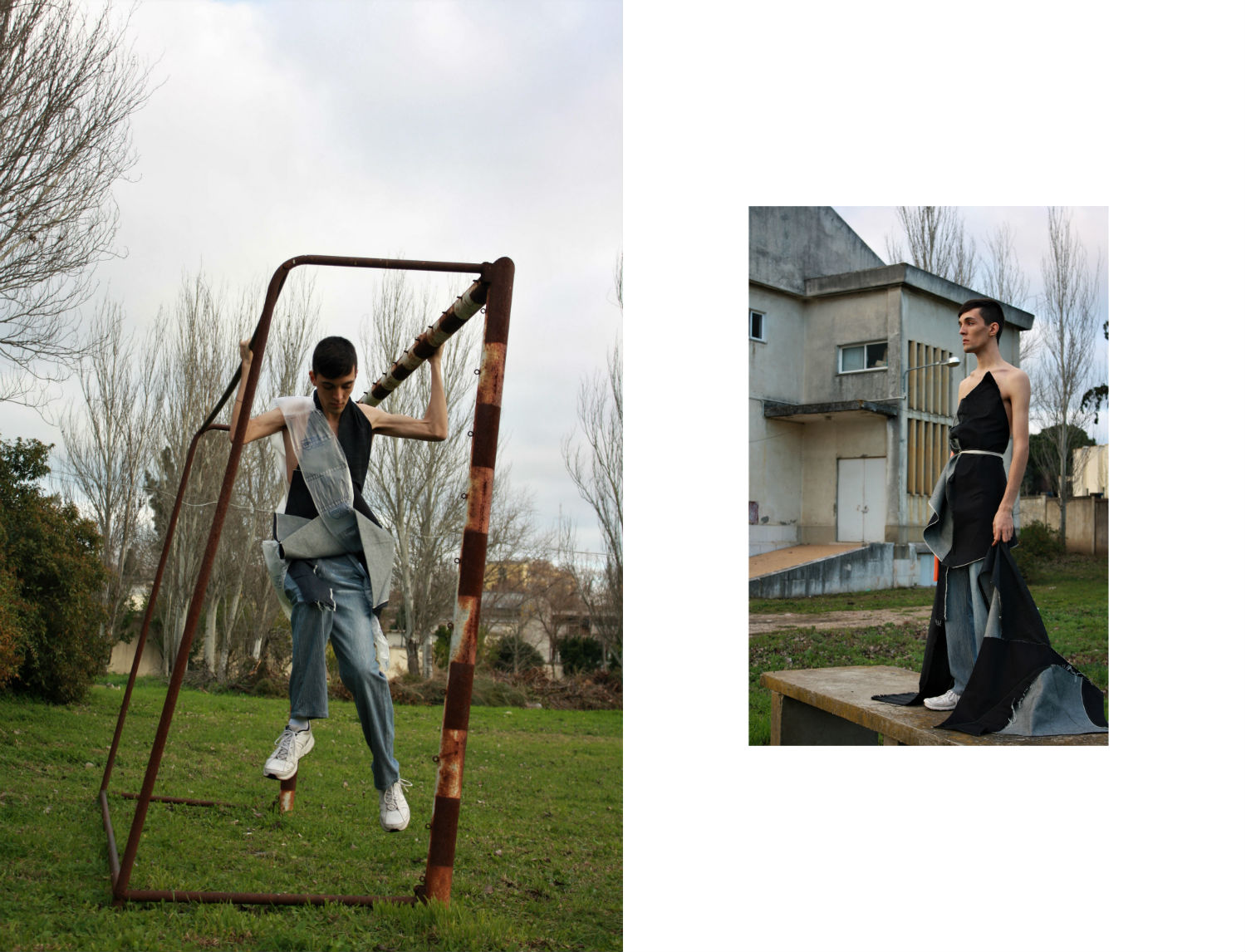 Styling MARTIM ALVAREZ Photography INÊS SOUSA
With its newfound reputation for artistic freedom, there has been an influx of international creatives to Lisbon – all wanting a piece of its offering. Kid Richards explains, "For some years now, I think everyone is looking into Portugal. And it's a bit odd to me. Suddenly we are not a forgotten country." Of course, this comes with its downsides. In this case, it's a tale told time and time again. The ongoing arrival of foreign residents has resulted in a sharp increase in rental prices, and a demand which is incompatible with the available housing. But Lisbon has had its fair share of difficulties in the past, and Richards seems confident in the Portuguese people's continuous ability to bounce back. "We are pretty tough. Even in darker times, we go through it with bravery. I think that plays a big role in the art we do." These artists' commitment to their vision is clear – it will take more than the rising expense to stunt their city's creative future.
Header image KID RICHARDS