In the midst of the references that make up current pop-culture, we decided to take a closer look at the icons still truly shaping fashion, music, and culture today – and what exactly makes them so significant. It's time to Know Your Icons.
"Show me love, show me life", a then barely 18-year old Robyn chanted on her breakthrough hit, 1997's "Show Me Love", off of her debut record, Robyn Is Here. Unknown to us is whether or not the boy addressed actually came through on the Swedish singer's plea for affection. What we do know however is that Robin Miriam Carlsson – the singer's birth name – has very well been exposed to love and life by fans across the globe over a course of just over two decades. By very unorthodox means, the characteristically platinum blonde independently paved her own way to Pop stardom, subtly and anti-systemically snatching a seat at the table of an industry notorious for washing away even the purest of personalities. Honoring the music icon's latest release – an album by the name Honey that fans have been waiting eight years for – , we want to guide you through the ups and downs of Robyn's career, her turbulent private life, and how all of it helped in establishing her legend-like status.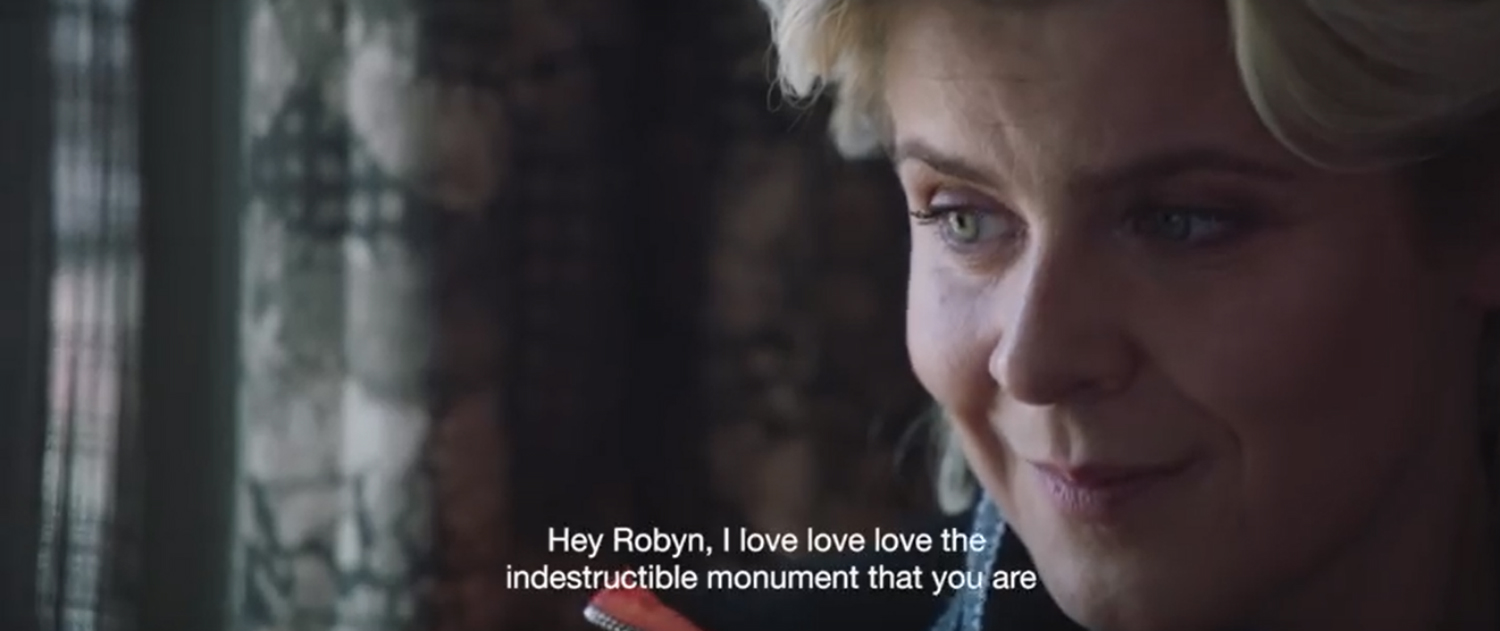 BEGINNINGS
Born to artist parents on June 12th 1979, the Stockholm-native was introduced to methods of creative expression straight out of the womb. Her mother and father were performers and led an avantgarde, traveling theatre, before splitting up when Robyn was 11 years old – occurrences that, according to an extensive feature by the New York Times, still haunt and inspire her today. Not long after dabbling in songwriting to channel the sadness she felt over her parents' failed marriage, Robyn signed her first record deal with RCA in 1994 at only 15 years of age, successfully releasing music in Sweden by 1995, and venturing out into international airplay by 1997. With two US Top 10 hits to her name before being of legal drinking age in the States, one would've expected the Scandinavian starlet to quickly ascend to one of the western hemisphere's biggest and brightest talents. But not always do things go quite as we expect them to, a lesson we would later come to learn is one of Robyn's many positive attributes: The element of surprise. A quiet rebel in opposition to being molded by show business executives, Robyn was seemingly immune to all things vain, and remains artistically autonomous to this day.
COMEBACK
Entangled in contractual obligations, Robyn would only release new music in her home of Sweden for the next couple of years, before emancipating herself from the hardships of being a signed artist and founding her very own, independent label. Konichiwa Records would become home to her fourth, self-titled 2005 album, spawning international successes like "Be Mine!" and "With Every Heartbeat", both of which would help her ring in a new creative era by mixing cheeky electronic beats and instrumentations with honest, relatable lyrics, enabling Robyn to emerge as the new millennium's torchbearer of young adulthood heartbreak.
A polished, new image and sophisticatedly cool aesthetic at hand, Robyn's Robyn allowed her to distinctively exist in an over-saturated micro-verse of artificially sculpted industry personas, most of whom were dependent on sticking to trends, with money being the sole force of determination in terms of success, despite a potential lack of artistic credibility. In what could almost be considered an act of provocation and mockery, Robyn's enigma offered what many fellow artists did not: Integrity, vulnerability and authenticity. Being sexy without being vulgar, creating intimacy without creating transparency, Robyn's career stands and has always stood in great contrast to the rest of sensation-heavy celebrity culture, allowing her to build and nurture a specific, yet adoptable vision.
BODY TALK
Following years worth of gigs, re-releases and video shoots for the aforementioned record, and uncredited – and, moreover, unexpected – guest vocals on Britney Spears' comeback-masterpiece "Piece Of Me", Robyn took a surprisingly brief, but well-needed break, only to resurface in 2010 with the first of three career-defining pillars that we've now come to know and adore as the Body Talk trilogy. Over the course of a single year, Robyn launched three parts to a concept album, that would later be released in a bundle simply titled Body Talk. The high-quality curation of impeccably produced songs would eject a handful of the multi-faceted artist's greatest hits, including sensual slow burner "Hang With Me", the love triangle-inspired dance hymn "Call Your Girlfriend" – accompanied by genius choreography in an iconic one-take music video – and intergenerational crying-in-the-club-anthem "Dancing On My Own".
Unsurprisingly, the music and its themes resonated with audiences of all genders, shapes and colours, discretely crowning Robyn an unconventional member of pop music royalty. That, alongside her rebellious, androgynous choice in style and support towards the issue, also helped cement her as one of today's living LGBTQ-icons, as most of her songs have been associated with queer romance-related topics, emotions and identity politics, securing Robyn's tracks a spot on nearly every modern day Pride playlist.
HIATUS
Overwhelmed and exhausted by the critical and commercial acclaim of Body Talk, Robyn would take a hiatus from the tumultuous business, only to re-appear ever so often as a featured artist for fellow musicians or side projects such as, more recently, her joint EP with Norwegian DJ-duo Röyksopp, Do It Again. 
But all in all, this time around, it seems as though Robyn has gone somewhat silent. As she's since revealed, the eight year period in between her previous and upcoming albums was filled with personal turmoil. Death, break ups, reconciliations: A rollercoaster ride of countless highs and lows and sheer writer's block disabled the musician from crafting new material, her discography being the only tool available to fill the Robyn-shaped hole in fans' hearts. As became known to a wider audience through teasers for her first single in almost a decade – fittingly titled "Missing U" – , a group of 20-somethings in Brooklyn, New York, founded and began to regularly host an event honouring their idol.
RETURN
"A Message To My Fans" – a short documentary depicting Robyn and her admirers taking a stance on her long absence – was released in August of this year, as a forerunner to the aforementioned "Missing U". Well worth the wait, the song beautifully displays the carousel-like storm of emotions felt after losing and remembering a loved one. Universally comprehendible, and in true Robyn-nature, "Missing U" triggers not only melancholy and feelings of longing and loss, but causes a natural gravitation towards the next-best dancefloor.
Having heard our prayers, Robyn will make her grand return with Honey on October 26. Promising in every sense of the word, we expect this to be an exciting new chapter in the 39-year old's tear-jerking career. And, as she herself demands from a counterpart in the album's title track – that had its inofficial premiere in an episode of Lena Dunham's Girls back in 2017 – we, too, will "come get [our] honey"!
Head Image via Instagram