It was during a visit to one of London's most prestigious art fairs in 2015 when Katy Hessel decided to launch her now highly respected and recognised Instagram account Great Women Artists. Shocked by the lack of female artists on show at the fair, Hessel has dedicated most of her time to advocating their importance within art history ever since, celebrating female artists from old masters to contemporary artists daily. Following the success of Hessel's first exhibition, Great Women Artists of Instagram, Hessel is back to curate her second.
Similar to her first show, In The Company of at T J Boulting will also include 15 female artists. This time however, Hessel shines a light on the legacy of three 20th Century female artists Barbara Hepworth, Lee Miller and Alice Neel and their impact on 12 contemporary artists; Juno Calypso, Juliana Cerqueira Leite, Maisie Cousins, Charlotte Edey, Jessie Makinson, HelenA Pritchard, Stephanie Quayle, Anne Ryan, Boo Saville, Hrafnhildur Arnardottir aka Shoplifter, Antonia Showering and Caroline Walker. In The Company of draws direct comparisons between the historical and contemporary artists, acknowledging their similarities in themes and motifs, whilst also highlighting the ways in which female artists' styles have evolved both stylistically and subjectively, as Hessel explained when we spoke to her about the exhibition.
In the Company of aims to highlight the legacy of the historic artists Barbara Hepworth, Lee Miller and Alice Neel, acknowledging how their work still impacts artists today. Why these three artists in particular?
I wanted to include a painter, a sculptor and a photographer to show a range of mediums used by historical artists, to show how much female artists' work has evolved both stylistically and subjectively. I think it's very interesting to look at a direct comparison between artists working a century apart who use similar themes and motifs, but whose context is completely different – to reflect the time we are living in, of course.
Alice Neel was also the reason for starting the Instagram: The Great Women Artists really came about after I was studying the work of Neel for my dissertation at university. Neel was the one who made me realise that she was a woman working in a man's world, but who remained strong-minded and loyal to her practice, despite being overlooked for much of her life.
Also, I see a lot of direct comparisons between Hepworth, Miller and Neel with many of the artists in the show. The concept of the exhibition was very much born out of those three artists – who also struck a chord because they're always names that pop up when I visit artist's studios – so in a way it was very organic.
Can you tell me how the theme for In the Company of came about?
In The Company of very much ties in with the foundation of my Instagram, which is to celebrate female artists from past and present, and artists who work in a range of medium. My aim for the show is to highlight the legacy of three women who continue to be very influential in young artists' careers today.
Have the artists made new work for the show or was it a case of selecting pieces that had direct references to the historic female artists?
No artists have made new work for the show: a lot of the works are from 2018 which the artists have made recently, but it was more a case of selecting work that indirectly referenced the historical artists' work and to find parallels with work made nearly one hundred years or so later. For example, the first time I visited Caroline Walker's studio, I immediately made a comparison with Alice Neel, same with HelenA Pritchard and Barbara Hepworth, which prompted the show even further.
Prior to In the Company of, you curated Great Women Artists of Instagram at Mother London, which also included 15 female artists. Even though 15 seems like a large number, it must be very difficult to narrow down your selection of artists – how did you choose?
I always wish I could include more! The premise of my shows, so far, is to make people think, and to curate something that is more of a concept and idea relating to the time we are living in rather than a certain theme. I have so many artists I would love to show with, and it's so difficult nailing it down to 12. I visit artists the whole time and have so many ideas for future shows that I would love for other people to be on board with, but it's completely about finding the right artists that fit for the right shows at the right time. I had a very clear idea of the artists I wanted to ask for this show, and when they said yes I was completely over the moon.
I read in an interview that you wrote your dissertation on Alice Neel and it was during this time you really recognised the underrepresentation of female artists. How does it feel having the artist who triggered this all for you included in a show you have curated?
As mentioned before, it's a dream come true – Alice is the reason I do what I do. Of course I admire her work, but I also am so influenced by her as a person: she painted and documented real people in real time, allowing art to become accessible to everyone. Although she scrutinised every sitter, there was a complete lack of judgement with Alice when it came to people's status: she painted people for who they were.
I know the artists in the show are so excited to be showing alongside her. Particularly Antonia Showering – we hope to one day do an Alice Neel pilgrimage around America! She was so ahead of her time and contemporary and just really stuck to what she believed in and I find that so influential. Not only was she a Portraitist in an Abstract Expressionist dominated world, she was a woman in a man's world who painted fearlessly and truthfully.
From a curatorial perspective, how has it been organising the layout of the exhibition – have you painstakingly worked out a specific layout in order to highlight the relationship between the historic and contemporary female artists?
It's all come about very organically. Before I selected the artists, I knew the space and when I selected the work, I constantly had the historical artists' work in the background. The root of the exhibition are the works by Neel, Miller and Hepworth so the works will really just play around these ones, creating dialogue that I hope people will draw comparisons between.
From an educational perspective, what would you like the spectator to take away from this exhibition most?
To me, Neel, Hepworth and Miller are some of the biggest names in art, but to a lot of people some of the names might be new. It's all about discovering historic female artists and telling their stories. My mission with my work is to unearth these historic women artists and give them an accessible platform where people can learn.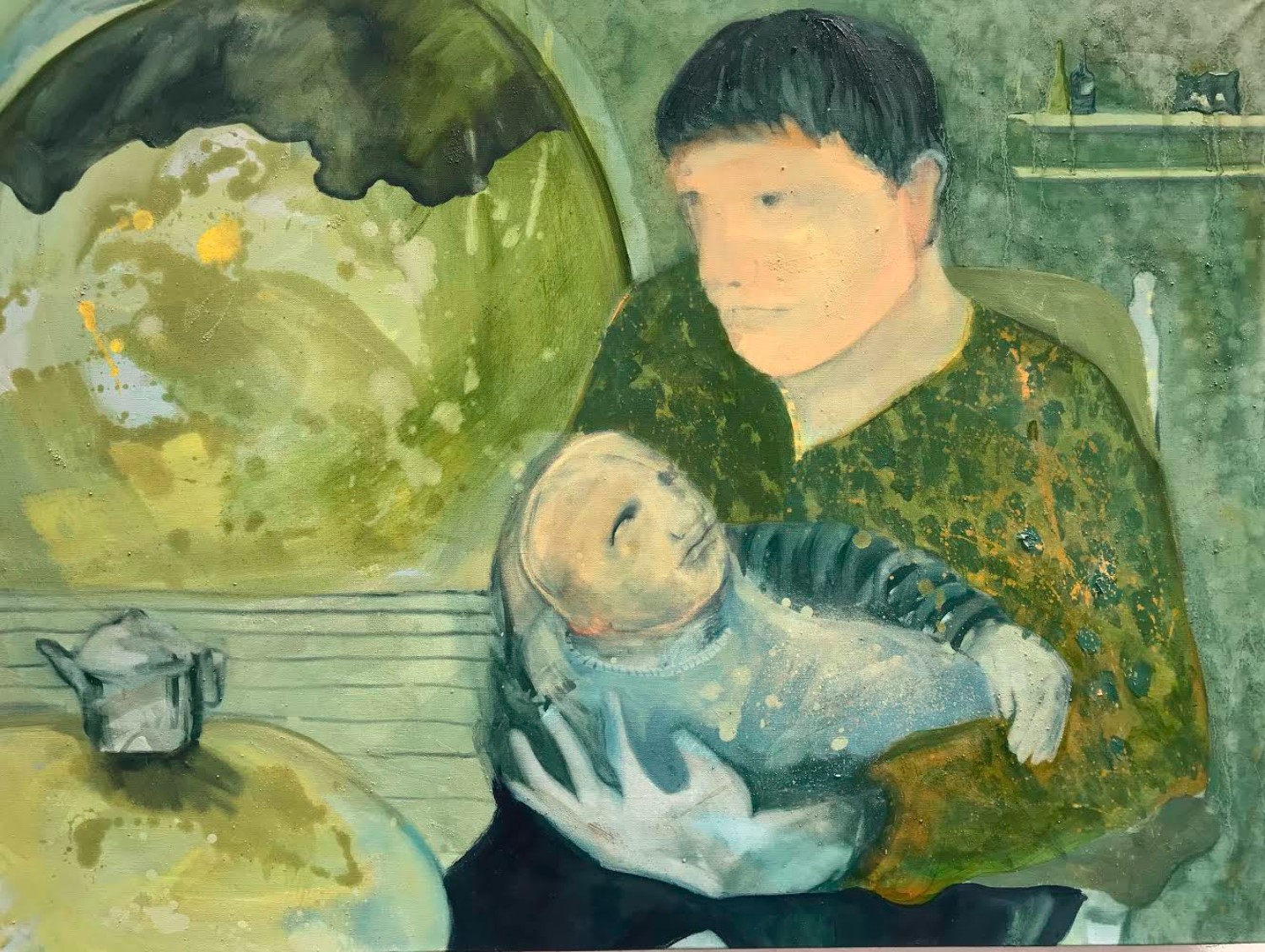 It is nice to see that you are working with a gallery that supports emerging contemporary artists and photographers. How did the conversation to curate the show at T J Boulting begin?
I first met the wonderful Hannah Watson, who is the Director of TJ Boulting, last year when I was preparing for my show at Mother, as she lent me works by Juno and Maisie for the show. We got on really well and she invited me to curate their Frieze show, which is such an honour! It's such a rarity that you are given a space to experiment with, so I want to make the most of it by inviting as many people as possible to the show.
Do you generally find that galleries and institutions are receptive to your curatorial ideas or do you still find there is a lot of prejudice and inequality around the representation of female artists?
I haven't ever approached institutions, although I recently gave a talk at Pallant House Gallery on women artists 1550–1945, which amazingly sold out, and they were very receptive to my Instagram, however I would not think an institution would let me curate a show, sadly! Although I have a lot of ideas…! I think institutions are very much embracing female artists, especially as there are more women at the top, but we do have a long way to go. Although there is a lot of hype around the National Gallery acquiring Artemisia Gentileschi's Self Portrait as Catherine of Alexandria, that is still the 20th artwork by a female artist in their collection of over 2300! I also hope that exhibiting women artists is not a 'trend' and that it endures so one day the art world and the art historical canon can be completely balanced.
Would you agree that running a platform like Great Women Artists and curating shows such as In the Company of have encouraged and provided a strong sense of community for artists and spectators to engage with one another?
I would hope so. I really want my followers to feel part of a community, and it's great to do things in real life – away from the 'virtual' – to get likeminded people talking. Also, although Instagram is a great platform for artists, it's very important that people see their work in real life and experience it in a gallery or context that the artists wish for the artwork to be seen.