As we manoeuvre our way into adulthood, we often feel like the home we grew up in has become a distant place. But for Hiba Obaid, the notion of her roots is literally located in an almost unreachable envi­ronment; in October 2015 the journalist had to leave Syria, the land of her childhood and family, owing to the war that has been raging on in her home country since 2011. She eventually arrived in Berlin. "I like this city with its contradic­tions," she says. "When I first set foot here, I didn't feel like I was in a strange place. I felt close to home. In Aleppo, I saw many films about Berlin, the war and the fall of the wall. It's an inspiring city, it always gives me hope." After studying Arabic Literature at the University of Aleppo the 28­-year-­old now is working as a freelance journalist, while also doing an internship at the Berlin radio station Alex Berlin. "I would like to act as a bridge between the German culture and the Arabic culture," Hiba explains of her work. Through the text she wrote for INDIE in both her mother language Arabic and English, Hiba reflects on the experi­ences and encounters that keep her connec­ ted to Syria, and how home can be encapsula­ ted by a million things beyond just four walls.
English
My official papers say that I do not have a homeland. This is what the employee in the foreigners' authority wrote on my new passport: "stateless". From the moment I began writing this text, I've swum in a sea of depression, like a lost fish that doesn't know in which direc­tion it should go. All my memories are full of waste.
I encountered the concept of patriotism in my first year of school. They told us to die for our country. Many people I knew have now died so I have no friends, no home and no school. Syria, are you happy now?
I still remember our neighbour Abu Fares, an old man who used to bring us vegetables and fruit every day from a nearby field, carefully arrang­ing them in his white Suzu­ki car and spraying them with water to make them look more appetising. We used to visit him early in the morning to buy what my mother needed to prepare lunch and always came back with some extra cher­ries or a bunch of green hummus as a gift from him. Abu Fares died "for his homeland", as they told me, when a sniper hit him in the head at the beginning of the war in Aleppo.
One day, I asked my mother: "Why don't we have a village to spend our summer vacation at like all my school friends do?" She replied: "We had a village in a far country near the sea, where grape clusters hung from the sky, where the blue water was endless, where the sand is coloured in different shades, but we are guests in Syria now. We're not allowed to buy a piece of land here. We are refugees."
I didn't understand why I was born in Syria when I belonged to another country, Palestine, until the day they told us at the Lebanese borders: "Palestinians, go to the back." Only then did I understand my grandfather's feeling when he came to Syria barefoot in 1948. He told me that he still dreams of reuniting with someone called "Dallah" one day. When I asked him about her, thinking that she was his sweetheart, I found out that she actually was his old donkey. When the war began in Palestine, he tried to flee to another country riding on her back, but Dallah refused to leave her land, so with great pain he was forced to leave her behind. Dallah is only one symbol of what a home can be, but my grand­father and I have dozens.
Syria has mastered humiliat­ing me using my own memories and my gift for remembering all the smells I came across. I can't count how many times I have been suffocated recalling the smell of the burned wood that we used for heating during the war. I still remember the day my father started to burn all my books when there was no more wood left. After two days I no longer had any books; they'd all died.
Syria, did you think that I was going write you a love letter? You are very wrong. Where were you when I slept in a field of mud at the borders in a winter night because my identity papers didn't legally allow me to leave you and migrate to another country?
Where were you when I was shouting for your freedom and a policeman caught my shirt and called me a traitor? I walked home broken that night, singing, with eyes full of tears: "You are my prison and my freedom." Because all the beautiful things I still remember are also a part of you: when I discovered, in my last moments with you at the airport, that my mother was hiding a Gardenia flower for me in the pocket of my bag. When the policemen there started questioning me,
"Why are you leaving your homeland?" I wanted to tell him that I am taking this homeland with me, because all this hate and death is not my homeland, but instead I just smiled and said nothing. Even though you have made my memory a mass grave, I miss you every day like a mother who misses the children who have aban­doned her, and I am unable to overcome this feeling despite all my attempts.
Syria, do you remember how I used to play the violin in that blue room in our house? Well, I hid it behind the white door when the soldiers entered our street. I was afraid that they would burn it. Please take care of it. Maybe I will come back and pick it up again, like I did the winter of 2012, when I played it for the very last time.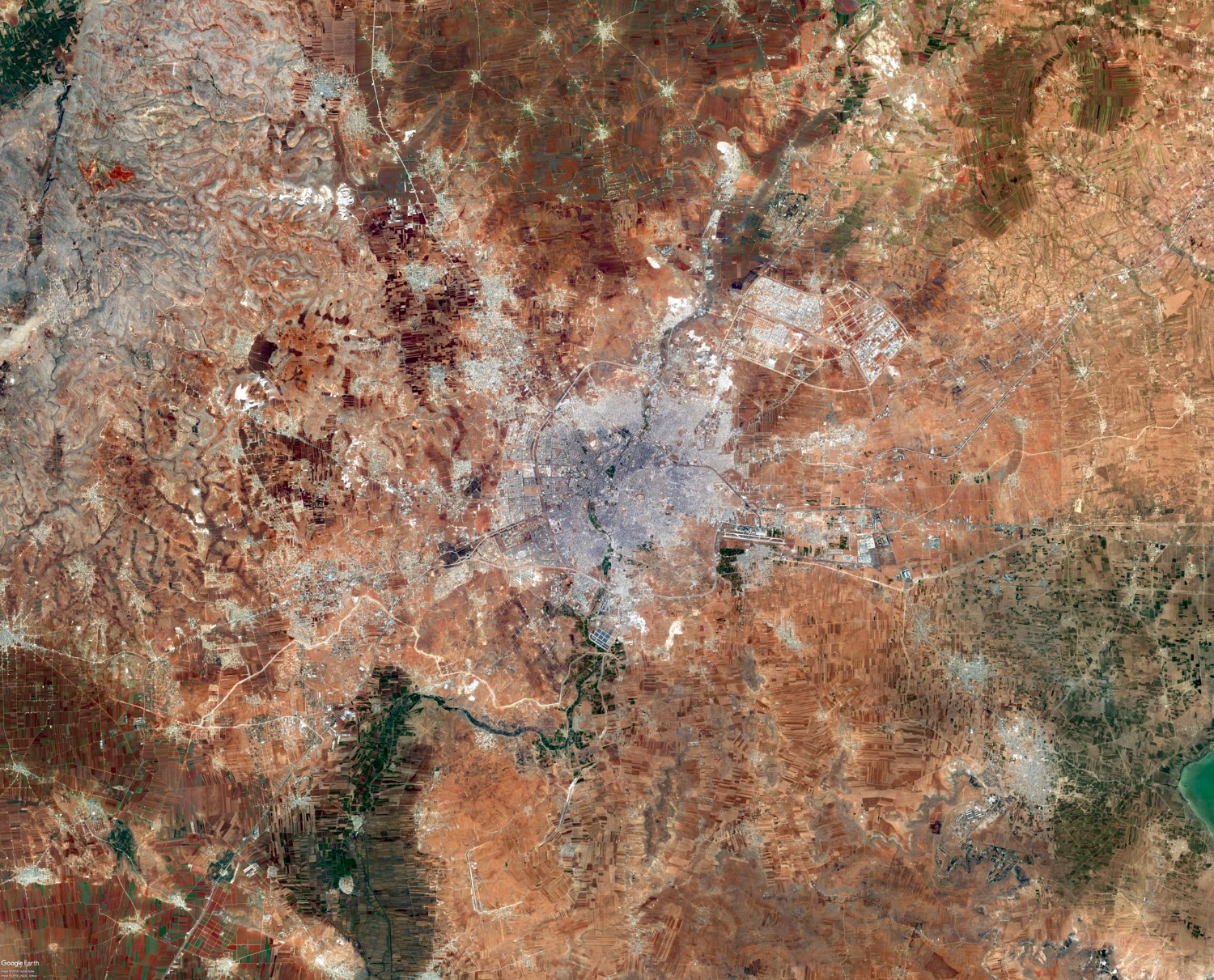 Arabic
ومع كل ذلك ٔانا الزل ُت ٔاش ّبهك بكل األشياء الجميلة،كزهرة الغادينييا التي وضعتها ٔامي يف جيب حقيبتي عندما بدٔا الرشطي يستجوبني يف املطار عن سبب مغادريت الوطن مددت يدي ٕاىل حقيبتي وٕاذ بزهرة غاردينيا. ٔاردت ٔان اقول له ٔاين راحلة مع الوطن ؤان كلٔ مايحصل هناك من قتل ودم وخراب ليس بوطني ولكني اكتفيت باالبتسام. حتى وٕان جعلت من ذاكريت مقربة جامعية فٔانا ٔاحن ٕاليك كل يوم كٔام تحن ٕاىل ٔاوالدها الذين تخلوا عنها.ؤانا عاجزة عن تخطي األمر رغم محاواليت الكثرية!
ف النهاية الزال لدي يشء ٔاريد ٔاني اقوله لك، ٔانت تعلم ٔاين كنت ٔاحاولٔ العزف عىل ٓالة الكامن يف تلك الغرفة الزرقاء يف بيتنا، حسناً ال تزال هناك خلفالباباألبيضwخّبٔيتهاعندمابدٔا الجنود من كل ٔاصقاع األرض يدخلون شارعنا. خفت عليها الحرق. ومنذ ذلك الوقت منذ شتاء 2012 ؤانا ال ٔاستطيع العزف عىل ٓالة الكامن.
ايها الوطن، ملاذا تحاول ٕاذاليلٔ بالذكريات وتستغل موهبتي بحفظ الروأيح فتذكرين برأيحة بيتنا يف ليلة
العيد عندما كانت ترصخ الجدران تعباً من تنضيف ٔامي لها. كام تحاول خنقي برأيحة الخشب املحروق الذي كنا نقطعه ٔايام الحرب حتى نتدفٔا به عىل ارضك، الزلت ٔاذكر ذلك اليوم الذي قامٔ به ٔايب بحرق كتبي كلها عندما مل يتبقى خشب يف املنزل لحرقه. مل يبق لدي كتب ٔايضاً لقد ماتوا جميعاً.
وطني، هل كنت تظن ٔاين سٔاكتب لك رسالة حب؟ ٔام رسالة ترشح لك شوقي؟ انت مخطٔي جداً. ٔاين كنت عندما منتٔ ف بستان من الوحل لي ًال ألن هويتيي لتصلح ٔان ٔاتركك ؤاهاجر لبالد ٔاخرى؟.ا اين كنت عندما مسكني رجل األمنٔ من طرف قمييص ونعتني بالخأينة للوطن عندما كنت ذاك النهار ٔاهتف لحريتك. الزلت ٔاذكر ذاك املساء عندما كن ُت ٔاسري من غري وجهة ٔابيك ؤاغني " سجني ٔانت وحريتي".
ابو فارس مات ألجل الوطن هكذا قالوأ ل عندما ٔاصابته رصاصة ق ّناص يف رٔاسهي مع بداية الحرب يف حلب.
قالت يل ٔامي ذات يوم عندما سٔالتها لاذا ال منلك ٔارضاً نذهب ٕاليها يفم العطلة حني يذهب كل ٔاصدقايئ يف املدرسة ٕاىل ٔارض ج ّدهم؟ ٔاجابت بٔاننا كنا منلك ٔارضا هناك يف بالد بعيدة قرب البحر، حيث عناقيد العنب تتدىل من ٔاعىل، حيث املياه الزرقاء، حيث الرمال التي تستطيع التل ّون بٔالوان مختلفة. ولكننا اآلن هنا ال يحق لنا شاء ٔارض.فنحن هنا ضيوف ٔاو رمبار لجٔييني. مل ٔاكن ٔافهم ملاذا ٔانا هنا بيناما انتمي لبالد ٔاخرى ٕاىل ٔان بدٔات الحربٔ ورحلنا عن بيتنا وقالوا لنا عىل الحدود اللبنان ّية " الفلسطينيون للخلف". عندها فقط فهمت شعور جدي عندما جاء ٕاىل سوريا 1948 حافياً، حدثني ذات يوم بٔانه اليزال يحلم بلقاء( دلّة) وعندما سٔالته عنها ظ ّنا مني ٔانها حبيبته، تب ّني يل فيام بعد ٔانها حامرته العجوز التي كانت تنقله برسعة عالية بني القرى، وعندما بدٔات الحرب حاول الهرب عىل ظهرها ٕاىل بالد ٔاخرى ولكن دلّة رفضت ذلك فرتكها هناك. الحامرة دلّة المتلك سوى مفهوما واحدا للوطن، اما ٔانا وجدي فنحمل عرشات املفاهيم.
اوراقي الرسمية تقول بٔاين ال ٔاملكٔ وطناً. هذا ما كتبه موظف دأيرة األجانب عىل جواز سفري الجديد "بال وطن". ؤاك ّد القول بٔانه ال ميكنني العودة حيث ٔاتيت. منذ اللحظة التي بدٔاتبهاكتابةهذاالّنصؤانأاسبح ف بحر من االكتٔياب، كسمكة تأيهة الي تعرف يف ٔاي اتجاه تذهب . فكل مايف ذاكريت ممتلٔي بالنفايات.
لقد بدٔات مواجهتي ملفهوم الوطنية منذ سنوات دراستي األوىل يف املدرسة، قالوا لنا ٔان منوت من ٔاجل الوطن لقد مات الكثريون حتى مل يبق لدي ٔاصدقاء وال شارع وال بيت وال مدرسة ٔايضاً.
اذكر ذلك العجوز( ٔابو فارس) جارنأ الذي كان يجلب الخضار والفاكهه كل يوم من حقل قريب، يرتّبها يف سيارته السوزويك البيضاء، يرشها باملاء حتى تبدو شهية ٔاكرث وينتظر الزبأين عىل مقعد خشبي.
كنا نذهب لرشاء طلبات ٔامي يف الصباح الباكر ودامئا مانعود بحبات كرز اضافية او باقة من الحمص األخرض كهدية منٔ ابو فارس.
Essays HIBA OBAID
Taken from INDIE NO 60, THE HOME ISSUE – get your copy here.