Often, art reflects the artist, and the work of Joey Yu is a bold example of this. Lively, playful and brilliantly inventive, her work mirrors her own experimental nature. Laughing off creative limitations, the illustrator/animator/curator has dived into the worlds of fashion design, 3D, and modelling – and has just been featured in Gucci's new #25WaysToGucci – all while building an ever-impressive portfolio of her signature illustrations.
The way Joey works encapsulates a lot of what is inspiring about this generation of artists: fluid, open and globally collaborative, creatives from every industry are melting their practices into one another, and individuals like Joey are at the forefront of this experimental wave.
The way our professional work intersects with the personal is also a defining feature of this creative generation: with platforms like Instagram providing a space for artists to curate their own blend of life and work for the world to see, this constantly evolving feed gives us an intimate view of the interplay between inspiration and idea. We spoke to Joey about her personal and creative processes, before jumping into a photographic series that takes lead from her love of merging art and fashion, giving a playful reflection of artist and art, side-by-side.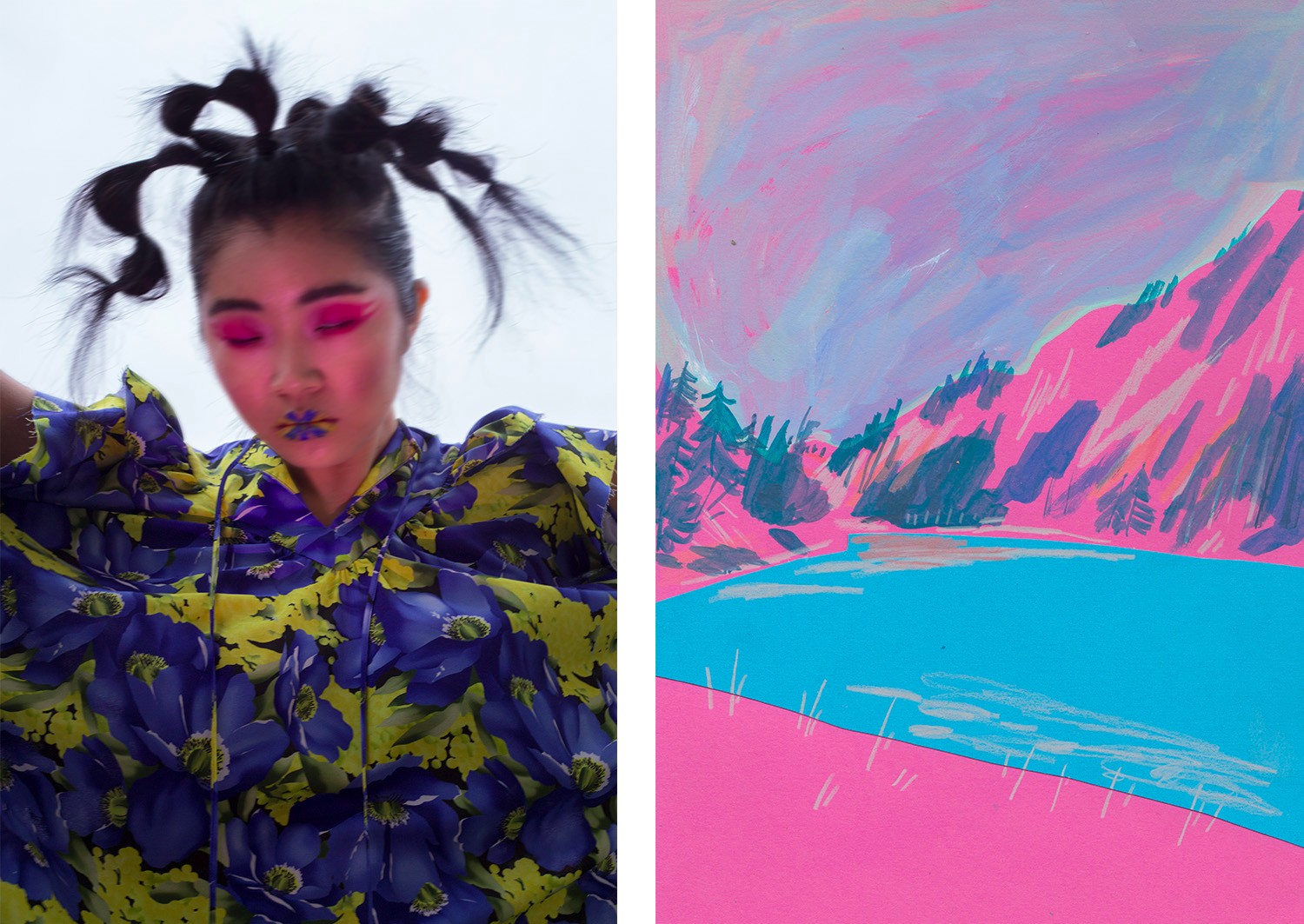 Firstly, what gets you up in the morning?
A blue sky, a good breakfast with earl grey tea, and an unread email inbox.
And how did you get into illustrating?
I've been illustrating ever since I was small. I think everyone is an illustrator when they are little, but lots of people stop as they grow older.
Your illustrations are very expressive, like a release of something. What other means of expression do you like to play with?
I love getting dressed for the day. Maybe that's the most inspiring thing for me each day – even if I'm just working from home I will still do my make-up and put an outfit together. It really makes you feel like you're doing the day right. Art school was so fun because I loved coming up with a different theme for the day – what kind of mood was I feeling? I used to have themed dressing up days with my friends, matching colours…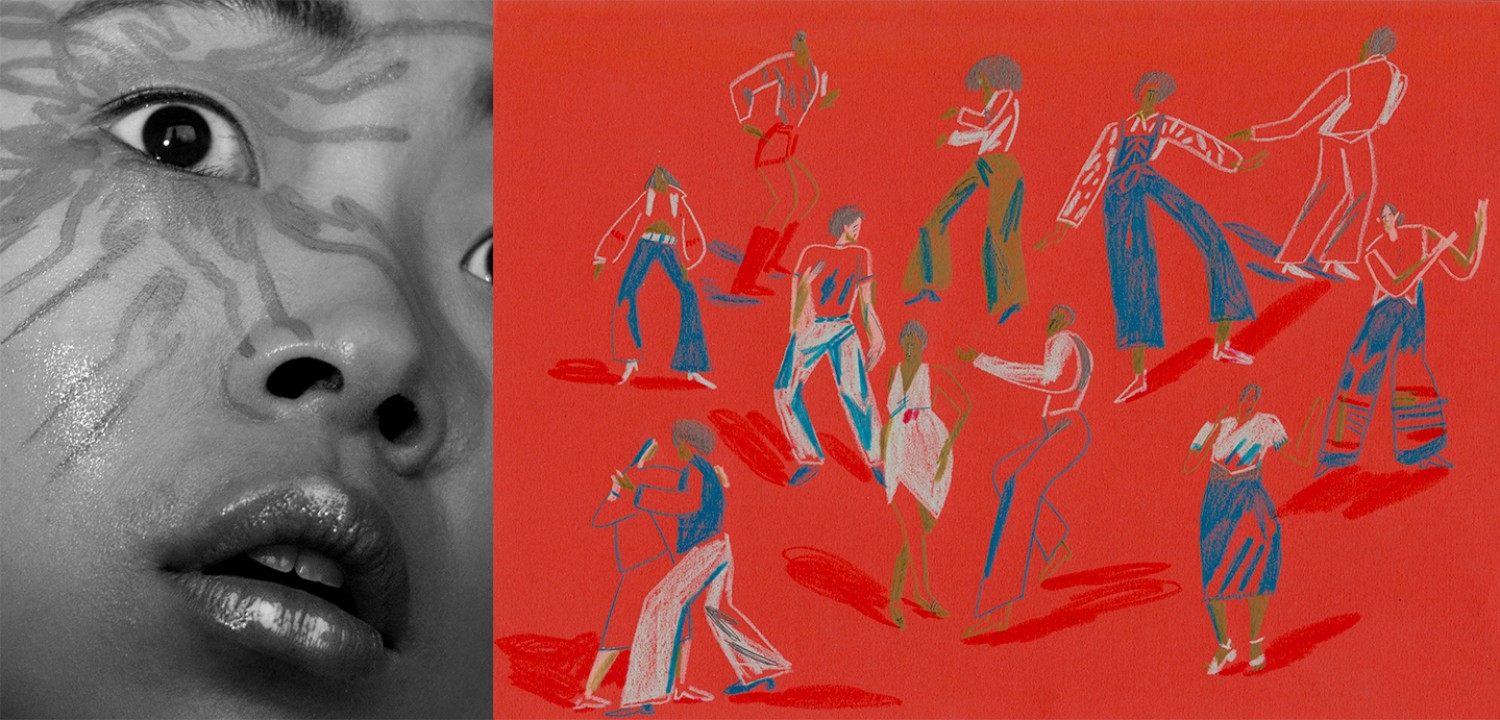 You have a great way of keeping your work consistent, but still exciting and new with every project. How does your creative process help this?
It's very haphazard and I like to work in a variety of different ways so it stays fresh. Sometimes I work with paint and paper, sometimes on photoshop, sometimes a hybrid of both. For clients and projects, I still try to keep that messy and loose way of working – but it'll involve researching different topics, referring to an article and highlighting the key elements and themes.
What is it you enjoy about collaborative projects?
Illustrating is great but it's such an insular thing by nature, that I try and find ways to use it in a more open and conversational way. A recent personal project about Earth Day with my friend Wilson Oryema is a great example of that. He wrote poems, I illustrated them, bouncing ideas back and forth. The idea of a creative exchange is so great to me.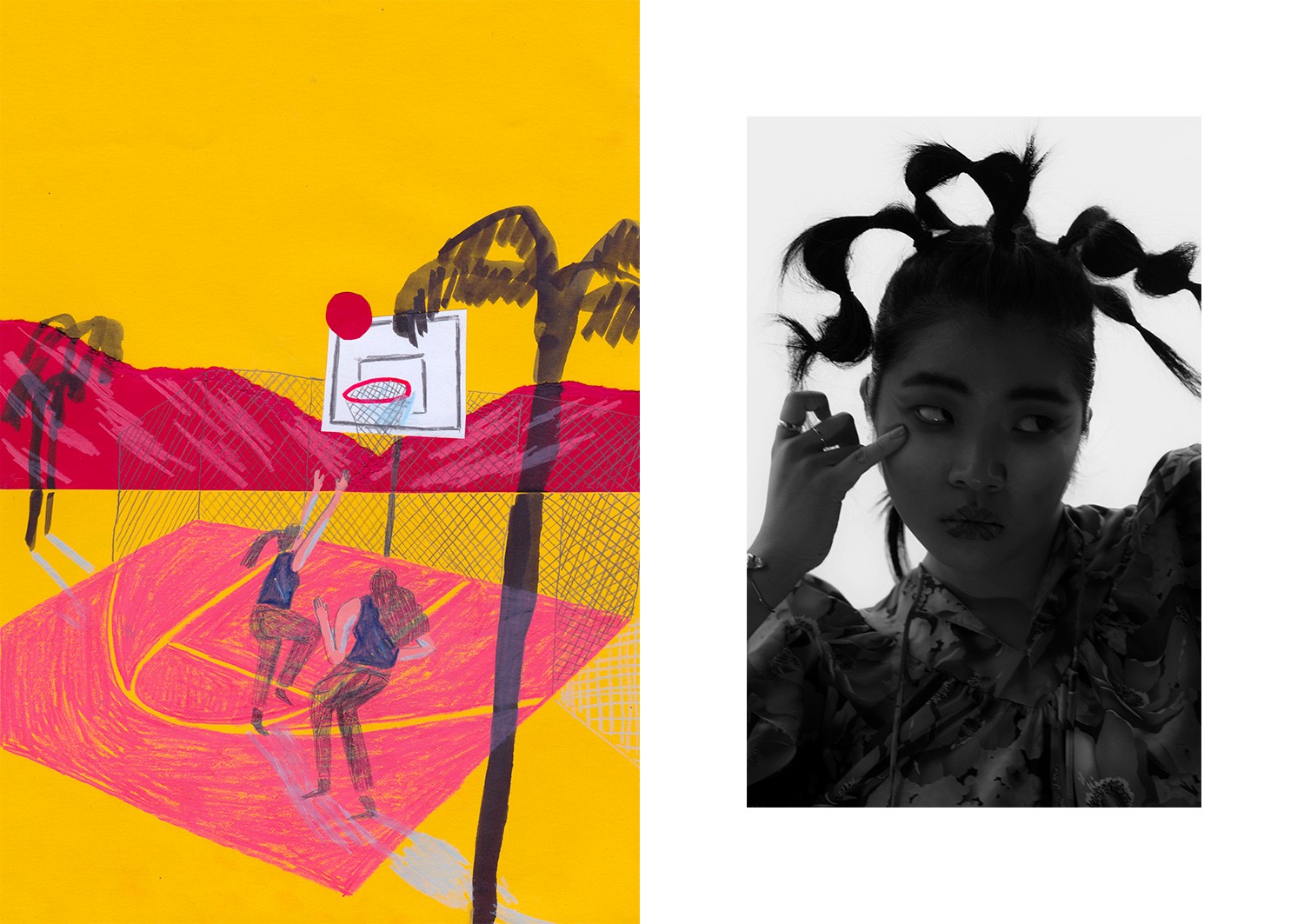 With each project your portfolio grows more and more impressive – has this changed how people approach you with briefs?
In general I'm seeing people trusting me to take projects in my own direction. I think it's because my portfolio is growing, you can see what I'm capable of. There's more trust there, that's really nice.
Instagram has become a huge platform for creatives, but is simultaneously still a very personal platform. When did you start bringing your work into the mix?
I've always had an account, and have always been into the social aspect of it, in terms of making friends, talking to people in different parts of the world. I just posted what I like, sometimes my work. When I went to uni I was making more work and so naturally posted more; people seemed to respond to it!
What do you think it is that draws people to your work?
I can only guess! But hopefully because it feels personal, and people can tell I'm passionate about what I do. I'd like to think I have a strong voice. Consistency is important too. Not in terms of style, but I try to be making something everyday.
As your Instagram following grows, do you feel any more pressure on how you use it as a platform?
I can't visualise the number of people following me… I think it's better that way! I still treat it like a personal account. I don't feel any pressure in the negative sense. I love to share things that I make, or things that I see. I just really love documentation.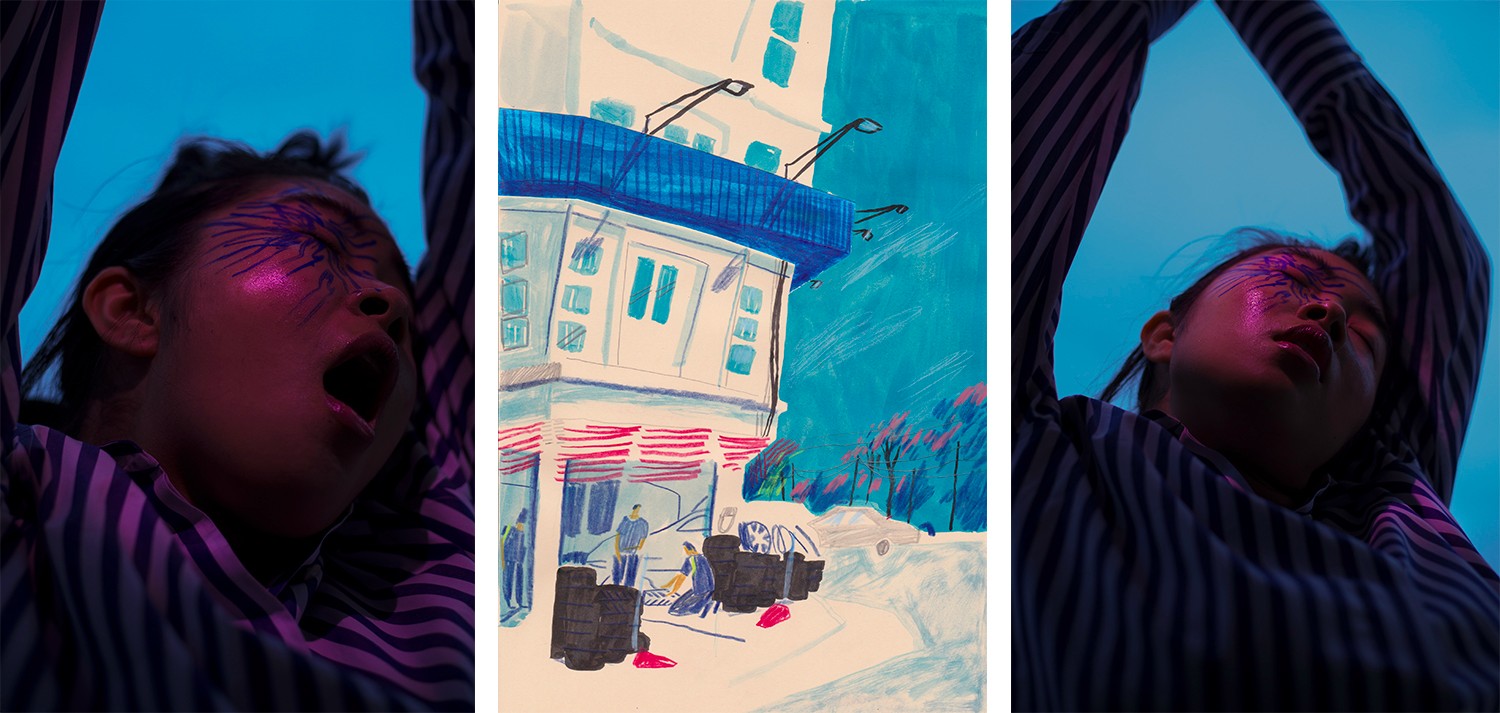 With social media platforms, the person/personality is seen in the same context as the work – do you see this as a positive?
It's nice connecting a face to the artwork. I've always posted what I want too, I don't think it'll ever change. I'm very vocal and working with others is a big part of what I do, so in that sense, my 'self' is a part of my work too. Social media is always going to be different from someone in reality so of course, it's me, but only the smallest part!
Do you have any recommendations of other people you find interesting right now?
For art: Kerry James Marshall, for music: Rina Sawayama, Tommy Genesis and one for fashion: Clio Peppiatt
Photography and Art Direction DANIELLE COYLE
Model and Illustrator JOEY YU
Hair and Make-up GIANLUCA VENERDINI
Styling OLIVE DURAN
Photography Assistant ELOISE KNIGHTS