Mayowa is a woman of many talents – photographer, filmmaker, comedian, YouTuber – her job description won't fit a single line. Last year, her documentary "Acting White" was part of the selection of Berlin Feminist Film Week and when she is not busy directing and producing movies, she likes to be in front of the camera, recording videos for her channel Mayowa's World. At this year's Bread&&Butter by Zalando, the Atlanta native took on her role as a stand-up comedian and gave an energetic performance at the NIKE booth – and as she does with all her work, addressed feminist and race-related topics, all spiced up with her very own sense of humor. INDIE met the multi-talent after her show and talked with her about the mastery of being political and funny at the same time and the new Bonn-resident's plans for taking over Germany.
All clothing NIKE, Shoes NIKE AIR FORCE JESTER 1
How do you feel now, after the show?
I feel very excited, very electric.
When you do a show like today, you talk a lot about the female body, addressing personal and societal issues related to it. What inspired you to start talking about those topics and what feedback are you receiving?
I have always spoken about these topics, but I think the difference is that now I speak about it through a comedic lense. There is something really powerful about telling very serious issues through a joke, especially in the political climate we are currently in, we are oversaturated with so much information all the time. It is also something that can help you deal with everything that happens in the world for yourself – when you start finding the humor in it, it helps you to keep going – I need this.
But are there boundaries you would not overstep? Topics you would never make jokes about?
As someone who cares a lot about people, I constantly work on making sure that the message I spread is never hurtful. I work hard to combat racism, Islamophobia, Transphobia, or any form of discrimination against marginalized people. I try to make sure that I am not overstepping my boundaries within any minority group because I don't want to make fun of oppressed people. There are so many other amazing things we can think of instead of joking about people who are already under constant criticism every day.
You also do YouTube videos. Where do you see the difference between doing live comedy and YouTube? Where do you think lay the strengths and weaknesses of each?
When you are doing stand-up, you never know what to expect, no matter how much you plan. I always allow a level of improvising and I try to feel my audience to see what moves me. YouTube is very different because you have the ability to redo a video multiple times and to edit it. This can be a bit boring sometimes.
Youtube is more of a long build-up- it takes a while to see the results of the work you've done, but in the end it can be very rewarding. But then it is rewarding because of the feedback you receive and the community that builds up around it. My subscribers are so kind, they leave me really nice comments which is very empowering. When you are doing live comedy, you immediately see if the jokes work or not, it's more instinct while YouTube is much more of a planned process.
How is the female community of comedians supporting each other? Do you have a network of support there?
I feel more supported by my own community than I do by other comedians. And that's the way we should probably look at those things. It is very hard to first find people and then depend on the ones who work in the same profession because you might be the only one working in that profession in your area. I much rather like to get my support from the people I am surrounded by anyway. When I have done a show and my friends come to me and call me up with words like "Girl, you're funny, you got this!" – then that to me is more empowering than having to rely on people that you work with. Moreover, with supporters of the same profession, you also never know whether it is real support or if they have a competitive mindset.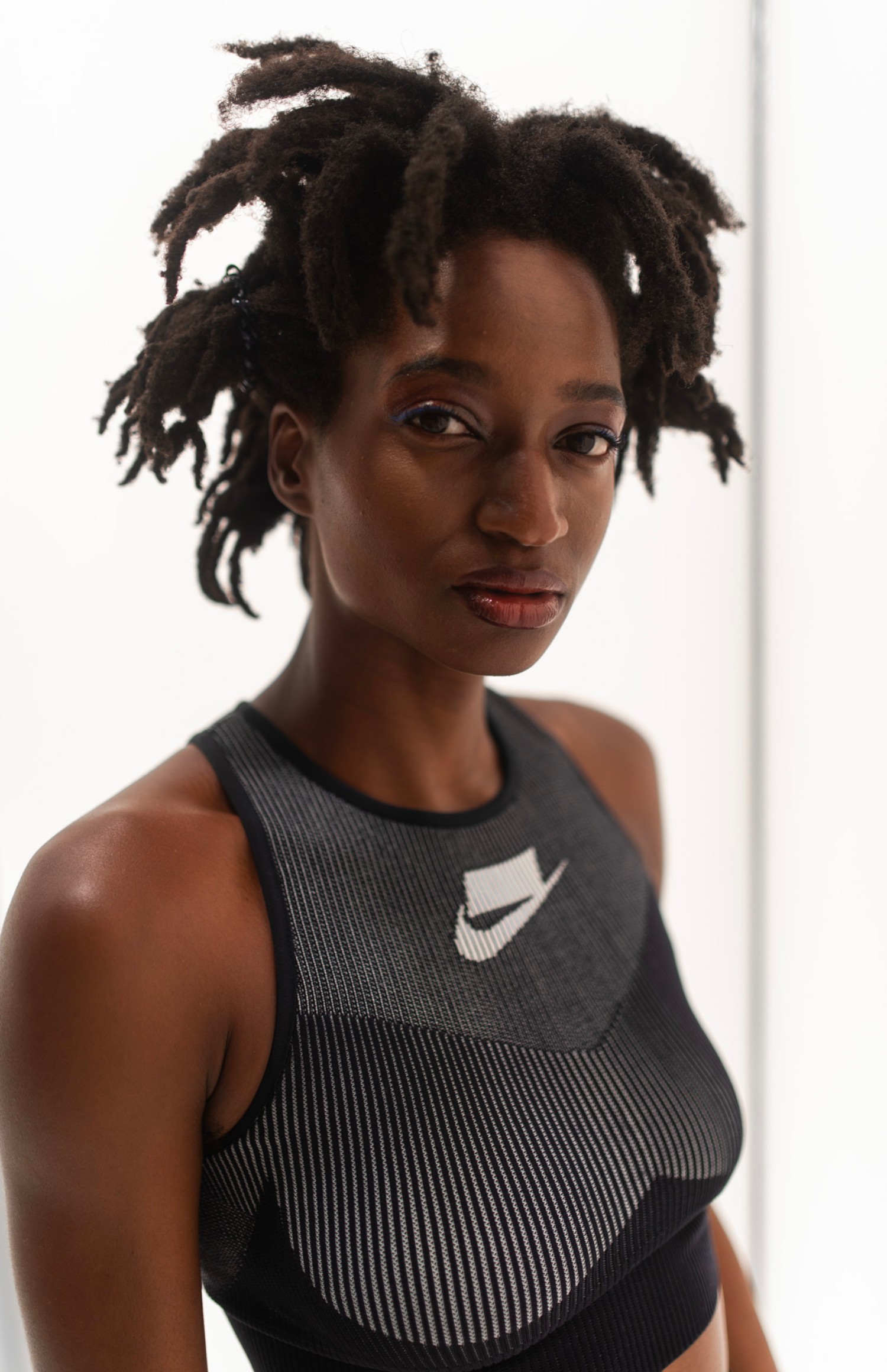 All clothing NIKE
Is there a certain place where you would wish to do a show? Maybe to reach a particular audience who you feel need to hear what you have to say?
I would love to do a tour of Germany. I'd really like to have a better understanding of Germans. And since I am learning German right now, maybe even doing a tour in German at some point. I find it really fascinating to understand cultures, especially the German culture. I want to know why they are what they are, what they feel, what they eat. The similarities and differences between being American and being German.
What were some of the toughest challenges you had to face doing what you do?
My biggest challenge is always getting out of my own way. I always try to not allow myself to doubt so much. I often wonder whether I am doing comedy correctly because the way I do it is so different from everyone else's way of doing it. But the answer to this is just fuck it! If you are feeling the way you are doing it is right, you are always doing it correctly. I just need to keep telling myself that more often.
Do you feel pressure to entertain and make your audience laugh when you are on stage?
I do feel pressure to make people laugh. But on the other hand, when you genuinely enjoy yourself, people will enjoy it too. My trick is to really focus on making sure that I feel okay, that I am having fun. Sometimes I need to isolate myself for some time before a show, this helps me  to find energy  again, so that I can have fun and my audience can have fun, too.
What advice would you give others who want to pursue similar careers?  Who also want to perform on stage and do stand-up comedy – what do you think is the best way to get into this business?
You just have to do it and then you will get into it. This same question is always coming up and everyone wants to have instructions on how you can reach for doing what you want to do, but you actually just have to do it. There will never be the right amount of persuasive efforts that is enough to assure you that everything will be working out because your mind will always try to convince you otherwise anyway. You've just got to sign yourself up and then "let go, let God", as we Southerners say. Always aim for mediocrity. Everytime I do something that I am afraid of not working out, I just aim to be mediocre. Then you will always get a little higher than what you expected. So, don't expect of yourself to be the next Kevin Hart, just try and enjoy yourself because you are doing what you wanted to do.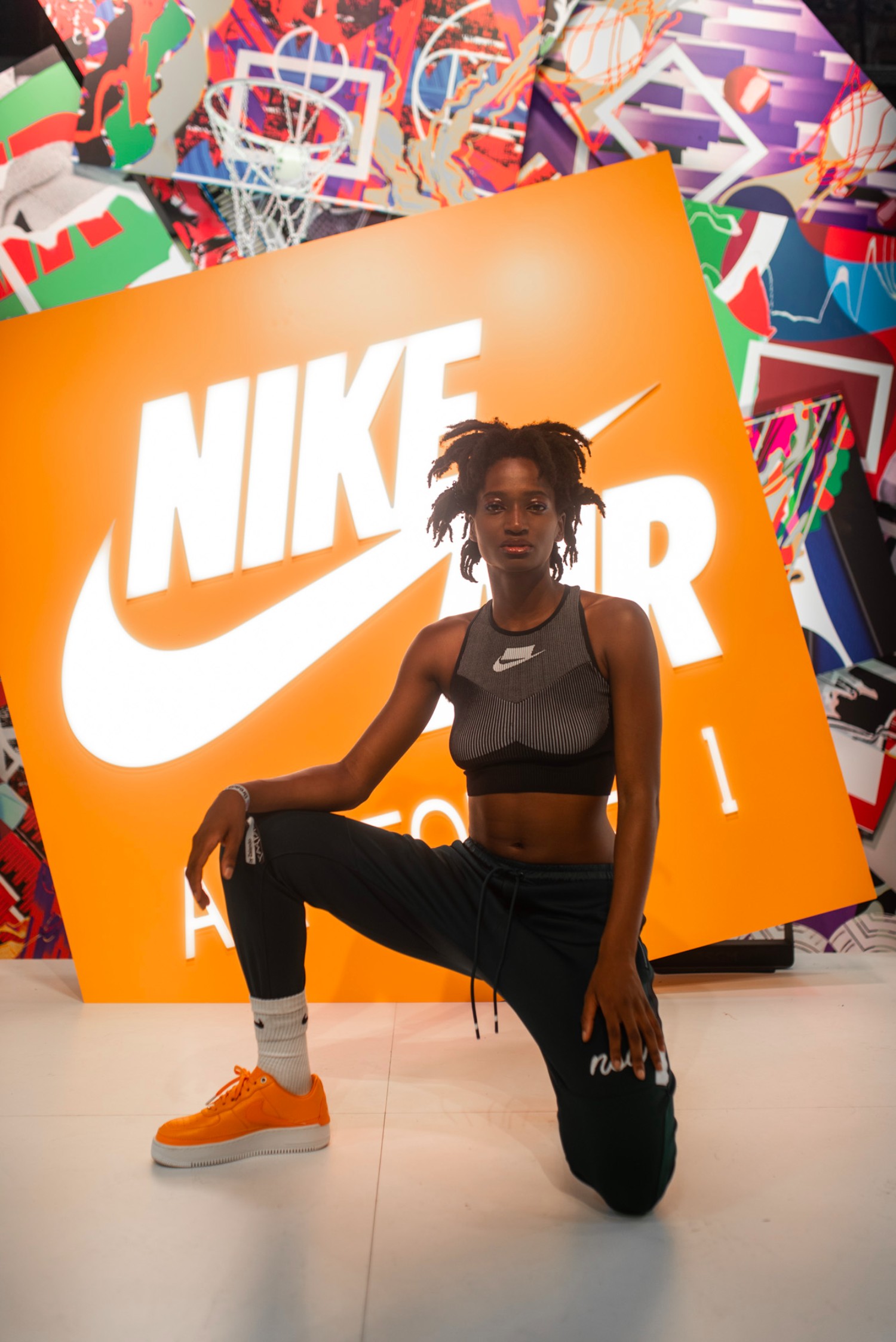 All clothing NIKE, Shoes NIKE AIR FORCE JESTER 1
When you look back, is there anything that you feel particularly proud of? 
I feel proud that I did so many jobs from which I did not know what was going to come from them. Everytime, I made a film,  recorded a YouTube video or  got on stage, I legimitely had no clue how I would make money out of it and how everything would come together in the end. There were so many people telling me to not do all of those projects, but inside of me was this feeling that I had to keep going. Even though I was feeling very messy at this time, juggling a lot all at once, but I couldn't stop. And now I am really proud that I didn't. That I kept on pursuing so many goals. I am just a genuinely curious person and when you act on curiosity, you will find success.
Speaking of curiosity – would you say that this is your most powerful tool? Or what do you think is that special force inside of you?
I think it's my will to connect, my will to understand people. It starts with curiosity and then it goes down to the will to empathise and  find the bonds that really bring us together. My aim is and has always been to unite people – uplift the people who have uplifted me, to give back to my community what they have given to me.
What can we expect from you in the future? Any plans you would like to share with us?
At the moment, I am a German Chancellor Fellow and  I am planning to make a film about black Germans in that context.
The NIKE Air Force Jester 1 Mayowa is wearing is now available at Zalando.com