« Afro: as in, born of African spirit and heritage; see also black (not always), see also rhythm and color, see also other, see also underdog. Punk: as in, rebel, opposing the simple route, imbued with a DIY ethic, looking underdog. »
The Afropunk movement started in 2003 when James Spooner debuted his documentary film exploring the lives of black youth within a white punk subculture. Two years later, he created the music and film festival together with the aim of expanding notions of blackness and reclaiming black roots in arts and especially music. Initially created as a safe space for black punks to freely express themselves and build a community with one another, Afropunk has now expanded its demographics and shifted toward a larger audience. This year, we found acts such as Miguel, Janelle Monae, Tyler The Creator, Ibeyi but also smaller breakthrough bands such as the incredible Nova Twins – proving that a musical safe haven, an all-embracing environment can as much become a home as one's permanent residence.
Still defining culture by these collective creative actions, the festival remains a blank canvas to express oneself as one sees fit. The festival stands against homophobia, transphobia, and misogyny. It is one of the few, if not the only one, where the notion black expression is written on all stages and flags. For a community who is still fighting everyday for equality and recognition in today's USA, it is a beautifully powerful space to freak out in and free oneself in all kind of ways. It is empowering and respectful of all and it is what separates Afropunk from any other festival.
Over the weekend, INDIE chatted to attendees from all corners of the African diaspora to discover what being part of Afropunk means to them and what they want to draw attention to – just in time for the release of our new HOME issue.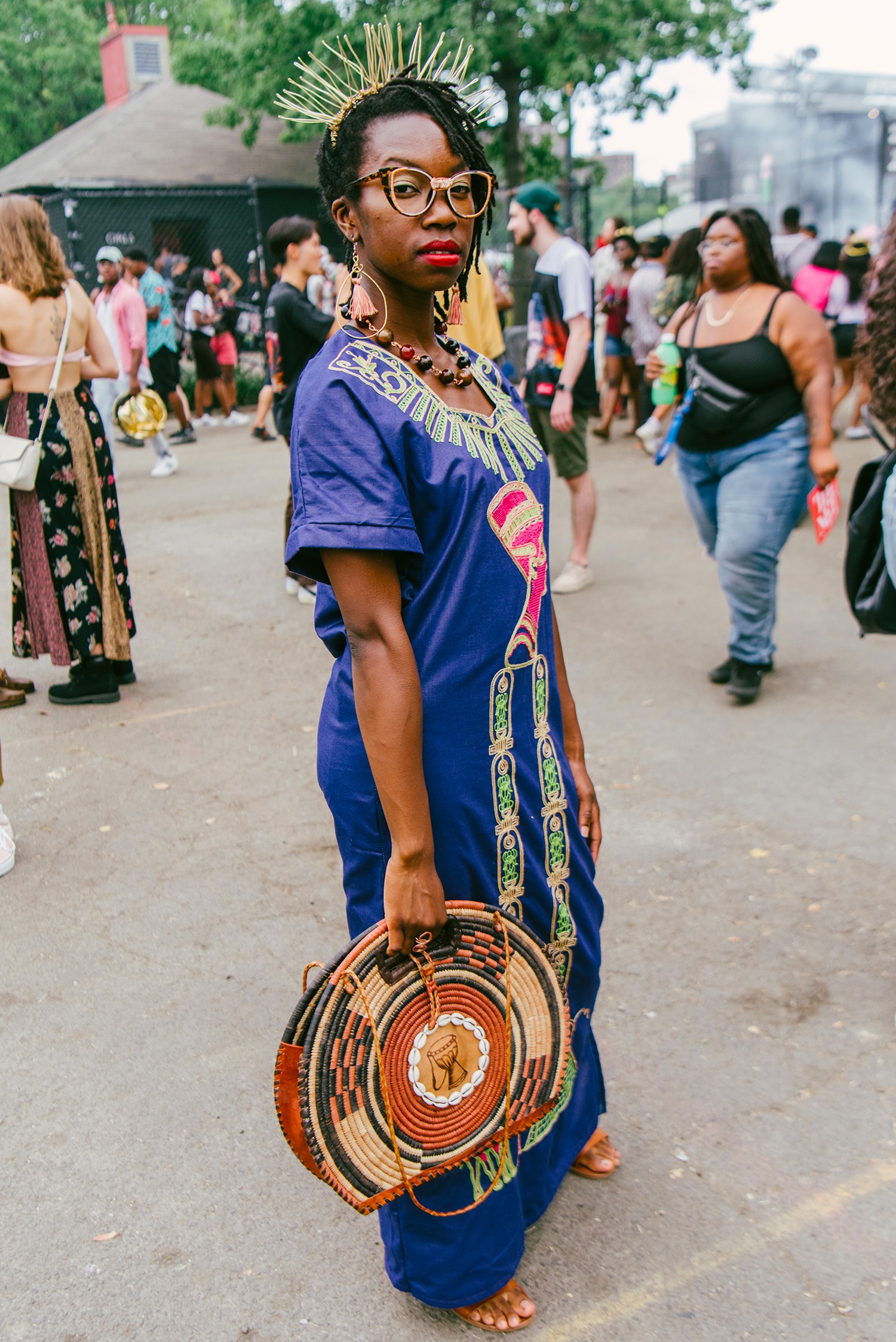 Janelle, 28 – Learning Specialist, Brooklyn
What makes Afropunk special, and a home, to you?
The most important thing to me is to preserve our beauty for ourselves. Everyone else in the world is able capitalize off of the beauty that is Blackness, from our hair to our lips, our athleticism and style of dress, our intellectual property and spirituality.
What do you fight for?
I fight for my students. The Black and Brown children I serve are the most precious gifts. This population, specifically the boys, are disproportionately labelled in school as learning disabled, defiant, and emotionally disturbed. I fight for them, knowing that the system they live in was designed so that they will become a docile generation, end up in prison or in an occupation that offers the minimum amount of mental stimulation and feeling of success.
What are your thoughts on other Black matters?
There is no life without Blackness. Ancient Egypt was a predominantly Black civilization and it is to be studied, honoured, and revered for no other reason but its legacy. From our DNA comes all other nations. Free those Black men and women who have no evidence supporting their convictions and support their reintegration into society. This population is disproportionally imprisoned, enslaved and disenfranchised by this country.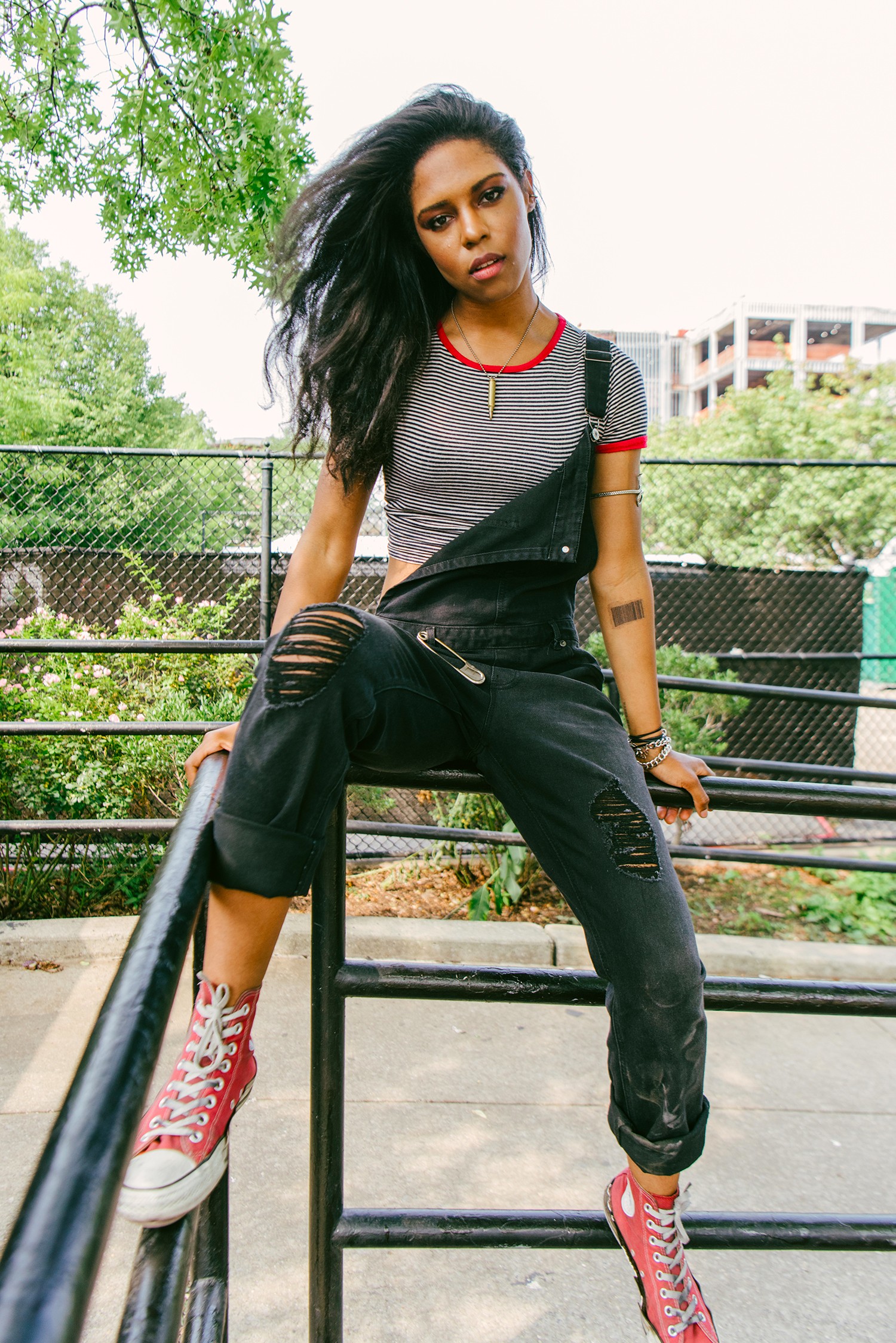 Troi Irons, 24 – Musician, LA
What makes Afropunk special, and a home, to you?
There's a small but steady community of people in the industry who care about real genuine music regardless of race and politics. I keep those people close to me even if we're not working together. It's necessary to have a safe space where you can recharge. My first impression of Afropunk is that it's a festival based around safe space. Kids are celebrating one another and celebrating art. There aren't a lot of festivals like that right now. A lot of festivals, people just go to get messed up and see DJ's. Depending on the poison of choice they may be indiscriminately touchy-feely or just obnoxious. Afropunk was fresh.
What do you fight for?
My existence is a fight. I exist outside of the racial-cultural binary that mainstream media forces down our throats. If I were making R&B music, my plight would have been easier and shorter. But I'm taking the long way to open doors for new expectations and to remind people of the music history that people love to forget.
What are your thoughts on other Black matters?
Appropriation is a big topic right now. If you've ever read a research journal, they build their study on top of research before them and someone later builds on that. The issue is when the footnotes are missing. We are living in a relatively desegregated nation so it's hard to say who created what nowadays but it sucks when people rename something and act like they're the originators. Over time the marginalized people begin to buy into the lie and stop fighting the cage.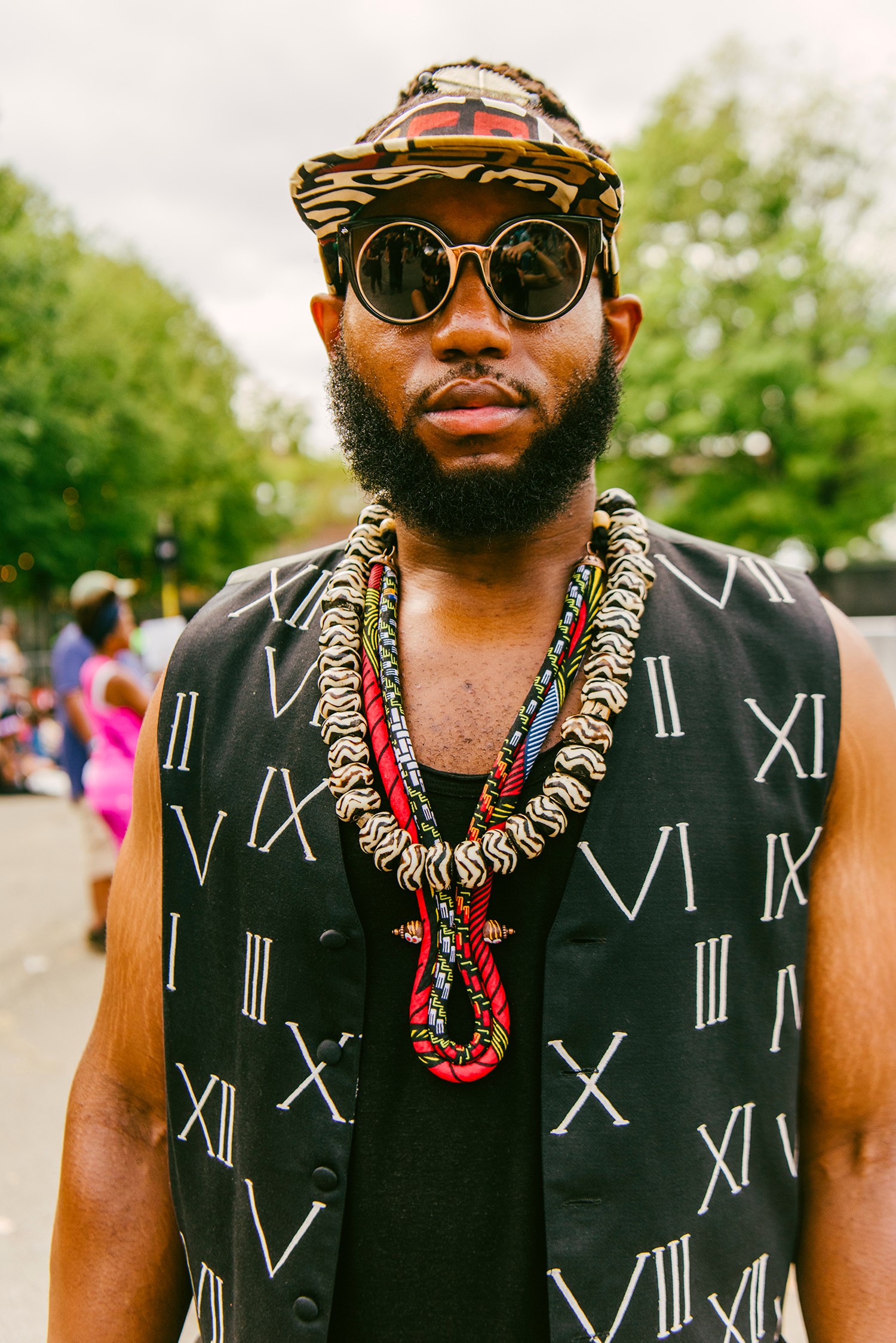 Jameel, 33 – Job Opportunity Specialist, Harlem
What makes Afropunk special, and a home, to you?
Afropunk is such an uplifting, positive and diverse experience. This was my second year attending and I feel such a sense of renewal about who I am as a black person. It was amazing to meet so many beautiful black people from all over the world come together as one without any judgement, hate or disrespect. It was wonderful to see the love and appreciation everyone had for each other's sense of style and their aesthetic. Afropunk proves we are beautiful and diverse and can come together no matter where we are from to uplift, support and love one another.
What do you fight for?
I am an Associate Job Opportunity Specialist for Social Services. I fight for those who are living in poverty. Those people who need assistance finding employment and food to feed their families. It is important for me to help those who need support and encouragement. Society tends to forget them and I work hard daily to assist those who want a better life for themselves and their families. Another important thing to me is education for our black youth. Society has put so many negative labels on them and teaches them that they won't have a successful future like their white counterparts. I believe it is important that as the black community, we teach and empower our youth to be more than what society expects them to be. Black youth have that stigma placed on them that they will be nothing more than just unemployed, uneducated and criminals. They have to be taught that they are worthy, intelligent and have the potential to make positive changes in this world.
What are your thoughts on other Black matters?
We have survived slavery and Jim Crow. We fought for respect and equal rights during the Civil Rights Movement. We found a new sense of self during the Black Power Movement and today we are still fighting against police brutality, inequality and injustice. Black will continue to let the world know that Black Lives does Matter because we are strong, empowered and resilient.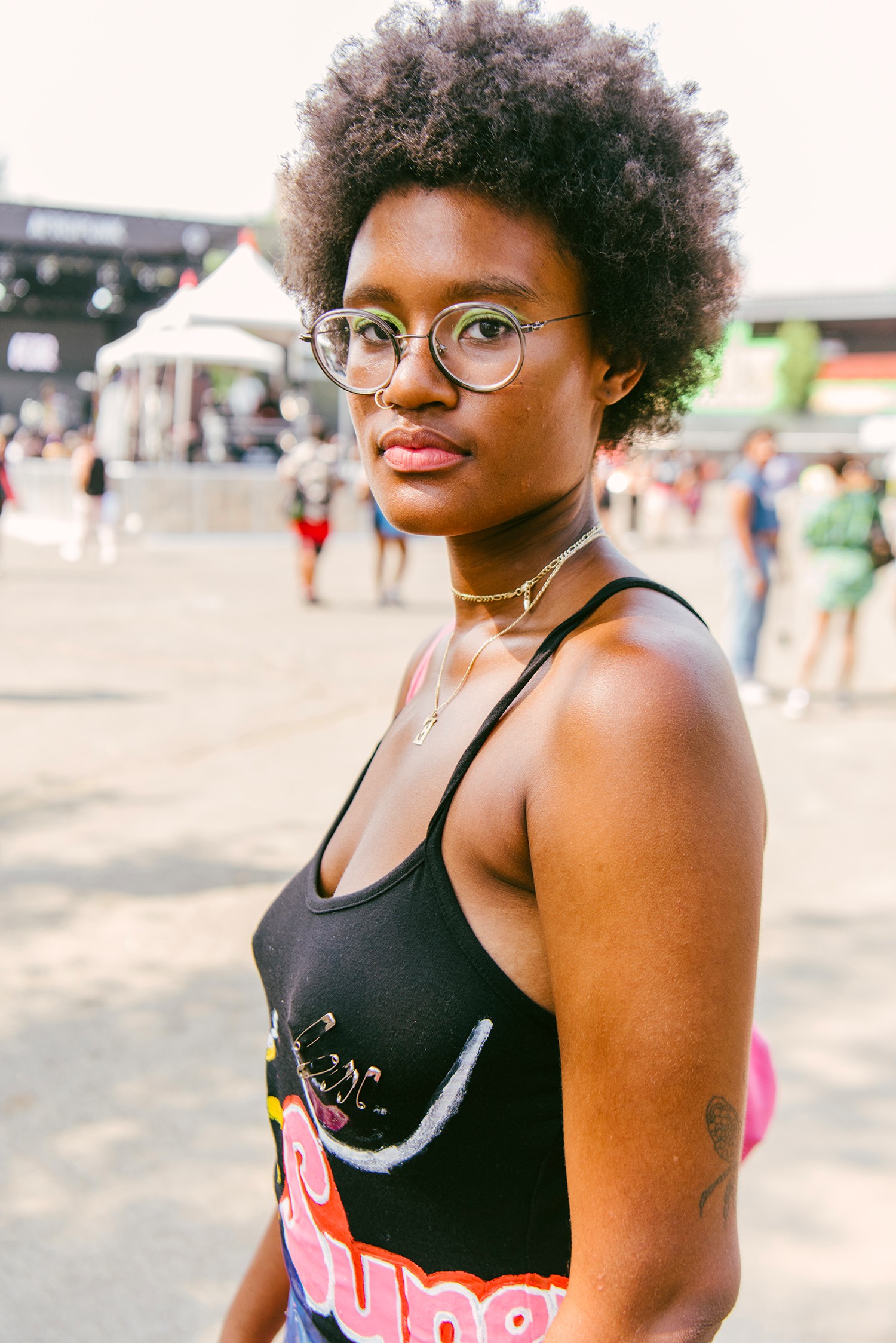 Emily, 19 – Visual Artist, Queens
What makes Afropunk special, and a home, to you?
Being able to have a safe space for black people to attend and interact within is very important to building a strong community. It's important to have in depth discussions about the problems happening in our community and ways of reaching resolutions with people that look like us and are for us. I can see relating to so many people that come to this festival. We get a chance to celebrate black lives and the excellence that we exude. It shouldn't be anything less than that.
What do you fight for?
I fight for expression, I fight for the liberation of people of colour being able to speak up and resist the problems of racism and a system that's biased and discriminatory. Expression being of that within paintings, poetry, music etc. I want black people to know that it is possible to achieve what they want to do even if obstacles might emerge. I fight for spaces where black bodies feel protected and safe to be whom they are without any apprehension. My hope is to have more places where we can unite and collaborate with our greatness in order to make a difference. Being able to surround myself with talented people of colour shows that I can do anything I really work hard for. Being able to see creatives of colour making dreams that they strived for when they were around my age makes me want to keep going within my own artistry.
What are your thoughts on other Black matters?
Being that history repeats itself and matters that were presented decades ago still stay true today. It's important to continue to still fight for unjust actions. Being apart of the millennial generation it is vital to use this time to our advantage with the platforms we can create for ourselves. We have ways to command power and being that I wasn't alive during the civil rights movement, I still think that it is our generation duty to carry out what the people before us fought for. I fight in ways of expressing political issues and current events within my arts, going out walking the streets and protesting problems within our community that arises. We create legacy by what we leave on this earth for the next generation to see. It carries inspiration and motivates others to resist and fight for what they/we believe in.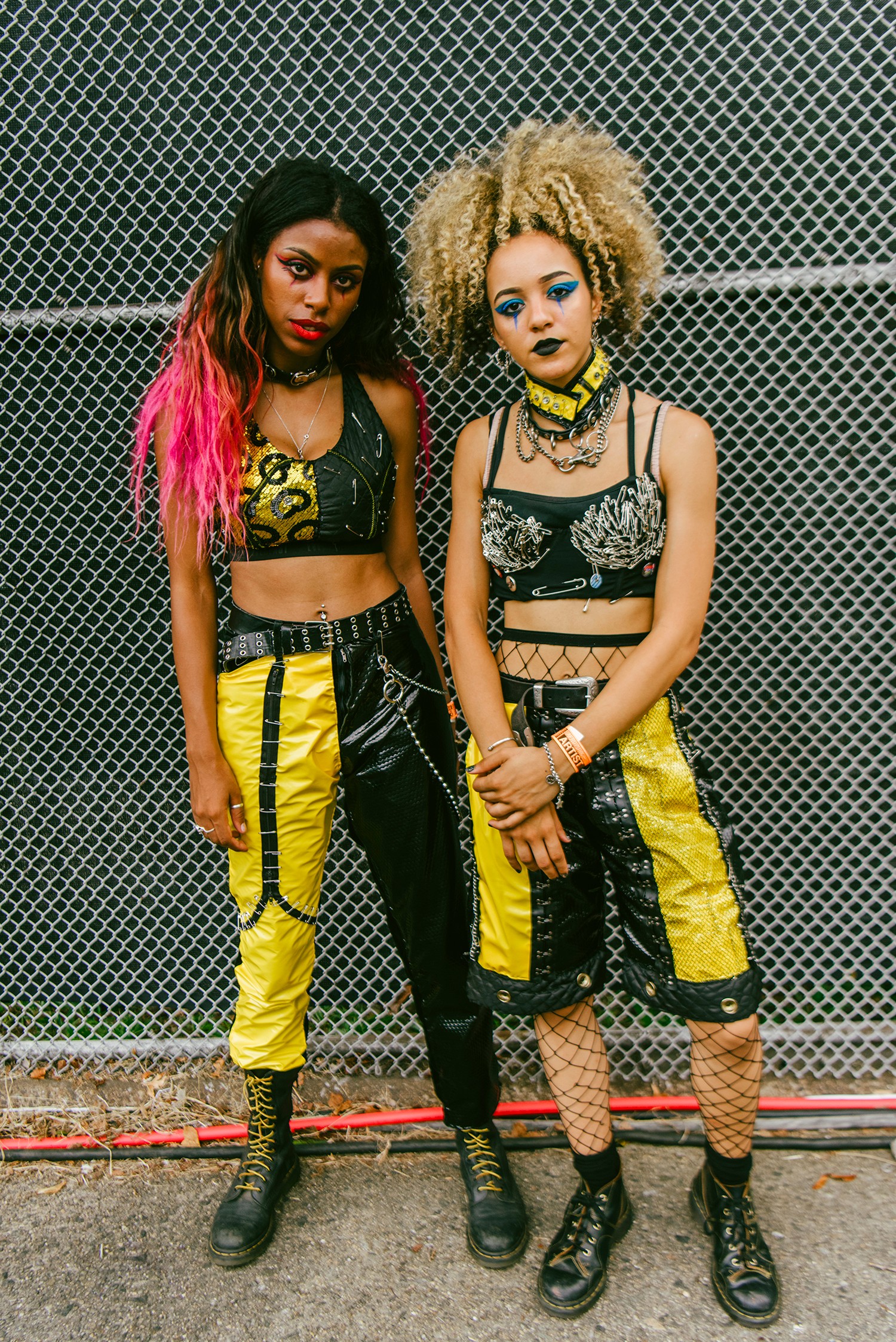 Nova Twins, Georgia & Amy – musicians
What makes Afropunk special, and a home, to you?
Amy: It is an important platform for people of colour to be able to express themselves and feel comfortable in any area that they choose without judgment. People of colour are more than just one thing. In rock music it is less diverse, so it is nice for us to bring our music to such a festival, and for us to discover new things within the community. It is such a welcoming and awakening moment stepping into that festival, it completely defies how the media portrays people of colour. Yes… we are more than just hip hop and R&B.
Georgia: What I love about Afropunk is the sense of unity that you feel as soon as you step inside the Festival. It brings out your true self, you feel fearless and beautifully free.
What do you fight for?
Georgia: We fight for breaking the barriers that society has put around women of colour. Playing Punk/Rock music, we want to be another face in which young women of colour can relate to and show them that they don't have to just be pop/R&B singers. You can rock out with an instrument too. We want to encourage them to be fearless in whatever they want to be whether that's a scientist, astronaut, sound engineer, anything… You've just got to go for it.
Amy: We fight for the underdogs, and the beautifully weird and wonderful.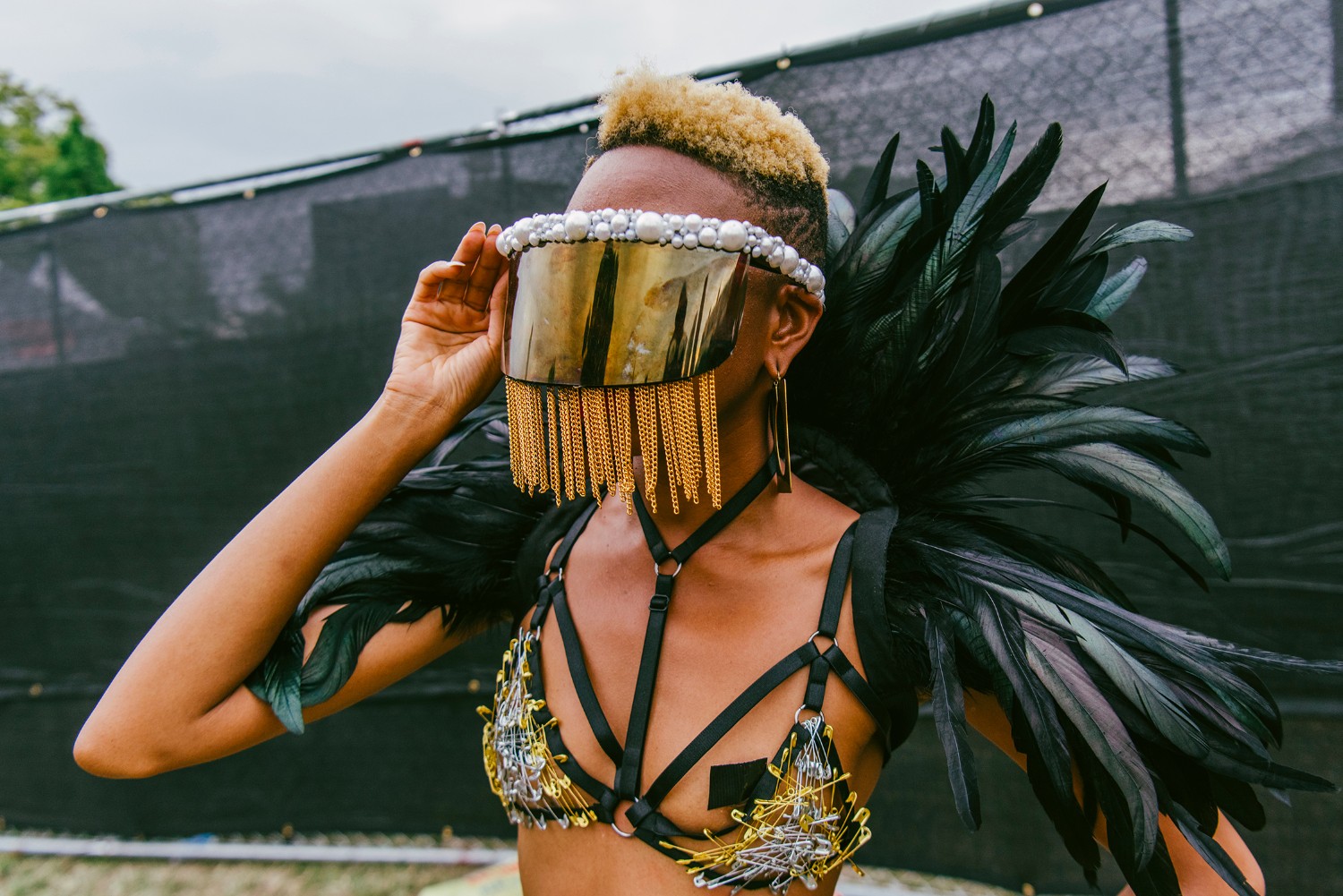 Vicrina, 27 – TV Host /Writer, Brooklyn
What makes Afropunk special, and a home, to you?
I believe events such as Afropunk are important as they celebrate the beauty and culture of people that have been marginalised and oppressed. It's beautiful to see how resilient, powerful and creative we are despite society efforts to silence us and make us feel inferior. We come together as a collective and celebrate ourselves.
What do you fight for?
I currently stand for supporting Black businesses. Gentrification is rapidly displacing people of colour in major cities across America. Whenever I see a Black owned business, I make sure to support it. They are necessary amongst the changing climate. Having Black owned businesses in predominantly Black areas is important as they understand the needs of the community and are able to give back in ways that will benefit and support the neighbourhood. It is extremely difficult for Black business owners to get access to the resources necessary to start a company because the way the system is designed. Seeing a Black entrepreneur overcome those hurdles and become a staple in the community makes me happy.
What are your thoughts on other black matters?
I am always puzzled by the fact that Black people are constantly vilified by society, but yet the same culture is stolen by those who condemned it in the first place. The words, fashion and mannerisms that are often referred to as "ghetto", ends up being the next big trend and suddenly "widely acceptable" without ever giving credit to the source. Everyone wants to be Black until it is time to be Black. Our art and way of life have deeply penetrated the fabric of society and the majority of people outside of the race willingly participate without even considering or taking the time to discover the roots. It has taken centuries, along with ceaseless acts of rebellion, to keep certain traditions and values alive despite being displaced and the numerous attempts to eradicate our essence. With that being said, I would appreciate if our culture could simply be admired instead of hijacked and misappropriated.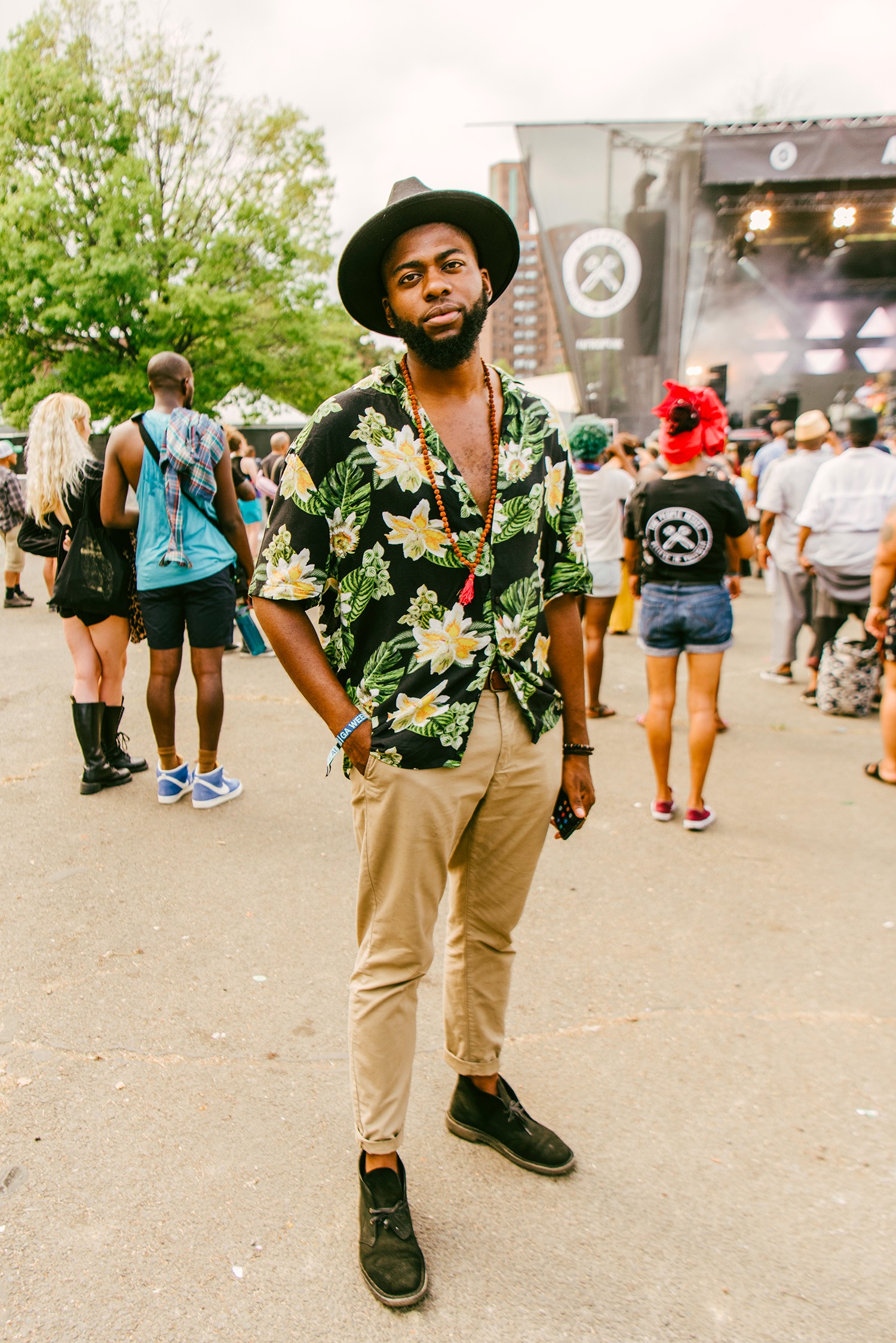 Joshua, 33 – Entrepreneur/Business Professor, Harlem
What makes Afropunk special, and a home, to you?
It is a liberating experience. It gives all that attend a space to express themselves freely and unapologetically, without the societal construct of what it is to be normal. Afropunk is visually, tearing down all stereotypes that exist globally for the African Diaspora. The different attires, especially the African fusion mixed with all type of unheard, could only be ingenious. The commerce part is the biggest interest for me, l love to see a bunch of amazing entrepreneurs pushing to get that dollar and the involvement of some major brands.
What do you fight for?
The most important thing to fight for is Freedom.
What are your thoughts on other Black matters?
Even though our society has progressed tremendously, there are still issues that blacks continue to fight for, whether it be a policy that is just within the criminal justice system or giving blacks the opportunity to thrive in commerce. We've come a long way, but we still have so far to go.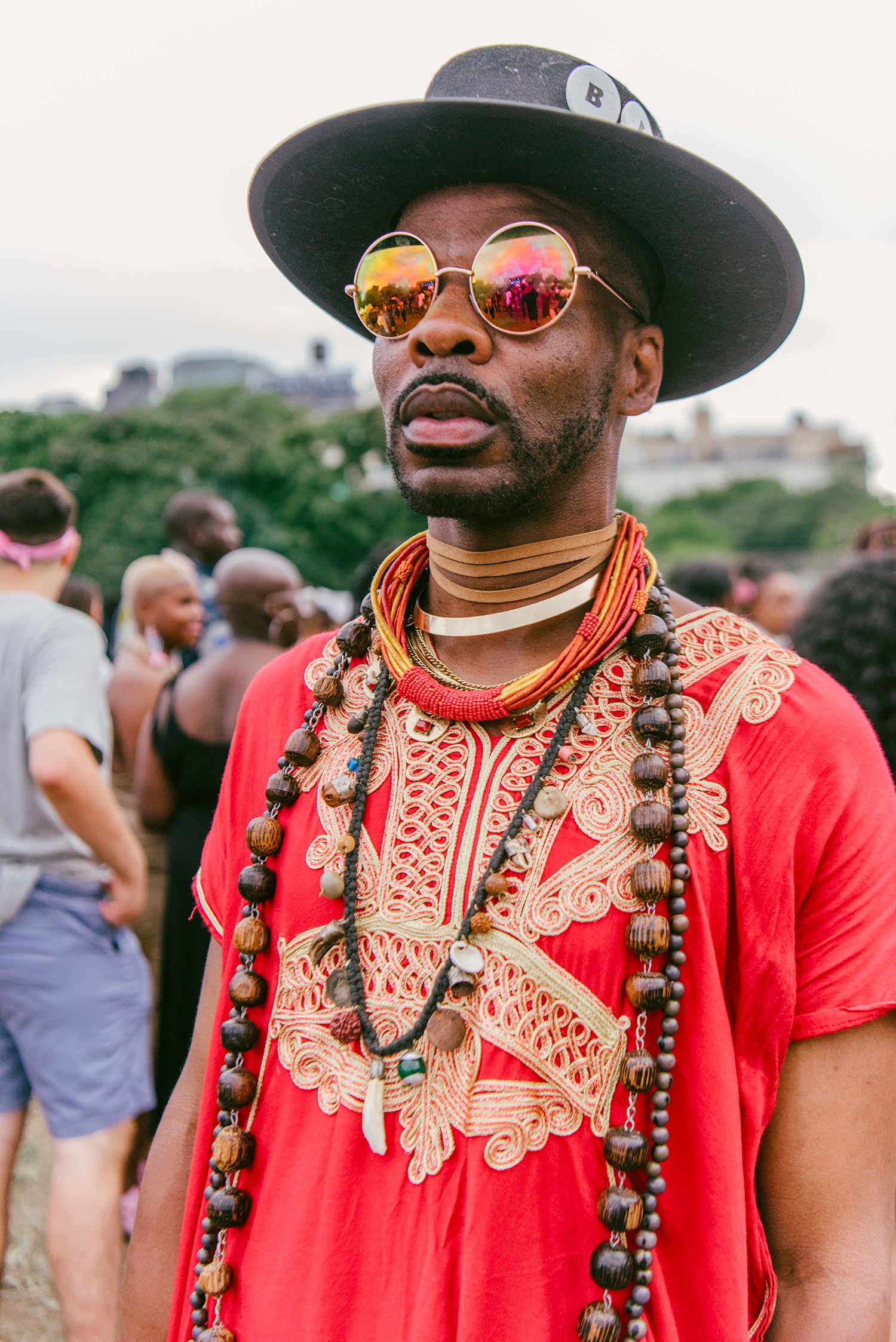 Maurice, 37 – Job Coach for former prisoners, Manhattan
What makes Afropunk special, and a home, to you?
Afropunk is a space of acceptance and Unity and a platform that allows our community to be seen in a beautiful light from all walks of life. The love within that festival was unmatched. It truly was a beautiful experience. I felt proud and enjoyed the embraces that I experienced and saw. There was so much passion throughout the festival.
What do you fight for?
I fight for reducing mass incarceration. My job is to assist men and women coming home from prison to navigate back into the world of work. Another thing that is important to me is to see more support of one another within the Black community, for example supporting our local businesses.
What are your thoughts on other Black matters?
In terms of appropriation. I would love to see our community given more credit where credit is due. It is one thing to be inspired by our community, but it is another to take from our community. I would like to see our community acknowledged more for the various contributions we have made in music, art, literature and fashion. I feel that it's truly important for current and future generations to have a full understanding of our history, community and those before us who have paved the way in so many ways so we can continue to develop leaders in our current communities to help push us forward. I am so proud of so many of our young men and women stepping up and becoming strong leaders and role models in our communities.
Photography GAELLE BERI