Fashion can be a right solipsist sometimes, but designers like Laura and Deanna Fanning give it a kiss of fresh, self-effacing air. They speak with a warm, melodic tranquillity, and express what it is they really think by interrogating their ideas a few times over before, or while speaking. The twins formed a partnership during their MA Fashion at Central Saint Martins, and quickly realised it was something special they wanted to build on. Taking the all-encompassing power of the woman they're currently designing around, they concoct a divergent cocktail of pieces involving glamour, unapologetic femininity, and a dash of futuristic warrior to empower from the tribulations of life.
To "propose an approach to a feminine body" is at the crux of their practice, and their subversive concept of femininity certainly squashes any superficial tropes. While the two now live in London, their upbringing in Melbourne suburbia made a lasting impact. Talk of the local casino and allure of Louis Vuitton-clad punters were two such shapeshifters.
From Berlin, we connect over a conference call in their Wood Green studio in London. Deanna is calmly sitting there in a black crew neck jumper as she joins the call, and in the background is the shuffling of Laura and the gentle waft of paper as she crams to finish the patterns before the pattern cutter arrives. She's against the clock but pens a few thoughts down later. With a show at London Fashion Week on the horizon next month, they're working on a new collection of textural knits melding with wovens, but for now, they focus on the diverse presentation of women, and how it feels to be on the receiving end.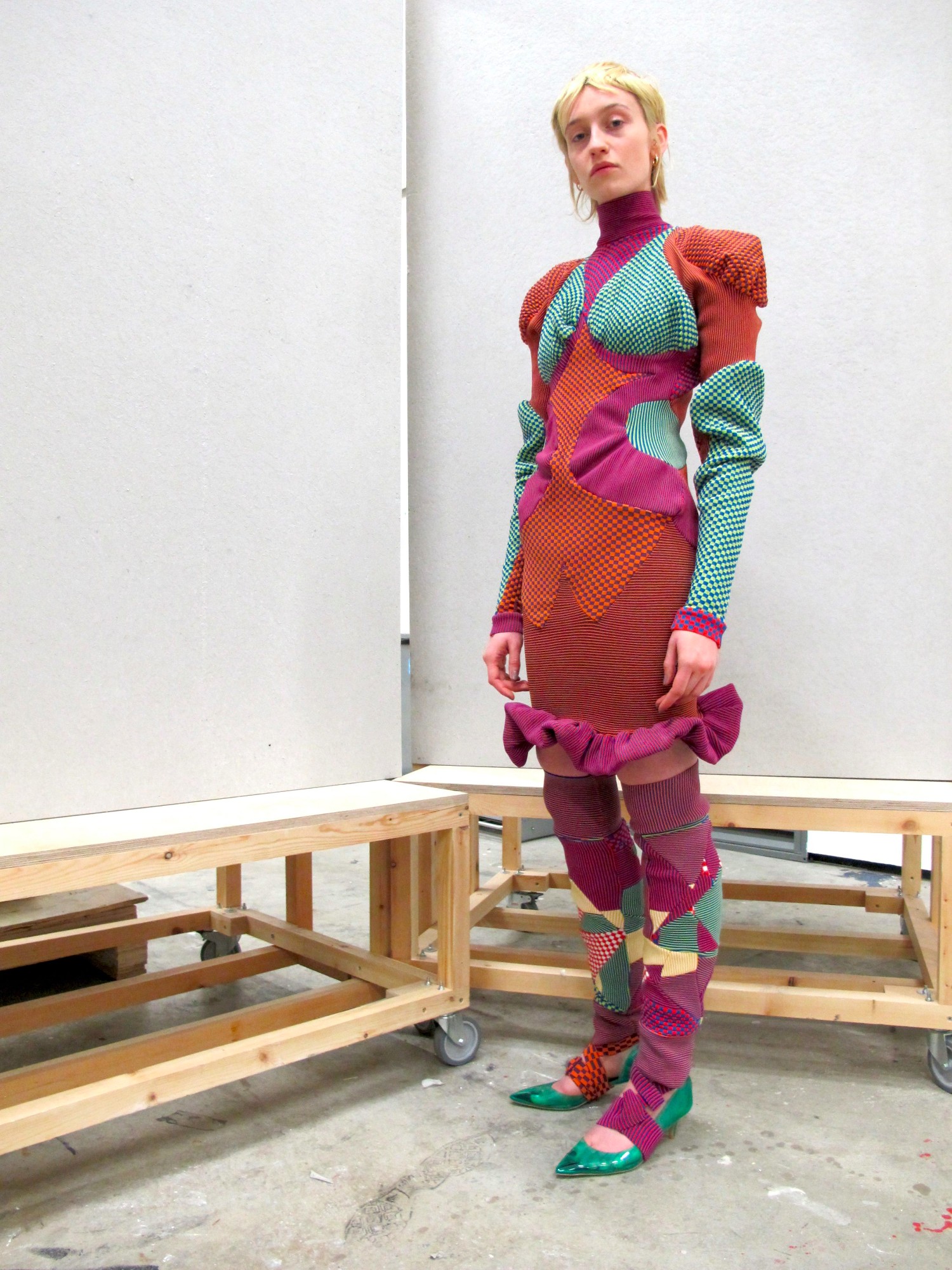 Let's start with fashion, what do you love about it?
Deanna Fanning: I like that it always proposes an alternative to what's present. I think it's a way of perceiving the future.
Laura Fanning: That it visually builds a language for the wearer and proposes a new image in presentation.
So how does the initial creative process work between the two of you?
D: It's a lot of visual research we talk about. We start with an idea of what this woman is and how we would like this woman to be and how we would like this woman to appear. Do we want her to appear strong? Do we want her to appear glamorous? Do we want her to appear futuristic? So it might be like 'ohh, I like this period of fashion' and maybe I'll have seen this amazing movie that was also from that period and also touched on futurism. I'm quite into science fiction so I'll be reading and might find a mindset or something that we'll talk about and visually interpret. But we do work separately as well, so I feel that's another layer.
How do you think Australia influences your work and you as individuals and designers?
D: I don't have… the hang-ups about particular ways on how to wear things. Because Australia is not so formal. I know that lots of people have that glamorous grandmother, but I think in our mothers, they were a lot more casual and practical. Maybe that would hold back some Europeans, conditionally, or the stigma they have about putting certain things together. But maybe my work suffers because I don't have the same kind of experience as those really formal outfits.
I feel that being in Australia, fashion is not as normal as it is in Europe, so I was open to using simulation and imagining what things were like because you never see the real items. Like I always say to people… when I was growing up, as a teenager, Louis Vuitton wasn't normal, but there was one Louis Vuitton and it was in the casino. You know what I mean? It wasn't deemed as something covetable. It's kind of like what people at the casino would buy [laughs]. But now I like Louis Vuitton, well, the stuff they make.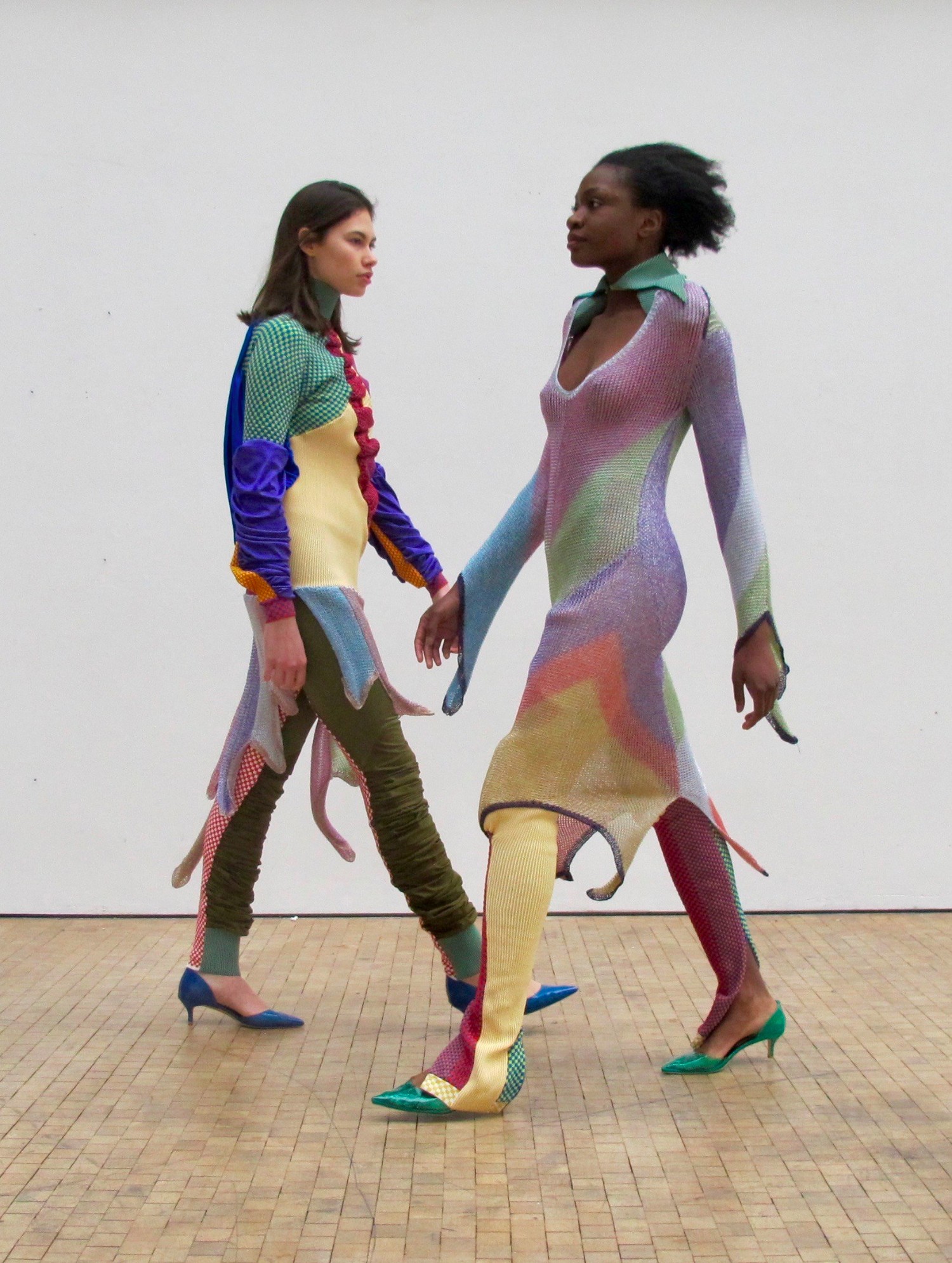 Some of the references for your Master's collection are sci-fi films from the 60s like Barbarella and the 10th Victim. What was it that drew you to those?
D: There's such a contention around the idea of a glamorous woman. Because I feel, as a word, perhaps it resonates differently with a foreigner as it does for an English person. Here, I feel like talking to people, when you mention a glamorous woman they think of… Is it a page three or a page six girl? One of those tabloid girls. And it's a really chesty girl that maybe has fake boobs and too much make-up on and they're posing half naked.
But now when I think about a glamorous woman, I would describe an epic, strong, powerful… intellect. An intellectual woman. And that to me is interesting. So I just started watching all these films from this period and those women felt glamorous to me. I don't like that idea that to be feminine you can't be powerful, so I really like the idea that you can be feminine and glamorous, and look sexy, but still be strong and intellectual.
For me, your work subverts some of those feminine tropes you mentioned. You've also used the term "aggressively feminine" before which I really like, can you explain this?
D: I think that femininity can sometimes be interpreted as a weakness. So if someone said 'ohh that's really feminine,' you think 'oh is that flowy? Does that mean dainty?' Femininity in that context reminds me of Ophelia in the painting or from Shakespeare: drowning in her billowy dress. So when I think of aggressive femininity, I think about the opposite – not being ashamed of your physical presence, making the most of it, and emphasising the best traits of your anatomy.
L: Yes, in that an uber-feminine appearance can also be a very strong representation of female qualities, and is an unapologetic presentation of the feminine.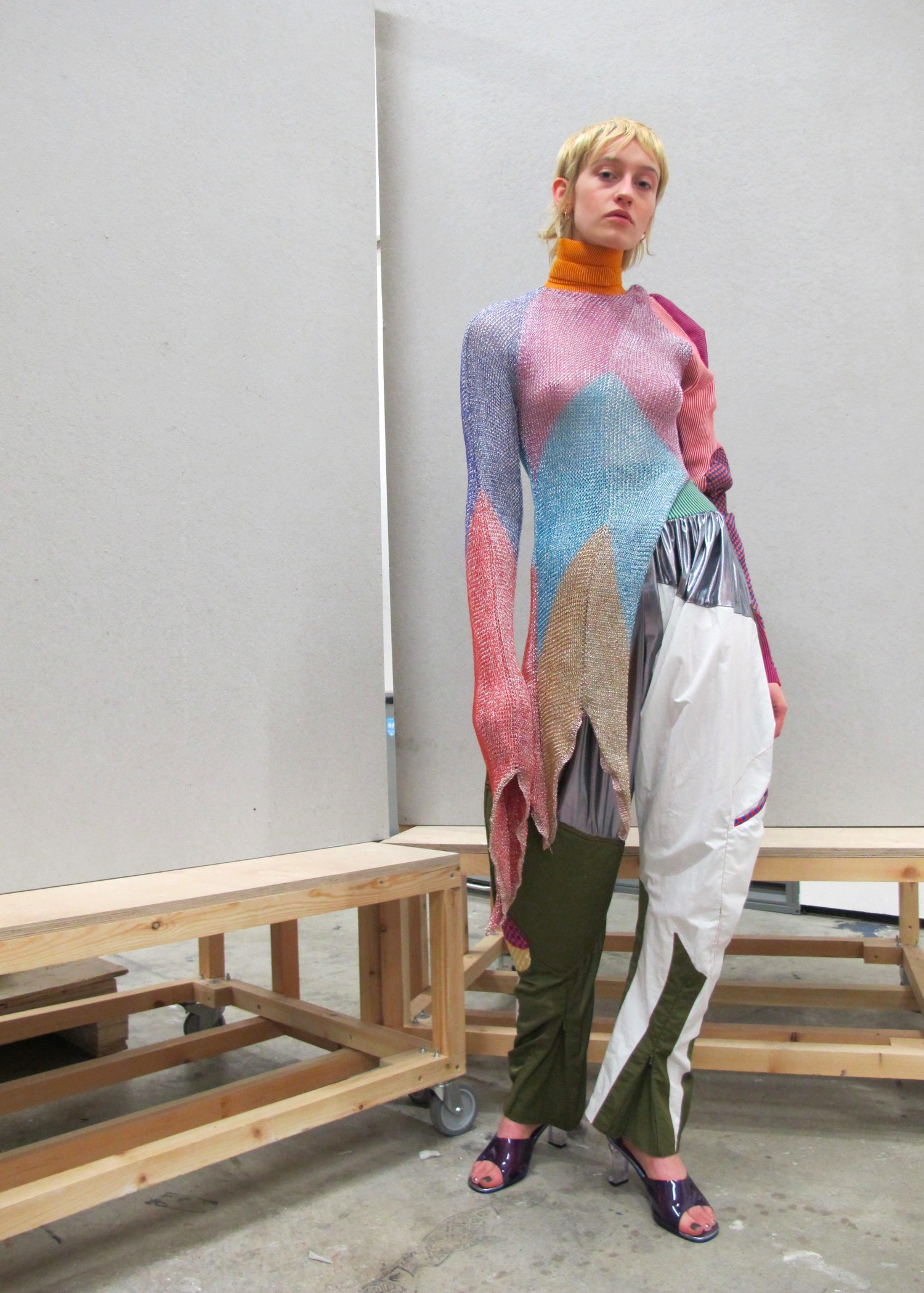 You have a unique relationship because you are twins and close friends and working together, do you think having intimacy is important to understanding people, and more specifically, femininity?
L: No, I don't think as a woman you have to be intimate in order to understand femininity, because femininity is such a diverse language and is heavily impacted upon various cultural practices and its theoretical responses to feminine tropes whether that be from commodity culture, the arts or historically through religion or sexuality. We are proposing an approach to a feminine body and the wearer can embrace or reject this. Either way, I hope it allows for conversation about the presentation of women.
Previously you've touched on presenting your collection, or ideas, as women. You used the term "outsiders", can you expand on this?
D: I feel like fashion can be very shallow and if you don't look a certain way or act a certain way people just assume you're not as talented as someone else. And I feel like that bias, unfortunately, is even worse for women.
I always ask 'why was it always ok for McQueen to wear – obviously he was an amazing designer beyond all belief –, but wear jeans and a t-shirt? And I feel like when guys wear jeans and a t-shirt, and they're an amazing designer, no one ever calls it out. Then if a girl is a designer, it's like 'oh yeah, but I don't know if she's that good because she doesn't look that great – she's wearing jeans and a t-shirt.' I feel like that kind of attitude was very apparent at uni.
If you looked 'boring,' people thought you're probably going to be boring or have nothing to say. But I feel like I'm too old – I'm nearly 30 – I can't like, you know, shave my head down the middle and wear a bikini with a belly piercing and 20 tattoos and then put a piece of Comme on with something like… Do you know what I mean? I do wear Comme, but I just wear it the way I wear it.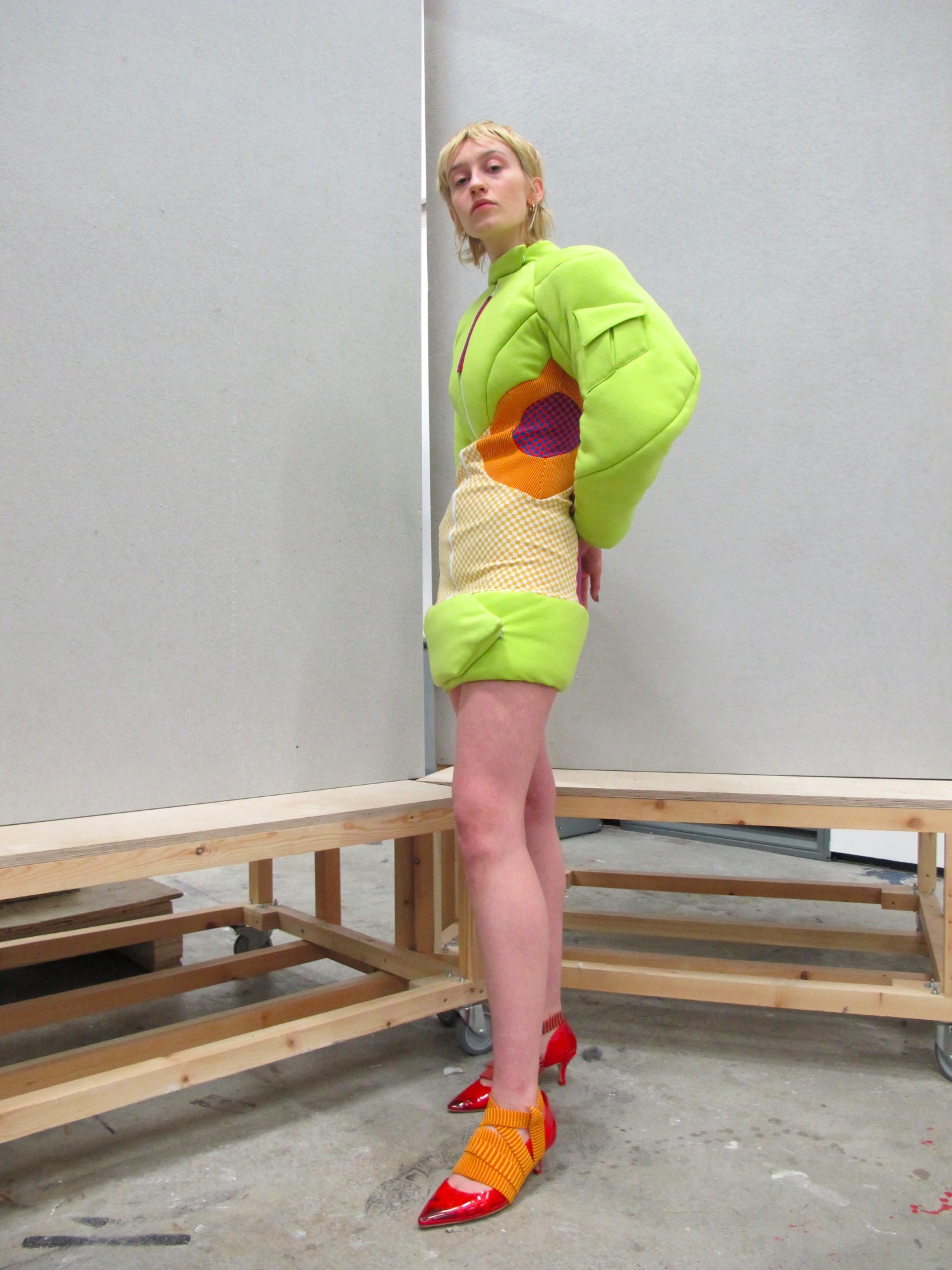 Where do you think this criticism stems from in people?
D: Gosh, I don't know. I've tried to wrap my head around it so many times but it just leaves me with these hypothetical questions that make me feel really, really distressed about being in fashion.
But I think I've been really upset the past couple of months because it's dawned on me that after graduating, I've realized… that there are lots of superficial people in really high places. And the play on the caricature of The Devil Wears Prada is actually right.
L: It's too sinister, I try not to think about it.
What would you like to see change most in the industry?
D: I think the way people treat each other. People are also still really badly paid in fashion, and people are really jealous in fashion, but I don't know if that's necessarily just fashion. It's probably most creative industries. But yeah, I think the way people treat each other. That would be a great place to start.
L: Ditto.
All images: LAURA DEANNA FANNING