Over the last three decades, graffiti has carved its own distinct corner in the cultural landscape. However, until recently India had still been seemingly untouched by this far-reaching movement. When female artist Kajal Singh was introduced to graffiti eight years ago, there were few people pursuing the art form—and no women. Despite graffiti being notorious for its aggressive and male-dominated scene, Singh's fascination led her to pursue it as a career and she has since joined street art festivals around the world and worked on projects to empower women, including her collaboration with Nike to support girls in sports.
INDIE sat down with the 24-year-old to learn more about her journey to this creative outlet and how her gentle and shy character found its place in an otherwise misogynistic street art culture.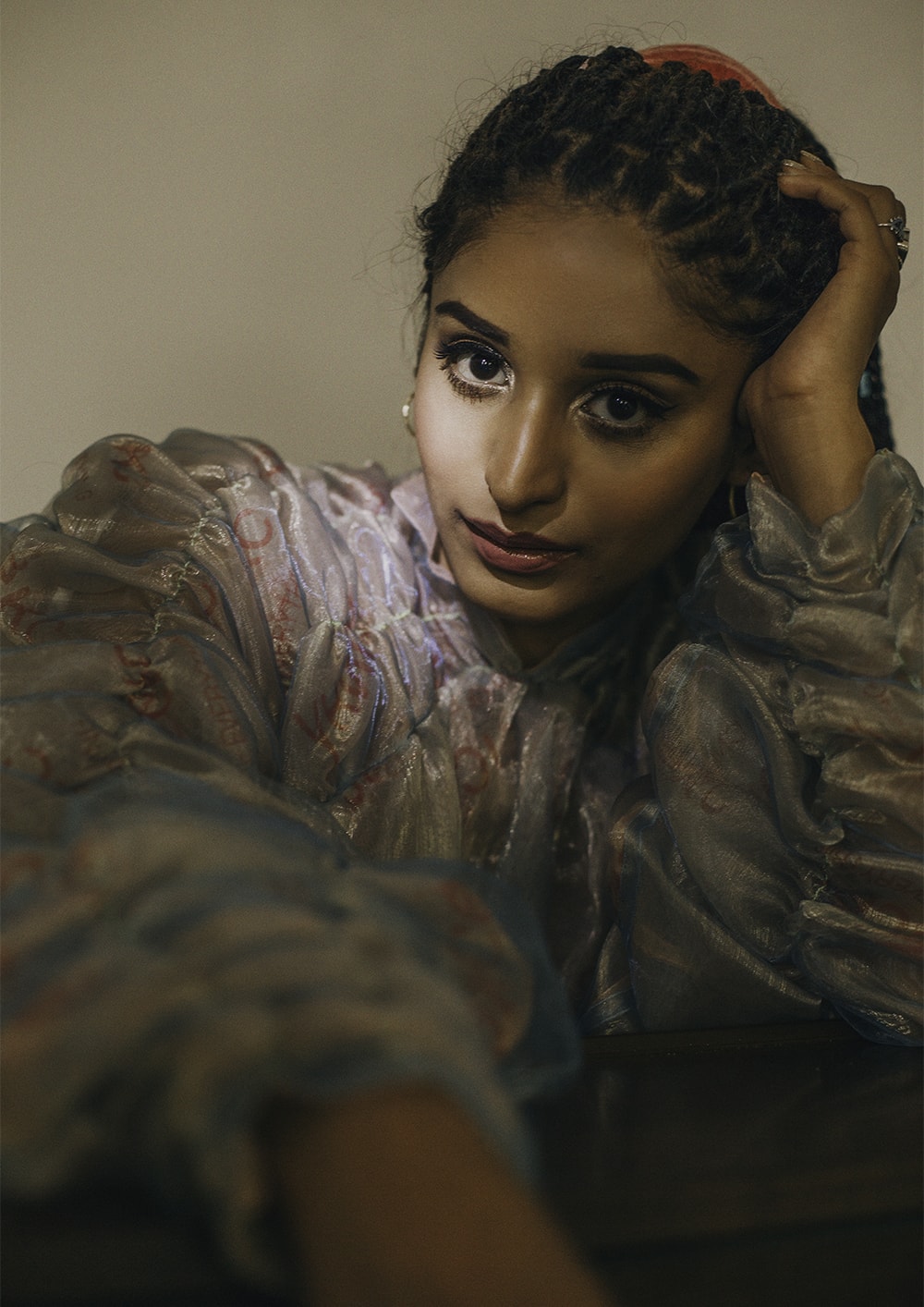 Dress LAURA GERTE
Kajal, you go by the pseudonym Dizy-1 – where does the name come from?
I realised that being one of the first graffiti artists in India, especially a woman, would be a madness of some sort. So I decided to go with the word Dizzy which is urban slang for "Mad crazy".
How were you introduced to graffiti when there were rarely any other artists around?
I first experienced street art in New Delhi, after my family settled down in the city. Up until then, we had been travelling around India, living in these very closed army communities.
Delhi is a big city, bursting with impressions. When I arrived I naturally got exposed to a lot of new and different things. My younger brother and I had been into breakdancing since 2008, and it was through dance that we got to explore other parts of the hip-hop scene. Foreign artists would come to India to tag and paint different spots in the city, which was how we discovered that graffiti was an art form within hip-hop. I instantly fell in love with its expressiveness and the methods of painting.
Also, our mother is an artist, so creativity was always in our blood. I have been doing watercolour and acrylic paintings since I was a kid, so for me, it was easier transitioning into graffiti than break dance, especially since I am more of an introverted person and therefore always found it easier to be behind the canvas.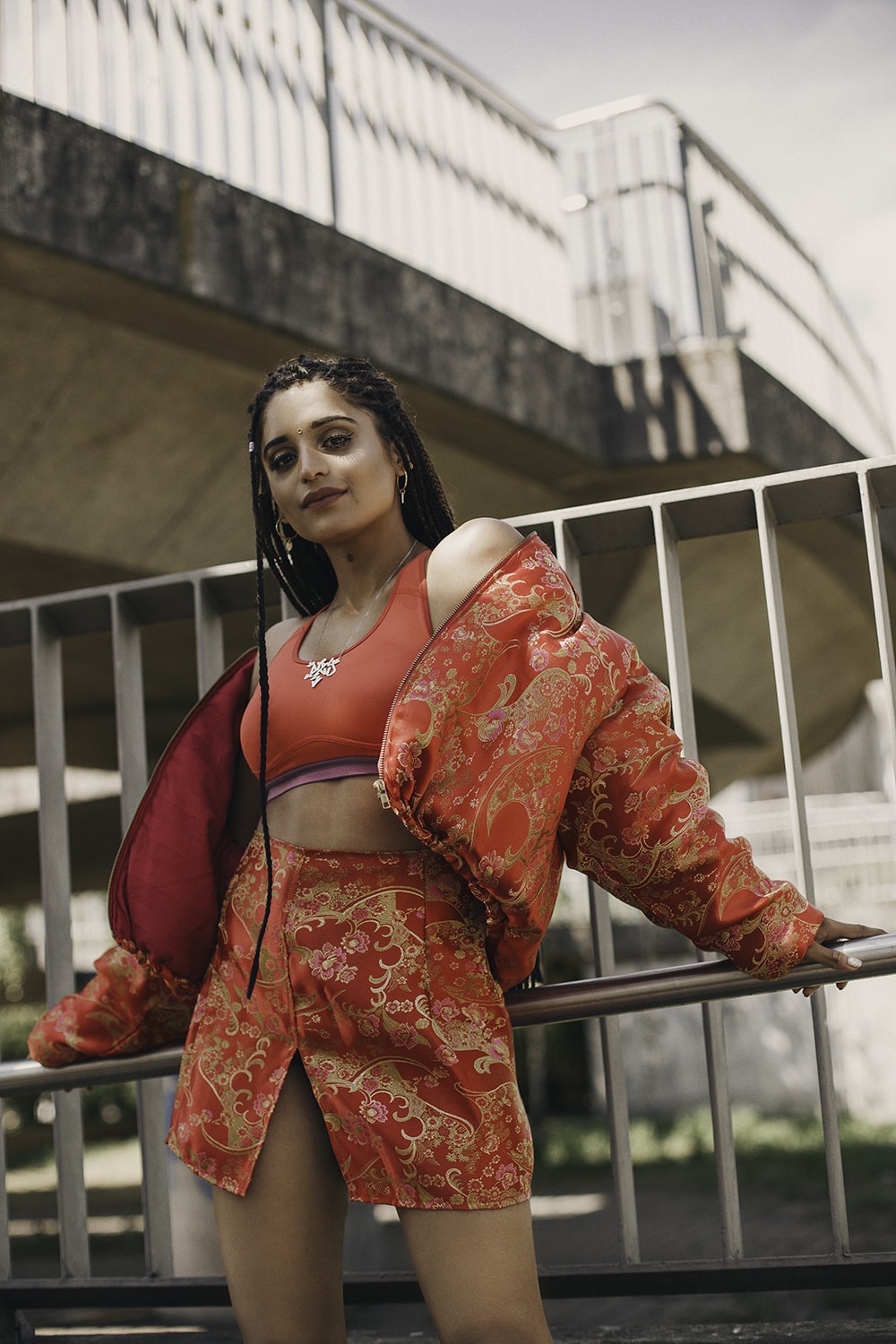 Bomber and skirt MELISA MINCA, Sports bra NIKE
Being one of the first people to explore graffiti in India, how did you learn to do it?
Basically, it's learning by doing. Early on though, my brother and I were lucky to be introduced to an old-school graffiti artist from New York going by the moniker "Zulu King Slone." He saw how passionate we were and began teaching us basic graffiti knowledge over Skype. These lessons were of big help since graffiti was completely new in India, we had no clue about the theoretical aspect. He was actually quite strict, and I don't think it was much fun for him, but we felt blessed. (laughs)
Graffiti is quite an expensive and luxurious art form. My brother and I would save all our money to buy a few spray cans to practise with. When we started, graffiti spray cans weren't even available in India, so we used to work with industrial paint that normally is used for cars and bikes. There is a world of difference in pigment and colour, but I still found endless joy in painting with this.
How would you describe your style? Did your background influence your art?
I am still developing my style, but because of the way I learned about the art form, it has more of an old-school New York flavour to it. Of course, my background also has an influence, not specifically in my art but in everything I do. When I think about India I think about colours and happiness; everything is beautiful and bright. I bring that with me and in all ways that I express myself.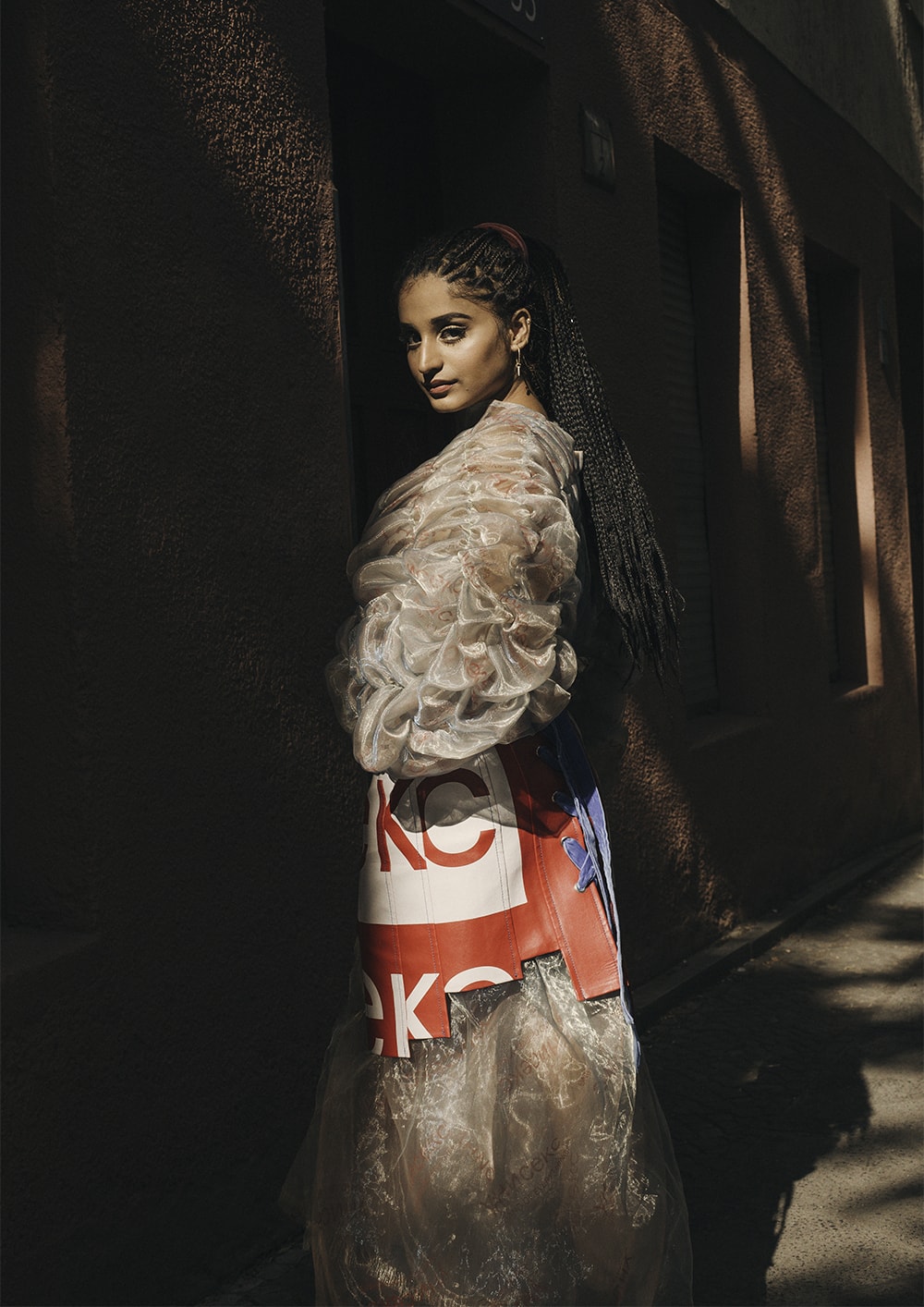 Dress and skirt LAURA GERTE
Graffiti has in many ways become synonymous with rebelliousness and vandalism. You always ask for permission before painting though. What is the reason for this?
I don't see graffiti as my whole life and graffiti doesn't dictate my actions. I am a spiritual person, so I have to follow what it means to be a human being first. I don't want to hurt anyone or destroy something. In the end, my work will stay here, but my morals will go away with me.
Earlier this year you were honoured India's First Female Graffiti Artist in your home country. Why do you think it took so long for India to embrace graffiti?
India is different in many ways. Compared to Europe we didn't have the same influence from America. The Indian film and entertainment industry is so big that there is no need for American culture. It was not until the internet got more popular and accessible that hip-hop started to rise here. Another reason is that, for a long time, art in India was not really being considered a part of a proper education. But within the last few years, this has started to change. Artists are now taken more seriously.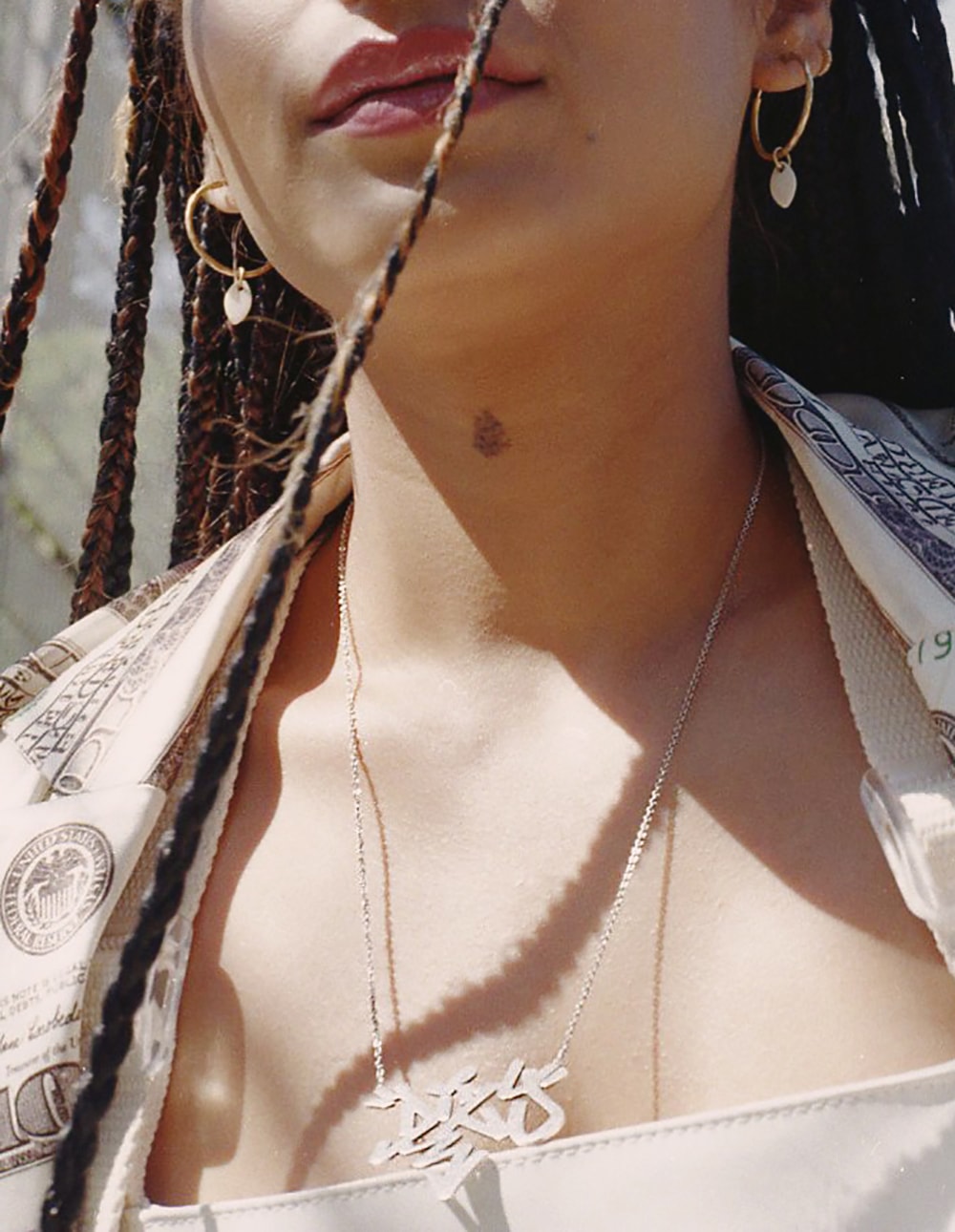 Top MELISA MINCA, Suit LAURA GERTE
How receptive have Indian people been to graffiti?
People are pretty okay. A difference I have noticed is that those who are more educated tend to question the beauty of it, while those living in rural villages are often more open to street art. Since they are not used to seeing graffiti they don't have any preconceived ideas or think of it as menace the way other people might do.
In Europe, I don't think you have such a distinct feeling that there is poor and rich. You travel on the same train and can to some extent wear the same clothes as the rich people. But in India, there is a big difference. When they see me, I sound very rich until they get to know me and they realise I don't come from an extravagant background. Graffiti, therefore, has been a great way for me to make a connection with the families living in these places and give them inspiration. I have seen how painting can bring people the same immense happiness as it does for me. Especially for the kids. I like to always carry my coloured markers with me and do small drawings on their hands. It's a great way to start communication. I often experience how really shy and introverted kids suddenly open up and show their creative side, which is something I can relate to because I am shy myself.
You currently split your time between Berlin and Dehli. How do you feel the differences in the graffiti scene in India compared to Berlin?
Since the scene in India is so small, I don't really think you can compare them. India is kind of a baby still. Graffiti is such an expensive art form that the development is quite slow, while other parts of the hip-hop culture, like break dance, has been embraced more widely.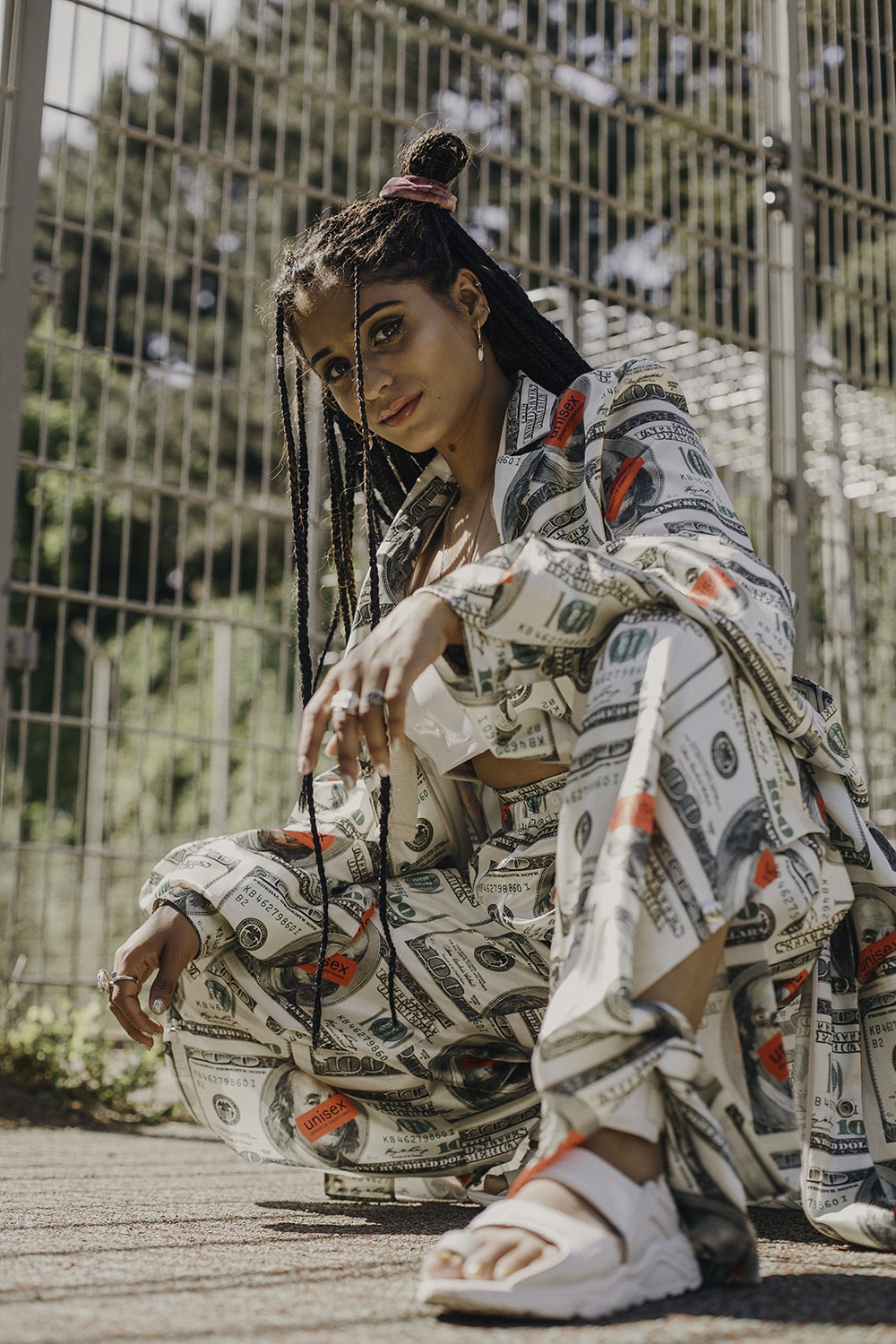 Suit LAURA GERTE, Top MELISA MINCA, Sandals NIKE
How did you find your place in an otherwise male-dominated graffiti world?
It's definitely very male-dominated which makes it hard for every woman. It's hard to find your place and to get recognised. I know some female artists who are big in the international scene and who have been doing graffiti for a long time. Yet I still hear guys talking shit about them out of jealousy. Women tend to always be perceived as cute and beautiful, not talented.
For example with me, I like doing makeup, which makes some people think I am not serious about graffiti because I appreciate things that are stereotypically female. But for me, it's just another canvas. I am an artist, so I also like to paint my face. I mean as we came here, we were not meant to do just one thing. We are supposed to do a lot of things. If you see an Indian goddess, she has several hands, not only two. And the several hands are doing several things. As females, we are powerful, and we should use this beautiful power to explore our different sides without limitation.
What advice would you give to new female graffiti artists?
Don't take things too seriously. I never take anything too serious, ever. (laughs) Personally, I don't like to stick to something just because someone else made up the rules about it. I mean, why? There are no rules in the life book. Believe in yourself, be confident in what you do. I always tell myself "What I have seen, you haven't seen". It's a reminder that everything is a process, and you have to be proud of where you are and what struggles you have overcome. Not only as an artist but also on your life journey.
Photography and styling LINDA POCHINDA
Talent and make-up KAJAL SINGH
Header image Dress LAURA GERTE, Top MELISA MINCA
MerkenMerken
MerkenMerken
MerkenMerken
MerkenMerken
MerkenMerken
MerkenMerken
MerkenMerken