The first fashion show of a new head designer or creative director of an already established brand is incredibly exciting in itself – and even better when the result turns out to be an outstanding reinterpretation of the label. Just as German native Jens Werner's debut for Swedish sportswear brand J. LINDEBERG at Copenhagen Fashion Week, an offering which added a modern and streetwear-inspired touch to the traditional and preppy designs that define the golf, ski and activewear label since it was founded in 1996.
Johan Lindeberg himself had early sensed the need for feeling comfortable but fashionable at the same time – an approach that couldn't be more fitting for today's athleisurewear crazy industry. Initially revolutionising golfing apparel and soon focusing on sportswear as lifestyle garments, Lindeberg's designs can be regarded as part of the roots for the now booming sportswear mania – and Jens Werner pushes this revolutionary spirit even farther.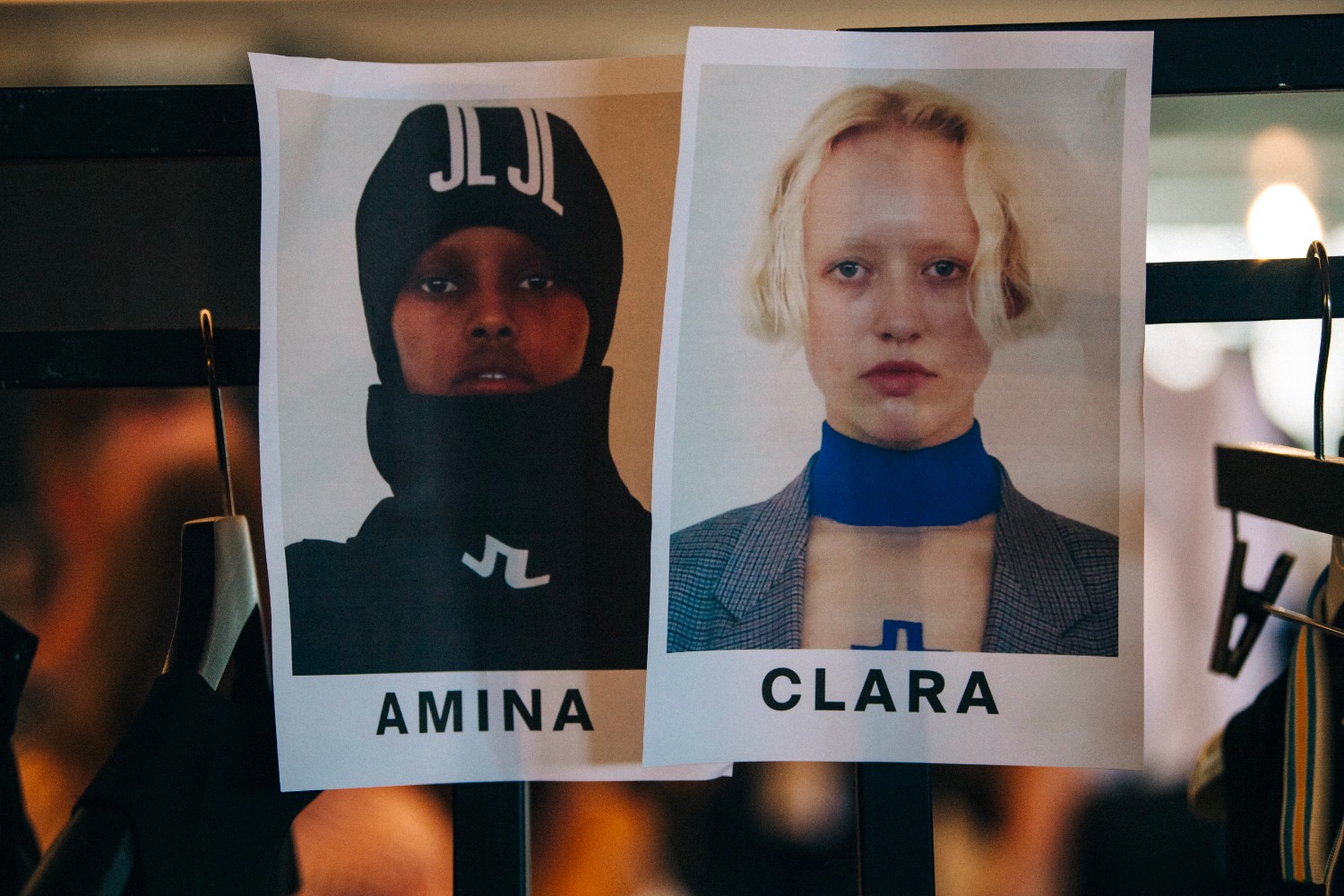 "When adding another layer of complexity, and challenge the "norm"  of what people have in their mind when it comes to sports clothes and traditional mens- and womenswear aesthetics, it will of course be challenging but it also holds a lot of opportunities", says Werner. And he has certainly made use of these opportunities, turning them into a collection that is highly inspired by the recent activewear-worn-on-the-streets-trend.
The east and westcoast of the US and their different styles were further reference points the designer had in mind when he putting together the collection. Suits, trenchcoats, pencil skirts and double-breasted jackets were paired with athleisurewear like biking shorts, sneakers, sports socks and bras, representing his take on the wall-street meets streetstyle aesthetic. The west coast was represented by classic skater styles like oversized sweaters, pool sliders, board shorts and baggy pants – With a colour palette ranging from navy blue to NYC-taxi-yellow and L.A.-sunset-orange. In line with what is at the core of J. LINDBERG, Werner says: "The main message stays true to the brand – a wardrobe for an active lifestyle, a modern person in constant movement, who travels, works out, lives a healthy and conscious life and who is particularly into style, quality, and brand value."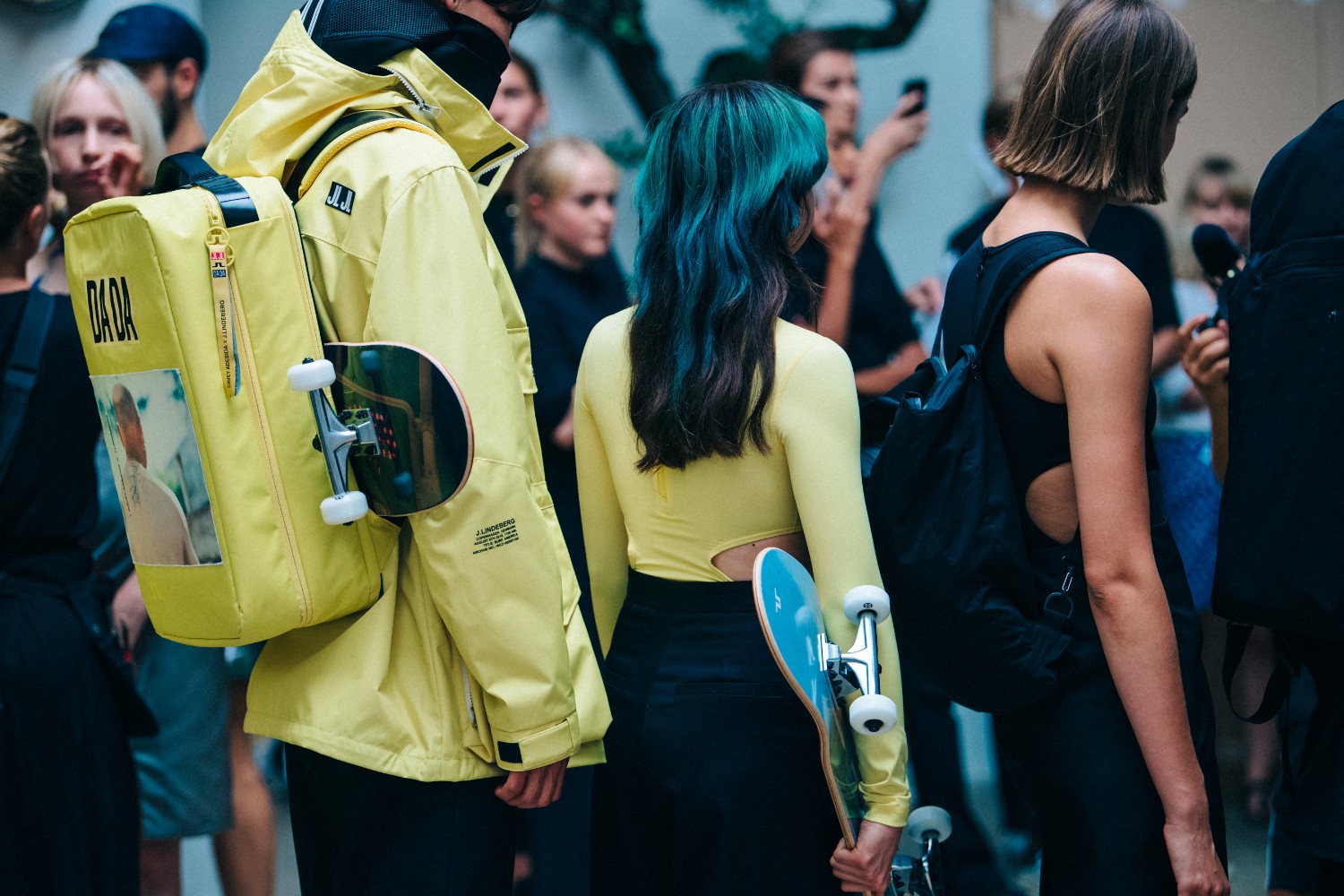 Not once undermining the label's heritage, the outfits showed practical elements like neoprene fabric, water-resistant raincoats and ski masks. The latter was integrated into a long, flowy black outfit, adding a political aspect to the show. In relation to the recent law that was passed in Denmark – which bans the wearing of the burqa and niqba in public –  this runway look could not have been more relevant. A clear statement was also made by the choice of models. With a very diverse cast – one half being professional models from agencies and the other half casted on the streets – the combination of high fashion and streetwear was also reflected on the runway.
Jens Werner's background, which includes work experience at labels like adidas and Tory Burch's sports line Tory Sport, enables the designer to add a young, modern twist and personality to the label. Something his costumers are striving for – being able to somewhat engage with an authentic person behind the garments. Which was exactly the idea behind this collection: "SS19 is the first collection that fully represents my personal vision for the future and my interpretation of the heritage of the brand. Everything from sketch to styling. It's about adding character, personality and identity to the JL products and a story that explains the brand." And he adds: "That's what i mostly think of, personality, the story, the details and the branding that create desire. I must like it myself, otherwise it can't be right for the brand."
Photography ADAM KATZ SINDING