With a successful debut album and an empowering social media presence to her name, 22-year-old Eunique is most definitely a force to be reckoned with. Following a swift, all-or-nothing move from her native Hamburg to Berlin — where she will perform at NIKE's Bread & Butter booth today at 15:30pm, celebrating the launch of the brand new NIKE Air Force 1 Jester — the Facebook-vocalist-gone-Top-10-rapper has been on a rollercoaster ride of finding her sound, her people and, most importantly, herself. Being the charismatic young woman she is, it seems only natural for NIKE to have chosen her to be one of the inspiring ambassadors for their season of Force, a seasonal campaign highlighting those who put in work for themselves and for others through the platform of their iconic Air Force 1 silhouette. In candid conversation, Eunique shared with INDIE the aspects — good and not so good — that shaped and continue to shape her journey to becoming the star she never intended to become.
With your first full length album Gifts finally on stands, tell us a bit about the challenges you've had to face to get where you are now.
I'm still enrolled in what my dear friend and manager Michael calls boot camp. It's a 400-day learning experience that started with the task of figuring out what I want, who I am and what I can make of these things that have never been made before, all of which led up to present day. Along with that came what I thought was the biggest challenge: the pressure I put on myself as a means to push harder and become more disciplined. Apart from that comes outside pressure, as well—family and friends who feel as though I'm too hard on myself, take too much time for work and worry I'm slipping away. They don't always understand that, with everything I do, I'm trying to further my music and become a bigger, better artist and person. Not everyone comprehends the amount of effort involved and some don't take it very seriously. It's not a regular job and some can't wrap their head around that, so having to justify my commitment, convince people that what I'm doing is worthwhile can be exhausting. But it gets better. People who want to stick by you will, and I feel like these types of obstacles are meant to motivate and challenge me.
This externally induced pressure: were there people trying to talk you out of chasing your dreams?
To a certain degree, maybe. But I'm very opinionated, very headstrong and there were a handful of situations in my life where I just had to decide and stick to what I thought would be best for me, regardless of what anyone else thought of it. So, a level of ignorance from my side towards other people's opinions helped me stay in my lane.
So, having overcome other people's expectations, what would you say were the moments in life that gave you this feeling that music is your destiny? Where it went from something you could do to something you had to do?
In my humble beginnings, I posted videos of myself on Facebook out of plain curiosity. I always felt a gravitation towards music, but I wasn't confident enough to say, "this is what I want to do." I had this scenario in my head, you know, when people go to these casting shows, and the judges are, like, "Didn't anyone ever tell you, you have no talent?" [laughs]. I was so afraid of that, so I used Facebook to let people close to me have a listen before anyone else. Luckily, responses were very positive and reaffirmed my idea of starting a career in music. But it wasn't even my intention to create music for myself. As I said, back then I wasn't brave enough to even think about that. I knew I wanted to work in music, but initially, I saw myself as someone in the background, maybe a manager or songwriter. I didn't aspire to the spotlight, not at all. But then came this moment when I had to ask myself "Who and what do you want to be?". I had already left my home in Hamburg and everyone behind to come to Berlin by the time I was really able to say: "This is what I want! This is what I did all this other stuff for."
Having been rather shy then when you first started, what does it feel like to be up on stage? Do you ever get stage fright?
Only recently have I started doing live shows with crowds of people staring at me. Before these last couple of months, I had little experience. I remember at a friend's gig I was asked to join on stage to perform a song, and I was really nervous and, like, "Oh my God, why is he doing this to me?" [laughs]. But the audience was great and made me feel appreciated. So, this year was a milestone. Getting on stage to not only sing or rap, but to have a whole show planned, choreography and everything. It's about giving people more than just a single person with a mic. We wanted to really wow them. And it's such an amazing feeling to actually be able to see your listeners. Looking them in the eyes while they're singing along to one of your songs, spitting bars back and forth — it builds this incomparable connection and you forget everything else.
Aside from said live shows, the music business is known to be really draining. How do you take care of yourself, physically and mentally?
I'm currently learning how to love myself and defining that love for myself. That's something I've always struggled with. I just kept pushing through. People would tell me I need to take time for myself, calm down a bit. I'm still trying to fully figure out what helps me unwind. But I really love to paint. And sports, for sure. Both have qualities I'd consider necessary to just let loose for a while.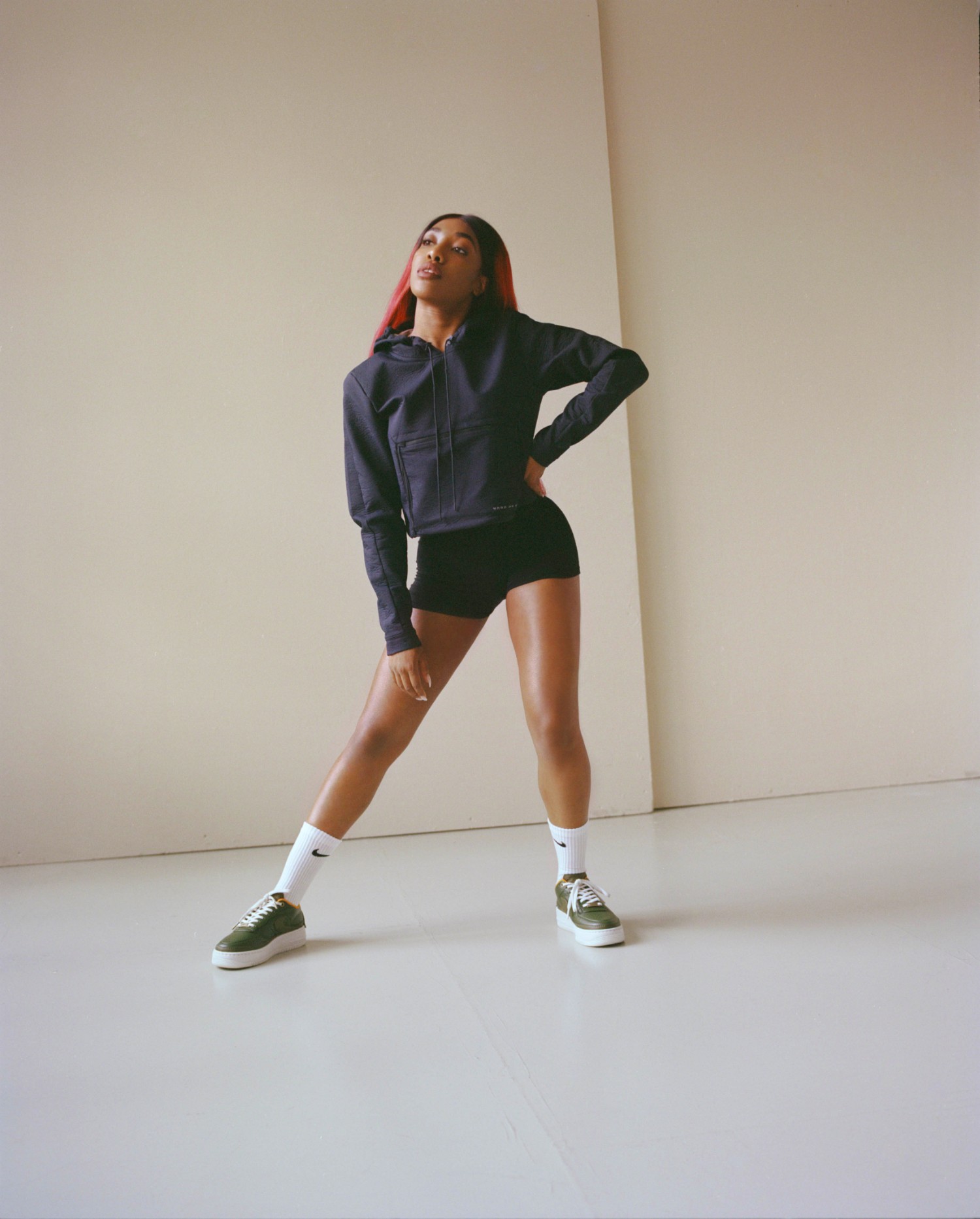 That being said, do you ever doubt yourself, return to old habits? And what do you do to get back on your feet?
For sure. But my team keeps me afloat. If they realise I'm not doing well, they do whatever they can to get me back to where I need to be. We're a family, we support one another unconditionally. Whether you're lazy, depressed, overwhelmed — at some point someone's gonna say something. You have to keep reminding yourself of why you're even doing all of this. Never forget why and how you got here in the first place. Regain control over the situation, keep in mind that it'll pay off. Otherwise you might lose that source of power that kept you running. Even if it's as small as "I wanted a bigger butt, so I need to do these damn squats!" [laughs]. This is how I stay positive, by calling myself out when I feel like I'm losing focus.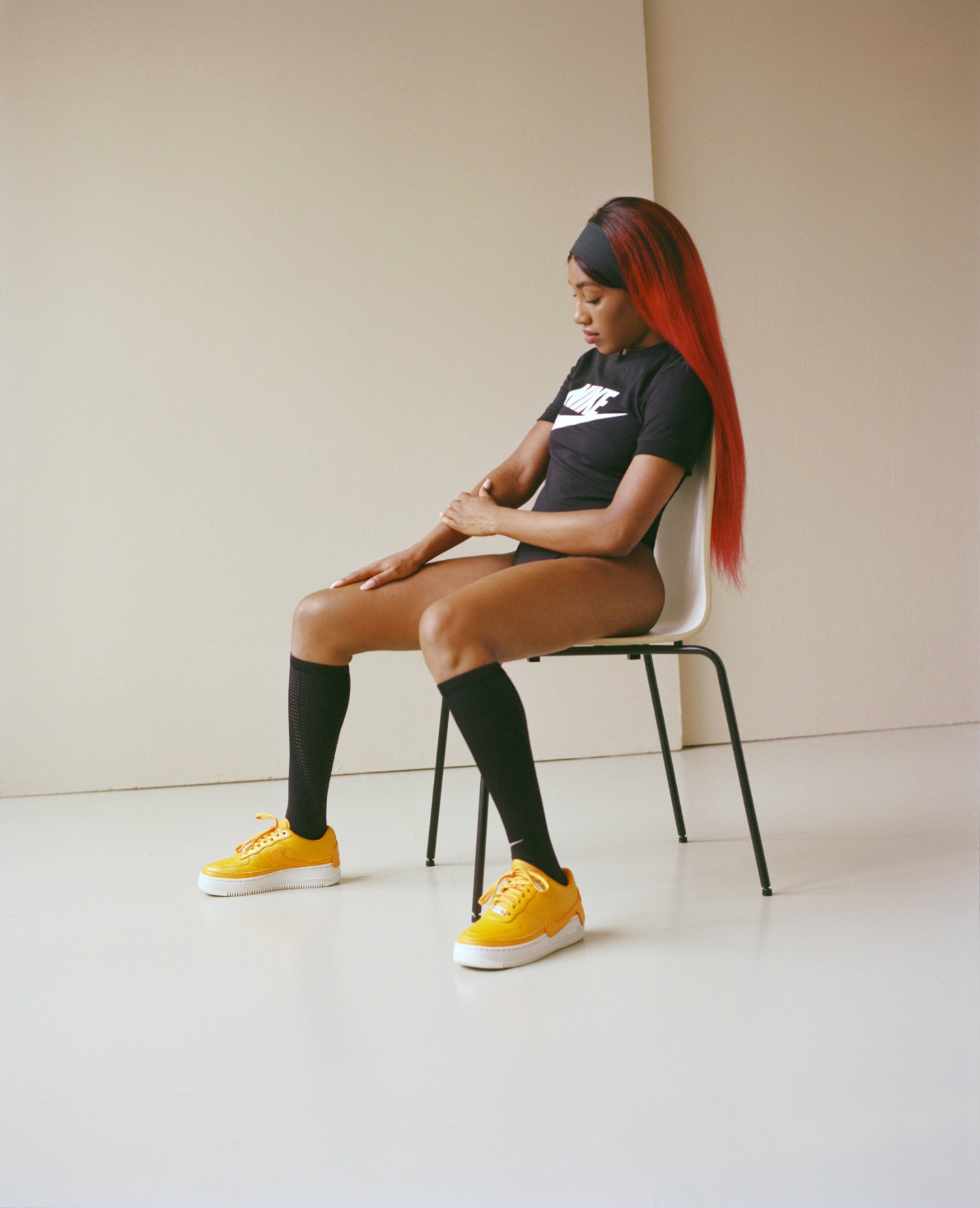 Tell us a bit more about your "team": who are they, what do these people mean to you and how do they help you?
It's hard to explain. It's everything really. Friends, family, colleagues. All of us have dreams and we help each other achieve them. I really rely on my Cobra Military, my fan-base. I want us all to support each other. I've been fortunate enough to be able to walk this path I'm on and I want to guide others as well. I've always been incredibly thankful for the people that pushed me in times where I myself was unsure. And I want to give back. A lot of us want more from life than it has to offer right now, and having as much love for one another as we do helps us stay on track. If you have people in your life that accept you for who you are, nothing in the world can beat you. You don't need to care what others say. It's those closest to you that matter. Whatever it is you're trying to do, surround yourself with people who have your back. If it's one-sided, it's an issue.
But assuming you're on the road a lot and fairly busy, how do you manage to "give back" and stay connected to the people important to you, especially those from home?
I very much value my roots, my friends from home, my family. But I try to separate them from the life I live now. It's not a bad thing, don't get me wrong, but I feel like there has to be a particular environment to keep that flow of energy going. The type of love I receive varies and sometimes I just need a very specific love around me to not lose focus. I know the people who've shaped me are very proud of me and what I do, even though they don't always agree with how things are done, and I feel very blessed, honoured that that's the case.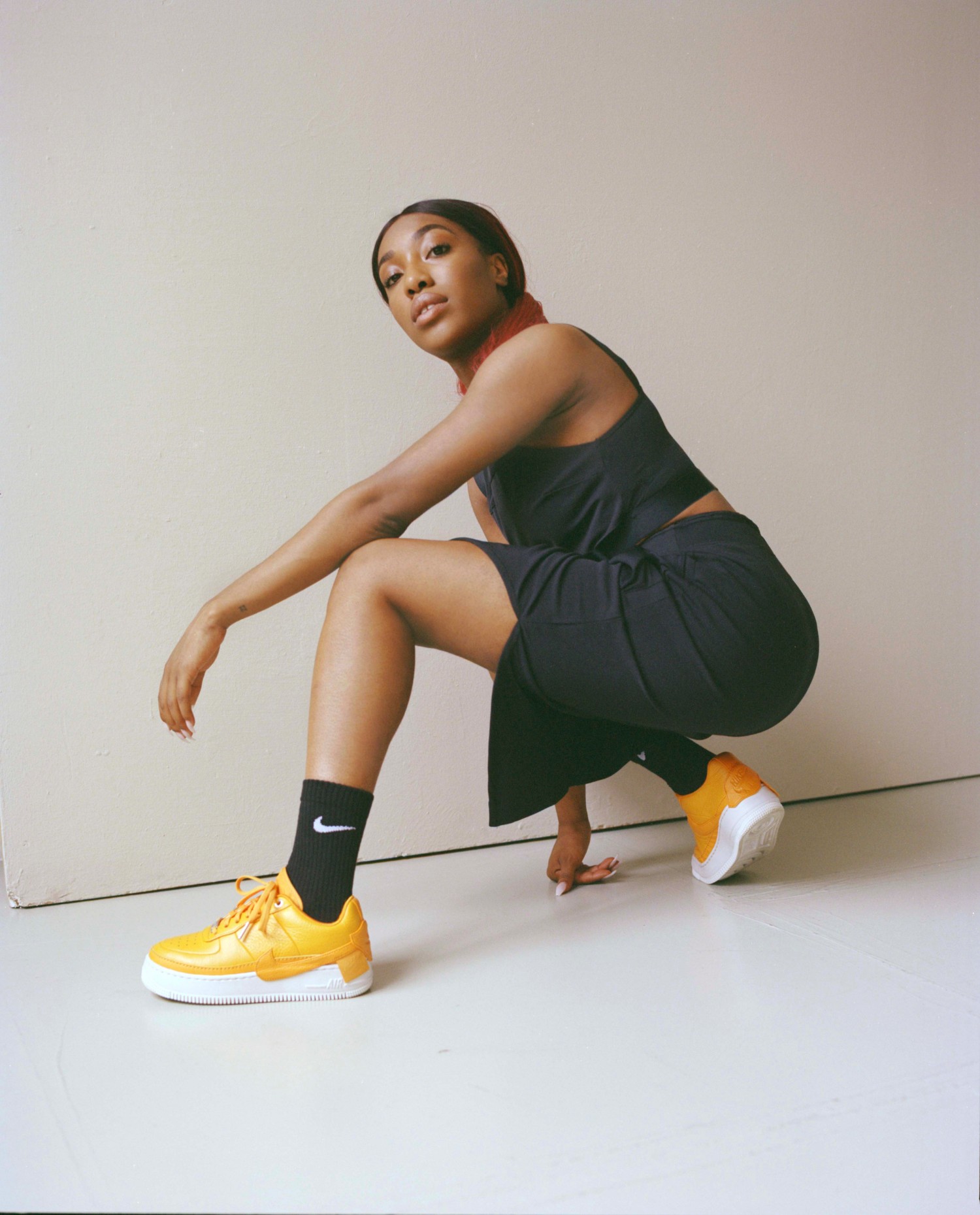 That sounds very healthy. Lots of artists struggle to maintain a life outside of work, to keep close contact while simultaneously distinguishing between professional and private relationships.
It's difficult, absolutely. Especially because there are people who expect you to change. They fear it's a given you become someone else they don't feel comfortable with. It's kind of a paradox because it's basically them changing by accusing you of things they can't even relate to. You evolve and things happen but at the end of the day I feel it's most people's goal to stay grounded, no matter what. You may feel or speak differently about yourself but deep down it's still you and some people refuse to acknowledge that, feeling instead like you've abandoned your past. I feel like with the release of my album, a lot has changed. Many who, before, might've been sceptical, even annoyed by my devotion to this record, have since come to respect me for being so patient and determined about it. It's the people who stuck with me full circle that I value most. Who, regardless of what they personally may have felt, stood by my side. I want to be able to expect that from the people I'd do the same for, you know? Let's be proud of one another, celebrate each other's progress.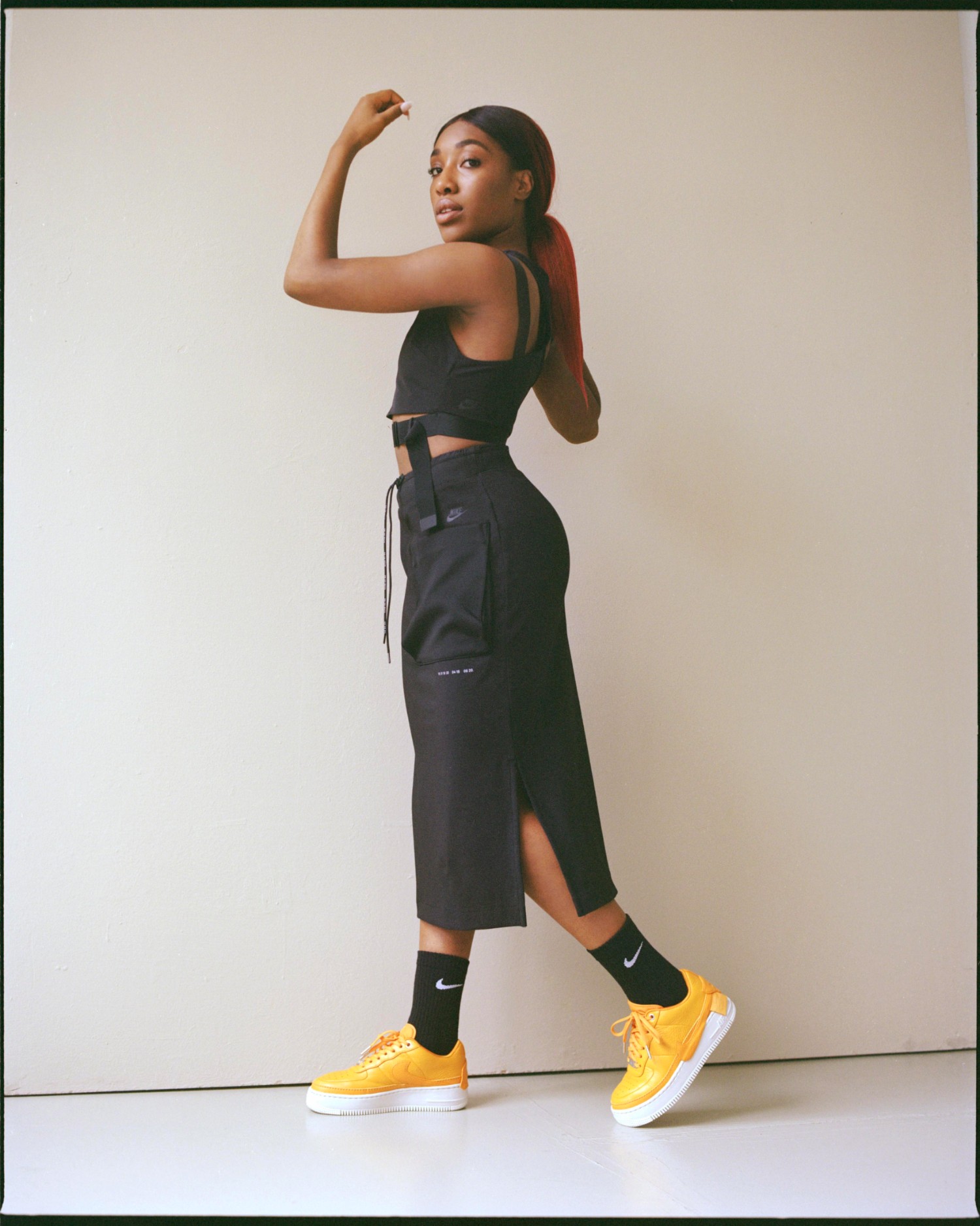 Finally, tell us what you would say is that special FORCE within you?
I think to stand for something. To reach a lot of people. Some want fame just for the sake of being famous. I always considered myself to be someone who wanted what I said to translate to a greater audience, further than just across the table. I feel very strongly about a lot of things. And once I feel strongly about something, I try to channel it into my music. And if, through that, I can somehow help change someone's life or perception of it for the better, even if it's just one in a million, I've accomplished something. That's what my force is about.
Make sure to check out Eunique's performance at B&&B this afternoon at 15:00 pm at the NIKE booth, celebrating the release of the brand new NIKE Air Force 1 Jester in the colours Olive Canvas and Orange Peel, which drop on Zalando today.
Photography ULRIKE RINDERMANN
Styling RACHAEL RODGERS
Hair & Make-up ADIAM HABTEZION
Photography Assistant STEFANIE SCHNUERCH
Styling Assistant ALENA WIEGMANN
Header Image: Hoodie NIKE TECH PACK, Shorts and socks NIKE, Shoes NIKE AIR FORCE 1 JESTER
Taken from INDIE NO 60, THE HOME ISSUE – get your copy here.