The American designer duo Mike Eckhaus and Zoe Latta are known for their anti-elitist way of creating fashion. From shoes inspired by the pattern of Berlin's public transportation seats to advertising campaigns that show couples who have sex on camera – the duo's way of approaching fashion is sometimes fun, sometimes provoking but always authentic. The two met at the Rhode Island School of Design, where Mike studied sculpture and Zoe took courses in textile design. The absence of any formal fashion training arguably frees their designs from the narrow idea of what clothing should to be, and enables them to incorporate materials like plastic, old blankets or roping.
Instead of having expensive fabric manufactured for them, the duo simply uses what is available and around them. This idea of being inspired by one's surroundings can also be found in their campaigns and fashion shows – instead of skinny, flawless models walking down the runway, the Eckhaus Latta shows feature models of all genders and sizes. And by live-streaming these shows on the internet, the duo makes an often secreted part of the fashion world available to the public. With their first museum exhibition "POSSESSED" opening at the Whitney Museum in New York City just a few days ago, Mike Eckhaus and Zoe Latta are once again brilliantly blurring the lines between art, fashion and everyday life – here is how.
They play with our desires
The first room you enter when visiting the exhibition at the Whitney features big, glossy advertisements. The most striking one shows model Gemma Ward and was shot by Steven Meisel. As their own campaigns often aim to be much more rough and less stylized – with topless clown models, couples having sex on camera and pregnant models walking down the runway – the two wanted to challenge and change the glossy images of the leading brands. Heavily coated with a sense of photoshopped superficiality, the ad seems like a side blow to the rest of the fashion industry.
And it seems like no coincidence that the exhibition starts with looking at those perfectly arranged campaigns – triggering desires that you'll be able to fulfill in their second room, the museal fashion store.
Their exhibition is performance, art and a real-life experience all at once
Just like with their mixture of art, performance and fashion in their shows, the duo steps away from the holy, silent atmosphere of a museum and turns it into a shopping experience. Having hold previous runway shows at such everyday places as a Berlin supermarket, this half-musuem-half-Eckhaus-Latta-store seems to seamlessly fit into their concept. In their shoppable exhibition space, you can buy clothes exclusively made for the exhibition. Everything can be touched, tried on and purchased and performers acting as shop assistants make this experience even more real. With prices ranging from $24 for a tote bag to $ 7,500 for a vest, they also made sure that everyone is able to afford to take a part of the collection home.
They value the power of collaboration
Eckhaus Latta are known for their collaborations with labels like Camper, models like Hari Nef or musicians like Dev Hynes. Zoe Latta and Mike Eckhaus also like to work with video artists and smaller collectives. They know that you cannot make it by being a lone ranger. This spirit also reflectes in their exhibition where you can find artworks by artists they commissioned, showing support instead of the rivalry that is so prevalent in the art industry.
They are reflecting on voyeurism and consumer culture (by admitting that they are part of it)
The third room of the exhibition is clustered with video installations – footage of the surveillance cameras from Eckhaus Latta stores all around the world. Next to these recordings, there also is a live feed from the store before. Whether you feel guilt now by watching people satisfying their consumer needs or you start enjoy watching them doing so – the last room can be seen as a reflection on our capitalist consumer society and voyeuristic desires. Just like the video campaign that showed couples having sex, every visitor that doesn't look away is automatically turned into a voyeur.And by including their very own costumers in this artful thought process, Eckhaus Latta show that they are aware of being part of this capitalist industry – and ready to play with this instance.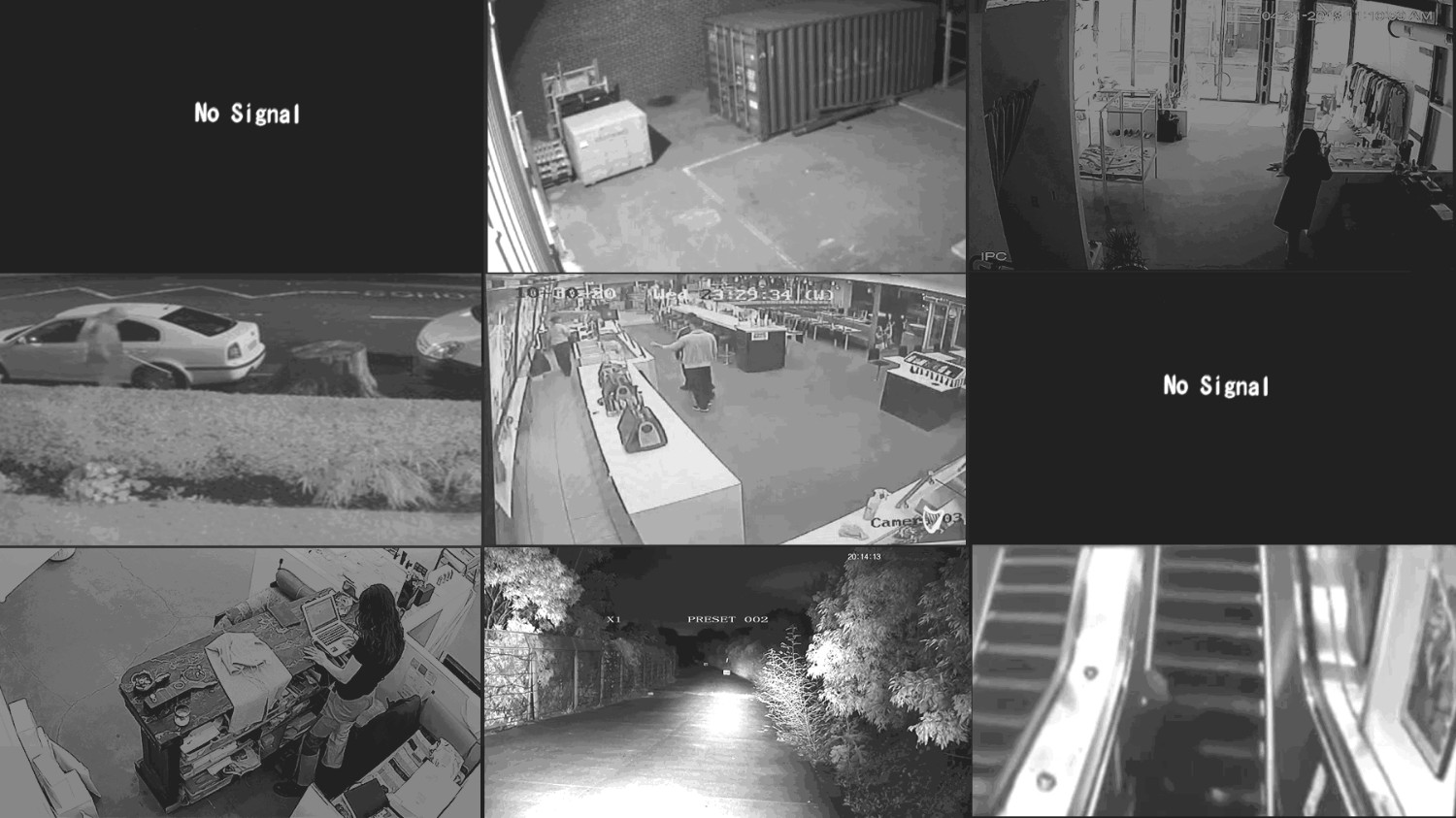 The exhibition ECKHAUS/LATTA "POSSESSED" is shown at the Whitney Museum in New York City until the 8th of October 2018.
Header image: Photograph by Charlotte Wales; Art direction by Eric Wrenn; Modeling by Gemma Ward for IMG; Styling by Avena Venus Gallagher; Hair by Shingo; Makeup by Kanako Takase; Production by Blake Abbie, Spencer Morgan Taylor, and Carlos Garcia of Harbinger Creative; and Retouch by studioRM. Image courtesy Eckhaus Latta.