It isn't always easy to look at Nails by Juan, the Instagram gallery-turned-nail art business run by 24-year-old Juan Alvear. Shot flash portrait style, his nails writhe and spiral, poke and ooze—all with long lengths that resist any semblance of practicality. But it is this discomfort, this unease, that has caught the attention of taste makers worldwide: Alvear's claws have been spotted everywhere from Xander Zhou's SS18 campaign to Arca's latest onstage get-up, stirring the same 'WTF?' reaction nearly every time.
For, in a nail art landscape filled with perfectly shaped french tips and meticulously placed rhinestones, Alvear's creations offer an alternative, one which isn't premised upon standards of conventional beauty or practicality but instead on the very inverse. His nails utilise strategies more typical of sculpture and painting, tying in materials like clay and fishing line to create a look that bridges the gap between beauty and art. They often take up to ten hours to make, and are not built with the everyday in mind.
A year and a half into his practice, INDIE caught up with the New Yorker to talk this blurring of genres, his humble mall nail salon beginnings, and dream collaborators (hint: Rihanna may or may not be involved).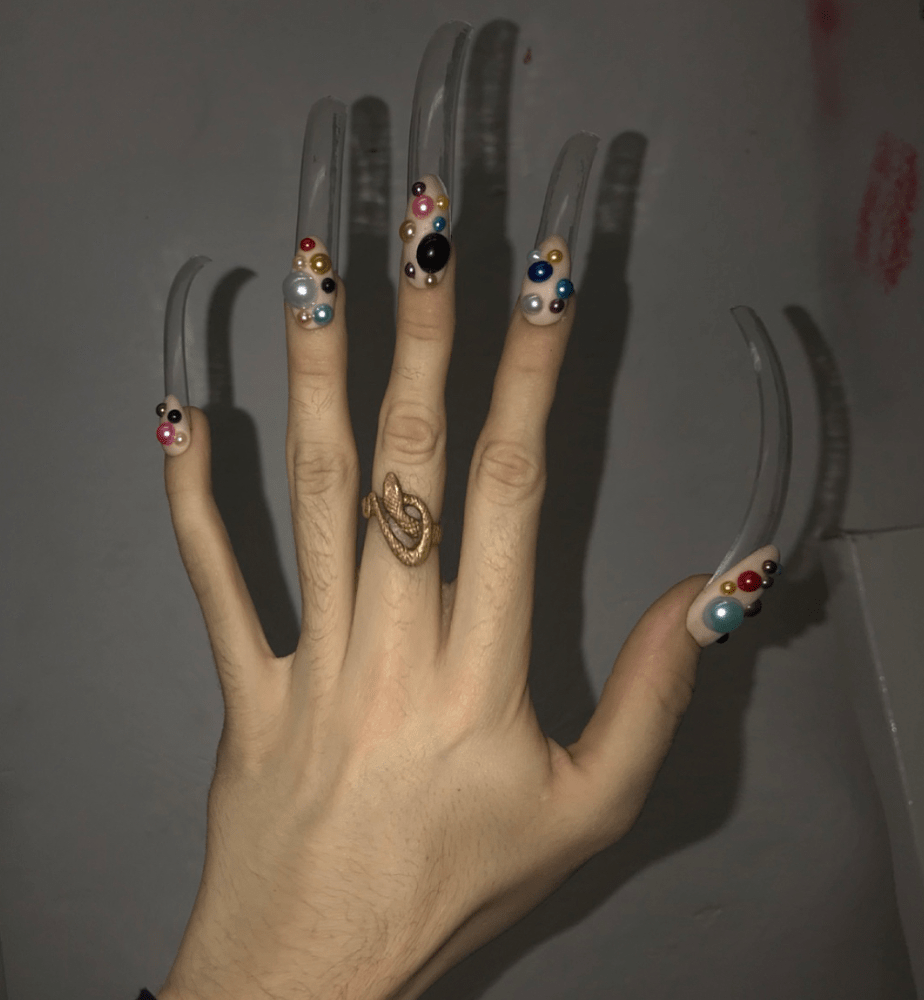 In an interview from earlier this year, you said that you view nails as being this kind of grey area between sculpture, fashion and beauty, and commodity. Can you elaborate on this a bit more? Is it possible to be all of these things at once?
Nails themselves exist in the fashion and beauty category, they generally have a commodity association like most things in this category. However, by making them sculptural they start to exist in this space between being nails and being objects, due to their functionality. Within the beauty category I find that people generally put a very low value on nails, in comparison to hair or make-up. Often times photo shoots have little to no budget for nails and expect nail artists to work for exposure. However, the nails I make are not traditional manicures and are sculptural works on their own, often taking up to 10 hours to make. The hand-sculpted quality and physical inconvenience of my nails brings them into a wearable-art-performance-object genre.
It seems as if your work stands in this weird liminal space, simultaneously resisting commodification through its impracticality and playing into it by using Instagram as a primary platform. 
Yeah, the nails I've been making definitely play into commodification through the beauty tropes we all see online. But they also morph these tropes into this otherworldly yet almost familiar place. I like the idea of someone seeing my nail work and having a moment of, "Wait, is this what people are doing these days?".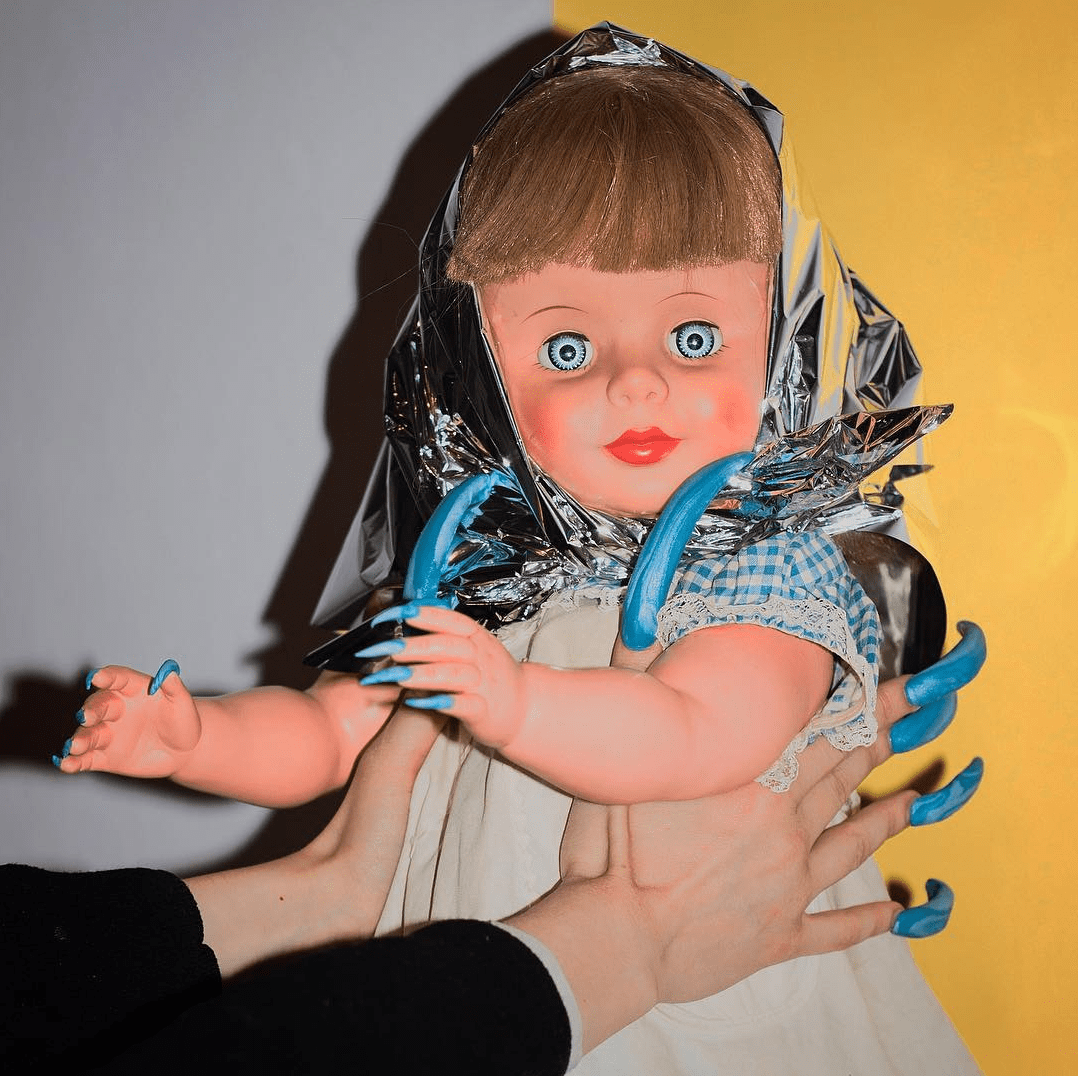 How do you navigate this duality?
I treat Nails by Juan as a platform that allows me to play into the invisible rules of business like other Instagrams online, while also creating something wacky in reference to them.
Tell us about some of your first encounters with nails.
From a young age, I was painting my sister's nails at home a lot. This eventually turned into painting my friends' nails at the mall using every colour available, always in a very "sloppy" manner. My mother would usually keep her nails long and a deep red, and I would go with her to get manicures occasionally. But I don't think I was really introduced to the expanded field of "nail art" until just recently, when I started Nails by Juan. What started as a nail account to post pictures of my friends messily painted nails has since grown out into something much wilder than expected.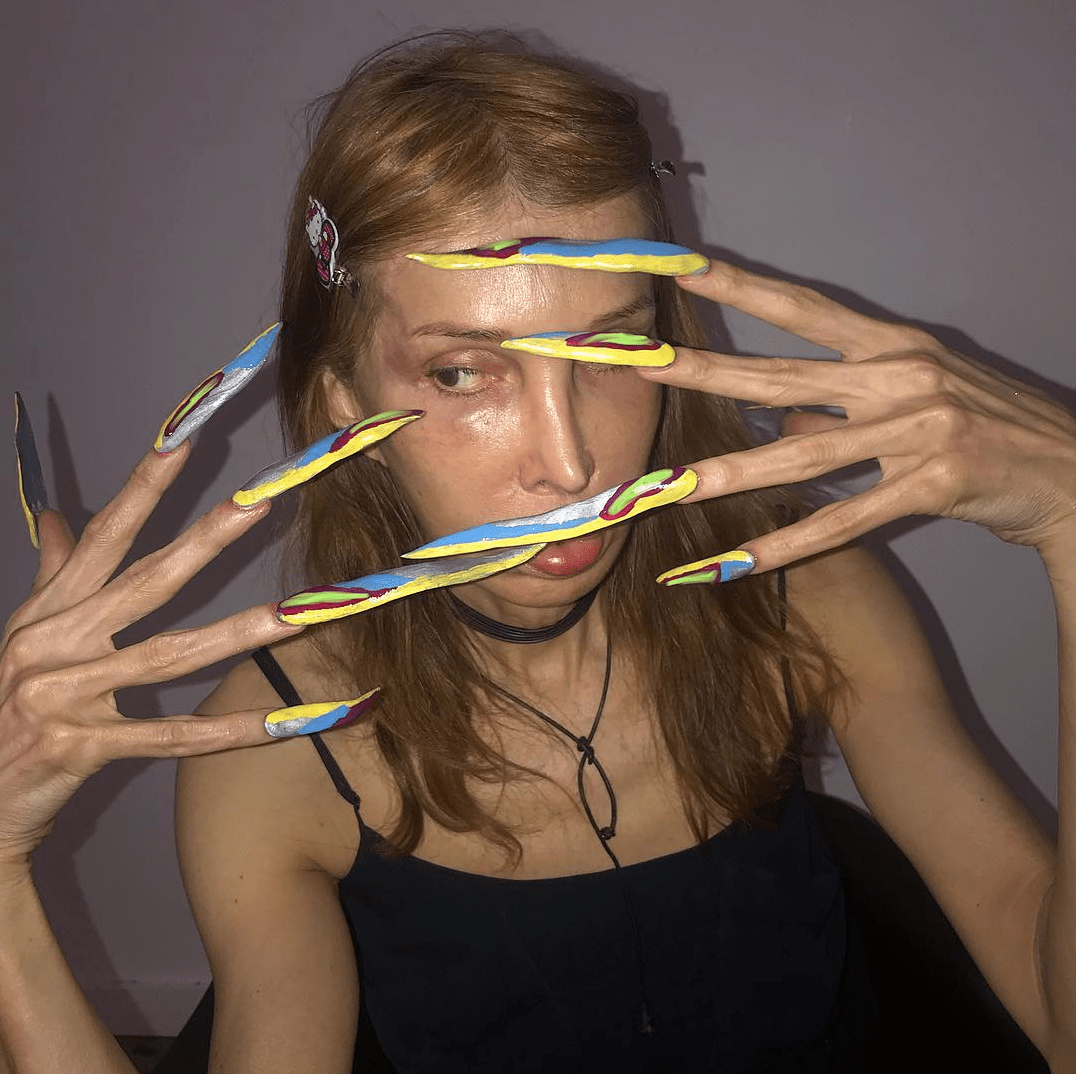 What's on your nails right now? 
A simple silver glitter coat—definitely on the tamer end of my designs.
You studied studio art and sculpture at the Cooper Union. How does this art school background inform your practice?
I draw a lot! I take elements from shapes or colour combinations that appeal to me, and I make something out of them. Creating these small sculptural forms that fit on your finger is definitely a very intimate and meditative process.
What are some of your influences, and how do you translate them into your designs?
I take photos or screenshots of things I see to create mood boards. Currently I've been taking a lot of inspiration from shoes, particularly the chunky shoe fad. And then I've also been really drawn to the Chicago Imagists; their colour combinations and their shape use in their art is a huge pond of inspiration for me.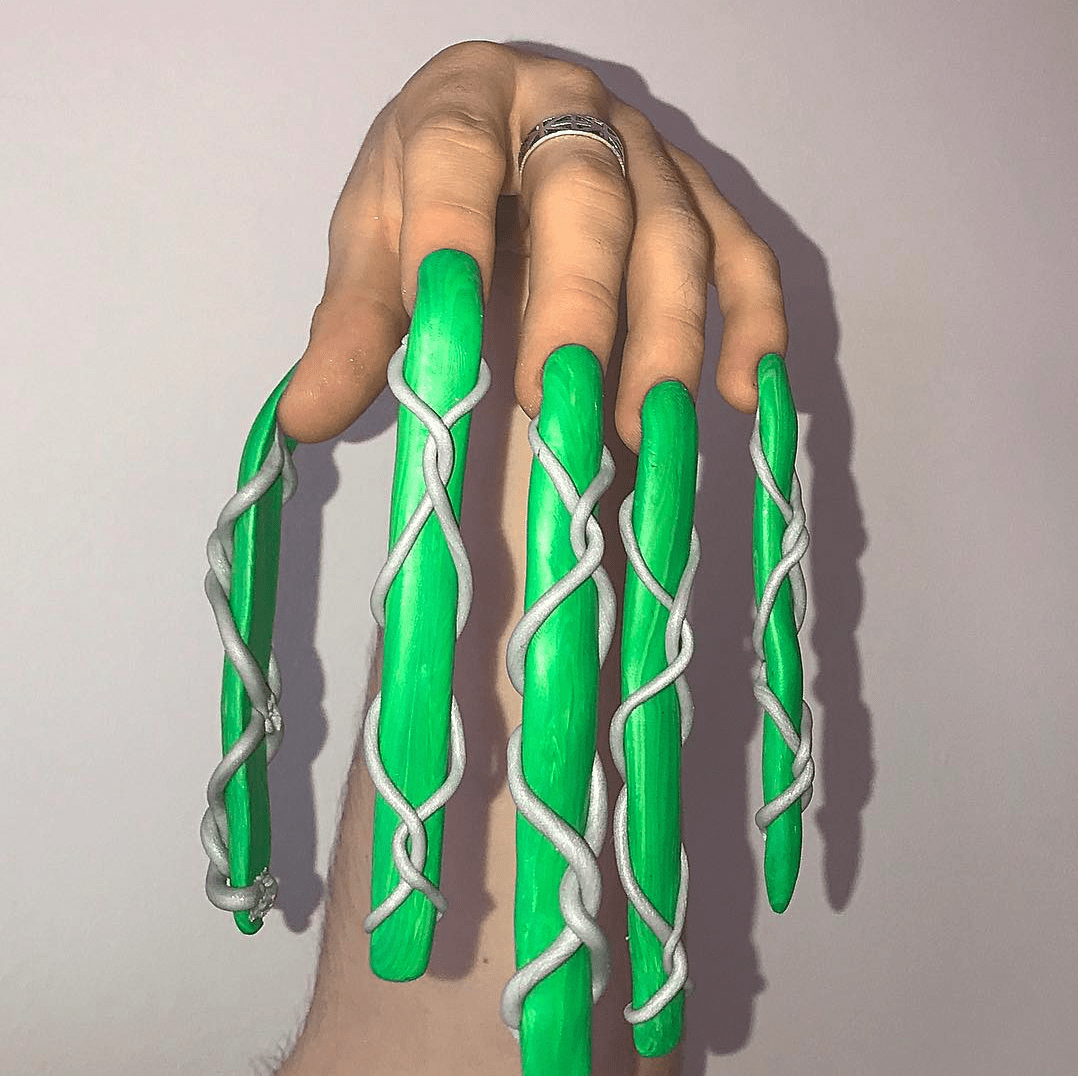 What is it like creating something that is so impractical that it can only be worn for a few hours (or less) before it is ultimately destroyed? Do you ever get disheartened?
The nails can be worn for longer, it just depends on the length and weight of them. Usually, they perform in a photo shoot, which means they go on and come off, living the rest of their life in a photo. That being said, people probably wouldn't want to keep them on to sleep in or shower as they can be uncomfortable for long periods of time. In the past I've had people wear shorter nails for a couple of days before having them removed. I don't get disheartened, it forces me to continue creating and pushing my limits via experimentation.
You teased an upcoming nail line on your Instagram a while back. Can you give us any clues as to what we can expect?
It's pretty under wraps for now! But speaking more to the future, I do want to start creating image series to showcase my nails, perhaps incorporating more of my paintings and sculpture work.
Who are your dream collaborators?
RuPaul, Margiela, Walter Van Beirendonck, Pierre et Gilles, and Rihanna—particularly for the Met gala.
All photos courtesy JUAN ALVEAR
MerkenMerken
MerkenMerken
MerkenMerken
MerkenMerken
MerkenMerken
MerkenMerken