Karen Marie Ørsted, better known by her stage name MØ, is one of those artists you've definitely heard a song or two from but might not have ever been sure of exactly who she is, what she does and where she belongs along the ever-growing spectrum of musical genres. Following her international breakthrough as the voice to one of Spotify's most streamed songs of all time, "Lean On", and a remarkably large and eclectic catalogue of further collaborations and hit singles, the Danish singer-songwriter is about to reclaim independence as a solo artist with the release of her sophomore record. Succeeding 2014's critically acclaimed 'No Mythologies To Follow'—a collection of synth-y, electronic after-dark-pop—, the drop of Ørsted's new album has easily and organically developed into one of the most anticipated left-of-center projects of recent history. But with high anticipation comes high expectation—not always an easy burden to carry in the music industry. An industry with the notorious reputation of placing and replacing its protagonists on what seems to be a daily basis.
Ahead of her gig at Germany's renowned Southside Festival, we had a sit-down with the 29-year old to talk about her new material, the observations she's made over the course of a decade-long career in the business, and where she goes to retreat from all of it.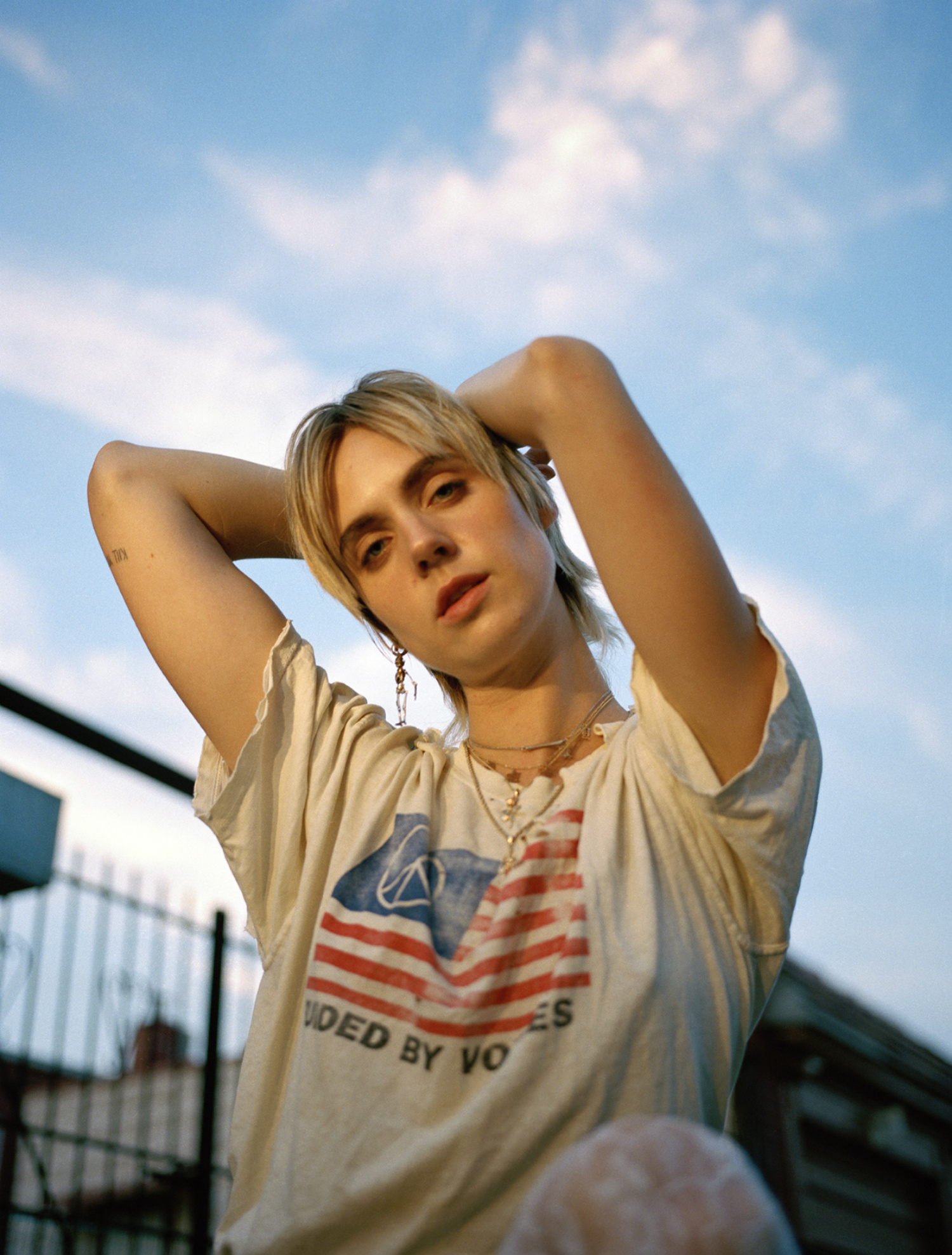 How've you been lately?
I'm good! I just finished my album which is going to be released sometime this year, after summer. It's been in progress for around and about four and a half years now, so it feels really, really great to finally have that off my back – it's done and I'm so happy. But it's also kind of weird because I'm not used to this feeling of freedom [laughs].
So, what are your plans, now that you're free from working on the album? Summer vacation?
Oh my god, to be honest, I'm already thinking about a third album because I think my mind is freaking out over the fact that there's not an album to focus on anymore because this one is done [laughs]. So, I'm already starting to make plans for number three's track lists. But, yeah, my mind is just dealing with, like, some sort of weird trauma. Other than that I have a couple of festival performances and a single release coming up. That's what I'll be concentrating on for now.
But if you did have time for summer vacay, and you had the possibility to go to any place in the world, where'd you go?
I know it probably sounds boring, but I would go hiking in Norway. There's this place up north where they have this big hiking route where you hop from one small little mountain cabin to the next and that's my favorite kind of vacation because there is no Wi-Fi up there, no nothing, so you just walk and you sleep and then you walk again and then you sleep again, and you're out in the nature and you feel like a little troll in the forest, and that's a good feeling [laughs].
Sounds like it – back to the music: Over the past couple of years, you've collaborated with so many amazing artists, including Charli XCX and Snakehips. Who did you have the most fun working with?
I really enjoy working with Charli, because she's a friend of mine. Not only do we relate to one another on a music level, but also on a personal level. She's really, like, this "do your thing"-kind of girl, which makes it so easy. I feel very safe in her presence. I've also worked with Diplo and his team a lot, which I always loved. But basically, all of the many people I've worked with have, in some way, inspired me. I couldn't say that this person, particularly, had the biggest influence or the most valuable advice. I think it's been the mix of things that I've learned from all the people I've met that shaped me creatively and personally.
And, what can we expect from your new material? How would you say has your sound evolved?
Well, I mean, "Lean On" came out in 2015 and obviously times have changed, and I have changed and my music has changed. So, of course, the sound of this record is different from my first album, but I wouldn't say it's too drastic of a shift. I'd call it mellow dark pop. I'm bad with genres but, yeah, I guess it has that kind of mellowness that I always have in my music. But it's also uplifting in many ways—it's pop music after all, but I've always tried to craft pop music that had some kind of edge. I really like to listen to Kali Uchis for example. She has such a cool vibe, I love her lyrics and her voice. She's amazing, has a distinctive vision and, overall, she's just a strong, cool woman. Would I describe her sound like "Oh that's POP-pop!"? I don't know, like, what is pop music? I'm not good at defining genres [laughs]. But in the end, I don't know, it's out there for the people to judge, it's kind of out of my hands.
Speaking of hard-to-define genres: Once upon a time, you were part of a punk band. Could you imagine returning to punk music?
Yeah, I could imagine doing that. I think it would be really nice to have a side project at some point. If I had the time now, I would love to do it. I think in general, in all creative fields or whatever your job is, it's always good to have a nice thing on the side, a hobby. Something that you enjoy doing, something different to clear your mind. But if I was to start a project more in the direction of an underground punk thing, then I think I would want to make it a proper side project with a different band name. I would want to create a whole crazy gothic visual profile around it and stuff like that!
And, looking back at your time in the business, the various experiences you've made, how would you say has the music industry changed from your beginnings in 2007 to now?
Wow. Well, in 2007, I wasn't really paying that much attention to pop music, I mean I always loved pop music, but I wasn't as into it as I am now. But in 2007, that was the year of M.I.A., right? I remember being super into that. I do think it has changed a lot because when I started as MØ in 2012, things were different in many ways. The rise of Spotify, for instance. Nowadays, people stream music and what we consider successful has thus been redefined. Through it, there has been such a wave of new artists that now have a platform to share their creations. These streaming concepts have the industry booming with new styles and new genres, some of which may have never really surfaced or become accessible to the average music consumer.
While we're at it: Other than the industry itself, your personal life has probably changed a lot as well. We're at a festival here. Living your current life, do you still find time to attend festivals or the like as a regular guest instead of as a performer?
Not anymore. It's a shame because, back in the day, I would just love going to festivals. But now, whenever I'm home, whenever I have some time off… I mean unless I'm on a festival like today, after the show I could get out and listen to something and get a beer and enjoy that. But for me to just go to a full festival with some friends, sleeping in a tent? I'd love to, but I don't see that happening any time soon. But maybe someday, in 20 years.
Those friends you mentioned: Are they friends from your past life? Do you get to see them a lot?
Luckily, these past months were all about finishing the album, so I was able to stay in Denmark for some time, where a lot of my oldest and closest friends live, and I got to visit them while I was there, catch up. One of the hardest things I had to come to terms with over the course of the last couple of years was not being able to see the people I love as often as I wanted to. For me, it's so important to spend time with loved ones. They make you feel good about yourself when you're not able to do so yourself. They can be your mirror and help you get wiser.
And what about the idea of "home"? You travel so much. So, when you're not in studios or on the road somewhere in the world, do you spend time in Denmark just for the sake of it? Is it a place you retreat to every once in a while, to rest?
I can rest anywhere [laughs], but, yeah, I do. It grounds me. Sometimes I feel scared of permanently moving to places like Los Angeles or New York City. I'm scared of losing myself. It's stupid, I know, but that's just something I can't quite shake off, you know? I have this fear of becoming too detached from who I am, and why I got here. I don't want to be one of those "I moved to the US to make it big"-kind of people. On the other hand I don't want to chicken out from leaving Denmark… Whatever happens, though, I really want to hold on to my identity.
Intro MAX MIGOWSKI
Interview MAREN SCHÜLLER
Images via SONY MUSIC