They say the third time's a charm. Not meaning that project #1, #2 and #3 were anything short of awesome, but for their fourth consecutive collaboration, JW Anderson x Converse took a dip into the art world.
The relationship between art and fashion, artist and designer is, always has been and always will be integral to the creative world. Elsa Schiaparelli and Salvador Dali, Marc Jacobs for Louis Vuitton and Yayoi Kusama, Raf Simons and Sterling Ruby: These are just a few of many outstanding efforts that spellbindingly fused elements of both fashion and fine art, the two- and the three-dimensional, the hand-moulded and the hand-sewn.
This time around, it was American artist Ron Nagle's work that served as the main inspiration for the next offering of another, albeit slightly different, pairing: British designer Jonathan Anderson and the famed Chuck 70. Consisting of mixed materials and glazed in all the colours of the rainbow, Nagle's notoriously pocket-sized ceramics have become essential examples for western postmodernism."My interest in merging form and colour has led me in a direction where I now think of my objects as 3-D paintings", the San Francisco-born, raised and based artist states.
After graduating from the San Francisco State College's BFA program in the early 60s, the now 79-year-old artist has developed a distinctive style of craftsmanship that has slowly but steadily progressed from rather modest, vessel-inspired clay objects towards more experimental, retro-futuristic-esque entities of passion and skillful intricacy. But aside from creating surrealistic pottery, Nagle also indulges in music, with several solo and group releases to his name, including sound effect contributions to 1970's cult horror film, "The Exorcist". With a career spanning over half a century, and more than 100 exhibitions under his belt, Ron Nagle has proven himself worthy of being a creative role model, as well as a personal one: "The bottom line is; the greatest thrill for me is making stuff, whether its visual or musical. If other people like what I do, all the better." Given not only his ever-growing catalogue of masterpieces but also his unbothered, uncurbed enthusiasm for his practice, it's no surprise he functioned as this collection's source of energy.
"In search of the new, weird, and wonderful", self-proclaimed art lover Anderson—creative director of his own namesake brand AND Spanish label LOEWE—turned to Nagle's unique style, translating the asymmetrically color-blocked shininess and intriguingly odd silhouettes of his pieces, into something wearable: Art turns footwear, footwear turns art.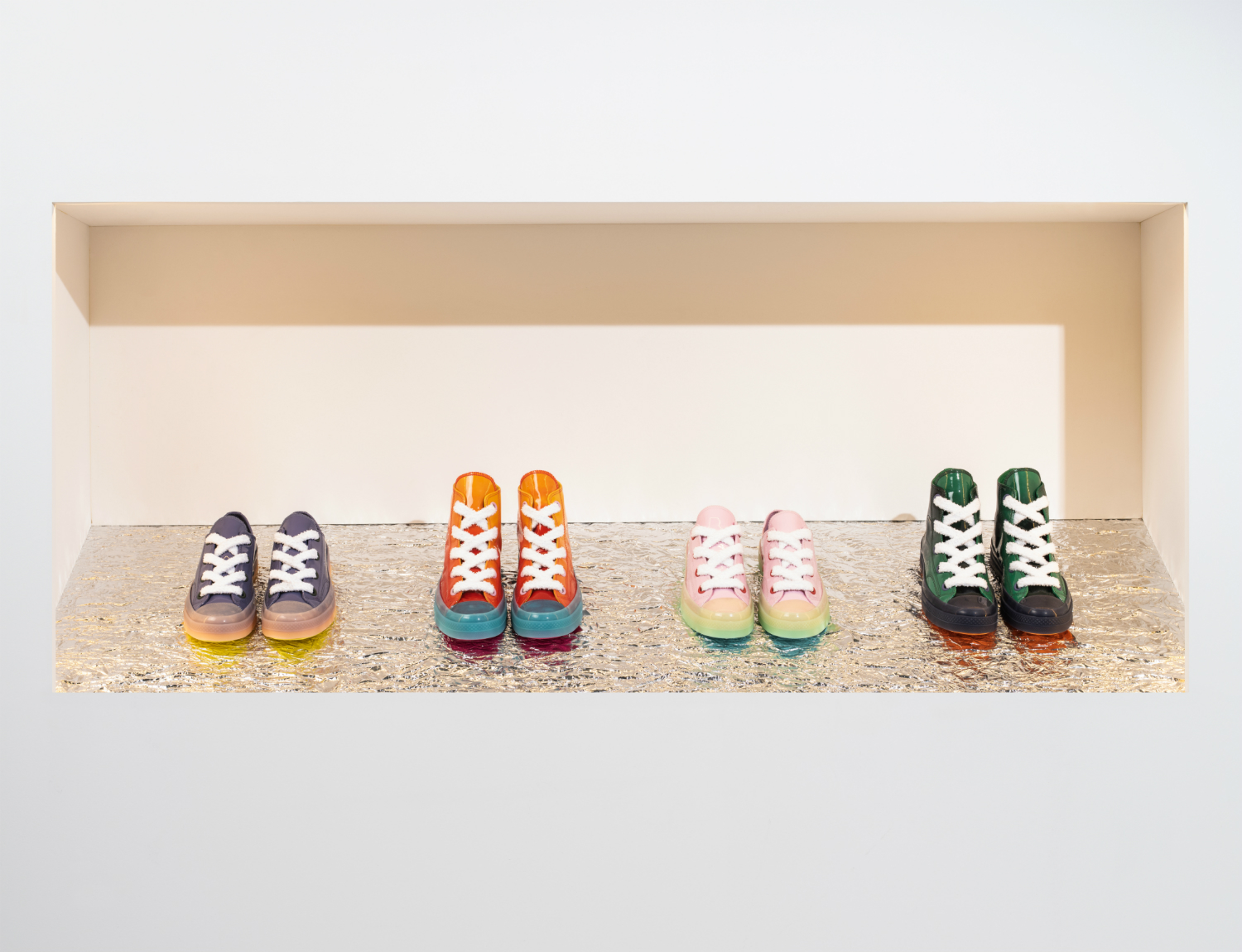 "Gloss' in the form of patent leather, an exuberant application of colour, and laces that mimic the stucco of San Francisco, make even the most youthful of sneakers, feel toy-like", a joint press release reads, explaining the collection's title, Toy. "At some point in our youth, we stop playing with toys. But the obsession we have with "things" grows stronger as we get older. We dress as a means of self-expression. We buy objects – however mundane they might be – because they deliver happiness into our lives."
One thing we're sure of? That these shoes will, most definitely, deliver happiness into our lives.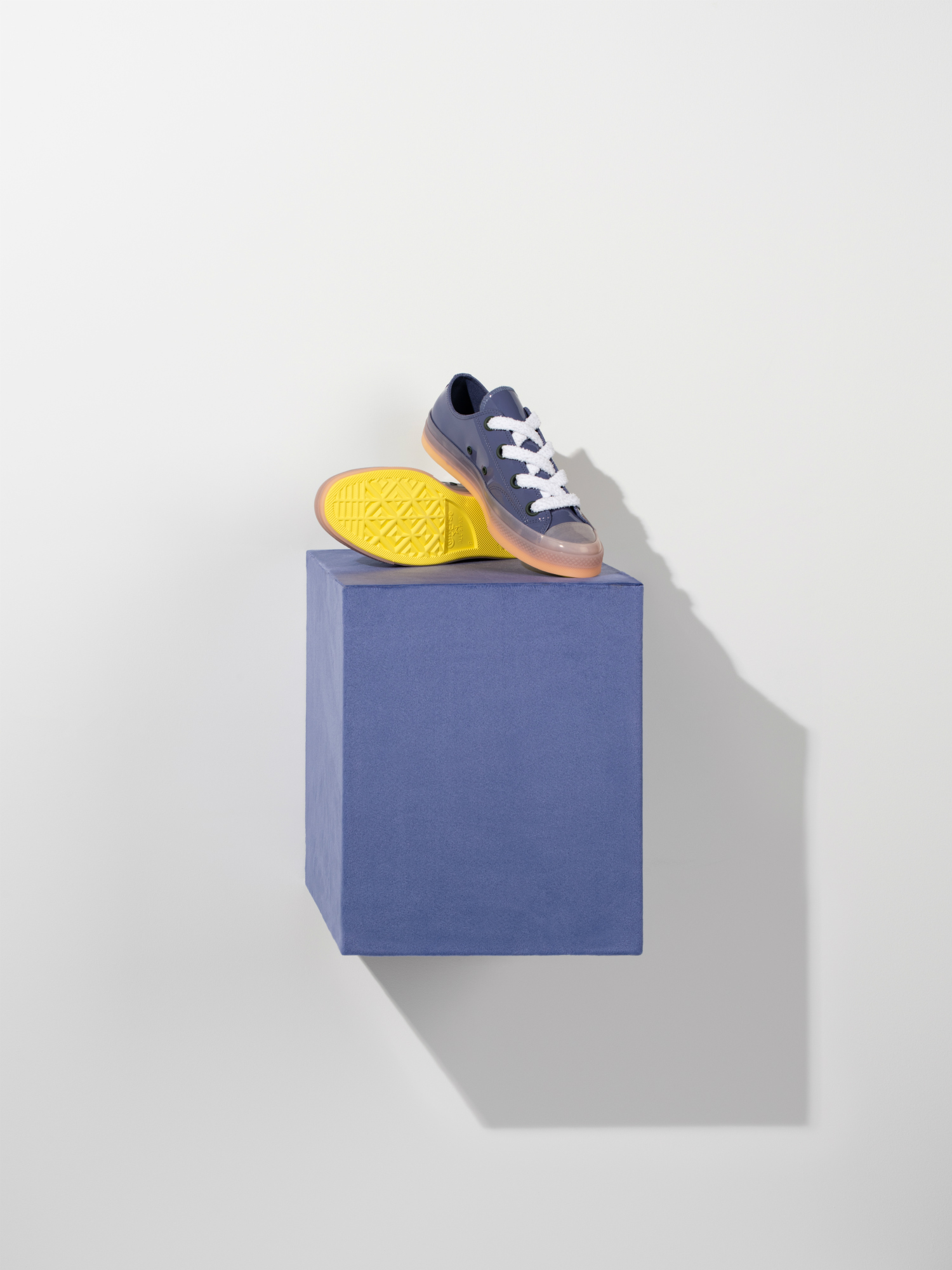 JW Anderson x Converse is available here