"Nothing tastes as good as skinny feels". These were the contentious words spoken by Kate Moss when the iconic supermodel was asked about her aphorisms during an interview with WWD in 2009. The statement, which sparked outrage among body image campaigners, points to an unsettling truth: thinness is no longer a mere aesthetic preference, but rather a prerequisite, a fundamental requirement in the fashion industry.
Over the past 25 years, catwalks have favoured underweight, androgynous female bodies that have repeatedly been compared to "walking hangers". Fighting to overturn this troubling narrative are designers Pierre-Louis Auvray and Paolina Russo, who utilised their 2018 Central Saint Martins graduate shows to celebrate sports and athletics, muscles and bodybuilding. Garments are not just worn to cover up. They are sites of imagination where designers can carve out new conceptions of the body, of beauty and of femininity. Pierre-Louis and Paolina challenge the fashion industry's limited representation of the female form by molding their collections into exaggerated symbols of physical strength and feminine power.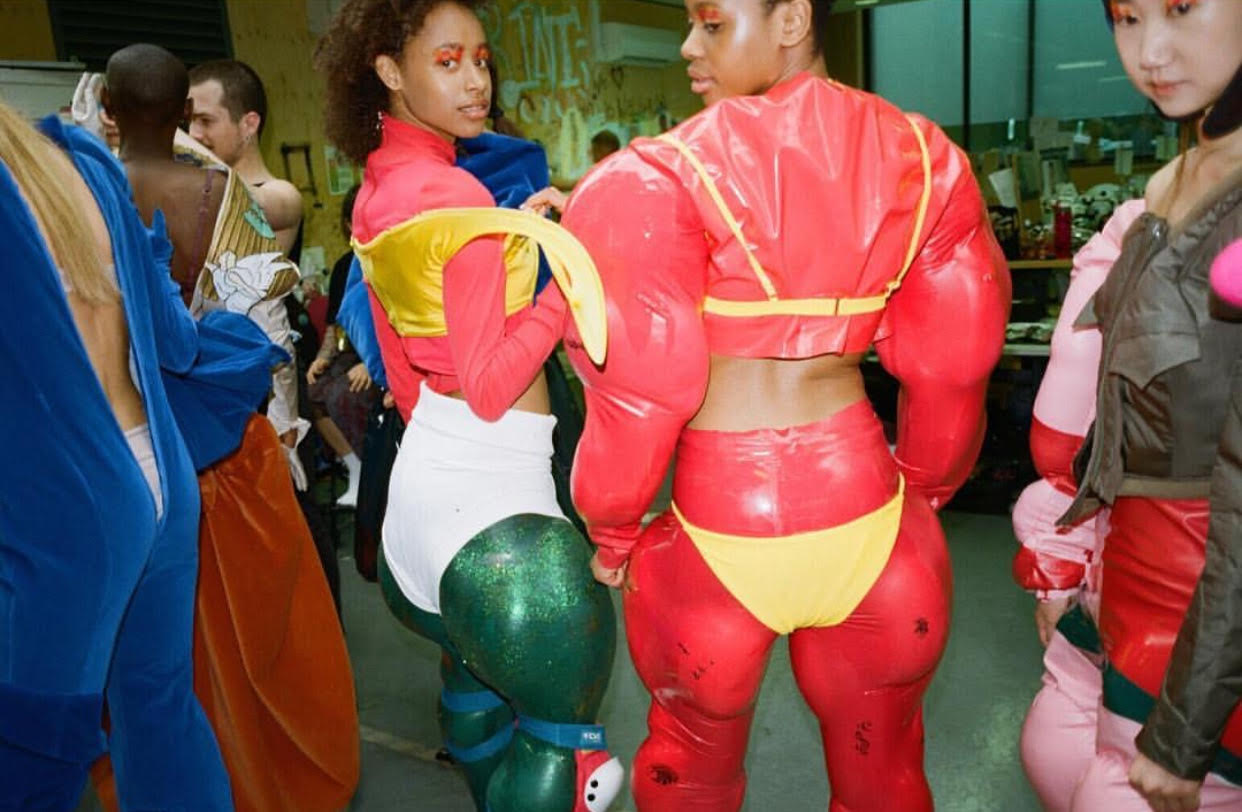 Muscles and latex were the two main components of Pierre-Louis' graduate show. Drawing on anything from "that shitty Batman movie with Uma Thurman as Poison Ivy" to jousting medieval knights in tights, Pierre-Louis' vibrant and dynamic collection remolds the silhouette that so often commands the catwalks. "A few different people told me they appreciated the fact that I was working on an alternative body type," Pierre-Louis tells me. "This encouraged me to consider the muscles as a body on its own and to add garments on top of it." Pierre-Louis' playful creative approach is as much a tribute to bench-pressing bodybuilders as it is to the cartoon-like figures of childhood heroes like Wonder Woman and Superman. Fashion, the designer implies, does not need to take itself so seriously.
In expanding the fashion industry's dominant imagination, Pierre-Louis' collection includes and legitimises "liminal" bodies; physiques that are considered "ideal" within specific athletic circles but are often rendered hyper-muscular, even grotesque and unhealthy, by society more generally. Pierre-Louis' collection reclaims these bodies, celebrating their difference as another desirable possibility and prompting the fashion industry to reconsider its own aesthetic prescriptions.
"I like clothes that make women feel powerful, whilst exploring a very feminine shape," says Paolina, whose sports-inspired collection landed her the title of runner-up in the 2018 MullenLowe NOVA Awards. Shin-pads, helmets and bold silhouettes, Paolina's collection is made up of crocheted shoes and soccer balls that have been hand stitched together into corsets, armours and ball gowns. "I was more into the process of draping and layering the objects to create new silhouettes rather than trying to replicate silhouettes with the objects," the designer explains. "It was a really organic process and I was focused on exaggerating proportions of the female body to create a very powerful look."
Paolina's designs visually reference the material objects of a sports game, deconstructing and recombining them in fresh, innovative and empowering ways. Her graduate collection places the strong and athletic female figure at the heart of sporting culture — a timely and necessary reminder as television screens around the globe become monopolised by the all-male World Cup. Paolina's skilfully crafted silhouettes are as much a celebration of strong, unapologetic femininity as they are a statement on the rules that govern the fashion world.
Pierre-Louis and Paolina's compelling designs are conceptually challenging the fashion industry's unforgiving paradigms. Yet, in practice, thinness remains at the core of their shows. The slender models – whether muscularised or feminised – that dominated the graduates' catwalks are a stark reminder of the fundamental role skinniness continues to play in the fashion industry. Paolina is, nonetheless, hopeful: "Now that social media have made fashion more accessible, it is cool to see the variety of voices being heard that can continue to push and challenge the industry's ideals". Old habits may die hard but, with each voice that is heard and viewpoint expressed, we are hopefully one step closer to transforming the established archetypes of the fashion industry.
Paolina Russo Photography ERIKA BOWES
Header image JOHN WILLIAMS
MerkenMerken
MerkenMerken
MerkenMerken
MerkenMerken
MerkenMerken