"I can never go too long without creating something with my hands," Marco Panconesi says. It's not surprising; the designer was born and raised just an hour away from Arezzo, Italy—one of the world's most prevalent manufacturers of gold, silver and platinum jewellery—to a family full of painters, sculptors, writers, and ceramicists.
He describes idyllic childhood summers spent in his cousin's atelier, a remote creative hub nestled away in the lush, picturesque hills of Chianti, a famed Italian wine region. "She would teach me how to carve wood, engrave metal and make sculptures," he explains, citing these creative endeavours as the inspiration for his later enrollment in a high school which specialised in Ancient Greek and Roman culture and language. He quenched his thirst for visual creation with a side class in "oil on canvas" painting, which he took in his spare time. Decades later, Panconesi has managed to hone these skills and translate them into an established accessories business, as well as a series of jobs working for the likes of industry greats including Riccardo Tisci, Alexander Wang and Demna Gvasalia. He had previously joined an esteemed cultural heritage university but soon realised his feet were set more firmly in the future. He went in search for something more "dynamic" and found himself at Polimoda, an experimental fashion university in his home-town, Florence; here, he set about polishing his craftsmanship and learning a series of techniques more often affiliated with luxury fashion houses than tiny, artisan businesses.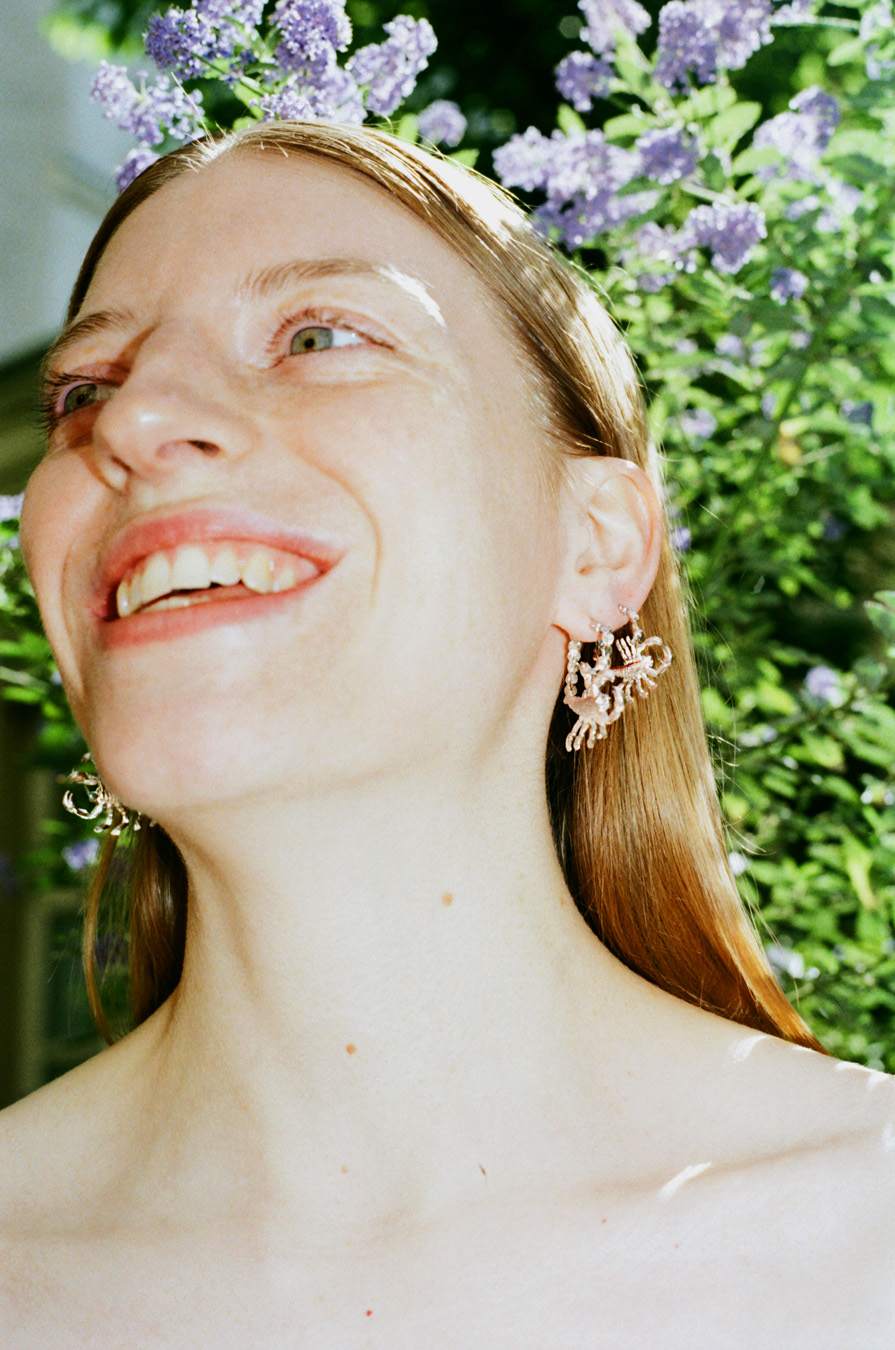 Scorpio earrings, 925 sterling silver, MARCO PANCONESI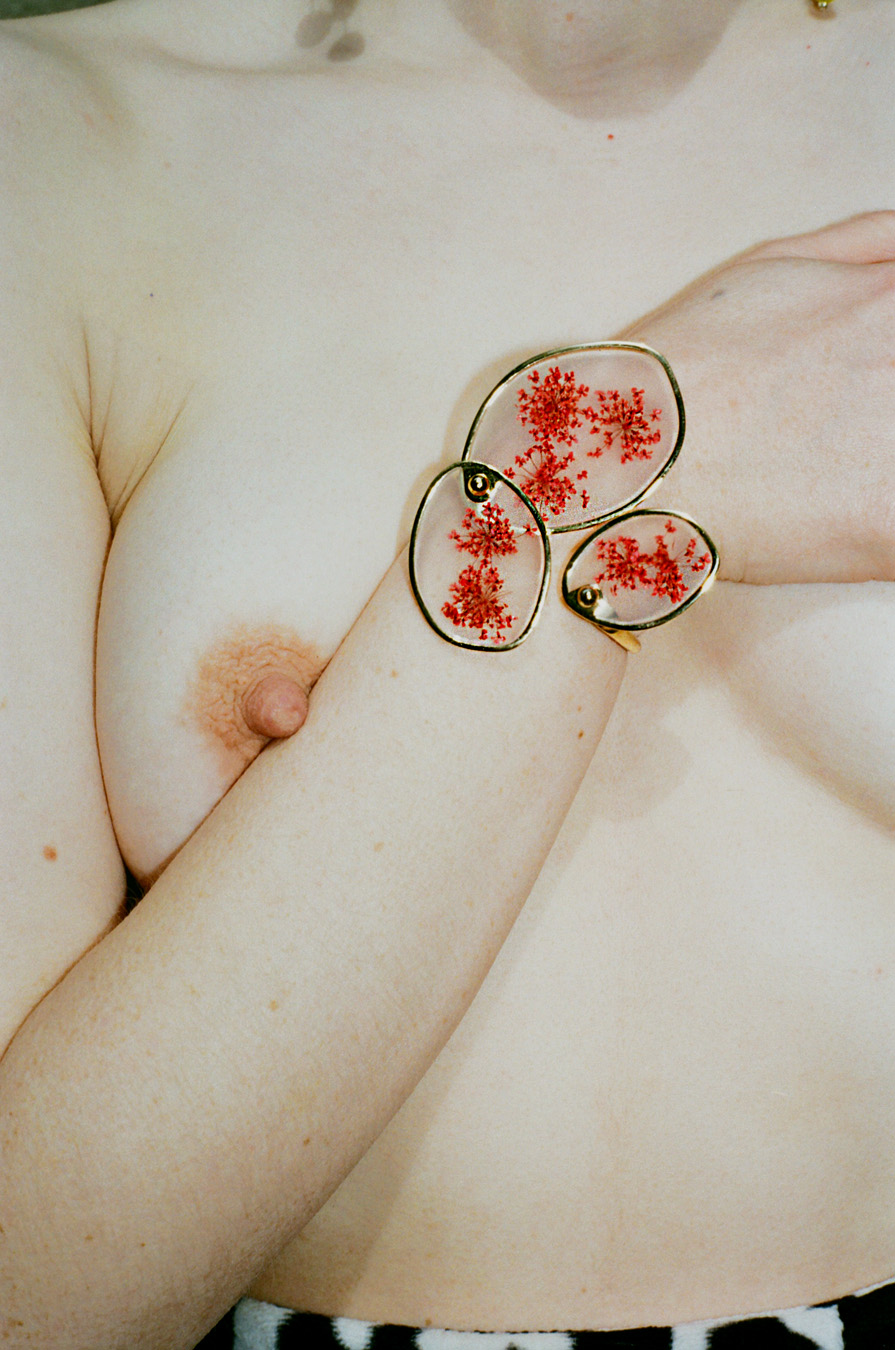 Bracelet, laserpitium flowers frozen in gold-frame transparent enamel petals, MARCO PANCONESI for PETER PILOTTO
"I had always been curious about fashion," he recalls of his decision to change paths, "but I wasn't really aware of where a fashion career would have led me. If anything, I was just attracted to the idea of finding new ways to express my creativity. The university felt really experimental at that time, too—I trained in ready-to-wear but never actually ended up working as a ready-to-wear designer. I ended up making accessories straight away." He cites the late, great Alexander McQueen as one of his key inspirations, describing him as "one of the most inspiring designers of all time".
Aesthetically, they share a fascination with unconventional objects and wiry, almost skeletal shapes; a diamond-encrusted brooch, created for Balenciaga, branches out in complex, inter-mingled directions like the body of a sea anemone, whereas spiky, silver hoop earrings are interrupted by the unmistakable form of a lobster, its claws outstretched. Panconesi's recent Peter Pilotto collaboration is as different again, fusing twisted neon cord with precious stones and golden accents—a line which earned him a prestigious Vogue feature.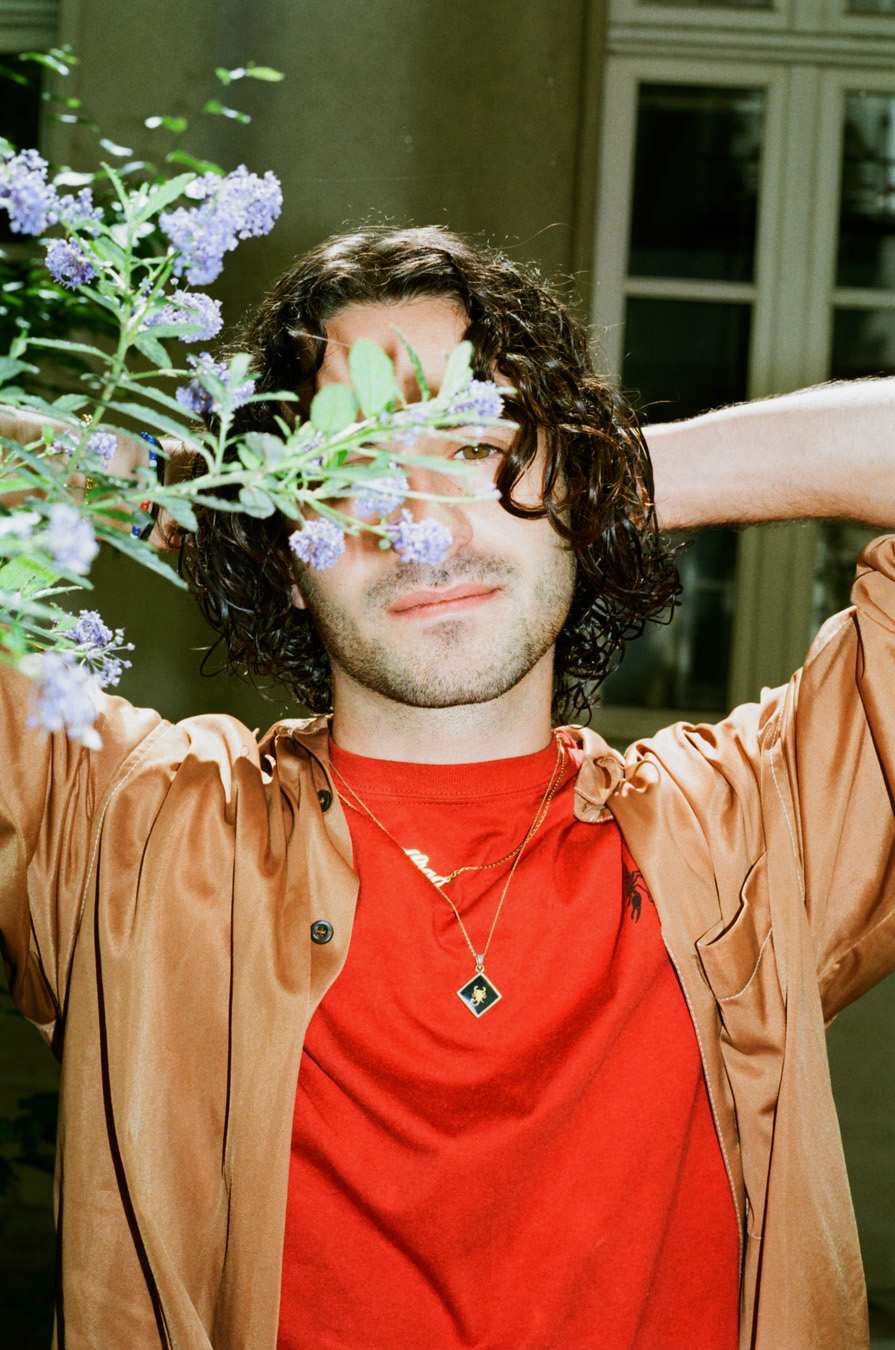 MARCO PANCONESI
It's telling that he describes his earliest pieces as "jewellery-shaped objects": "I worked on these small, hand-carved wax sculptures and experimental pieces, then I would bring them to an atelier in Florence to have them cast in bronze. It wasn't really designing at the time, it was just more about experimenting with materials and techniques."
This pragmatic approach to creation paid off; he soon attracted the attention of Riccardo Tisci who gave Panconesi his first job at Givenchy. "I have been lucky enough to work with a few different creative directors," he says modestly of his stellar client list. "I learned something different from each of them—it's always a challenge. I guess the most important lesson you learn is how to find the right working method. You have to be smart, anticipate anything that could go wrong, come up with solutions in the time you have and ultimately work as a team player."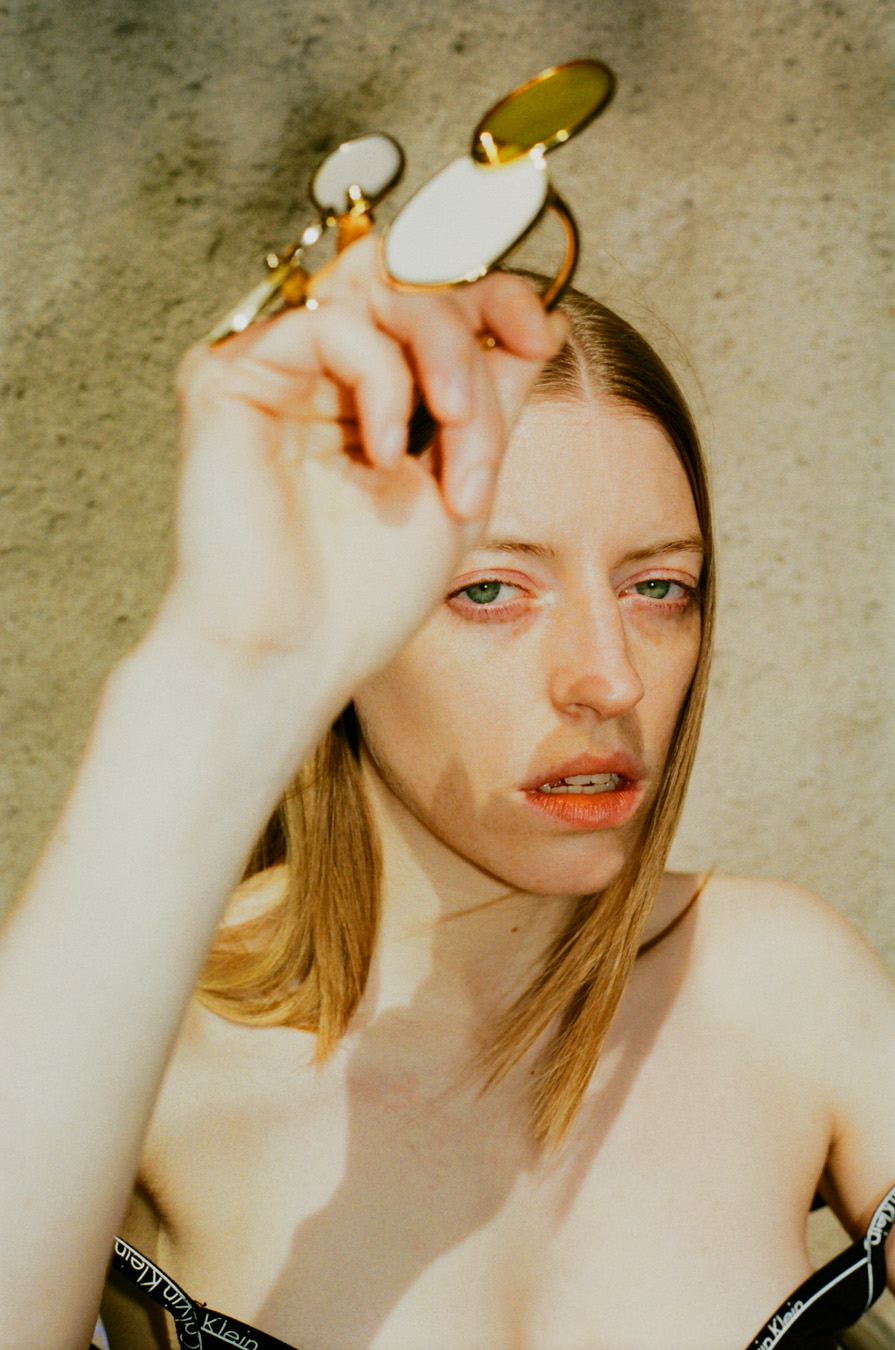 Bracelet, matte and transparent enamel gold-framed petals, MARCO PANCONESI for PETER PILOTTO
Now, he's taking his experience and parlaying it into an eponymous brand of his own, slated to launch in September. "I was inspired by the contrast between heritage jewellery and modernist design; I want to create a mixture of Etruscan and Roman heritage designs, which are then teamed with a more polished, modern industrial design feeling. Like found objects transformed into pieces of jewellery," he explains.
This desire to modernise ancient artefacts is the thematic thread which ties his portfolio together, yet he also states a continuous desire to tread new aesthetic ground and push his work into uncharted realms. "I am always experimenting; I'm looking at how the pieces are constructed and then experimenting with new ways of executing a closure or a movement," he says.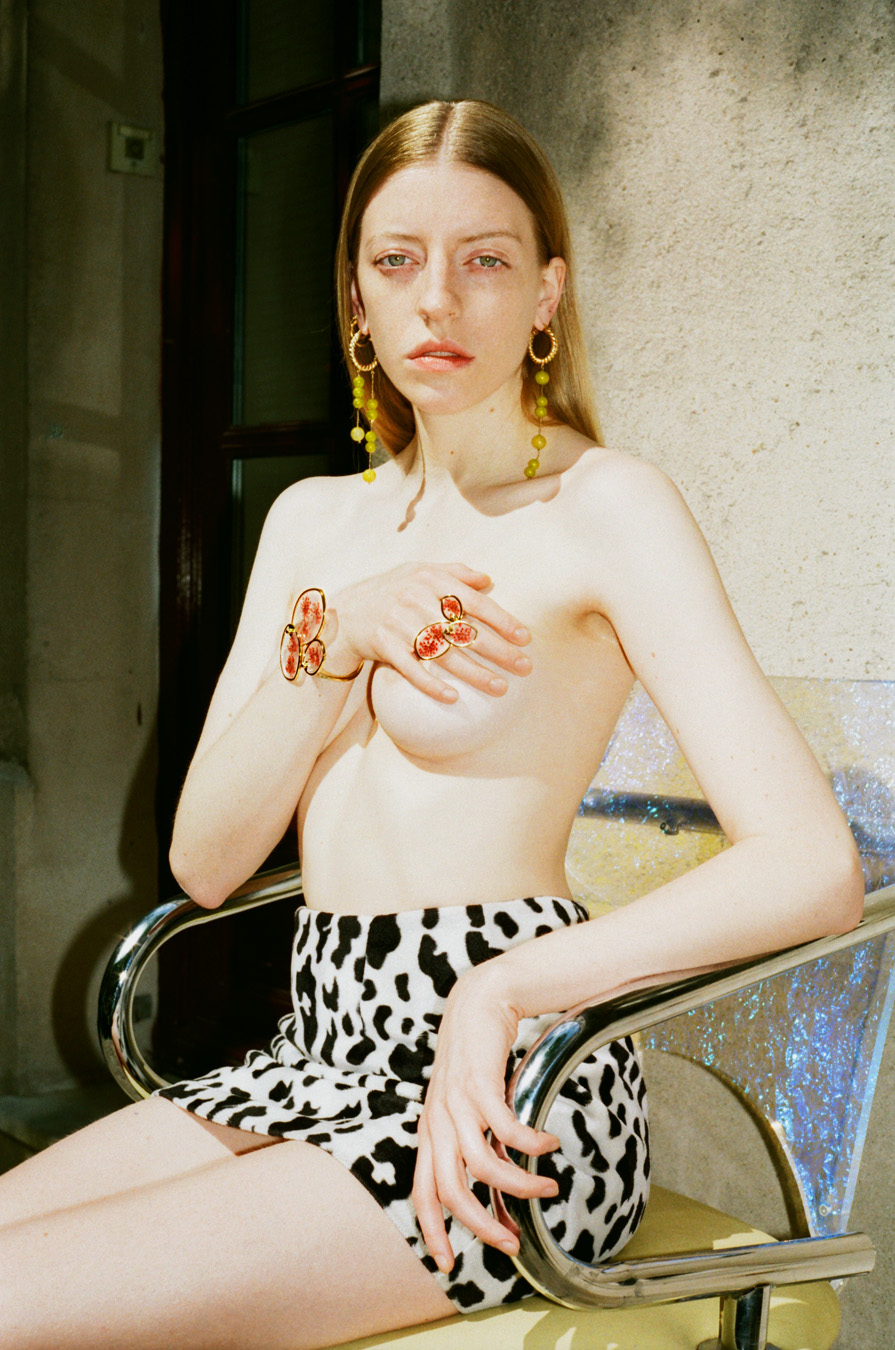 Earrings, gold rope text with yellow jade drop stones, and bracelet and rings, laserpitium flowers frozen in gold-framed transparent petals, MARCO PANCONESI for PETER PILOTTO
In this creation process, he admits to always following his instincts and consistently seeking new inspiration. "David Lynch says that desiring an idea is like putting bait on a hook and lowering it into the water. You can catch ideas from places, so if you feel like a place could conjure ideas then you have to go out of the house and go travelling."
But Panconesi has a rare talent for incorporating various influences whilst maintaining a core aesthetic which is all his own, although in the past he's succeeding in adapting his own vision to fit the house codes of legendary brands. A keen eye for detail may elevate his work and set it apart from that of his contemporaries but this alone is not enough to secure longevity. Instead, he says the key to success lies in fluidity and the ability to be malleable, to work seamlessly alongside other designers.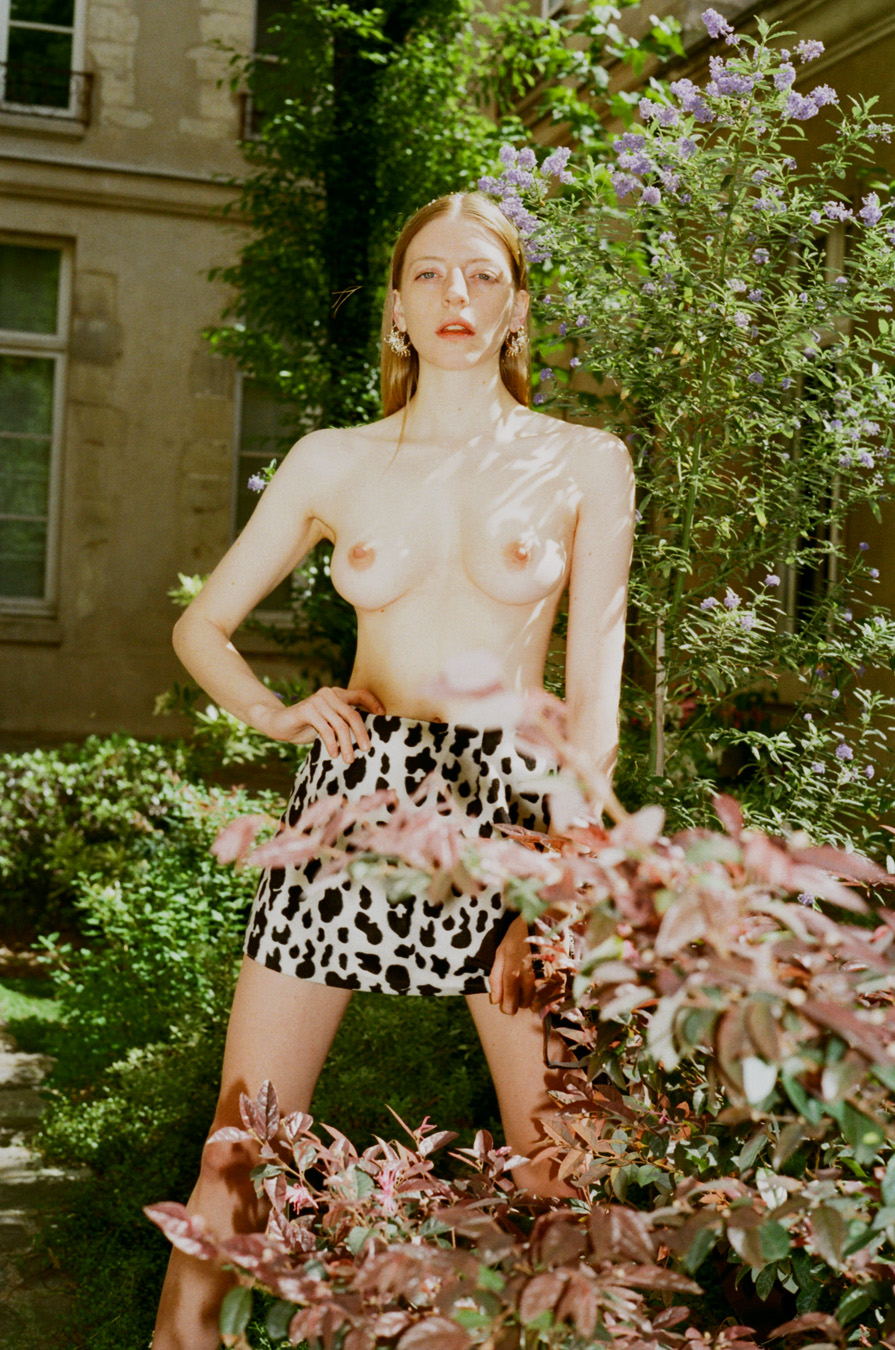 Scorpio earrings, 925 sterling silver, MARCO PANCONESI
Skills like these are weapons he will pass on to classes filled with students of his own: he will soon begin teaching at Raffles Milano, sharing his knowledge with a new generation of inquisitive minds.
"It's very exciting," he enthuses, stating a long-held desire to incorporate teaching into his work. "I want to bring my expertise but also develop a program that will touch on all the aspects I think are the most important. I want to guide the creativity of my students but I always want to teach them to make products which reflect what people want and what is currently hard to find on the market."
Trends may still dictate the fashion industry but Panconesi has developed the rare ability to tap into them without compromising his core design identity. This is a tightrope he walks in order to assure that his pieces are just as timeless as the historical artefacts he conceptually renovates with his own work: "I really like this idea of having jewellery which belongs to you for a fraction of time but which is also durable and can be passed through generations, like heirlooms. There's this notion of time and evolution in the work—these pieces are timeless but they change, transform and evolve depending on their owner."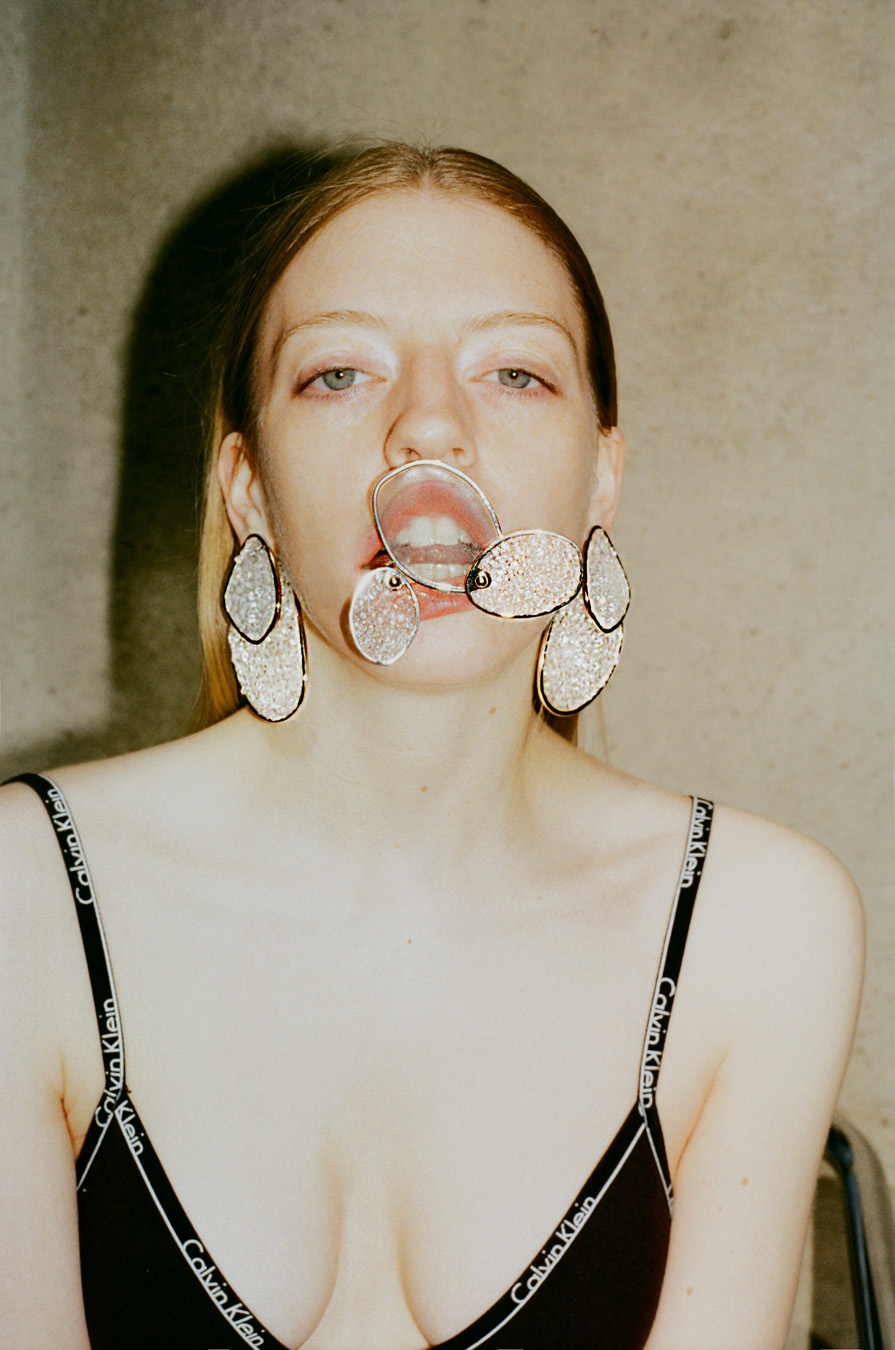 Earrings and bracelet, crystals framed in transparent enamelled silver petals, MARCO PANCONESI for PETER PILOTTO
Earrings and rings, sapphire crystals framed in transparent enamelled ruthenium petals, MARCO PANCONESI for PETER PILOTTO
Heritage clearly fascinates Panconesi. He speaks passionately not only of his home country and its international reputation for excellence but also of his own family — his grandmother, in particular, whose paintings he admired when he was young. Artistry is ingrained in his DNA but he's looking to channel it into new ventures such as furniture, interiors and stand-alone, decorative objects in the future. For now, he's busy working on his eponymous label and other collaborations.
It might sound difficult to consistently find the inspiration needed to spawn these new lines but he brushes off the suggestion and instead describes feeling consistently galvanised by his surroundings. "Heritage, history; anything you can find in Italy can inspire my designs," he says, reiterating the fact that inspiration is all around us — if only we know where to look.
Photography NOEL QUINTELA
Hair MICHAEL DELMAS
Model LOIS
Taken from INDIE NO 59, THE WORK ISSUE – get your copy here.