It isn't easy to describe Karma She. With a sound that fuses together elements of grime, rap and witch house, and a performance style that manages to be both incredibly sensual and jarringly over-the-top, the very premise of Karma She—a music and performance endeavor led by Israeli artist Carmel Michaeli—is based on evading any sort of easy definition. And nowhere is this more true than in the video release of 'More Ecstasy', debuting exclusively on INDIE.
Shot in a 19th century Jerusalem school building, the film provides a refreshingly psychedelic and campy take on Judaism, constructing a magical alternate-reality by radically appropriating traditional Jewish symbology. Its subjects, dressed in yarmulkes and school uniforms, drink orange soda and dance themselves into possessive trances as their leader, a horned and seemingly possessed Karma She, guides them on a path towards 'More Ecstasy'. It is a glimpse into Karma She's carefully crafted world, one which seeks to fully nurture the individuality, sensuality and magic that comes with female energy.
To accompany the release, we sat down with Michaeli to get a hold on everything from her inspirations to her (still ongoing) journey towards finding Karma She—and, by extension, herself.
So who is "Karma She"?
A badass witch, a hyper feminine divine energy, a powerful diva, the creator of an alternative kingdom, a self-proclaimed hip pop star, a vessel of desire, a carefree spirit that wants to share her wisdom, a collaborative catalyst.
What was the process like of finding her? Did it coincide with finding yourself, or do you see Karma She and Carmel Michaeli as two different people?
Karma She as my creative higher self came out as a necessity of survival. I needed to create an autonomous territory where I could break free from my personal and social boundaries. I had an urgent need to merge my life and my art, I wanted to rebuild myself and my experiences, and find a way connect with other angels (creative collaborators). Karma She is an extension of myself and this separation allowed the development of a new transformative consciousness. Right now I'm in the process of merging the two senses of self that I contain. I'm trying to bring Karma's carefree attitude into my life beyond the stage and to bring Carmel's emotional vulnerability into Karma's world.
What do you hope to inspire or convey with your work?
To embrace one's uniqueness, one's female sensuality, to reclaim your body, your image, and shamelessly voice deep desires. I aim to portray alternative beauty as a magic carpet that leads into complex celebrations of freedom. I wish to heal and empower one's weirdness, encourage an exploration through darkness and pain to find love for yourself and then for the whole wide planet. I wanna take you on a trip trip trip as we dip dip dip…
Having spent time in Jerusalem, Tel Aviv, New Jersey, London and now Berlin, you obviously have known a lot of different creative scenes. Which was the most challenging to create in, as a female artist with experimental tendencies? And which has been the most inspiring?
I think being an artist is not an easy path anywhere, and being a woman is challenging in many fields. Both are matters so built in me that I can't imagine anything else. I embrace feeling foreign and viewing the world as an outsider, it's important for my creative process to move countries every few years and travel a lot. Israel was hard because it's a small and religious country, and a lot of mindsets are very provincial, I had to pave my own way, but the angels that joined me made it possible. But yes, you really have to go for it and be ready to give yourself entirely to your goals, even if you fail sometimes and feel unwanted.
Building my own crew was the key, together we could generate great fire and the rest followed. Jerusalem allowed me to start experimenting with electronic music and to take part in the underground scene there, Tel-Aviv taught me how to be a really good at getting shit done under pressure and brought me together with the angels that guided me most, New Jersey fed me American pop culture and hip hop, London introduced me to fashion and queer parties, and now in Berlin I'm discovering new levels of freedom, new connections, and techno. So they are all a part of me, all inspiring in their own way. I see myself as a sponge, I absorb and then put out my personal mark.
Building off of the last question, how would you define "home"? Are you able to find a home within Karma She, or is it more dependent on your surroundings?
I found my home through meditation, getting to know my most natural state of just being. I get into it by trying to connect to the conscious state as a tree. It's what works for me.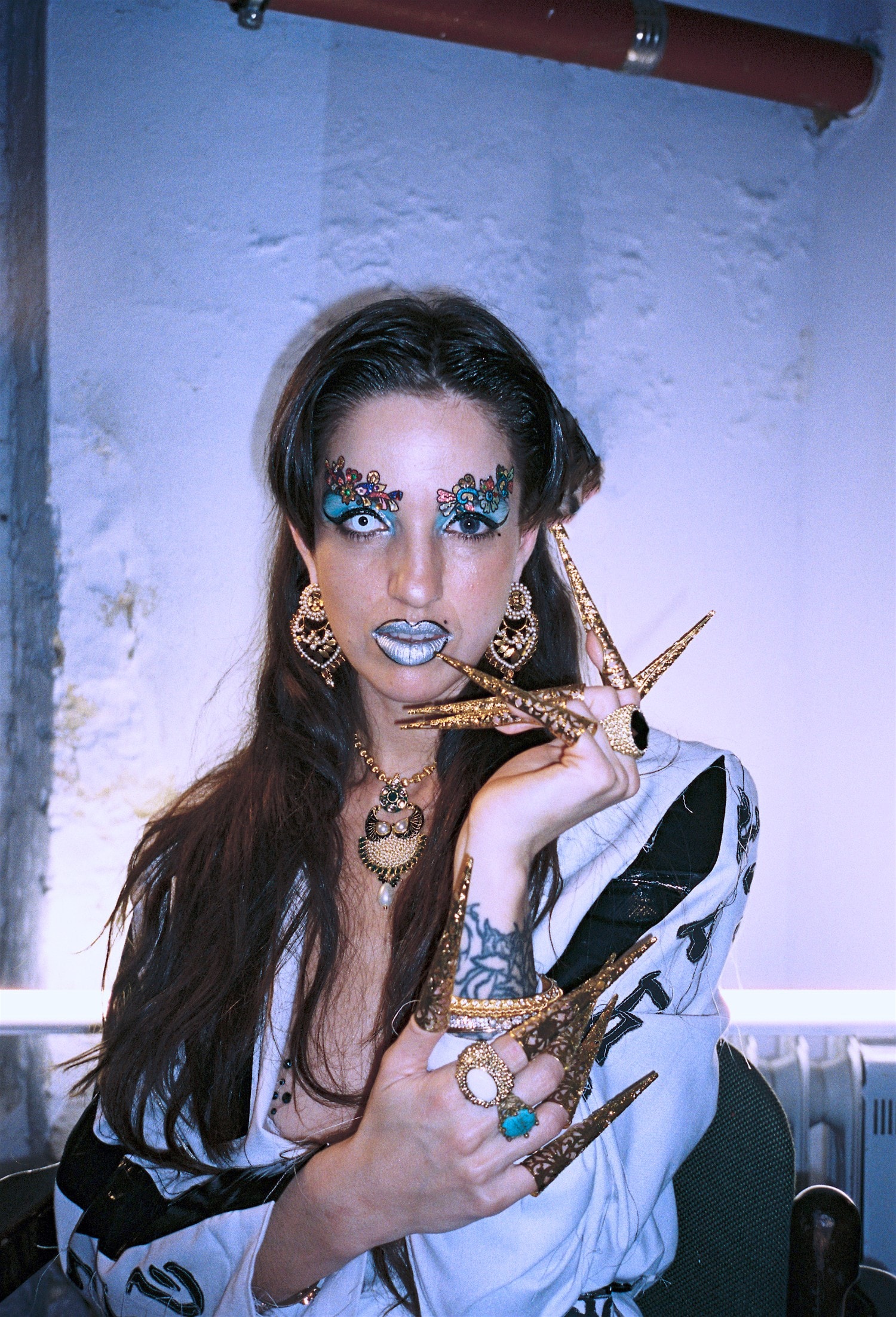 How and why did you choose to use pop as your medium, not only in music but also in your approach to other creative ventures? What qualities do you think it has that other musical genres or forms don't?
I see my genre as experimental pop, which is a contradiction because pop isn't alternative, but this conflict makes sense to me. I'm drawn to pop's multidimensional visual and performative elements, music at the core and on that come other art forms such as dance, fashion, video—all my passions. So this immersive multi layered music and performance form is the most powerful for me. Pop is this extreme mirror of contemporary culture and picking at that while mixing other esoteric influences leads to some very original situations that I wanted to bring to life. Pop is also something very sympathetic emotionally, it's so powerful and touching. Female pop, rap and punk artists have always been like my best friends, I can rely on them to bring me up and give me strength. Then I go to my studio and write it out, when it works its the best feeling of this powerful self victory that no one can take away.
You mix a lot of symbols and references in this video and in your work more broadly, from East Asian dance traditions to Jewish school uniforms and witchy spells. How do all these influences then come together? How do you ensure you treat these different cultures mindfully and not tap into cultural appropriation?
I can't help but get the most inspiration by things that are different than me, this is how I expand my mind. I'm drawn to non-Western places in a magical and curious way. I think it's great to learn from other cultures. I do so in a playful, performative way, to build a bridge, to communicate, and show my appreciation. I also always aim for the end result to be my own.
Working with Jewish symbols is extremely liberating. They were always around me, but no one ever dared to touch them in this way—a lot of them are forbidden for women, and the others are just seen as totally non-sexy to young non-religious people in Israel. But for me, it's a fountain of great materials. I grew up with Jewish traditions around me and now realise that they are also mine to play around with. I'm down with burning taboos, with giving religious symbols new meanings, to invent my own spirituality. I think these symbols should be available to anyone who feels them. If some people don't approve, it's fine for me. My music and art are for those with an open mind and open hip joint.
What are your hopes for the future of Karma She? Any upcoming projects that you can clue us into, beyond the album coming out in July?
I hope to keep on having many more psychedelic adventures and connections as in this present moment. I have an album ready to be released by the end of this year with tracks I collected from my last years in Tel-Aviv and a lot of new material since I moved to Berlin. I'm also working on three new music videos and choreography for my next performance at Melt Festival this summer.
Photography ALBINA MAKS