The location of legendary London music venue 100 Club couldn't be more telling. Squeezed between a Boots and an Ann Summers store, you could easily miss the renowned concert location if it wasn't for a bright red sign with a beaming 100 towering over the heads heading down London's Oxford Street. With its name being a direct play on its London home of over 75 years, 100 Oxford Street, the 100 Club has seen one of London's busiest streets change like rarely any local. And, contrary to its new, high-street neighbours, it doesn't try and reflect the times with flashy shop windows or shining sale signs – the club's offering lies much more hidden, down a narrow staircase, literally underground, like its infamous punk rock roots.
Once a venue for jazz music, the 100 club found its footing in punk rock during the 1970s, with bands like the Sex Pistols or The Clash frequenting its stage. Later, even more renowned names like The Rolling Stones or Oasis followed, and the venue became an infamous fixture in London's buzzing music scene. It's one of those places where you wish the walls had ears and eyes so they could recount all the incredible things happening just under Oxford Street over all these decades.
Luckily, Fred Perry and the 100 Club have now teamed up to at least do some of this telling of stories. Together with publishing company Ditto, they have just released a book titled "100 Club Stories", featuring tales of Soko performing topless on stage or Noel Gallagher dedicating a whole song to one of the club's nights. Accompanied by archive imagery dug from the private collections of the club's extensive list of attendees, it's a visual and vibrant journey through the past of one of London's most prominent and influential venues.
Now very much an iconic subcultural haven, the club's location also is significant for another reason: It's a family-owned venue right in the heart of London, fighting for a love of music and against the corporate craze and rapid increase of rent. "So many famous people started off in the 100 Club, doing their first gigs here," Roger Horton, the father of the club's current owner Jeffrey Horton writes on the issue in the foreword of the book, "And we're still here, although Jeffrey tells me he's not sure for how much longer. The rent and rates are going up and you're working for the tax man and the landlords. Even when you're full up four, five nights a week. I hope there'll be a fuss about it because this place is worth saving, I mean, what else can you do with a basement on Oxford Street?"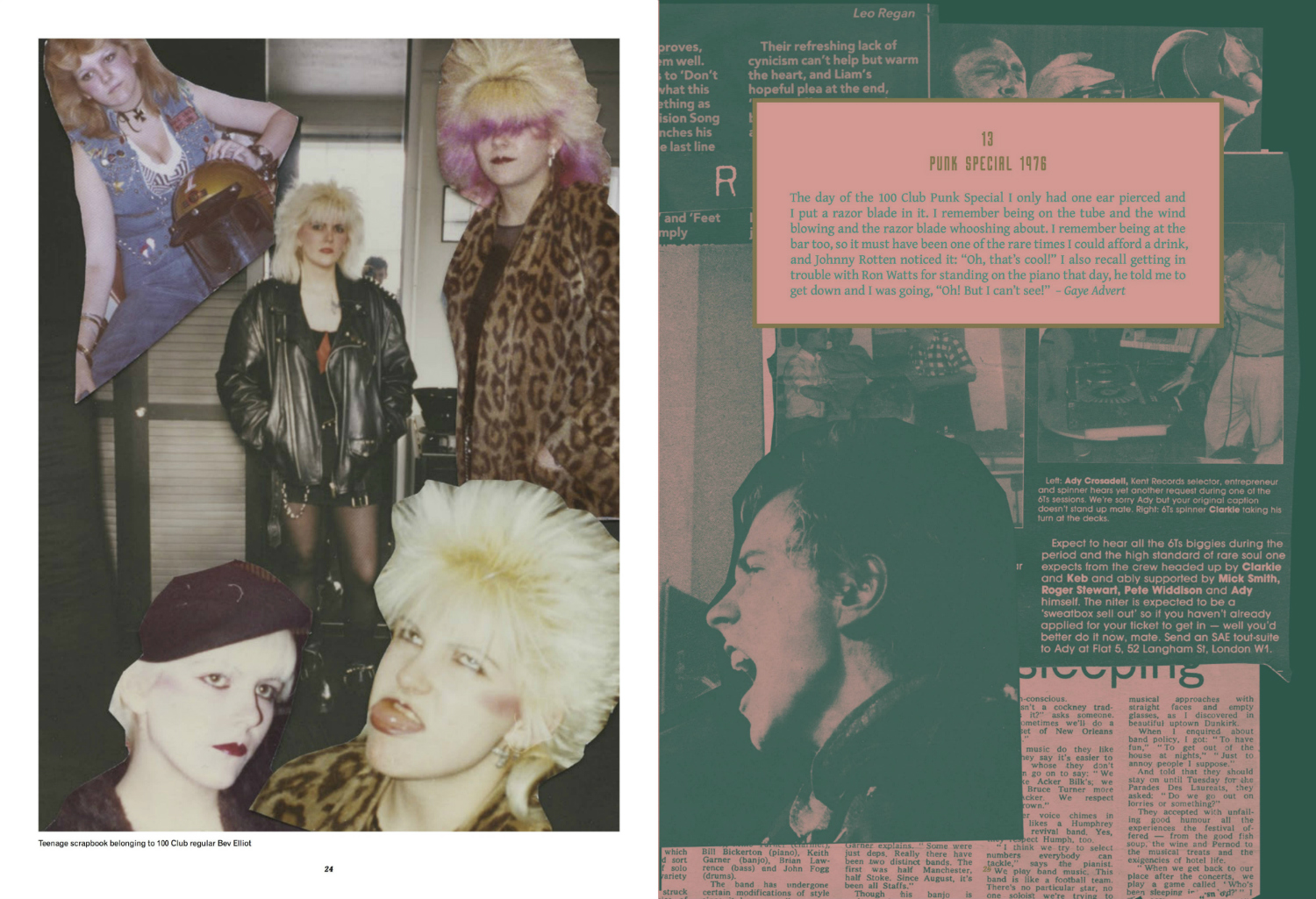 Header Image: Paul Simonon of The Clash, Paul Smith of Subway Sect and Joe Strummer of The Clash before a show